Comic Book Day Profile: Cartoonist John Orlowski
Today I found out it is National Comic Book Day, September 25th. But that's not why I wanted to write the following blog article.
The closeness of this date falls three days after the anniversary of my mother-in-law's middle brother John A. Orlowski's death —cause of death: COVID-19.
It still find it hard to believe he left us…
So he's the reason why I felt the inclination to throw a candle of his memory out into the archives of the internet.
---
I wrote and recorded a PSA vlog as soon as we heard the sad news last year because his death was such a shock to us. Also, there was so much division in our country over whether the coronavirus is a real killer that I felt an urgency to bring awareness. COVID-19 was very much REAL to our family—my husband's most deeply.
The other thing about John that presses me to write this is because like me he was a creative—he was a comic strip writer and illustrator.
Who Was John Orlowski?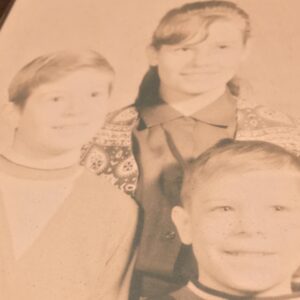 John was born January 19, 1959 to Veronica and Alexander Orlowski. He grew up in the "Back of the Yards" Chicago neighborhood and graduated from St. Joseph High School (then 4831 S. Hermitage Ave.). He is survived by his older sister Mary Ann (my mother-in-law) and his younger brother Richard (who is also my husband's godfather).
But I'm not going to talk about death here. I want to talk about John's comic book days.
John worked for a paper company for decades, atlantic Press Inc.—sort of à la Dunder-Mifflin if you like. But it was illustrating cartoons in comics which he really wanted to get on pages. Like Charles Schultz or Jon Arbuckle, John went after becoming a comic strip star in his own right.
Geoff and his parents both have this clipping of profile of him in the New Lenox Patriot newspaper. Both of our homes have it framed on the wall.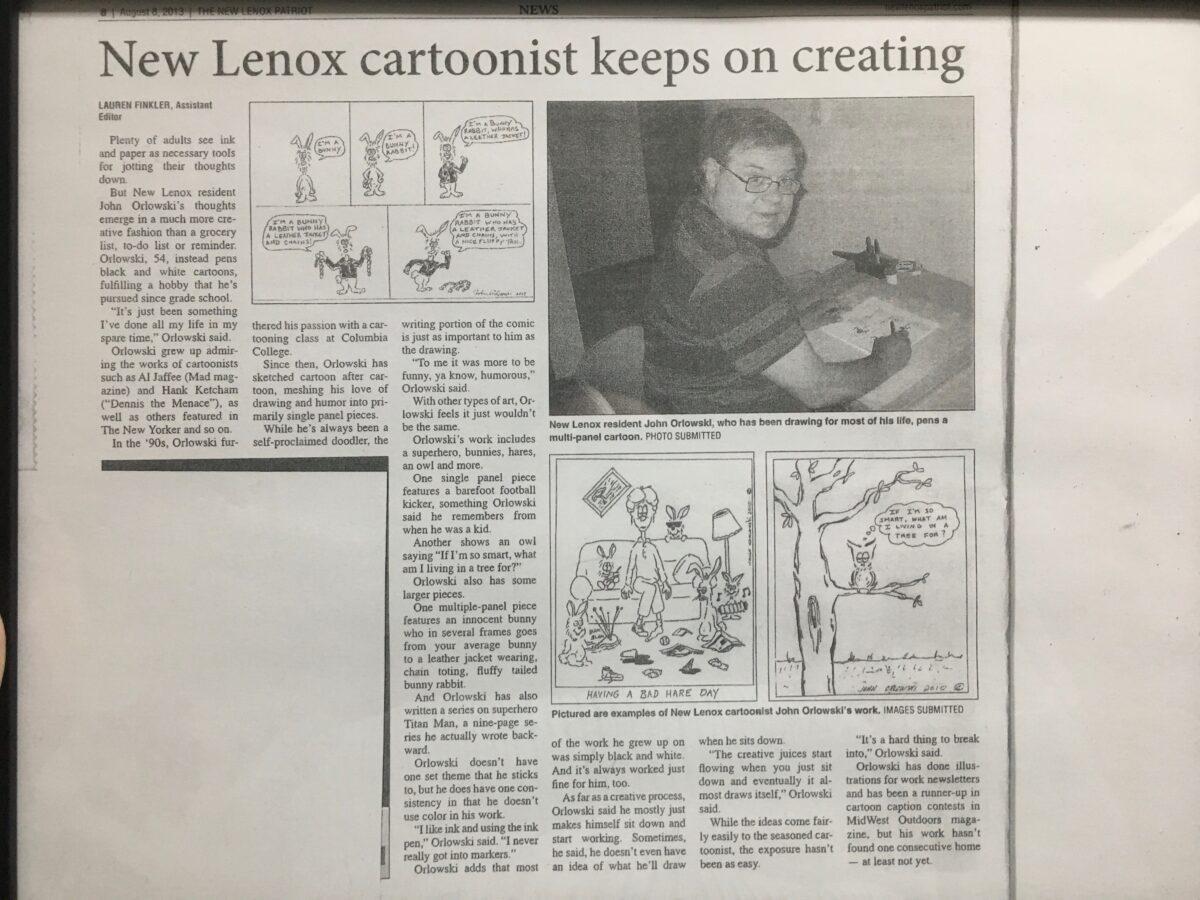 Though John's comic strips (like Brian, Ted, or The Time) didn't catch on beyond locally, John tried and did get them published in local newspapers. Most importantly, he dared to dream and went for his dream. And the lessons I take from John's life are:
Try to be a hero, let your star twinkle.
Focus on being a star in your family 1st because in the big picture, trying for that immortality in memory that only a few achieve can burn you like Icarus. The people in your life who love you need you deep down in a way that the world can't love and take care of you. In the words of Sade (a rarity in her field the way Dale was) love is stronger than pride.
If it's meant to be, it will come. The cream always rises to the top. If you love what you do, then keep at it. Dale famously said "when you quit and just sit, that's it." That is very true when you get older. 6. Everything has its day. Don't fight the wave (what's "in").
Don't ever let the important things in your life suffer from your work. Find the balance.
Make sure the thing you're doing makes your heart sing but doesn't extinguish your orchestra, your feedback, the people in your life who've got your back and you theirs.
Know when to quit.
Things always come back into vogue eventually, but don't let the past hinder your present or your future will get you no where. Don't make your obstacle bigger than you are or else it will get the best of you.
I often enjoy the story of a creative's life more than that of his characters. And John is one of those artists or creatives who is a light to learn about.
For those of you out there who have a creative in your life, remember to be encouraging and supportiving because although careers in creative fields tend to not be secure, it is still a vocation worth pursuing.
If you are an aspiring comic book, comic strip, or other type of illustrator or artist—like John—don't ever feel stupid or discouraged in the pursuit of your calling. Nurture that part of you, even if you can only develop it on the side. There is no worse regret than things not pursued. Give your vocation or dream the best chance possible to succeed. Many of us will never have our words widely read in print, but you only get your words published if you don't give up. Like Charles Schultz or Stan Lee, these cartoonists/illustrators knew that in order to write your best life, you have to keep writing. The more you write the better you will write, and if and when you get your shot—you'll be ready for whereever it takes you.
---
How To Observe National Comic Book Day
There are so many ways to observe this unique holiday. Here are a few suggestions:
Share your collections & artwork to spread the love.
Buy a new comic book.

Explore comic book styles and artistry.

Create your own comic book.
Study the art & history of comic books.
Although the Sunday Funnies aren't really a thing anymore and traditional comic strips don't fly off the stands like they used to…frankly they're not really acknowledged in pop culture—this sort of endangered species of art needs more awareness brought to it. It's due for a revival—I mean come on…cassettte tapes are coming back—seriously, anything is possible these days. Use your voice and start buying comics—spread the word and start a new trend, a movement to bring back another classic back en vogue.
Further Reading