Laura Rohrman Interview — Playwriting For Kids
The woman I'm going to share about with you is the granddaughter of none other than Chicago legend Dale Messick, the creator of the international hit comic strip Brenda Starr that used to appear in the Chicago Tribune funny pages and other newspapers. And like her legendary grandmother, Laura Noni Rohrman is a creative— specifically, she's a playwright and screenwriter.
I know Laura through the Brenda Starr Facebook page that I created in 2008, when I learned that the comic strip was ending, but I want to put the spotlight on Laura because she has a lot of cool things going on in her own right. This is her story….
The Brenda Starr Facebook page is for old and news fans to keep Starr top of mind, in the hopes of a new generation discovering this squash buckling beauty journalist.
---
Q&A With Laura Rohrman
Where did you grow up? Where do you call HOME?
I grew up in a small town in Northern CA about 40 miles from San Francisco called Penngrove. I've been living in NYC for the past 20 years, but we just (as in three weeks ago) have temporarily relocated to Northern California because of the pandemic so "home" is an odd term at the moment. This is a very weird year.
How many children do you have? Are they into writing like you ?.
I have two daughters who are very creative, like great-grandma and their mama. They both like writing and telling stories. My younger daughter is a real performer, a little elf like Audrey Hepburn. She's also a fashionista with a style all her own. My older daughter is an innovator; an artist, a singer and a wonderful writer. They both love my playwriting class.
What inspired you to create Playwriting For Kids?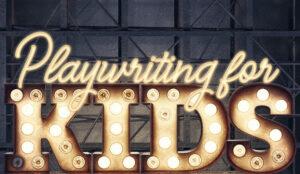 It was my kids. It came out of me teaching the kids dancing as part of the talent show at their school when my older daughter was in kindergarten. As I was working with my daughter and her friend I just felt I had something special with the kids – perhaps it was a combination of my training and or just me, but I am very good listener with kids. So much of the work I do is listening. The next year, I asked their 1st grade teacher if I could try teaching playwriting to the whole class – which was crazy – but there was something wonderful that happened when I was with the kids and it just clicked. Then it kind of took off from there.
Walk me through something Playwriting For Kids offers.
Over 12 weeks, I work with kids to develop a script, then we perform it. Usually we start with fun exercises and a lot of storytelling. Then we move from there. It's very creative…
When did you first start to develop a passion for playwriting and writing?
As a child, I always loved performing, dressing up, dance and drawing. I didn't get into acting until I was in high school. I took an advanced acting class where we read a lot of influential plays like O'Neill, Williams…Ibsen, Shakespeare…the classics. I also liked comedy. Actually, my whole life I was a big story teller. I think I was named the best storyteller in my class when I was five which is kind of funny when I think about it. Later I was voted funniest in my high school class. At the end of my final year in college, where I wasn't a theater major, I auditioned and won the lead role in a young woman's one-act play that was part of a festival of short plays. I got to know the writer and found out that she had been studying playwriting at our college (UC Davis). I was studying International Relations and French. I really had no idea that I could just write a play, but I decided I'd give it a try. Using her script as my guide, I wrote a play that summer while I was doing a work internship in France. On my days off, I'd sit in a café near the Seine and write until my fingers were burning. I came home from French and proclaimed that I was playwright. I was 23.
What or who are your influences?
My grandma, Dale Messick was definitely very influential in my life. It was funny because I just came out a lot like her. I was a born storyteller, like her.
What's the driving force behind what you do?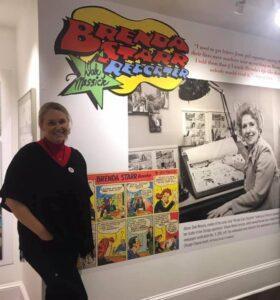 I think I'm always processing. So Writing really is my outlet; I've always felt lucky that I found writing.
What's something interesting that has happened lately to you, related to your career?
Well, I'm just signing a deal to create and write a TV show so that's pretty exciting.
What get's you really excited or makes what you do a joy to work? When I can see the story…the beginning, middle and end.
As the granddaughter of the creator of Brenda Starr, what advice would you give a girl or woman (from 3 to 103) who wants to get into writing of some kind? I would just say listen to your inner voice. If you feel like being really weird, that's okay. Don't feel like you have to fit into a box to be successful. Follow your heart. That sounds so cliché, but once you love what you do the money will follow. There are plenty of ways to get what you want. Yes, even now.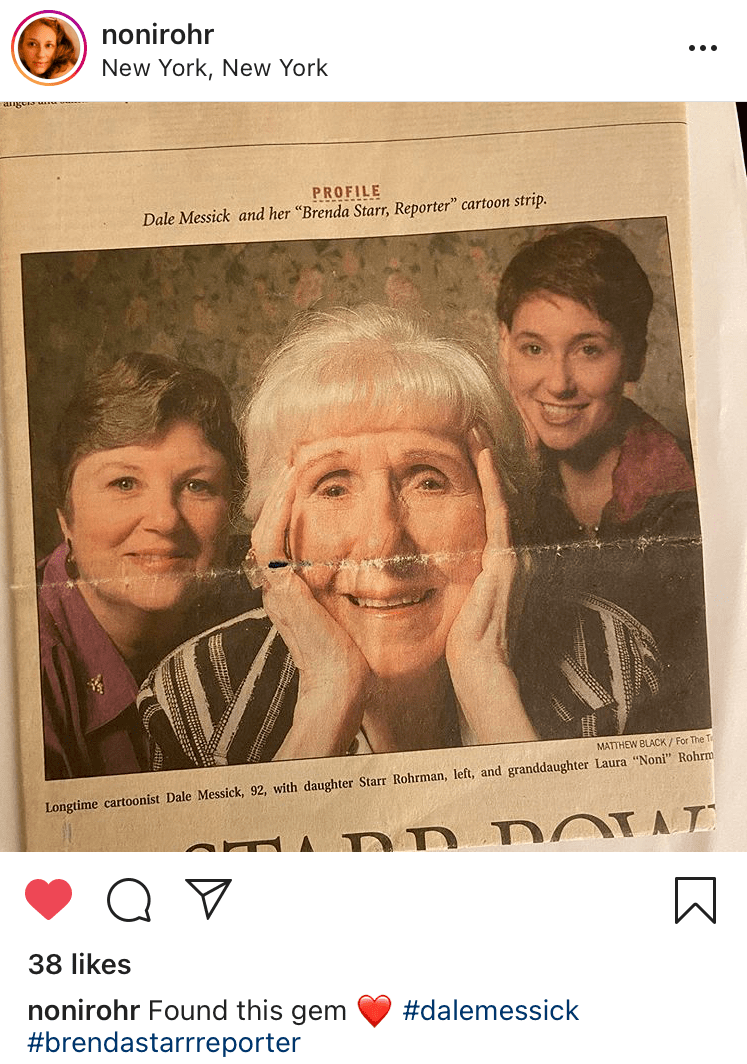 Tell me the story of Reporter Girl? Do you have plans to bring it back? How can people check it out?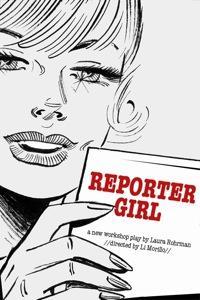 Reporter Girl is a full-length play about the life of Dale Messick's that I started writing/working on forever ago; there has been a lot of ebb and flow with this play over the years. It really is a wonderful story of how Dale Messick created and sold Brenda Starr and then became so successful in a completely male dominated field in 1940. Just think, she really was the only woman in that boys' club. The play has been an O'Neill Semi-Finalist, a Weissberger Award Nominee and a Princess Grace Fellowship finalist to name a few. It's on NPX if you want to read it. The play hasn't had an official world premiere production, but it's had many readings. Who knows…maybe we will put something together on zoom. Or maybe some part of this story will end up as a TV show. Or maybe it will be up on Broadway when Broadway re-opens. It really is my dream to see this play on Broadway.
What was the hardest lesson to learn as a working mom?
That I will never get a break. That I might as well write when they are screaming behind you, because…you can't keep waiting for tomorrow. I learned a lot about writing and time during Covid. It can be done!
What is your favorite memory of your mother growing up?
What a nice question. I love that my mom read to me. I'm absolutely an avid reader and I credit her for that most of all. I happen to be reading a book to my daughters that my mom read to me when I was 10 or 11.
I now pass books on to both my mom and dad.
What is your favorite memory of your grandmother growing up?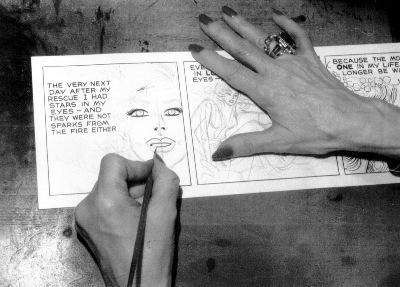 I loved spending time playing in her closets. Dale used to dress me up and we both had so much fun. Also, I loved watching her draw.
What would it take for Brenda Starr (your grandmother's creation) to see the spotlight again?
I wish she would be more in the public zeitgeist.
Honestly, the Tribune needs to embrace my play project, which they should because it would be a win-win for both of us. I can see talking more about the fantastic art of Dale Messick and Brenda Starr would be a way into teaching younger women and girls about Brenda Starr and Dale. The recent (2019) exhibit in NYC that I co-curated at The Society of Illustrators brought a lot of new interest in Brenda Starr. That was a really wonderful New York City moment.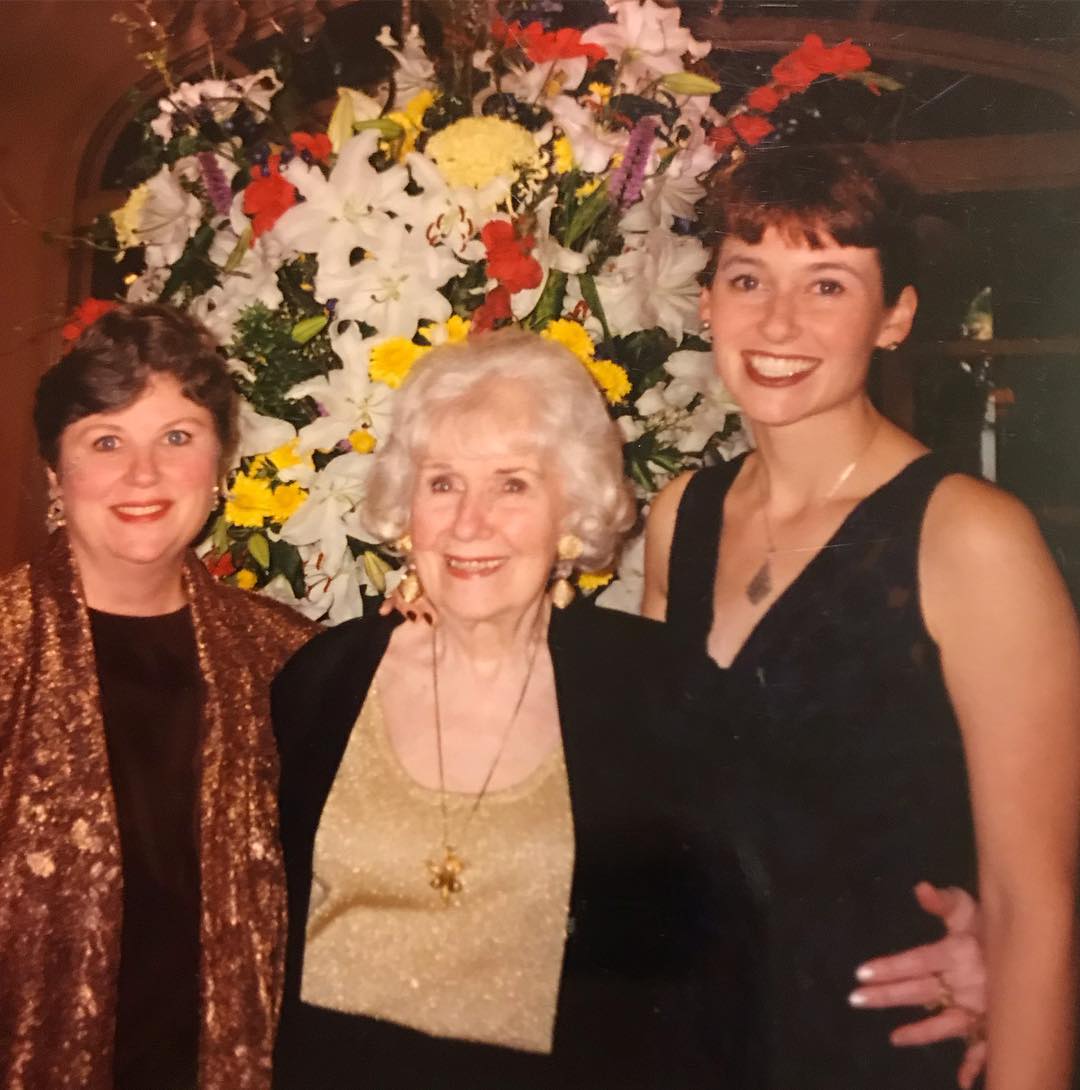 In today's struggling economy, what steps have you taken to continue to grow?
I am not sure how to answer this. I took TV writing classes for a number of years, but I have actually felt underemployed purposefully as a mom of two for many years. Sometimes I see what other people are doing and I just don't know how they have so much energy and then I know some people think that about me. In essence, I only wish I worked out more, took more yoga etc. And then, you know life happens while you are busy…What is it they say about kids. The days are long, but the years are short. One day, I took a breath and my kids seemed more independent and all these other avenues opened up to me — friendships, partnerships and a new career path, almost because I embraced motherhood and didn't try to fight it so much.
Where did you get your training for what you do?
I went to graduate school for playwriting and acting at the Actors Studio Drama School in New York City. I also studied TV writing with Alan Kingsberg for a number of years
What books, podcasts, articles, etc. do you read/listen to that have influenced the way you approach you work/art?
I'm part of lots of Face Book groups for my field, so I'll pop in and read/watch podcasts sometimes as part of that.
What's the #1 most asked question people have been asking you lately?
What inspired me to write certain plays/stories….
What's something you wish people would ask you more about? What inspired you to write that?
Ha ha. I'm finally getting asked more about my writing. It's the dream. I could talk writing all day.
What are some future plans for your writing, etc.?
I just relocated as I said and I really have a lot percolating and not much time to get to it. I am also in the midst of signing a TV writing project, so this might be what I'm working on for the next few months.
Tell people about My Life As You, your new play. How can people check it out virtually?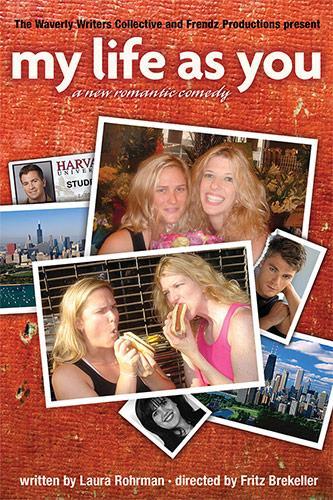 It's not a new play, but it is a wonderful romantic comedy with women at its center. Set in Chicago in 1998 it's a play about love, friendship and young women entering the workforce. It's pretty fun. A monologue from this play is published in Best Women's Stage Monologues 2017 Smith and Kraus. It was just done as a zoom reading in August with Mad Cow Theatre in Fl (where it was a finalist) but the link is not still live. I think this play should be done again in Chicago. So fun.
My newest play is a comedy called, The Agency and it's about an old literary and talent agency in New York City. I just finished it during Covid.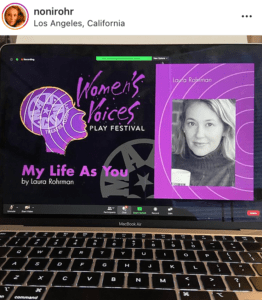 Is My Life As You (1998) set in Chicago? Tell people about it and how people can check it out virtually.
Yes, it's set in Chicago, but unfortunately there is not a live link to watch it. I should find out if we can put it up (even briefly).
Is there anything else that I haven't asked you that you would like people to know about your business and you?
Here's my business website: www.playwritingforkids.com
Here is the link to NPX where you can read some of my plays.: https://newplayexchange.org/users/1786/laura-rohrman
Here's a link to a virtual tour of an exhibit of my grandmother's Brenda Starr legacy: https://soidev.soitickets.org/exhibitions/brenda-starr-reporter-the-art-of-dale-messick/
---
30-Minute Zoom Interview