Avocado Express Opens In Tinley Park, Illinois
PERMANENTLY CLOSED
Avocado Express quietly closed at the end of 2022, after less than one year.
Quick Facts About Avocado Express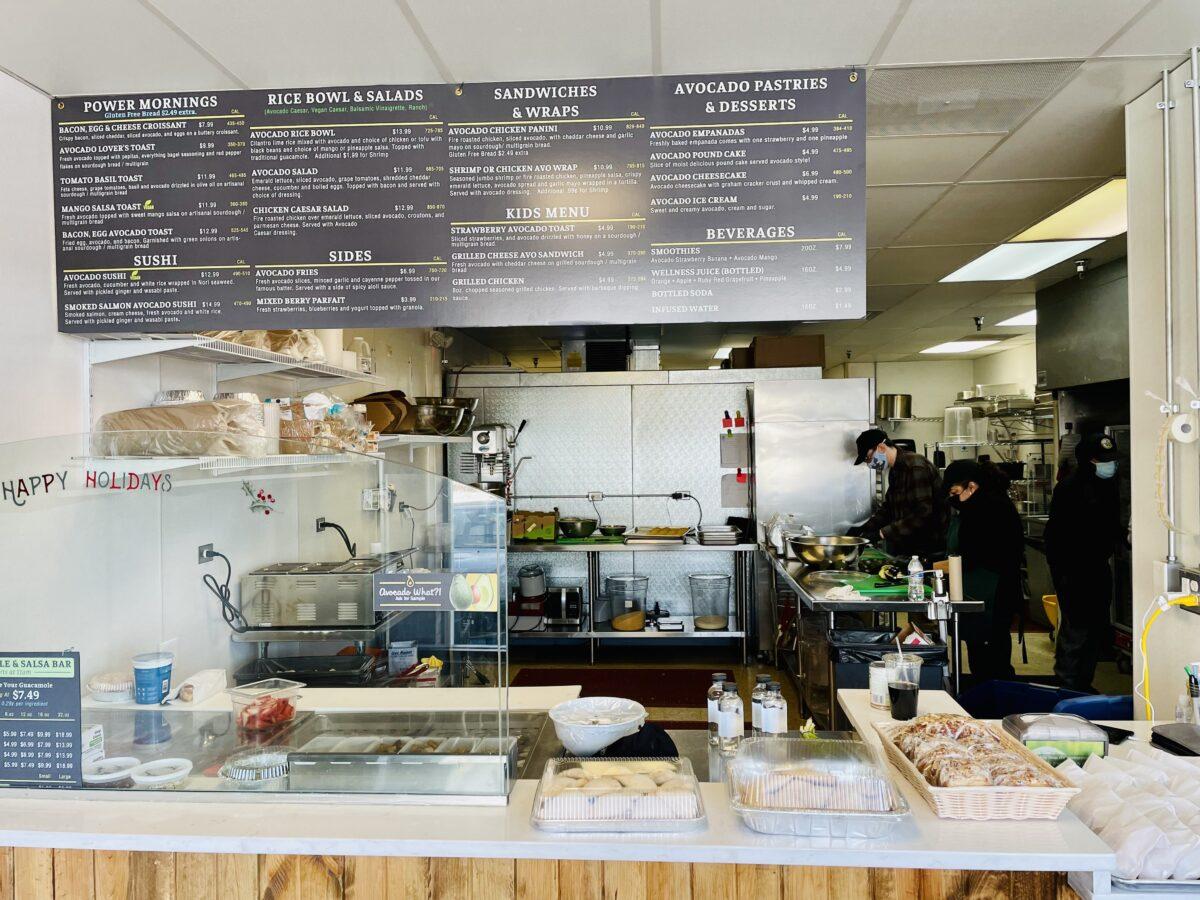 It happened At 8:00 AM
this morning Avocado Express ?opened for the first time. And yay for us Tinley Park west-siders that it's close to us. I drive along 88th Avenue quite a bit, and being just 1 mile from our home, it will be a great help for last minute meals, snacks, and food for parties.
Avocado Express is Avocado Theory's quick-service, takeout, delivery, and catering arm. So it's not a sit down restaurant like Avocado Theory on Oak Park Avenue in Downtown Tinley.
And in case you missed it, I wrote all about the mothership Avocado Theory last month. So if you need more convincing, that article might have more for you to chew on.
Perfect Choices For Families To Order At Avocado Express
If you're looking for somewhere different to grab breakfast, brunch, lunch, or dinner—I would definitely recommend Avocado Express. You can't go wrong, and you'll be surprised at how many things can be made with avocado!
For our family of 3 (not counting our dog Samantha), we ordered:
Strawberry Avocado Toast for our 3 year old daughter (sliced strawberries and avocado drizzled with honey, on a sourdough/multigrain bread).
Bacon, Egg, Avocado Toast for my husband (fried egg, avocado, and bacon. Garnished with green onions on artisanal sourdough/multigrain bread).
Mago Salsa Avocado Toast for me (fresh avocado topped with sweet mango salsa on artisanal sourdough/multigrain bread).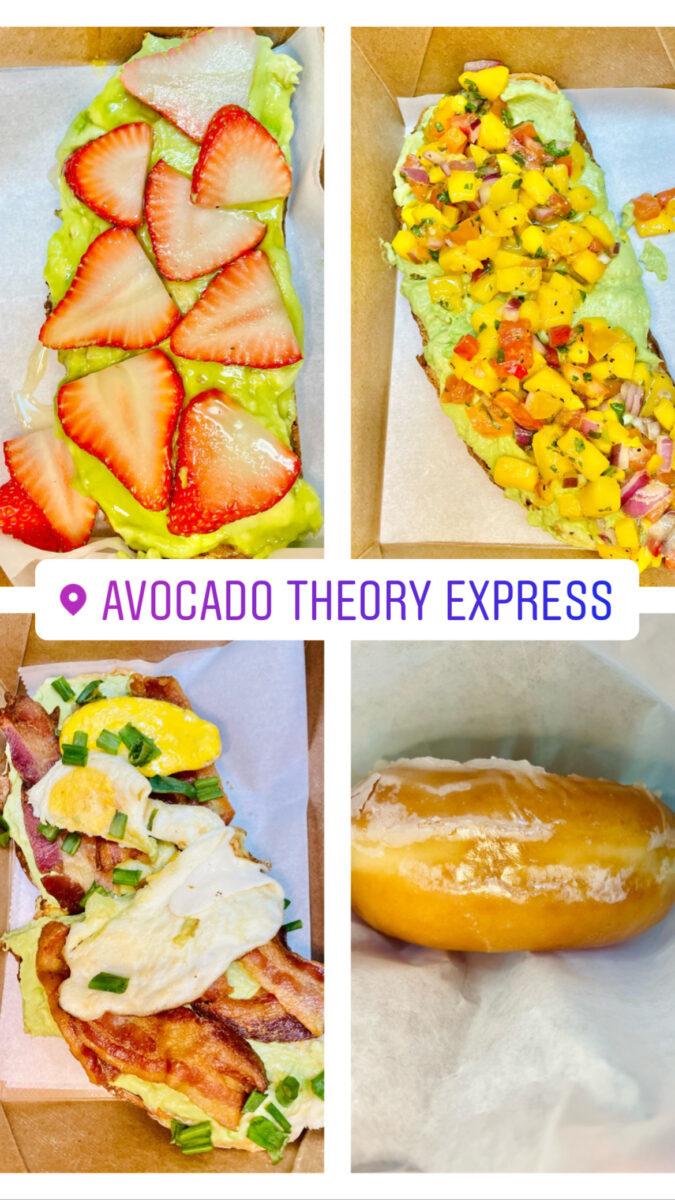 Avocado Express Menu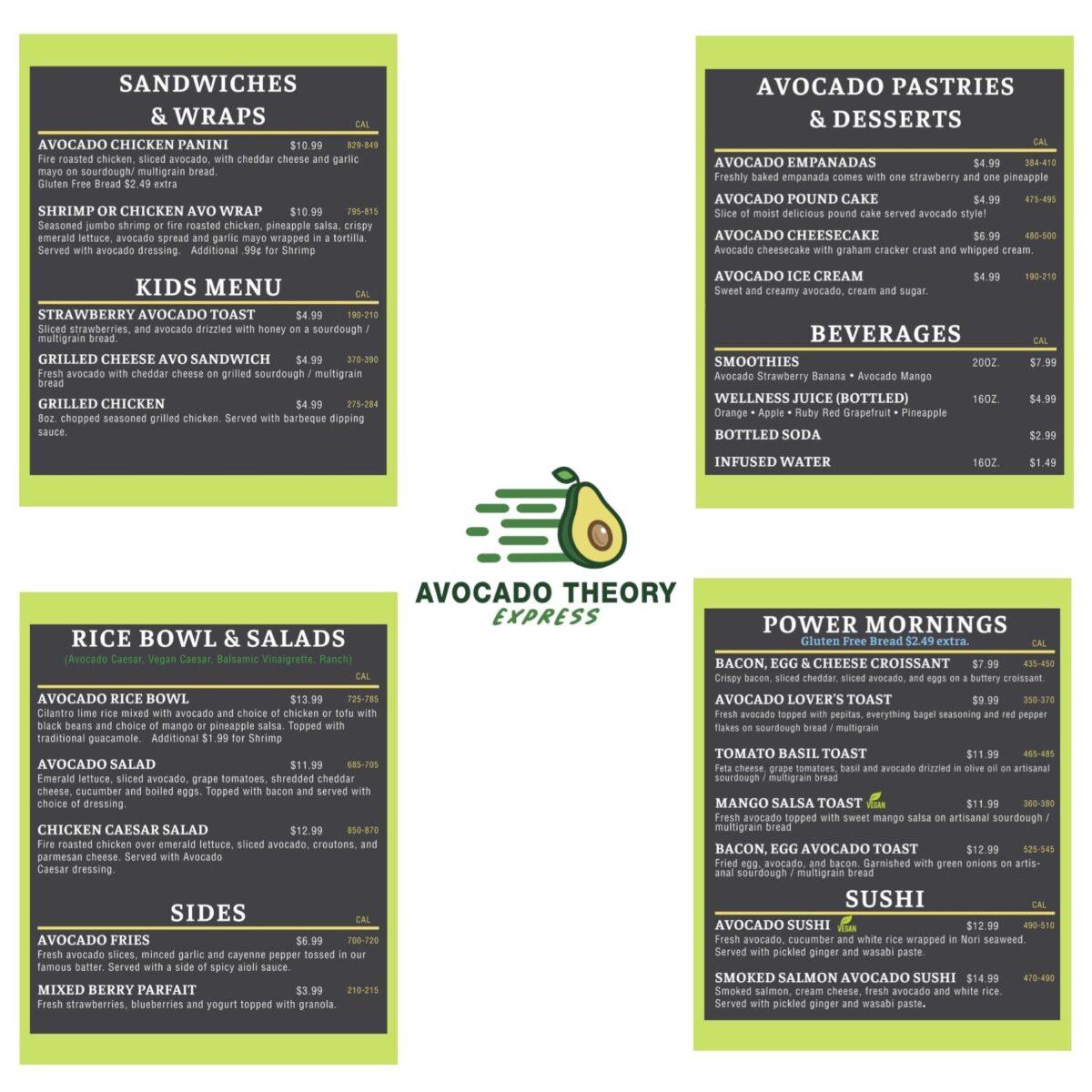 Quick Review Of Avocado Express
You'll see a classic glazed donut in the photo above—that's from Frosted Donuts, which is the grab-and-go spot's nextdoor neighbor. The owners bought a ton as free samples to give opening day patrons this morning. A great save for us parents with little kids who are difficult to get eating unfamiliar foods, also it's nice to mix in healthy food with a little unhealthy food—gotta have balance, can't deprive yourself. And truly, even if I didn't eat that donut, the Strawberry Avocado Toast already felt and satisfied my tummy and tastebuds like that donut. For real!
The honey drizzled on the Strawberry Avocado Toast brings that inimitable sweetness that only honey can add. It really satisfied my sweet tooth, and I felt soo good in another way too–once I finished it for my daughter. I haven't felt bloated all day after today's breakfast. Not overly stuffed either–I was so happy and I still am. And I honestly wasn't even hungry for lunch today! We all shared each others choice, but regardless, I am so excited that we have Kru and Melissa's Avocado Theory food spots.
Can't stress this enough—if you are looking to slim down, stay healthy, or gorge yourself with delicious food that's off your typical beaten path—you'll understand once you give Avocado Theory or Express a try. I actually might lose weight because I am still not hungry!! I did also drink a 20oz peppermint chocolate tea with milk and sugar…so my body's judgement is not as accurate as it could be…but I digress.
Healthy, simply, scrumptious, fairly priced, and positively vibed, Avocado Express and Avocado Theory are the new kid in town, but in my opinion their food isn't something I'd grow sick of. The items are not just a "novelty", though that will dwindle as more experimental concept recipes and establishments pop up.
For those who see Avocado Theory as one of those yuppie stereotype wellness restaurants, grocery stories, shops or other food joint (recent example: Kreative Jūs from the Netflix adult animated show Chicago Party Aunt)—the owners have created a brand that is the opposite.
Avocado Theory and Avocado Express is a small family-owned business like every other in Tinley Park, only new and unique, and for sure an inspiration and a light in an otherwise quiet village.