Avocado Theory in Tinley Park — Everything You Need To Know
If you're looking to explore newer and healthier ways of eating well, Tinley Park should now be on your list of places to check out in Chicagoland thanks to Avocado Theory, a new restaurant that is literally America's 1st Avocado-Based Restuarant.
Vegan Friendly

Gluten Free

Avocado Everything Everyday Starting 6:00 AM
?Located at 17302 Oak Park Ave., Tinley Park
Opened just 3 short months ago on October 21, 2020, it's been a labor of love for Krunal and Melissa Patel, what with the pandemic delaying the restaurant's construction and opening.
I was invited by Kru himself to come visit because moms know what kids and adults will like, and my audience has grown quite a bit since I first started blogging in May of 2017. So let's see what the power of suggestion does—here's my review and recitation of what I learned through my experience at Avocado Theory.
Leading Up To My Stop To The Guac Shop
How many ways can you eat an avocado? How many things can you make with avocado? How many things contain avocado? Krunal has figured out literally every which way to use avocado. It took a self-calculated 10,000 hours to find out with his staff—experimenting like mad to craft their one-of-a-kind menu.
FUN FACT: According to Dr. Janelle Sinclair, avocado is one of the top natural ways to improve dopamine (the feel good checmical in our body) because it's a Tyrosine-rich food.
Other Tyrosine-rich foods: (along with seaweed, pumpkin, spinach, bananas and protein rich foods (meat, poultry, fish, eggs, dairy products, nuts & seeds, beans & legumes)).
What this means is that avocado aides in combating the blues (a.k.a depression).
Review of Avocado Theory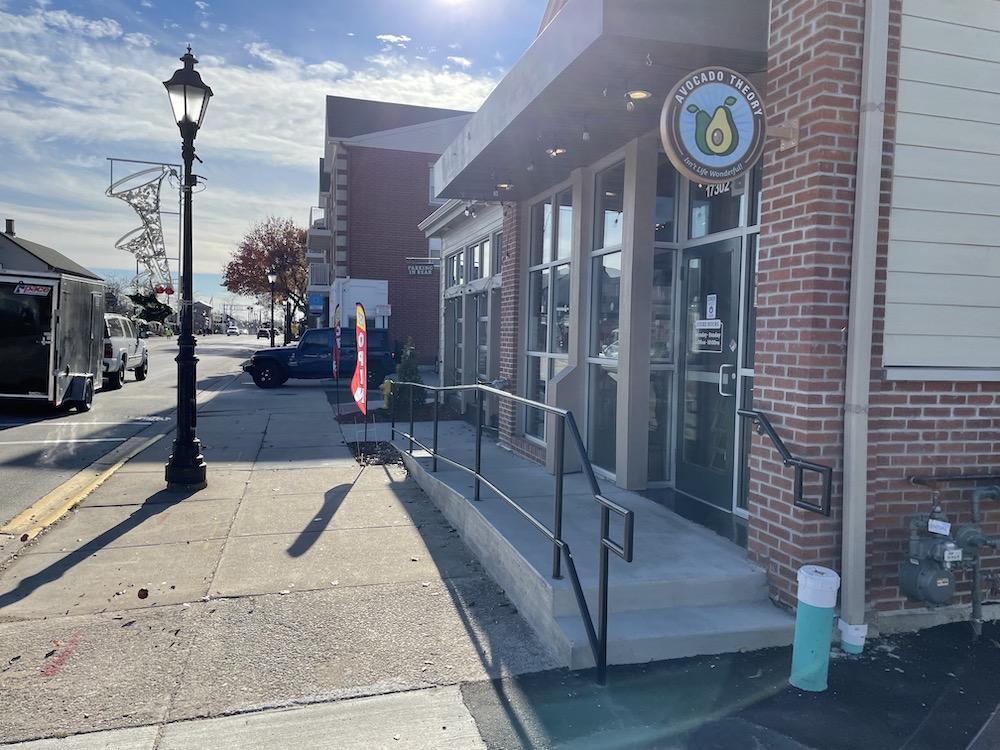 It was a sunny, beautiful early winter day—highlights the beautiful newly constructed building.
Adorable on-brand colorful pavement paintings with arrows pointing you to your destination.
Accessibility: Has a nice easy ramp for the wheelchair bound to access the restaurant.
Always safety conscious: there's an electronic hand sanitizer station right as you enter the restaurant.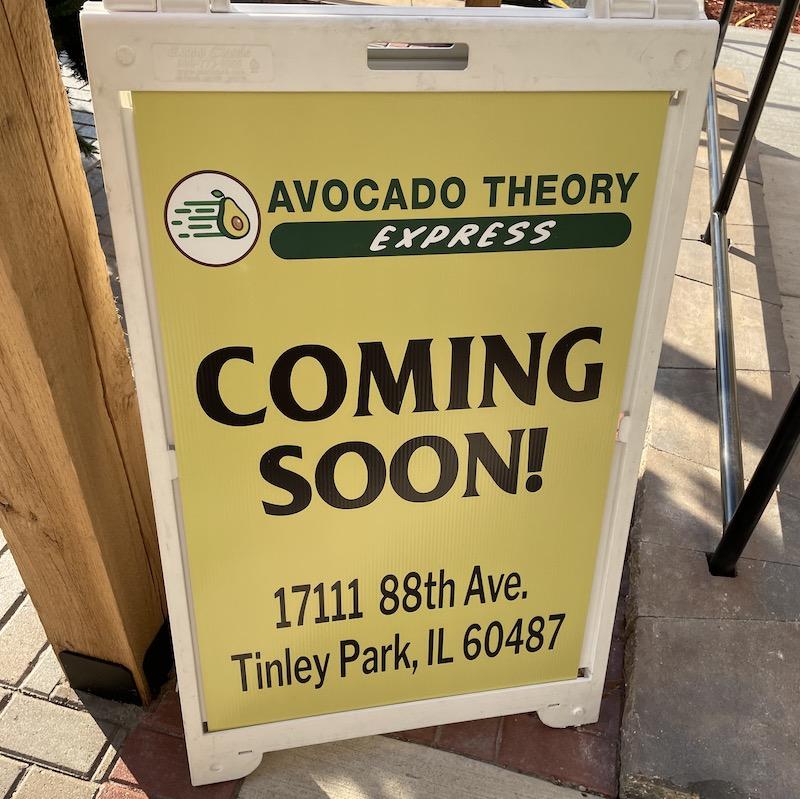 The restaurant gave off a warm, positive atmosphere, down-to- earth, and it was good to multi-generational customers seated inside.
And of course as you come up to the counter to order, you have sweet treats and pastries made with avocado winking at you on the other side of a glass partition.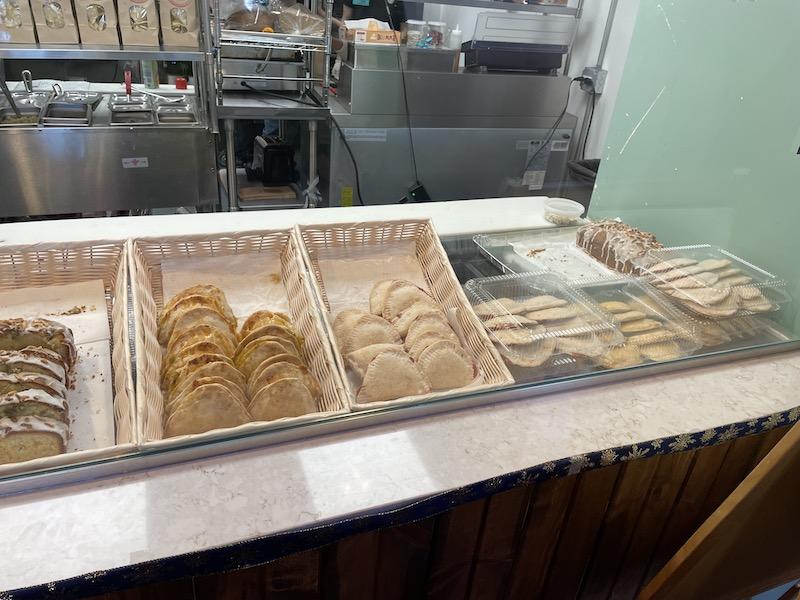 DYK you can drop off your letter to Santa at Avocado Theory too? You can also write your letter there (they'll provide the material) and then you put it in the special red mailbox! They'll send all your letters off to Santa & announce the responses Christmas morning!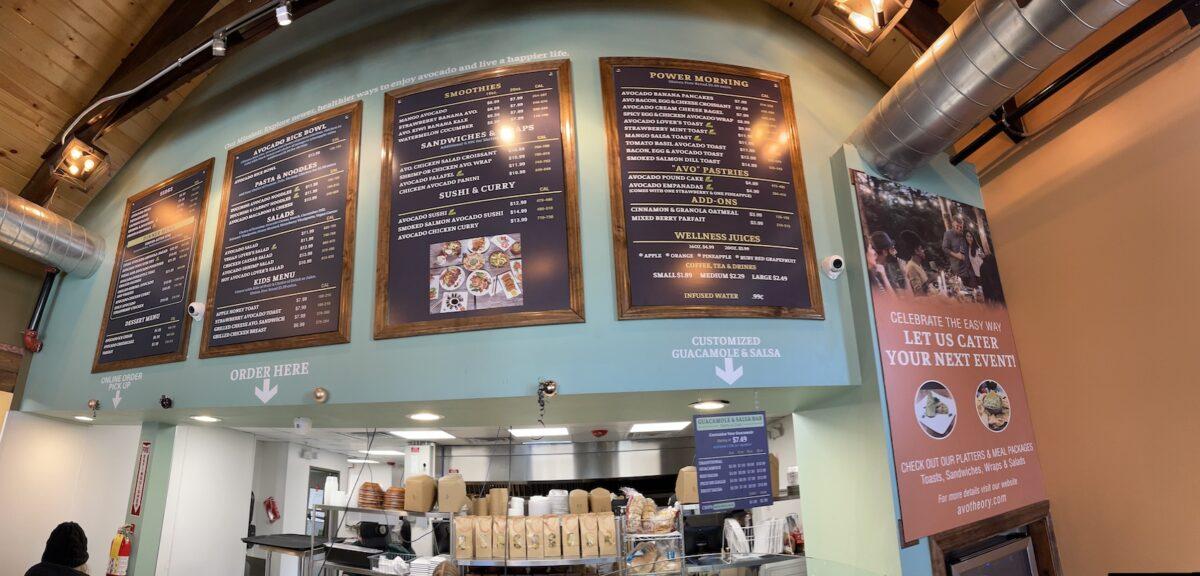 The menu isn't as intimidating as you might think. It's easy to read up on the wall above where you'll order your food, and everything is customizable—they're very accommodating of special requests like adding slices salmon to an avocado bowl, which is what I asked for. My husband enjoyed the avocado salmon sushi—just as good as sushi you'd have at an authentic Japanese restaurant.
My impression of the restaurant from an operations standpoint is that it is well thought out, organized, and smooth. I mean, they have a full-on Christmas tree with a cute avocado at the top for an angel. Impeccable choices in my book. And the staff are conscientious and friendly, they look really happy to be there, and I was impressed that. I just didn't feel any tension, even at the very beginning of a lunch rush, and on a weekend!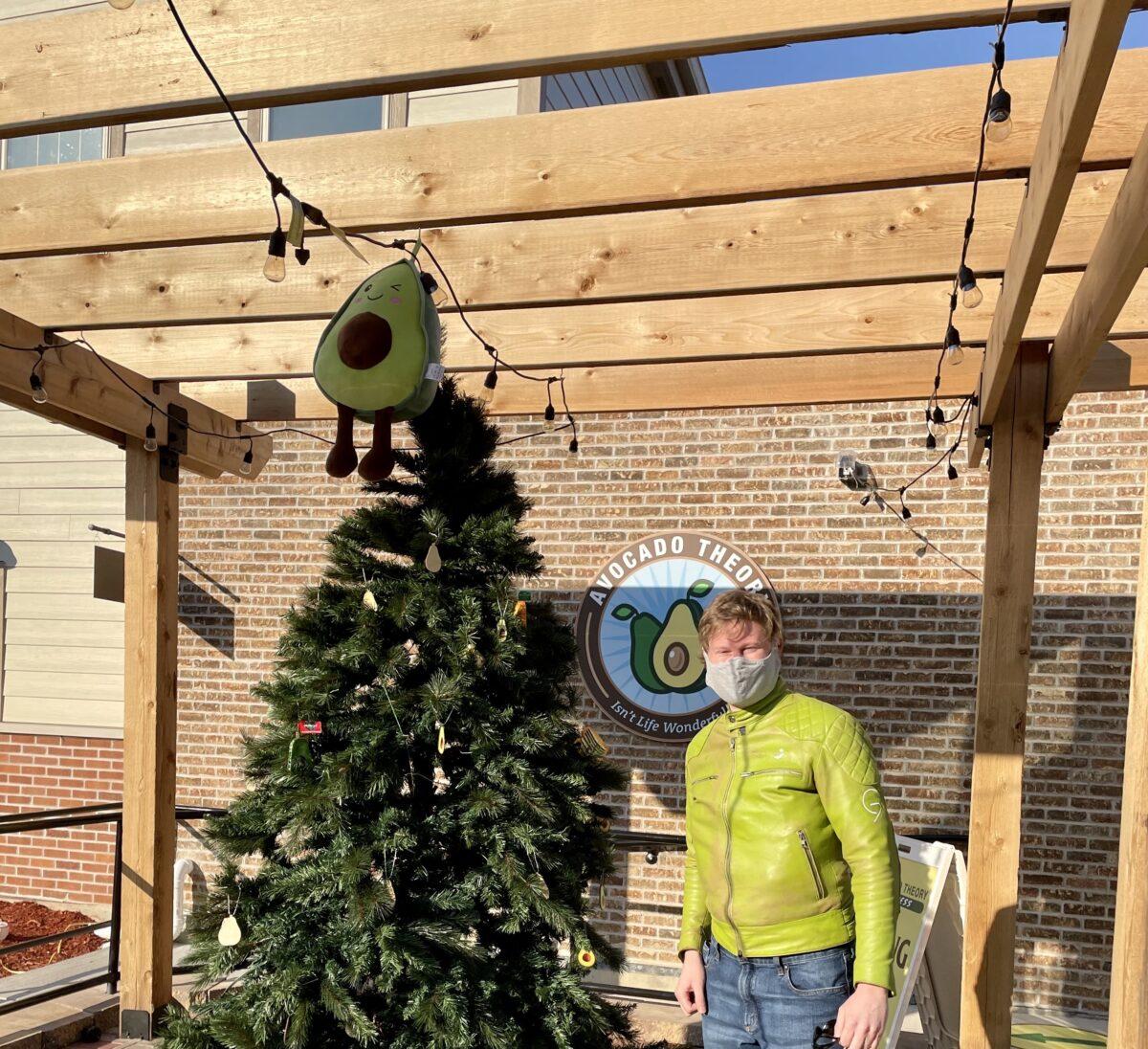 What I loved hearing from the folks seated at neighboring tables from ours is how Kru and his crew remember people's names who come often, and another theme that kept popping up was this feeling of calm. But I'm still stuck on the names thing—my mind instantly thought of the theme song to the 1980s TV show Cheers, and that line "where everybody knows your name…" I definitely caught a cheerful vibe inside Avocado Theory.
But back to Kru, I saw him all over the place like water. Kru and his wife Melissa were so present and a part of everything that was going on inside. They were a part of the serving process and everything going on around them. They were being the support that servers need, especially when things get busy—which is what happened when we arrived. And you get the sense that Avocado Theory is like their home, because they don't look rushed or nervous, as they move through the restaurant. And what is very telling is the patience that they show younger staff as they show them how to do something better and easier. Their staff are visibly comfortable with them, and that is what you want to see in any workplace.
Avocado Theory is still hiring by the way, so definitely check out the Avocado Theory Careers page if you looking for a chance because as it says on their Careers page: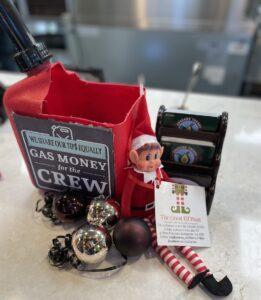 From all the articles you're bound to read about Kru and his inspiring story of immigrating from India when he was 21 years old, you will get the young man you read about when you meet him in the flesh. And no doubt, you will meet Kru and Melissa. Kru is an earnest almost 35 year old whose character and work ethic shine through, as does his wife Melissa's. Like my husband and I who run our own business, they are a strong partnership, complimenting each other in the areas in which they shine.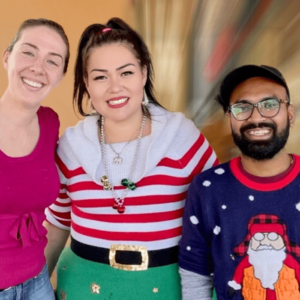 Also, I want to make clear that this visit wasn't your usual influencer or journalist's visit. No big exposition where I was greated and given this oppoulent tasting of every item. I like to visit places anonymously to have an unfiltered experience. When I did go to get Kru's attention he was excited—not nervous. In all that time that my family were there, he hadn't been caught behaving badly like some owners. We all have bad days and especially in the restaurant business, but Kru was ready for this opportunity.
Who Is Kru?
Kru is a man who prepared himself for years studying business, working for others and learning, always learning. As he intimidated to me, he did everything from the ground up himself—no family leg up, just him. 14 years later here he is, after that soul searching, that taking a chance and applying to college in a foreign country, tirelessly working to earn what he can do now, —and grow! He has already received 3 offers for franchising Avocado Theory, but he has declined them because he wants to make sure he and Melissa get it right. Like any new concept centric business, in the beginning you are learning who your audience is and what you do best for them. Kru and Melissa want to start small and be as inventive as possible in this early stage.
They started with a small menu to train employees right, not rushed. A family who sat next to us confirmed this and how from the beginning Avocado Theory is has been tweaking the menu to what people are responding to. So when you go, do give your honest opinion when they ask for your opinion when you leave.
And definitely take chances when you go! Like try the avocado cheesecake! It's one of the most popular offerings at Avocado Theory, and it's actually quite good!
Avocado Theory Is A Great Restaurant For:
Great Place To Get Your Baby To Eat Finger Foods
I think at this point every adult knows that finding a place where your child will actually eat is a challenge. But moms are probably a restaurant's best advocates because when our kids like your food, we come back again and again, and we'll tell anyone who is looking for a great place to eat, regardless of if they're a parent.
If you really take the time to think about it, avocado really does seem like the perfect fruit/vegetable you could pick if you set out to create a themed restaurant devoted to making it the center of all your offerings. I don't know anyone who doesn't like avocados, and the beauty of them for parents is that they are mooshy—because kids like things that are mooshy and squishy. Especially babies!
As a first time mom, I learned that no matter the mess, if playing with squishy stuff made it into my child's mouth and the process helped ease her into eating with her hands, I added it our grocery list. Things like chopped strawberries, mashed potatoes, oat meal, watermelon, super soft cooked carrots, and avocados. It's a no brainer to give Avocado Theory a try if you're struggling to get your baby to move onto the next level in food.
Great Hangout For Students And Laptop Workers
Former Tinley Park Patch Editor Yasmeen Sheikah put it best in one of her last articles for the online publication, before joining Chicago's FOX Channel 32 TV:
The vibe of the restaurant is quieter than a Starbucks, which I believe many customers working on their laptops while drinking coffee and eating a late breakfast or early lunch appreciated. The garage door patio seating is eye catching and trendy. When the weather is less gloomy, it will be nice to sit on the patio overlooking Oak Park Avenue with some avocado toast, coffee and a newspaper.

Personally, I think this may be a new go-to for students. It felt like I was back in college, studying at a trendy coffee shop before class, with soothing music, natural lighting and a sense of peace.

Yasmeen Sheikah, Avocado Theory Opens In Tinley, Brings New Twist To Town: Review (Posted Thu, Oct 28, 2021 at 4:52 pm CT)
Great Splurge For The Health Conscious
One mom in my Tinley Park Moms Facebook Group named Seanna S. commented about Avocado Theory that, "Having this place so close to home makes me feel like I'm on a diet just cause it's avocado
." So if you struggle with your weight or eating more healthily, Avocado Theory is a safe harbor. Just ask and the kitchen can whip up a customizable avocado request to help you find what works for you and satisfies your tastebuds.
Also, Avocado Theory has a separate menu for the calorie conscious as well, so they watch out for you too.
Probably Not The Best For The Avocado Allergic
One mom said it best: Laura P. from the Tinley Park Moms Facebook Group: "Their menu looks so yummy (OMG, customizable guac? Genius!) and I appreciate how conscientious the owner seems on their website! This may be the climax of my memoir, "My Avocado Allergy: A Life Cursed" "
Great Alternative Dessert Option For Holidays
Kru said that their avocado cheesecake is one of their top three items on their entire menu. And he was right…it's different and I liked it ?. I really do think avocado cheesecake or any of the other avocadoed desserts would be a really cool Thanksgiving, Christmas, or other holiday dessert idea too.
Great Gift Card
If you want your gift card to stand out from the Starbucks, Target, iTunes, or whatever other usualy suspect given on Christmas and birthdays, you would accomplish that goal with an Avocado Theory gift card. Who would reject a gift card to a place that:
Has
? Fresh and quality ingredients.
Is a
?Local small business,
and
♻️ Recycling and environementally minded,
with
Great customer service.
??
Kid Friendly, and nothing but Organic Delicious Nutrition
The entire theory behind Avocado Theory is healthy, even the unhealthy things are technically healthy.
Best Bets That Your Kids Will Like: Avocado fries, chips n' salsa, avocado grilled cheese, and avocado pancakes.
Great Help In Accomodating Vegan Dinner Guests
This goes without saying. Avocado itself is vegan ideal, so whatever you would like Kru's crew to make, you got it!
Great for Picky Eaters
Avocado Theory can accomodate a lot of requests, so if you have a picky eater or you are one yourself, put them to the test and they will show you their best.
BONUS: If you're not happy with the service you received, or if you spot a mistake, you $3 back.
Why Guacamole?
"As the Produce Manager at a grocery store (Mariano's), I was working late on a Superbowl Sunday and astonished to see the line for guacamole—it was insane! This made me wonder how could I introduce this healthy, creamy, and delicious fruit into a variety of dishes?

In 2019, I started selling guacamole with my wife as Grandma's Guacamole and Salsa Bar at the Farmers Market in Tinley Park, Illinois. The outcome was outrageous. Now we are introducing the world's first restaurant that serves an unlimited number of ways to enjoy avocado in your life.

At Avocado Theory, our mission is to explore newer, healthier ways to enjoy Avocado and live a happier life.

We would love for you to read our Full Story, Inspiring Journey from India to Tinley Park"

Kru Patel, Founder of Avocado Theory
When I first heard of Avocado Theory last year, I immediately thought of those Food Network competition challenges where the contestants are tasked with making X amount of dishes that have one key ingredient that needs to be the center point…the linchpin if you will. Good for Kru for taking a favorite dip and whipping up a myriad of other uses for it.
Avocado Theory is the ultimate restaurant of intrigue, but I think the one thing I haven't seen yet on their menu is an avocado donut.
Why Choose Tinley Park?
It's a good question isn't it? Why choose a small midwestern town that not many even know about as your flagship you ask? Kru chose Tinley for his cool concept restaurant because it's the town that embraced his offers the most, out of all the towns he would bring his avocado products to, in those early days going to farmer's markets.
One of the legends of business who Kru looks to for inspiration is Steve Jobs, and so far he has demonstrated that he has a visionary mindset and can do anything he sets his mind to. That coupled with all the buzz it has generated since it was announced over a year ago, I would say don't be surprised if you start seeing a long line of people along Tinley Park's Oak Park Avenue…Tiney Park might be the site of the next huge brand of the avocado business. Starbucks might want to watch out if they make better frappés. ?
Personally I think Tinley Park is a perfect starting point for just such a unique restaurant because you need a new kid on the block to keep a town or city vital. Avocado Theory is a sign of fresh new ideas coming to a town famous for its breweries and longtime old-school American restaurants. Avocado Theory is reflective of a younger generation of small business owner coming of age. And Kru has built relationships with the folks in Tinley and has received incredible help out of the blue all through this journey, from 2019 at the farmers markets to today.
Small towns aren't small minded, at least not anymore. A town like Tinley Park is one that grows with you, rather than a big city that can chew you up. As Tinley Park continues to feel out its new branding, so too will Avocado be feeling things out.
New Avocado Theory Ventures In The Works
Kru shared that Melissa and he also have the following projects lined up:
Avocado Express: Coming in January 2022. Will be next to Jets (major intersection: 88th/171st). A small version of Avocado Theory that is just for grab-and-go (easy for parties to get what they need fast too), with top items from the avocado mothership, which are more quickly ready-to-go.
Avocado Health Shop: Still in development. Will have helath products that all contain the avocado in some way. Apparently avocado seed, when ground up, have enormous benefits for skin, hair, and the body in general.
Avocado Pizza: In developement.
UPCOMING: First Taste of Avocado Theory
And one of the ways Avocado Theory is going to be feeling things out, trying new things, and getting more inventive ideas is through feedback not just from customers who come to dine, but also people who come to their first ever Taste of Avocado Theory.
The 1st Taste of Avocado Theory will take place next Wednesday on December 15, 2021 from 6:00 PM to 8:00 PM.
You're invited to our first "Taste Of Avocado Theory" on Wednesday, Dec. 15th from 6 to 8pm! This is a FREE event, so bring your friends and family and enjoy samples of some of our fan favorites, including:

• Avocado Lovers Toast
• Avocado Mango Salsa
• Avocado Rice Bowl
• Avocado Chicken Curry
• Avocado Fries
• Avocado Cheesecake
• Avocado Ice Cream
• Avocado Empanadas
• Avocado Pound CakeSmoothies:
• Avocado Strawberry Banana
• Avocado Mango

This is your chance to try us out and meet our staff and owners! We look forward to seeing you!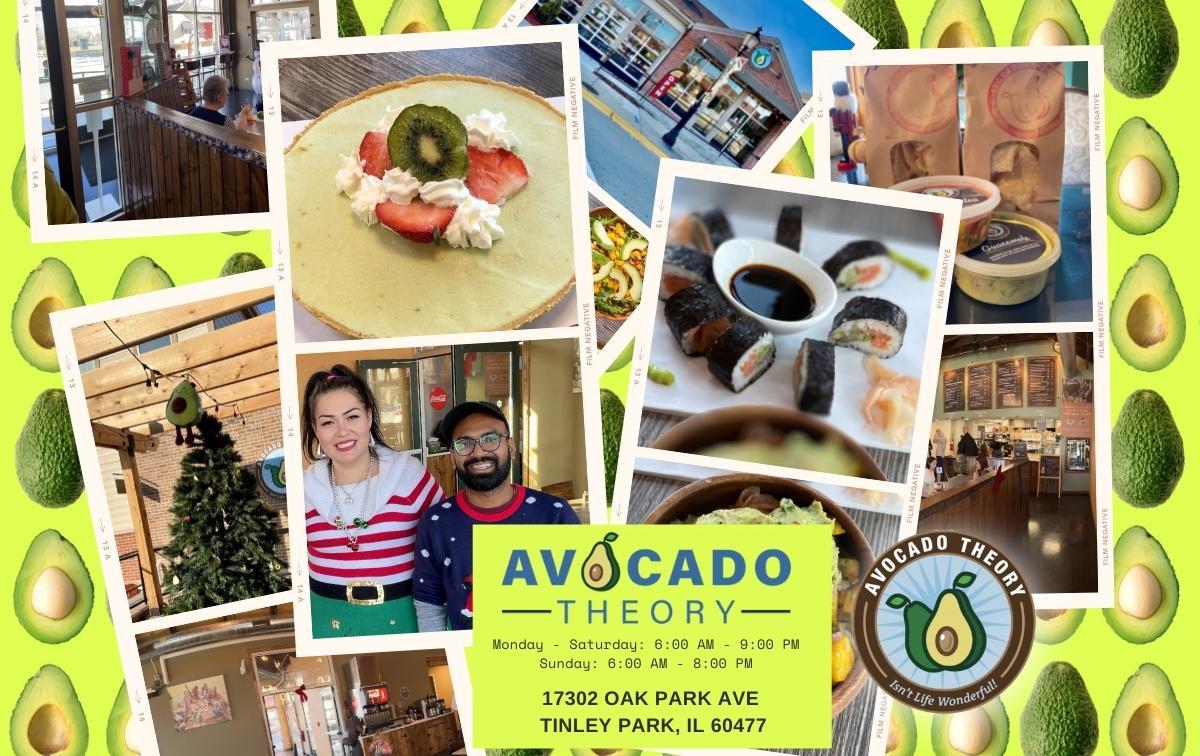 Avocado Care
How To Keep Avocados FRESH
For fresh guacamole, if well-sealed from the air, it should stay green for 2-3 days and green for 5-6 days.
How Do I Keep Guacamole From Turning Brown?
Even the freshest guacamole won't stay that delicious, emerald shade for long once you've left it out and unprotected. Here are our tips to keep guacamole from turning brown:
Pat the guacamole down to give it a flat surface.
Pour a thin but visible layer of water or lemon /lime juice over the guacamole to form a barrier with the air.
Cover the dish with plastic wrap, pushing the wrap, so it is flush with the guacamole to prevent air pockets or put the guacamole in a sealed tub.
Put it in the fridge.
Remove the liquid, tasting your guacamole to be sure it is still fresh, then enjoy!
Why Dues Guacamole Turn Brown?
Avocado flesh is green, but it darkens and eventually turns brown only when it reacts to oxygen in the air. The process of oxidation is kept at bay when the avocado is surrounded by skin, but once you cut and peel your fresh avocado, the flesh will begin to oxidize. This isn't noticeable for several hours, but beyond that, you will notice the flesh of your avocado changing color. Because avocado is the primary ingredient in guacamole, your guacamole will also turn brown as the avocado in it begins to oxidize.
The History Of The Avocado's Rise In American Food Culture In The 2010s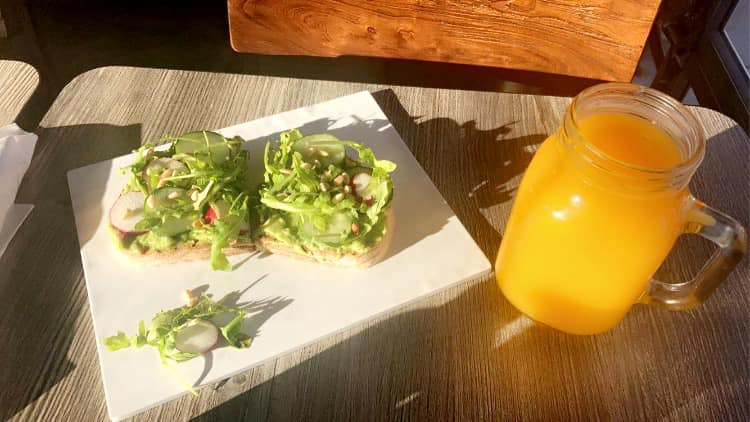 Avocado on toast has been a runaway recipe trend in the last couple years—and of course, we have celebrities to thank for raising its profile.
See Interest over time on Google Trends for "Avocado toast" – Worldwide, 2004 – 2021: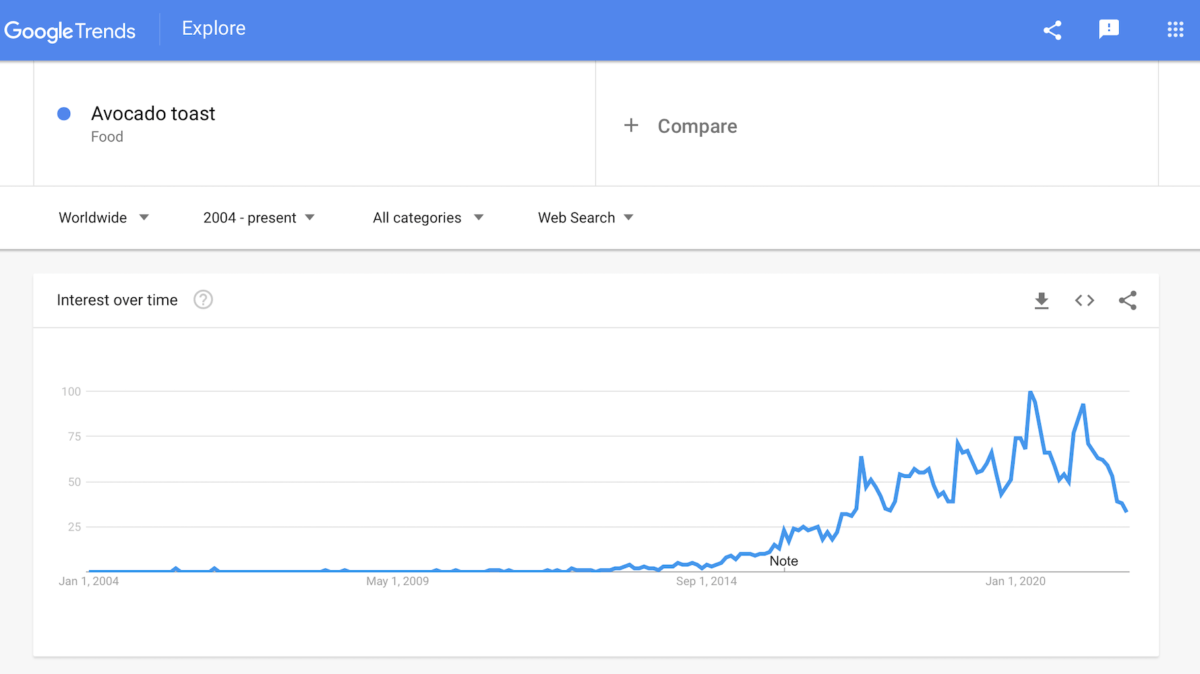 If you like to study trends like I do, quantifiably avocado toast really started to explode in 2014
And if you've made it this far in this article, you know that Kru got the idea to go after the avocado when he saw how incredibly popular guacamole is in the U.S. Lucky for him that avocado toast has become a new favorite.
Avocado Theory could be a trend itself—think about: we could be seeing the next Starbucks level restaurant chain! If that's to be, it'll be a great opportunity for Tinley Park to standout with a restaurant that's entire concept is that avocado can be used to make anyting, and better too!