Pop's Italian Beef In Tinley Park, An Autism Friendly Business
Pop's Italian Beef & Sausage restaurant had a lot going on last month this March, celebrating their 42nd business anniversary. But on my trip to the Tinley Park Pop's location for an influencer marketing assignment from Deerfield based PR firm All Points Public Relations, I learned about what else Pop's does well on top of preparing scrumptious eats.
How Pop's Italian Beef Is Changing Perceptions Around Autism
What better time to share this information with you than April, a.k.a Autism Awareness Month.
Pop's Tinley Park owner Burke Matyas said that about 2 years ago his restaurant partnered with the Chicago South Suburban iCanDream Center, which is also located in Tinley. iCanDream provides special education services and different programs that give people on the spectrum real world experience that is often denied them.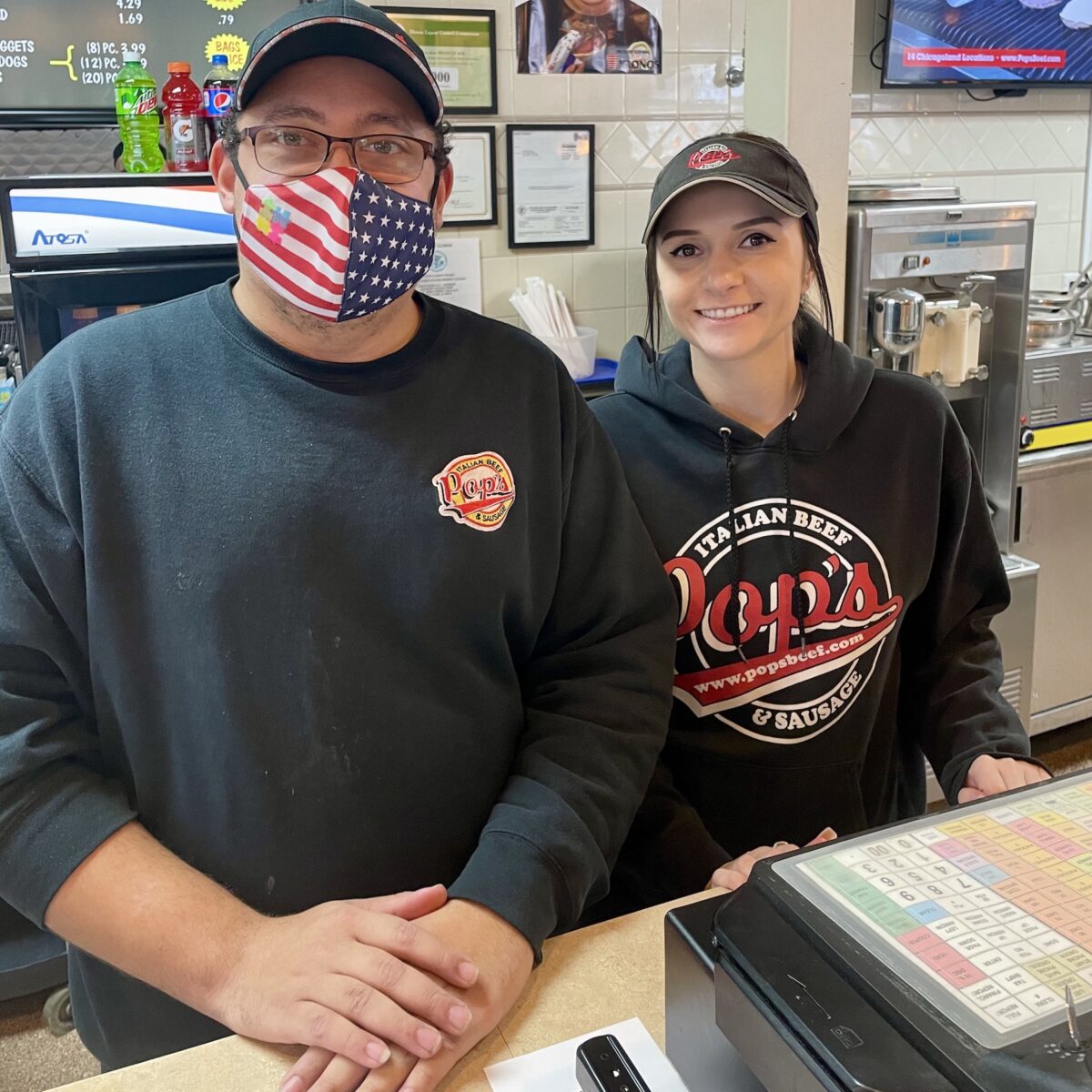 Autism-friendly restaurants like Pop's give individuals like Cam and Joe chances to learn and practice how to better process and react in social situations, and so much more that many of us take for granted. Aswell as prepare them like all of us do at our first job. Matyas hopes businesses and retailers will seize the opportunity to make a real difference for autistic people. And working with iCanDream, a little awareness can go a long way to making the case for those on the autism spectrum.
The arrangement with Pop's in Tinley is thus: Cam, who is a minor, gets dropped off by iCanDream staff and only works a couple hours a couple days a week based on his academic schedule. Joe who is an adult has a different schedule and can work more hours than Cam. And at the end of their shifts the Pop's crew buys them a nice meal to take home.
"Customers get a kick out of seeing them because many people with disabilities don't get a chance," said Matyas. And the beauty is how everyone is learning from each other, both the Pop's crew and the Pop's customers.
"If only people took the time to talk to someone with a disability…you could learn so much. A lot of people say how nice it is of me to let people with a disability work with us…it's the other way around….We are lucky they work with us !!! BE KIND!!! A smile goes a million miles. Remember…people with disabilities have feelings just like us. We are not that different like people think. Take the time and learn…don't be quick to judge."

Burke Matyas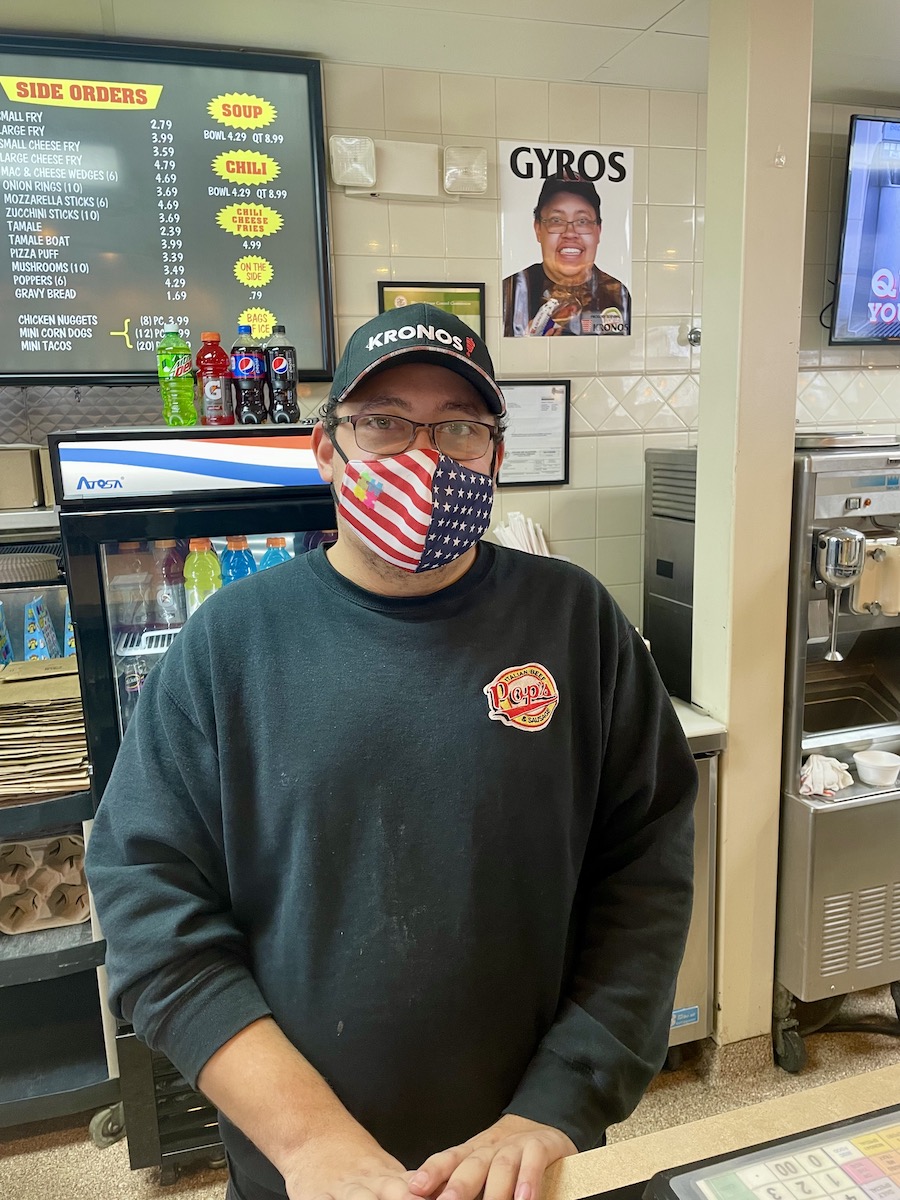 For example, some with autism are incredible at remembering names and some on the other side of the spectrum find it challenging. So with Joe, regulars are impressed by how Joe remembers their names and calls their order by them when it's time to call their order number. Some regulars try to confuse him Matyas said, but it's in fun and Joe is in on it and goofs right back, "because he feels comfortable." Essentially folks, for Joe and Cam, they are included in the Cheer's feel of the Tinley Pop's. There are cultural and emotional things that Joe and Cam are getting out their time at Pop's that nourishes your mind and heart in ways food can only come close to. They are part of an inside family at the restaurant Matyas described. "Everyone takes care of each other," just like a family and of course there's a group text stream. And Joe's mom loves to make things for the crew too! Like this quote t-shirt that she printed "Don't worry. Beef happy!"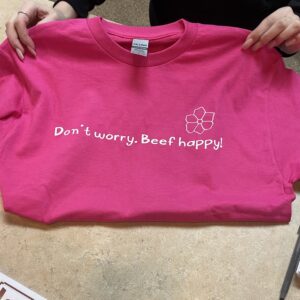 Matyas and the crew have had to protect and defend Joe and Cam on a few occassions. For instance "most don't know Joe is disabled," said Matyas, so it's important that he and the Pop's crew watch out for Joe and Cam. A scary story was intimated to me about a customer who tried to get one of the young men's phone number, but that was shut down quick!
Joe has blossomed over the last 5 years at Pop's and the same is happening with Cam who is a student.
Both men are developing more than just good worth ethic, endurance, and other on-the-job related skills at Pop's—they are building their confidence and their comfort with people, goofing around with regulars and feeling what it's like to be a part of a team—what it's like to feel respected and treated as an equal.
---
About National Autism Awareness Month
National Autism Awareness Month raises awareness for autism and Asperger's syndrome during April. Autism is a complex brain disorder that often inhibits a person's ability to communicate, respond to surroundings, and form relationships with others.
According to WHO, about one in 270 people in the world has Autism Spectrum Disorder (ASD). ASD is a group of developmental disabilities that causes challenges in many areas of one's life. Some of the profoundly affected areas include social, communication, and behavior. Children with ASD are usually nonverbal or they have restricted or repetitive behaviors. ASD also affects people of all racial, ethnic, and socioeconomic backgrounds.
The month-long observance takes place during World Autism Awareness Day (WAAD), celebrated each year on April 2nd. WAAD was adopted by the United Nations in 2007 to shine a bright light on autism as a growing global health crisis. WAAD activities increase world knowledge of autism and impart information about the importance of early diagnosis and early intervention. Additionally, WAAD celebrates the unique talents and skills of persons with autism around the world.
HOW TO OBSERVE #AUTISMAWARENESSMONTH
Host an event supporting autism awareness.
Attend an event and show your support for someone you know.
Share your story and make your voice heard.
While the MONTH also celebrates the stories and lives of those with autism, it's also important to remember that autism is a lifelong condition with varying degrees of severity. It's important to continue to support research for treatment and therapies that will improve the lives of those with autism.
Speak out about autism to help eliminate the stigma associated with it.
Use #AutismAwarenessMonth to share on social media.