Plant Shops, Garden Centers, Nurseries To Know In Chicago's Southland
The Planting Scene in the Chicago Southland
I was inspired to write this after Chicago news channel ABC 7's Windy City Weekend show did a segment on the new Flossmoor-based small business Herbs & The Burbs Plant Co. two Fridays ago on 3/25/22.
Chicago and its northern suburbs overshadow with popular botanic attractions like the famous Chicago Botanic Garden in Glencoe, IL—but in my now 8 years living in the Chicago Southland, I've learned that the plant scene is strong if not stronger down here!
Here are the plant stars you should know, and where I recommend getting planting, gardening, and landscaping supplies too: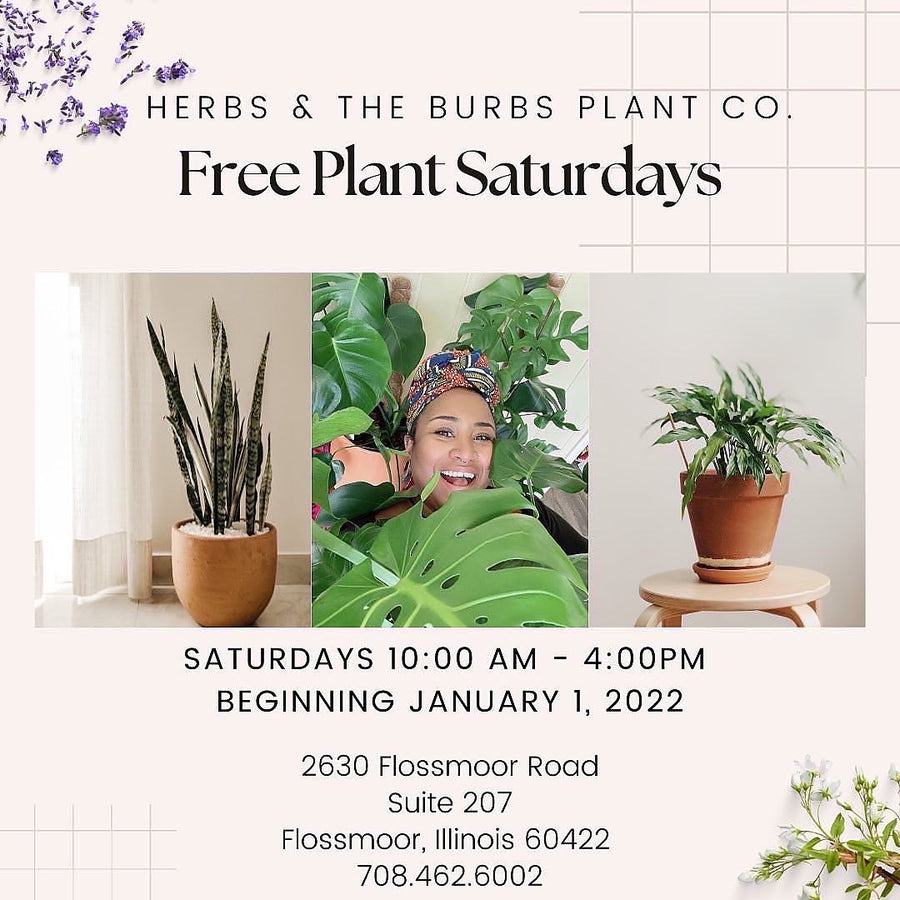 African-American and Woman-Owned, this is the hot new floral force, located at 2630 Flossmoor Rooad, Suite 207, Flossmoor, IL 60422.
The founder's name is TJ Johnson and if you're a little intimidated by taking care of plants and flowers, she offers a Free Plant Saturdays, every week—so you can be sure to get a good tester plant for a test drive. Also, going into her shop you are getting a one-on-one experience with a plant doctor who can answer questions that only an expert can.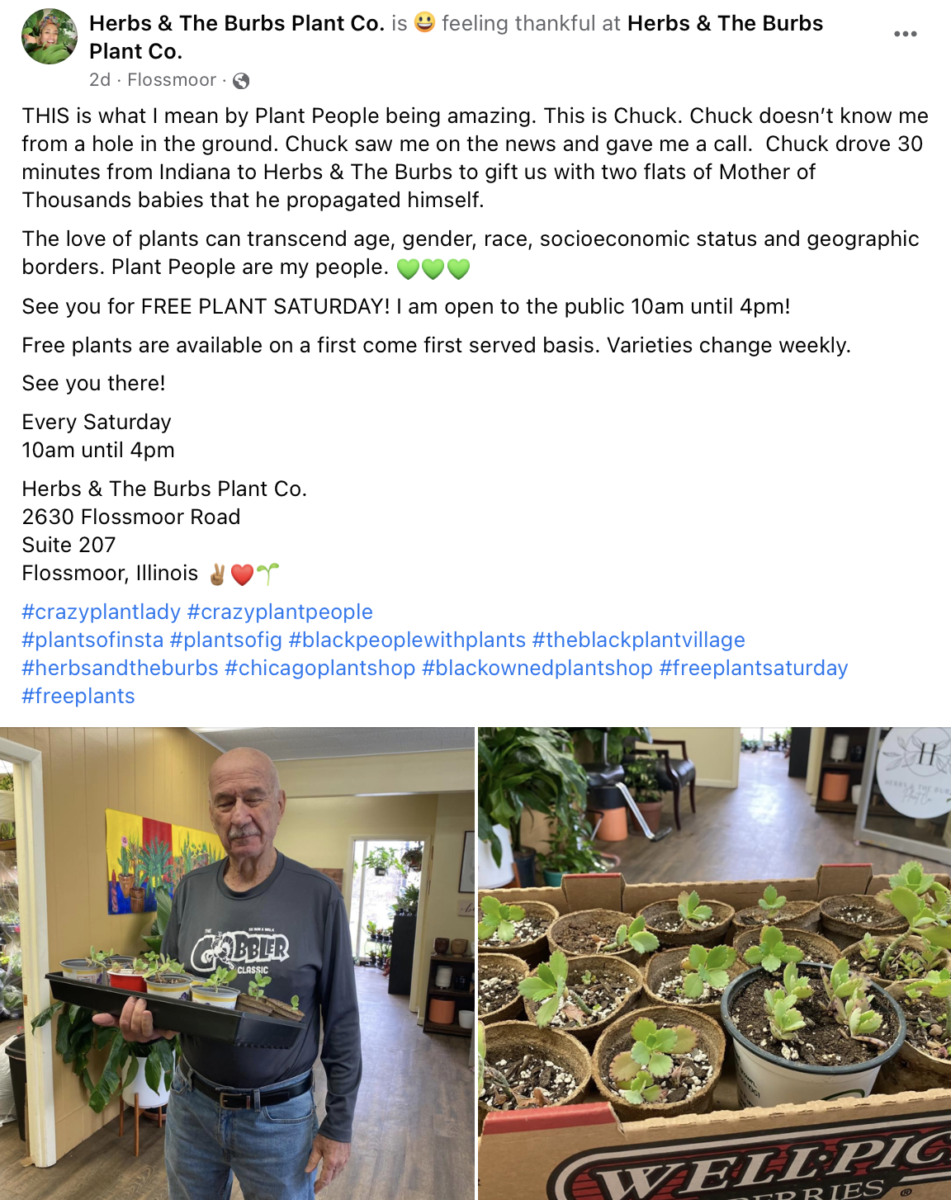 TJ Johnson:

"FALL IN LOVE WITH PLANTS! Houseplants purify the air, assist with immunity and healing, boost workplace performance, improve your I.Q. and as habits go it doesn't cost much to get started! Let Herbs & The Burbs Plant Co. help you on your way to your very own Home Jungle."

Call: (708) 462-2002 E-mail:

[email protected]
And the cutest thing just happened over this weekend for TJ, something that shows how the love of plants
can transcend & connect people like no other.
Pictured on the left is an older gentlamn named Chuck who saw the ABC 7 segment on TJ's plant shop
last month. He drove over from Indiana to gift the succulent Mother of Thousands, which he propagated himself. Seeing the flowers appear on the succulent is rare and so this was quote a gift to give a blossoming business that's making a name for itself.
---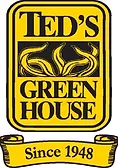 Over the years from when I first started living in Tinley, I still am impressed by the outdoor landscaping and decorative displays. I remarked to my mother-in-law, who formerly was the Tinley Park Library's Circulation Desk Manager (the largest department!) how impressed I am with how the library does a great job with everything they do, inside and outdoors even. She corrected me though told me that it's actually Ted's Greenhouse that's been making those beautiful flower displays and landscaping outside for every season.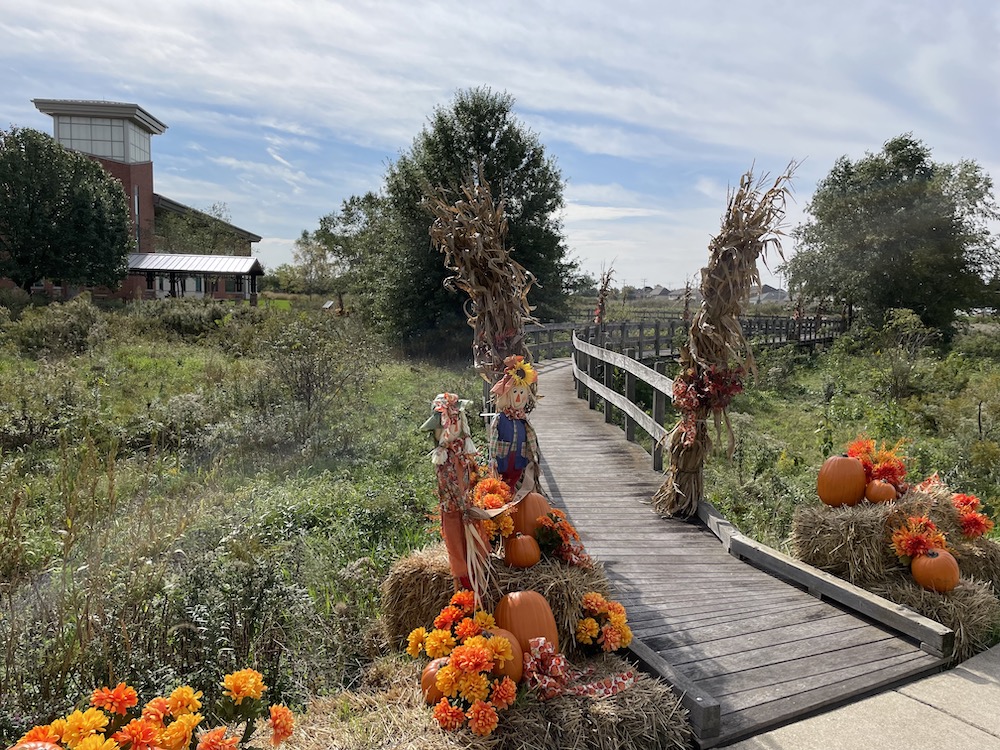 And after 8 years living down here in the Chicago Southland it has become clear that Ted's Greenhouse is one if not THE most popular places to go for all things plants and gardening services. People drive out of their way to Ted's in doing research for this article. A Lyssa Weyforth from Indiana says she drives all the way to Ted's because "The staff are all super nice and very helpful! Their selection of plants is unmatched and they're prices cant be beat."
Ted's Greenhouse has been in business since 1948 and is a member of the Cook County Farm Bureau. Ted's caters to both retail and wholesale customers. The variety of services they offer for both personal and business clientel is expansive. Winter storage for tropical plants anyone? Yup Ted's offers that service.
Ted's offers school field trips and industry tours too—yes it's that big! Also, Ted's hosts workshops and seminars. There's more that Ted's offers that I don't know, but at this point I'm wondering, how can one place be all things for plant things? That's probably why Ted's has been in business so long ☺️.
---

Melka's as we call it, is a nursery & greenhouse featuring annuals, vegetable plants & flowering trees. My in-laws have been going to Melka's for seed and other backyard garden supplies for years, and they also go to refill the gas tank for their BBQ grill. Yup, Melka's also carries brand-name grills.
They also have a landscaping department that is award winning, and brick installation.
Located at 11606 179th St. Mokena, IL 60448—Melka is just a hop over for those in Tinley and Orland too. And there's a Jewel-Osco, Starbuck's, Walgreens, etc. nearby. So if you're feeling parched, hungry, or have multiple errands to do, Melka's is close to essential places.
---

I stumbled upon Anything Orchids the first week our family started boarding our dogs at Club K-9 at the Ranch. Located at 23027 Center Road, Frankfort, Illinois 60423, you pass it by on Center Road and the public is more than welcome to visit the greenhouse by appointment.
Don White has operated his greenhouse in the Frankfort area for over 35 years. After 34 years as a primary PE (Physical Education) Teacher, he has been educating people on how to grow orchids because he loves to introduce people to the joys of growing orchids. He often presents to garden clubs and master gardeners on orchids as well.
If you didn't know, orchids are a pretty big deal. But why are orchids a big deal? In short because they were incredibly difficult to propagate from seed, even today you almost need laboratory conditions to do so. So orchids have always been a status symbol. The universal love affair with orchids took full bloom in the 1930's when science discovered a viable method for growing them so that growing orchids could be a hobby for everyone. The tropical plant has always had a mystique about it as well, and when it became more attainable its profile became more perceptible (see about the famous black orchid in the long since ended Brenda Starr, Reporter comic strip or the legendary story of American fashion designer Halston who famously spent thousands of dollars a year on orchids).
So in closing, Mr. White (who is also a member of the American Society of Orchids) and the community presence of Anything Orchids and Plants is raising the profile of orchids and the surrounding Chicago Southland. Just imagine if Frankfort changed their logo to an orchid?preand as , Mr. White's
---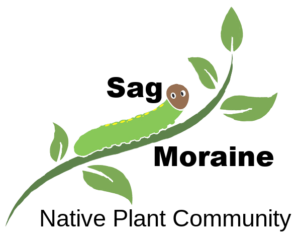 Last year I connected with Catherine Bryla who with her husband founded a non-profit called the Sag Moraine Native Plant Community—a non-political initiative to advocate and promote the value of native plants for the protection of our local ecosystems. Essentially, they want to encourage people to plant more of the plants that are native to the Midwest to restore our environemnt one plant a time. And there's a reason for that.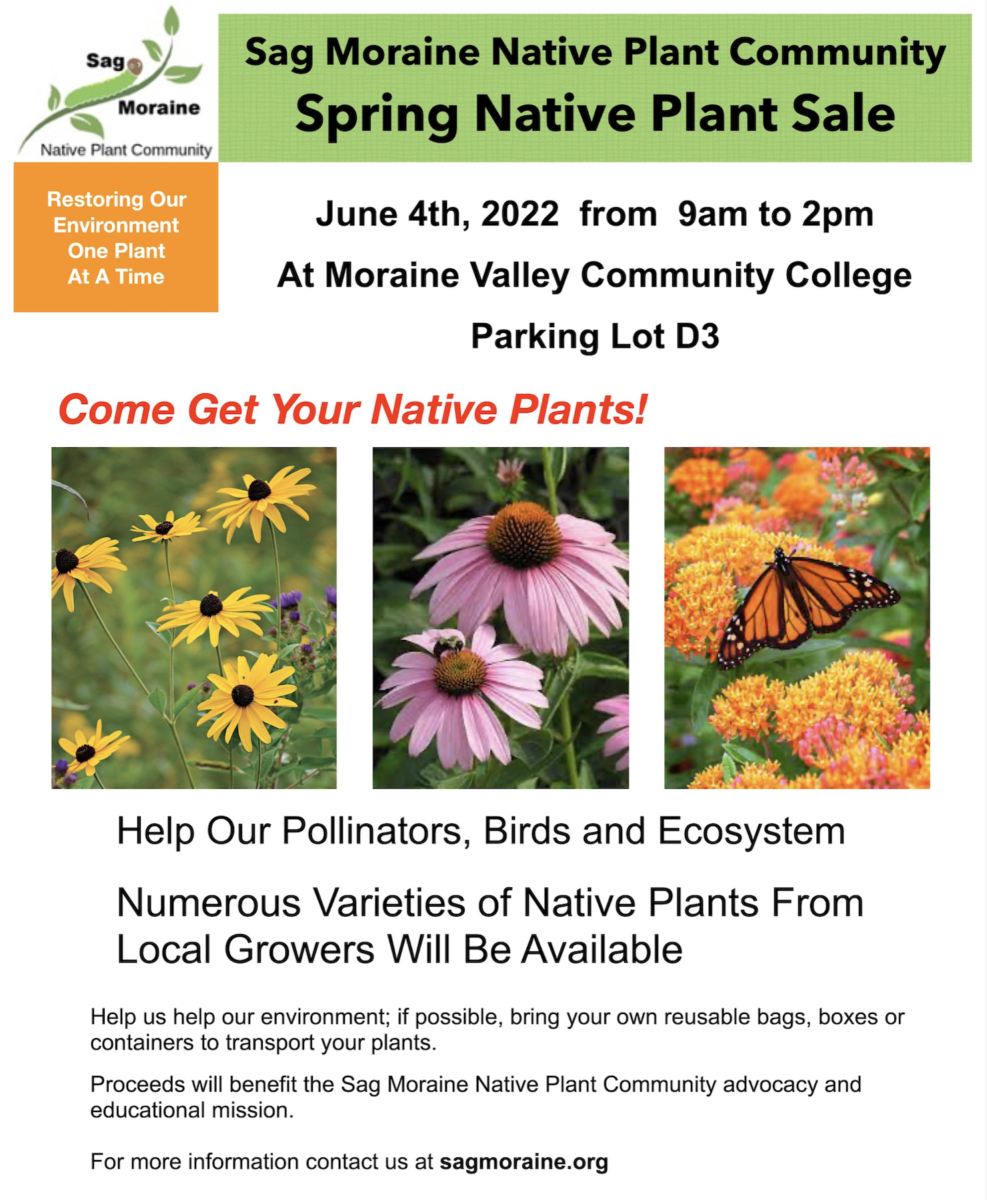 The Tinley Park Environmental Enhancement Commission (EEC) happened to have started partnering with the Sag Moraine Native Plant Community late last year is making a point to share information about the ecological benefits of native plants and how to incorporate them into our landscape. Whether you have 10 acres or a 10-foot patio with pots, we can all help better the local ecosystem.
If you're interested in getting started this summer, come out to the native plant sale on June 4 at Moraine Valley Community College or visit another local plant spot. I've equipped you with some good suggestions ? above.
Navarro Farms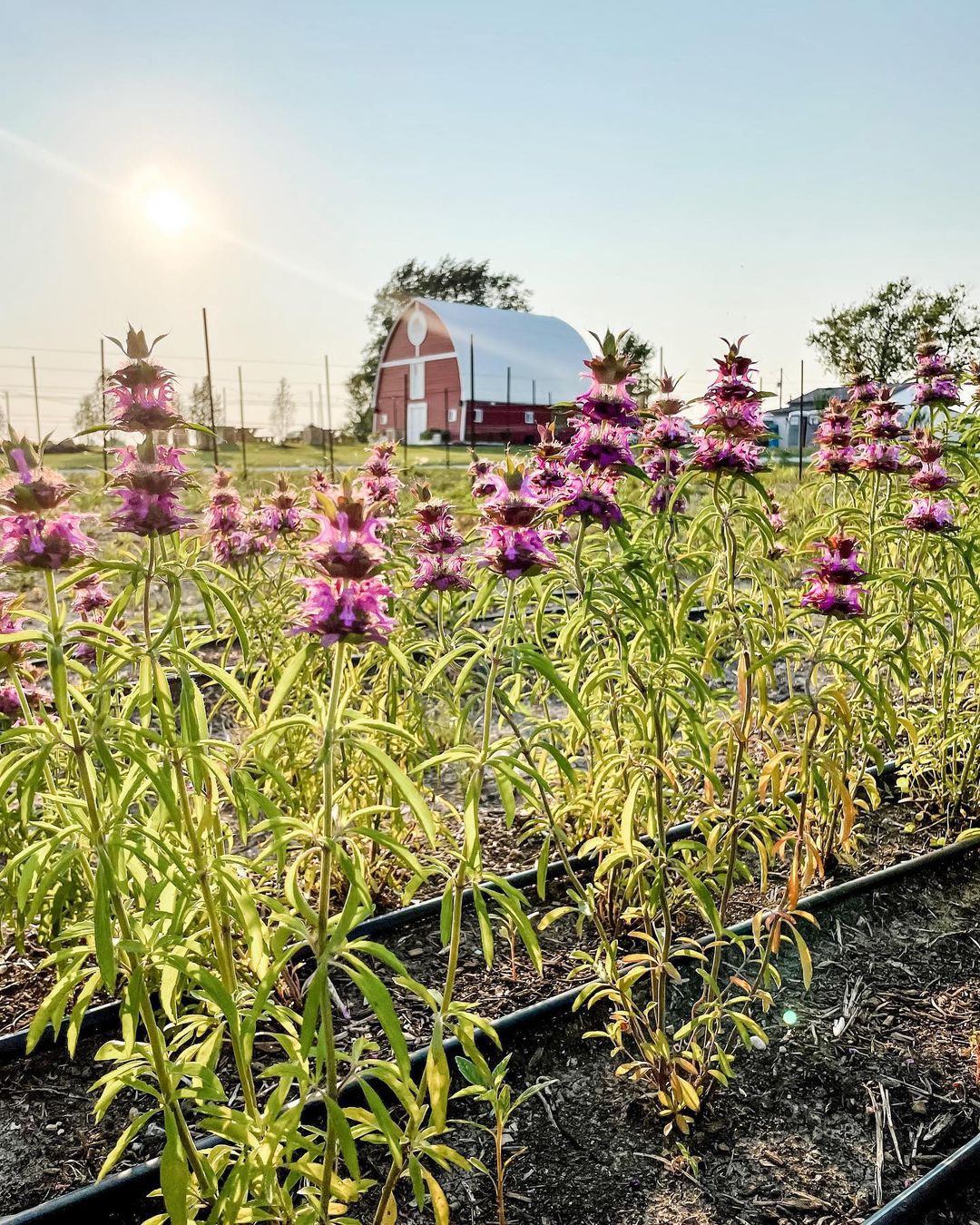 Navarro Farms exists to provide individuals with special needs a place to grow. Farmer participants and volunteers tend to vegetables and fruits grown in raised beds as well as the farm animals including chickens, goats, and bunnies.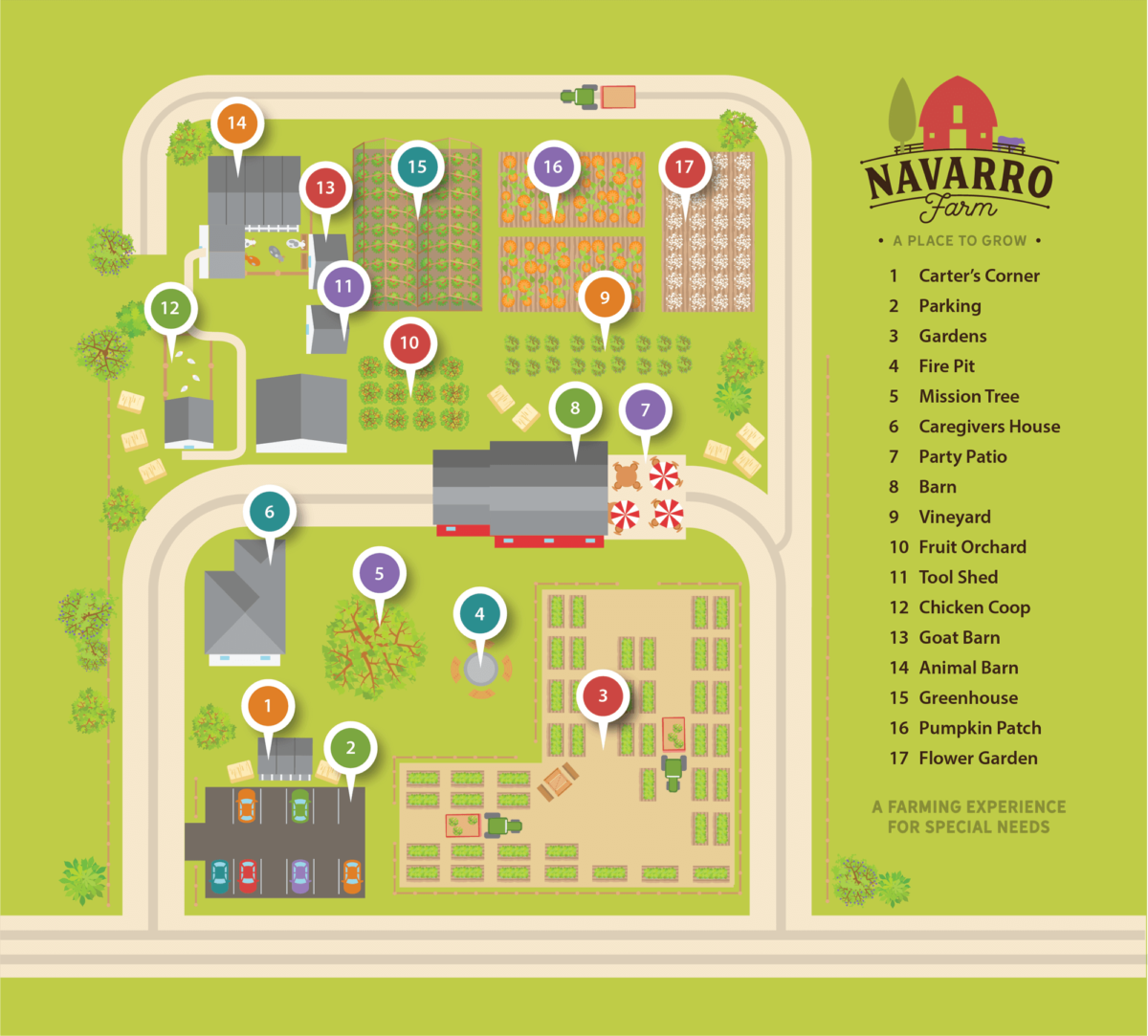 Former magazine field editor Heather Blackmore is the Navarro Farms manager.
It is a truly magical place where you feel at home as soon as you step on the property.
22155 S 104th Ave
Frankfort, IL
Happy planting!
---
Plant Shops, Garden Centers, Nurseries To Know In The Chicago Southland
*This map will change with time and will be updated. To suggest a spot in this map, e-mail me at 

[email protected]

.