"Life Amplified": All About Tinley Park's Rebrand
Did you know about Tinley Park's Rebrand?
Tinley Park is rolling out a new website next week as part of a rebranding initiative that aims to boost tourism and economic development.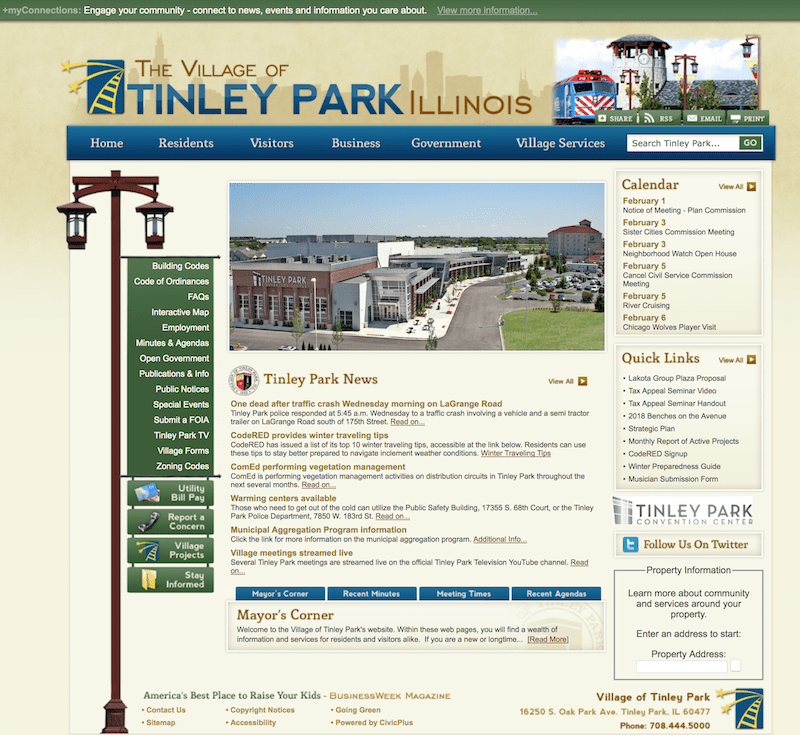 If you're a resident of Tinley Park and are just learning about this rebrand for the first time, you're not alone. Let me catch you up.
A 'Fresh' Perspective
Back in May of 2016 Tinley Park hired Arizona-based branding firm Robert Brooks International to develop a branding, development & marketing action plan for Tinley Park's brand leadership team to implement (Read more at Chicago Tribune, 2016).
"The most successful communities have a focus — they work hard to set themselves apart from everyone else. Tinley Park is working with Roger Brooks International to create this unified vision for the community," the village said in an announcement made back in May of 2016 (Chicago Tribune, 2016).
The action plan is available in its entirety for all residents to read, as well as all documents, meeting minutes, and updates about the project on the village's website. Having an outsider's perspective was a strategy of the village's economic development and marketing committee to get an objective perspective on what makes Tinley Park distinct. The village also relied on resident and community stakeholder opinions as well, but it has become evident to me in talking with others that this rebrand is news to many Tinley Park residents.
Music City, Illinois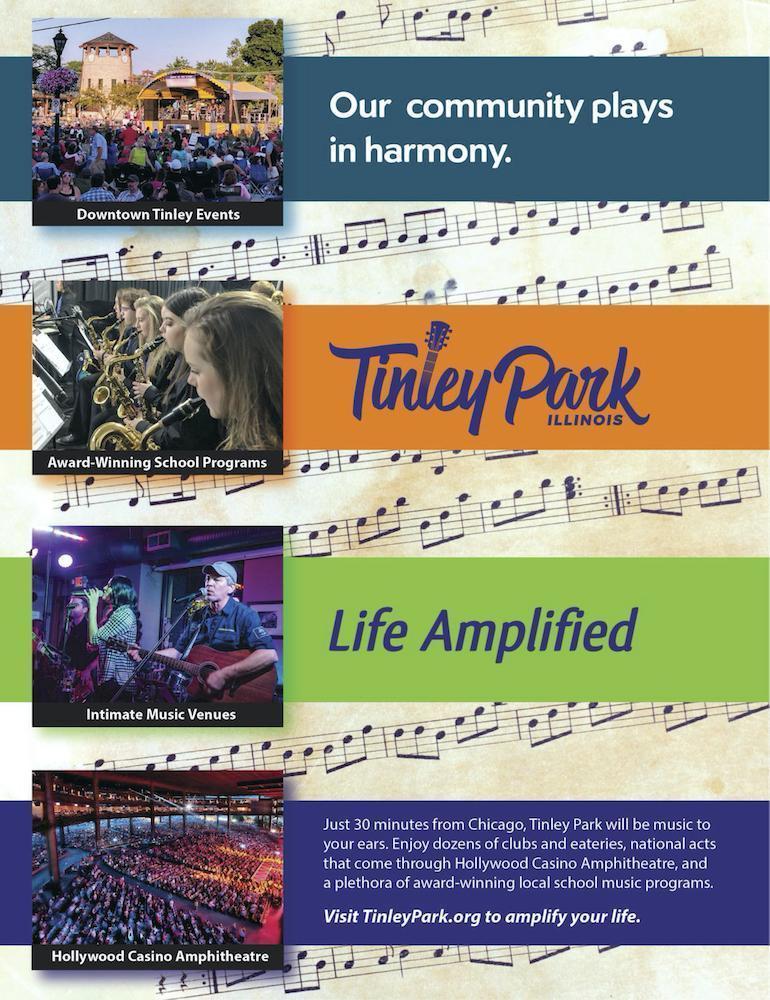 The focus of the new brand is music, to make Tinley Park known globally as a premier music destination, "Music City, Illinois" if you will. And "Life Amplified" is the slogan that Brooks and the village feel communicates that energy.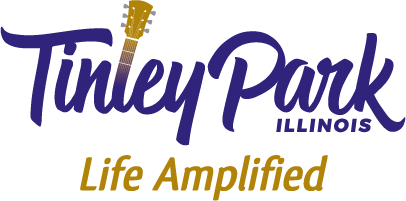 In an interview with the Chicago Tribune, founder of Brooks International, Brooks himself recounted "We went online and typed in 'Music City, Illinois. Nobody came up." Although SEO and other digital strategies have not been defined yet in the action plan, it's made clear in the action plan that "Music City, Illinois" is the phrase Tinley Park ultimately wants people to think of when they think of Tinley Park.
Slow and Steady Wins The Race
It's been a slow and methodical brand roll-out; you may have noticed the new logo at December's Parade of Lights for instance. But this January, residents have been hearing more about the rebrand through traditional news outlets.
In the Tinley Junction, the village's major newspaper, the rebrand was prominently highlighted in two articles that were a part of the paper's Year in Review series of articles that came out on January 4, 2018. One of those articles was written by Tinley Park mayor Jacob C. Vandenberg, entitled "Promoting, developing a 'Life Amplified.'"
Tinley Park Chamber of Commerce Executive Director Jackie Bobbit explained to a Junction staff writer at a multi-chamber event on January 11, 2018, how the village's brand leadership team and the chamber are "trying to incorporate live music into all of our businesses, all of our events and all of our logos— getting all of our downtown businesses involved and making that theme a real draw for Downtown Tinley." (Tinley Junction, 2018).
On the horizon is the development of Harmony Square with Chicago based design and urban development firm The Lakota Group. Reminiscent of the Ravinia Festival, Harmony Square along with the well-known Hollywood Casino Amphitheater will no doubt be warmly welcomed by south suburb residents.
My Impressions
As someone who does branding and marketing for a living it's unique that I moved to a new town as not one but two rebrands were in development, Orland Park being the other. It's also unique because I am a Tinley Park Chamber of Commerce member and unlike many newbies in town I'm more aware of changes and new things coming up than most residents that have lived here for decades.
It's been interesting to see the rebrand unfold, especially since I didn't grow up in Tinley Park. I'm excited for the new brand and a lot of what I see in the action plan is what makes the Ravinia Festival so successful up north where I'm originally from. For those who aren't familiar, the Ravinia Festival is the oldest outdoor music festival in the United States, located in Highland Park, which is 50+ miles north of Tinley Park. Tinley Park is in the prime position of being what's young and new in music venues and destinations. It's an amazing opportunity for the south to become a world-class destination too.
It'll be interesting to see how Tinley Park residents embrace the rebrand. Funnily enough I wrote about rebrand fatigue back in August of 2016 because I was noticing so many rebrands at the time. But I think Tinley's careful rollout approach will help in gaining support and positive sentiment from longtime residents who might be a little resistant to the change.
---
You don't have to venture too far from Chicago to find a place where the food is delicious, the parks are gorgeous and music isn't just a fun diversion – it's a way of life.
No matter where you go or what you decide to do, music will be at the heart of it all. You'll be amazed at all the music options you'll find here, including our many bars and restaurants, award-winning school music programs, outdoor Village concerts and, of course, the renowned Hollywood Casino Amphitheatre that always features a variety of high-profile acts.
Visit Tinley Park today and find out why the Village is on its way to becoming the music capital of Illinois! Isn't it time you amplified your life?
Newsletter and Hashtag Campaign
Subscribe to the Tinley Park Life Amplified electronic newsletter, coming soon, for all the latest music events happening in Tinley Park! Also make sure to use #TinleyLifeAmplified any time you share a Tinley Park music event on social media!
Branding
The Village's rebranding effort seeks to transform Tinley Park into an Illinois music mecca through the enhancement of its existing assets, such as the Hollywood Casino Amphitheater and its award-winning school bands, and through the addition of several new features such as a new downtown plaza and a dedicated indoor music facility. Visit the branding webpage for more information.

Music Calendar
Here in Tinley Park, music is in the DNA of everything we do! Check out the Life Amplified calendar by clicking on the below image to see the wide array of musical events happening right now in Tinley Park.

Life Amplified Music Calendar
Tinley Park Promotional Video

From Appeared in the May 12th, 2018 issue of the Tinley Junction: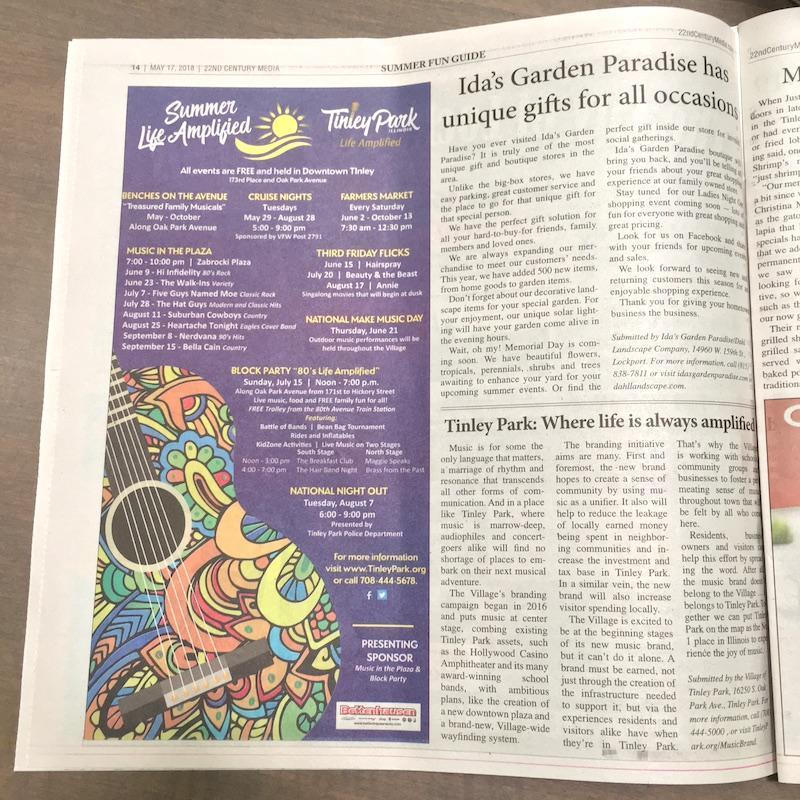 SaveSave
SaveSave
SaveSaveSaveSaveSaveSave
SaveSave
SaveSave
SaveSave
SaveSave
SaveSave
SaveSave
SaveSave