What is Macy's Backstage? A New Inlet For The Outlet Store Model
The last time my family visited Orland Square Mall, just a couple of weeks ago, half of Macy's lower level was closed off with tall, gray curtain walls. The lower level, for those of you new to Macy's, is where you'll find the kids clothing, toys and home departments.
So, when the legendary department store's Communication Department invited me to attend the grand opening of a thing called, Macy's Backstage, at same said mall, I had to find out what was changing on that floor of the store, for my family and all of yours!
Macy's Backstage Grand Opening Event At Orland Sqaure Mall
Before the event commenced, I was greeted by the store manager of Macy's Orland Square Krista Fraszczak, who let me in and gave me some sweet swag, as she told me all about Macy's Backstage and answered some other questions I had.
A bonus from our walk-and talk was learning a little about her, and the story of how she launched her career at the legendary Chicago Marshall Fields store on State Street (which Macy's acquired in 2006).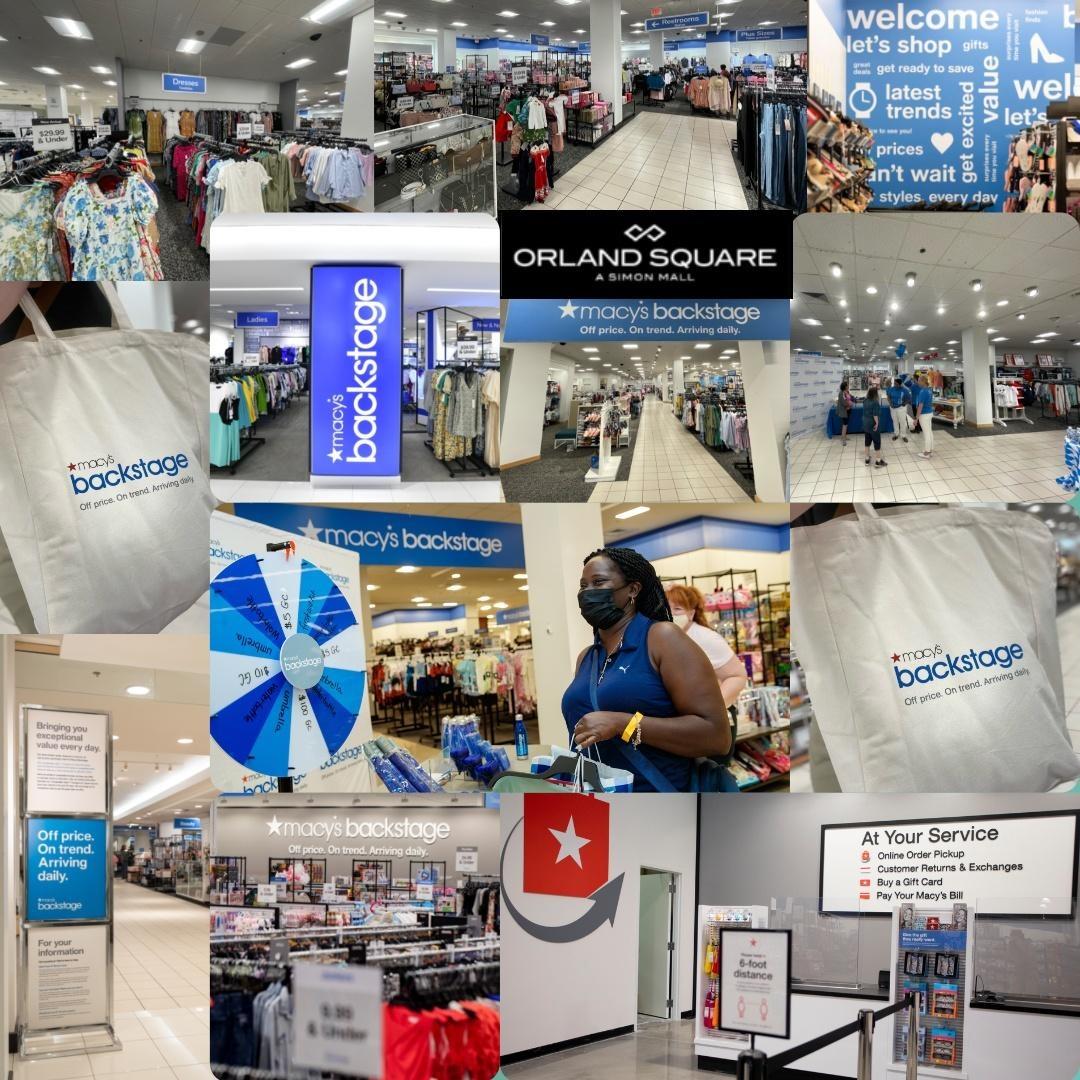 Out With The Outlet Model, In With The Inlet Model
Krista put the concept of Macy's Backstage to me simply as Macy's own 'inner outlet.' "A store-within-store shopping experience."
Since 2015, Macy's Backstage has expanded to now 310 Macy's stores nationwide, including nine freestanding locations and growing! The first freestanding Macy's Backstage store opened two years ago in the Dallas-Fort Worth area, at The Village at Allen, on Saturday May 29, 2021.
From my point-of-view, the Macy's Backstage concept is more 'inlet,' than outlet, or in-house meets off-price. An expansion of the off-price concept, creating a seamless shopper ecosystem to swim between for Macy's shoppers. Convenience being the goal.
Customers can pay their Macy's Credit Card bill or pick-up orders from the service desk, and still earn and redeem rewards too! And as any retail raconteur knows, there are times for paying full-price and then there are times for bargain shopping. And Macy's Credit Card holders and Star Rewards program members benefit the most having both types of stores in one.
Macy's Backstage Locations
For us Chicago Southlanders, the closest are the Macy's Backstage at Orland Square Mall (Orland Park, IL), Macy's Backstage at Evergreen Plaza (Evergreen Park, IL), Macy's Backstage at River Oaks Center (Calumet City, IL), and . And of course Downtown Chicago is home to .
Click to Find a Macy's Backstage Location Near You
#MacysBackstage Social Media
It's worth mention to you fashionistas and spotlight seekers that shoppers are also encouraged to share their looks on social media with Macy's, using the hashtag #macysbackstage or #macysbackstagefinds and tagging @macysbackstage.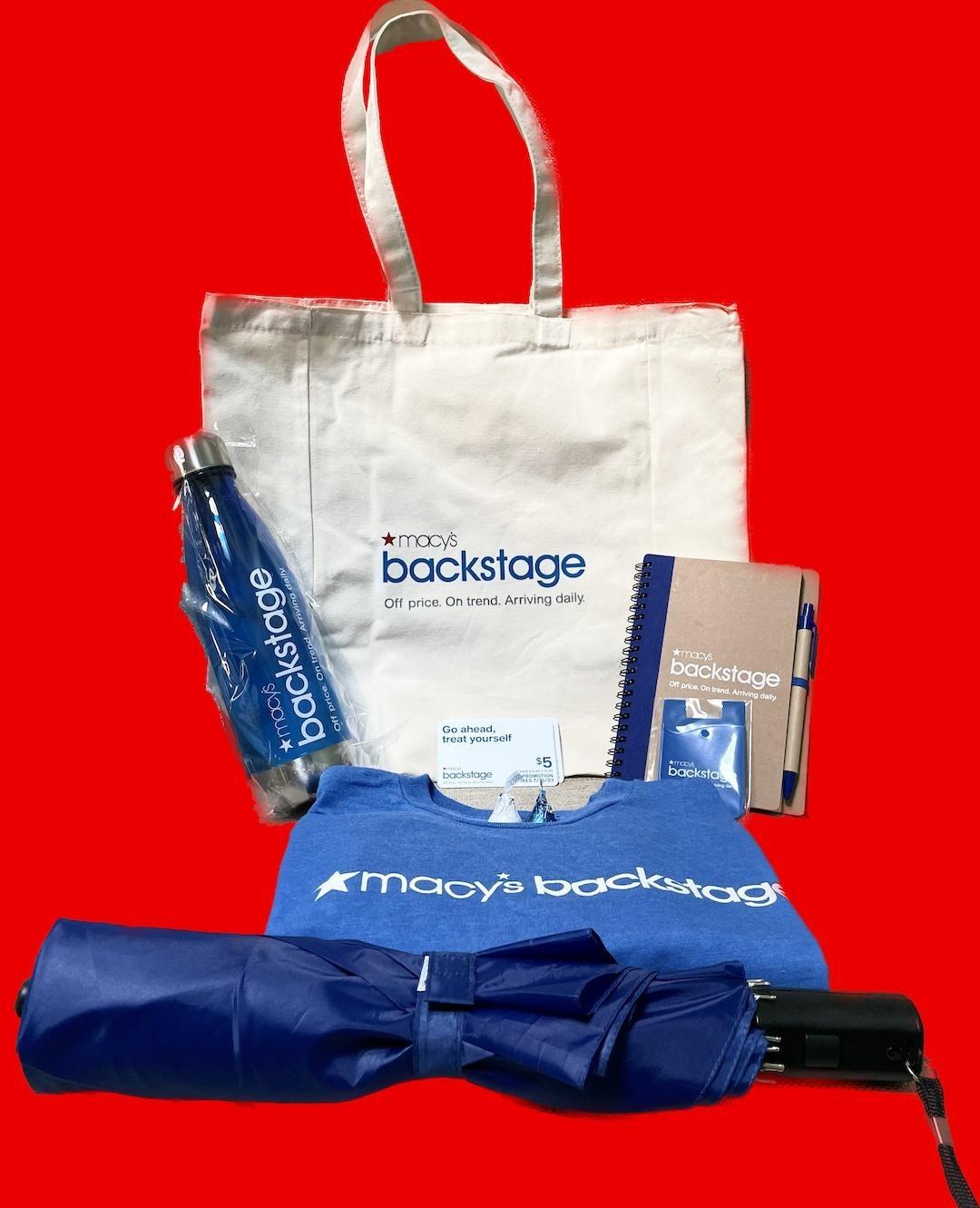 Macy's, A Comeback Facilitator?
Macy's and its roots can be traced back to 1851, funnily enough, a year before competitor and Chicago's iconic department store Marshall Field's was born. For those who aren't familiar, most Chicagoans still resist calling the former Marshall Fields State Street store a Macy's— it's complicated. But no matter how many department stores and retailers we thought would never close have all gone, even die-hard Chicagoans have to privately admit that Macy's is pretty bad ass when it comes to comebacks. Macy's may be a conglomerate, but it has weathered economic conditions and trends which other brands could not.
And as a Millennial mom, it pleases me that Macy's helped facilitate the comeback of a brand that played a big part of my generation's childhood: Toys 'R' Us (Macy's Brings Back Toys 'R' Us To Gain Millennial Shoppers, Forbes – August 2021).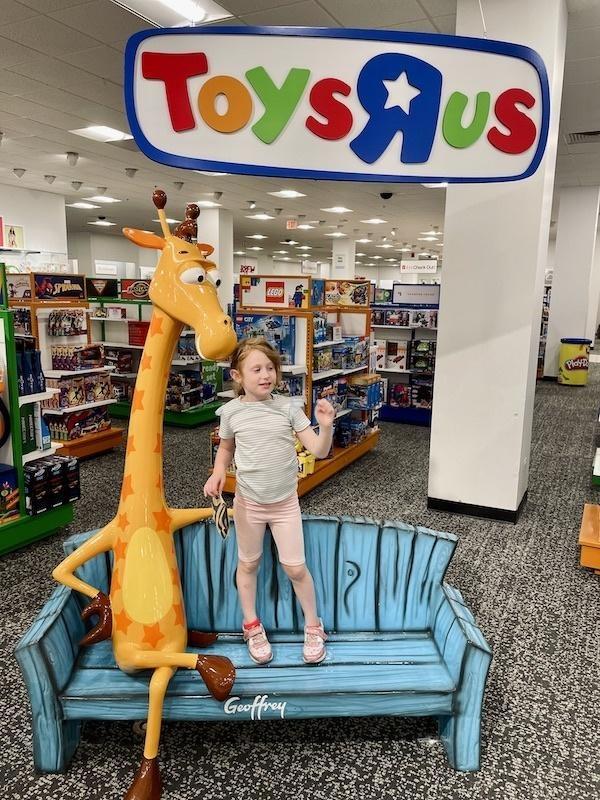 From a business standpoint, Macy's Backstage isn't a comeback from my view, but I see it as a good insurance for easier comebacks down the road. And in the process, Macy's is helping the brands it carries and partners with, minimize their own revenue losses. So by creating this inlet for lower-priced and overstock merchandise in-house, Macy's is functioning not just as a business, but also a retail facilitator.
So when inflation, recession, or pandemics hit, Macy's has an extra flotation device through their outlet division, in my estimation. And I love the analogy of an inlet for the Macy's Backstage because I really do see the mini-outlet being something that would slow down the flow of overstock merchandise going to well-known outlets like Marshalls, TJ Maxx, Ross, etc.
And the off-price division of Macy's has been taking off so much so that Macy's Backstage stores (open more than one year) have been outperforming Macy's full-line stores by 2%! (Macy's, Inc. Reports Fourth Quarter and Full-Year 2022 Results, March 2, 2023). But not surprisingly, off-price stores across the board have been taking off (Placer.ai, 2023) since the pandemic, even adding more locations themselves! But I venture to speculate that even before the first Macy's Backstage opened in 2015, that Macy's had been paying attention to the off-price market segment for years, methodically positioning itself and testing all retail waterways. I'll stop with the water metaphors but you see what I mean right? Macy's by extension of its brand through the opening of small-form and off-mall stores is creating metaphorical springs. And if you know anything about springs, they flow, and being able to flow and replenish yourself is a good way to stay in business.
If there's only one thing I learned from the grand opening at Orland Square, it was realizing how adaptable and fast evolving Macy's is with strategy.
Other Macy's Market Moves
Another off-mall, small format store that the brand has been opening is called Market by Macy's, making its debut in 2020, at Southlake Town Square, Southlake, Texas. And last fall, Macy's unveiled the first-ever dual Market by Macy's and Macy's Backstage store, at Evergreen Park, IL.
Market by Macy's differs from Macy's Backstage in size and speed. They are a smaller-format retail store that curates a smaller assortment of merchandise, that changes several times a week, in an open market style. Market by Macy's appeals to more serious fashionistas who prefer the pop-up store experience; less bargain shopper friendly.
So happy shopping and thanks for reading!
Recommended Further Reads On This Topic
Off-Price: Taking Off in Uncertain Times by Bracha Arnold (Placer.ai, February 2023)
I Visited a New Macy's Outlet for the First Time and It Was Fascinating by Brian Sozzi (The Street, November 2016)