Vinny's Clam Bar Grand Opening Celebration – Tinley Park Restaurants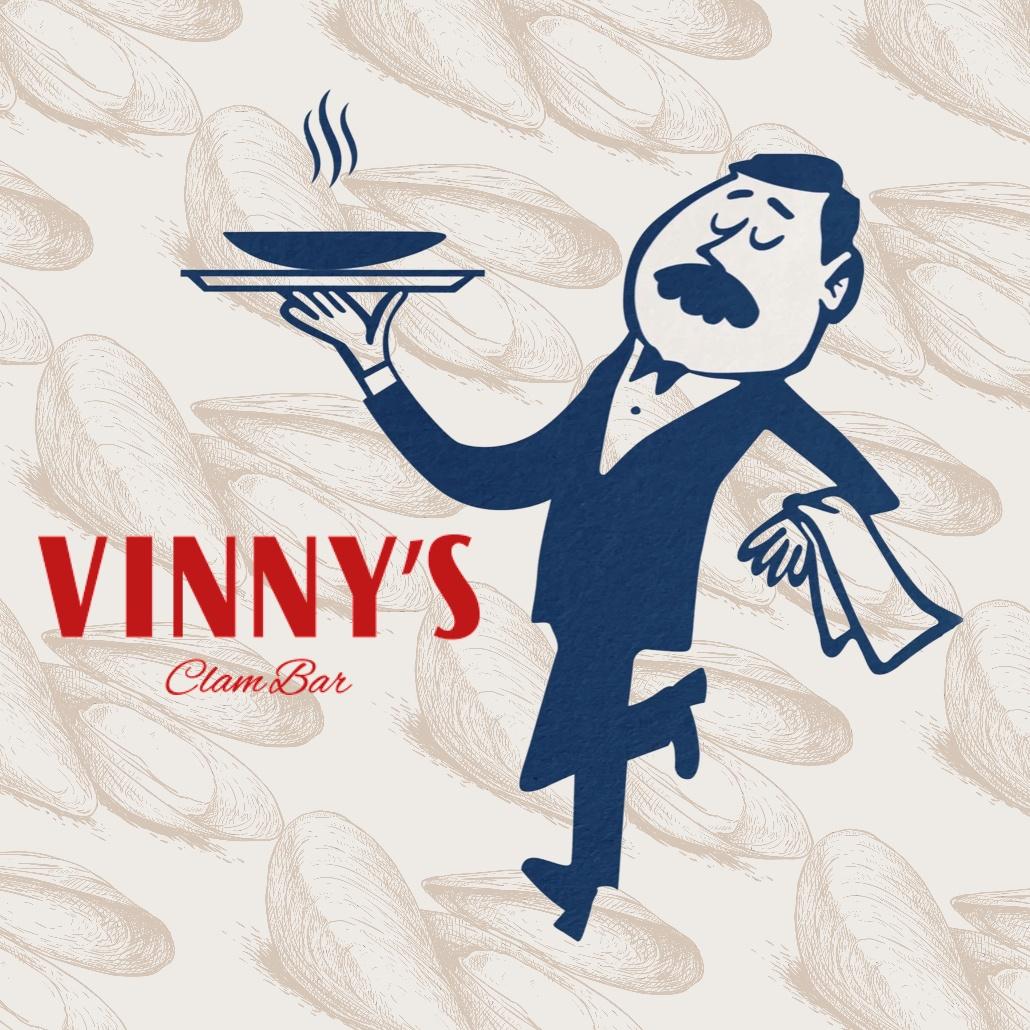 From my observations, since about 2015, the food scene down here has been getting richer and more ecclectic by the year. Inspite of the pandemic, which is a good sign of growth. And Vinny's Clam Bar is yet another new restaurant in the Chicago Southland making it easier to stay close to home for a nice night out.
If you love Frankie's Ristorante (West Tinley Park) and the Dancing Marlin (Frankfort), Vinny's will most likely become one of your favorite local restaurants too.
A Deep Dive Into Vinny's Clam Bar
Remember Tin Fish? Yeah, our family misses them too. But I have a catch for you! Vinny's Clam Bar has taken over the former Tin Fish location in Tinley Park, and may be bringing back that neighborhood seafood establishment vibe we lost—along with a strong pasta game.
They recently hosted a grand opening celebration last Thursday night and I was invited to check it out.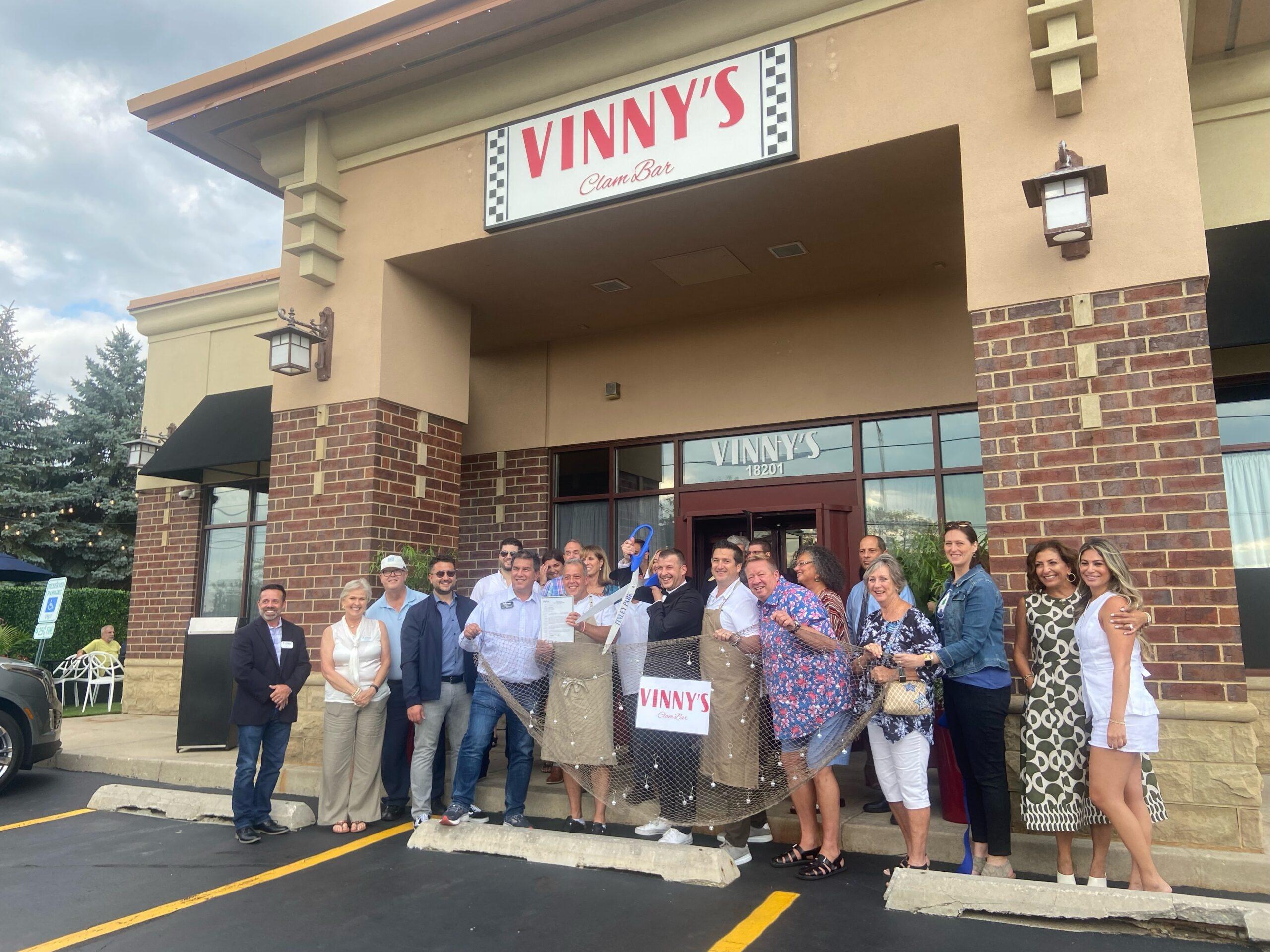 They also had their ribbon cutting ceremony with the Tinley Park Chamber of Commerce that night. But instead of cutting a ribbon, a fish net adorned with little disco balls was used, which should tell you that Vinny's is both fun and fine.
General Manager Jeff Polak took care of my husband and I that night at the celebration, and gave us a crash course on everything we can expect at Vinny's Clam Bar. He's been with the restaurant group behind Vinny's Clam Bar, Scott Harris Hospitality, for two decades.
Much of what he shared with us was also mentioned in his address at the weekly Tinley Park Village Board Meeting, during the Business Spotlight portion of the evening, if you'd like to learn more about him.
What's Vinny's Clam Bar Like?
Different From Tin Fish
Whereas Tin Fish modeled itself after 1940s-era seafood houses of the Atlantic shore, Vinny's Clam Bar exudes 'hip trattoria' and 'shellfish bar.' Paying tribute to both East Coast and West Coast shores, whilst blending past and present perfectly in both classic, chic, and clever ways throughout. From the menu, to the bathrooms, the music, drinks, just about every detail you would and would not think of. No shell left unturned.
The LA/Tokyo based agency that helped Vinny's Clam Bar develop its voice and brand identity describes the restaurant as such:
Vinny's Clam Bar is born and brined off New York's coast, now shucking in the heart of Chicago where the seafood is fresh, martinis are dirty and friends are loud.

FERROCONCRETE
That 'heart of Chicago' part is a bit of a stretch, but as anyone local knows, it's just easier for people to understand where you're from based on your distance from the metropolis.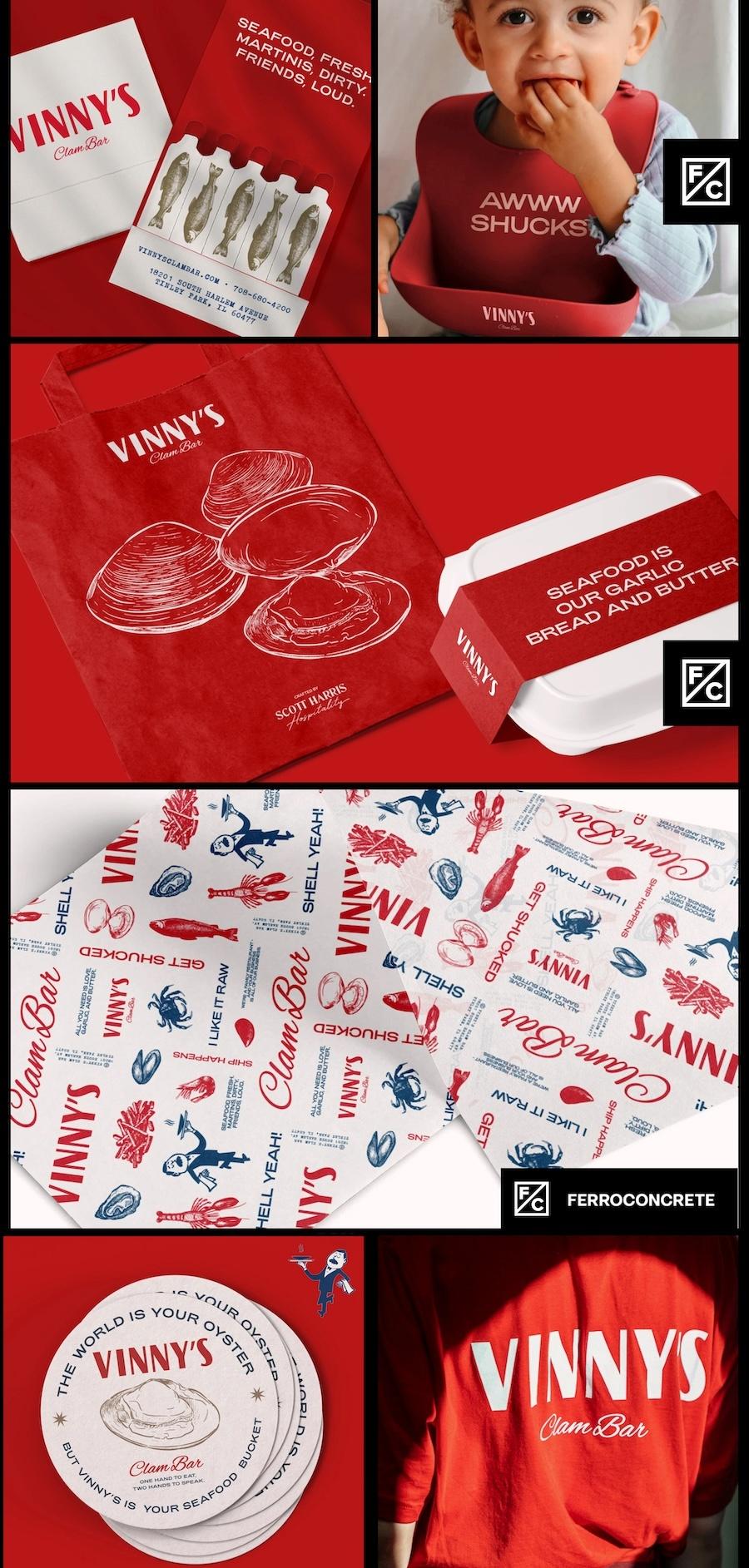 Enjoy a sneekpeek at some of the possible salty and punny Vinny's Clam Bar merchandise concept designs on Ferronconcrete's website.
Menu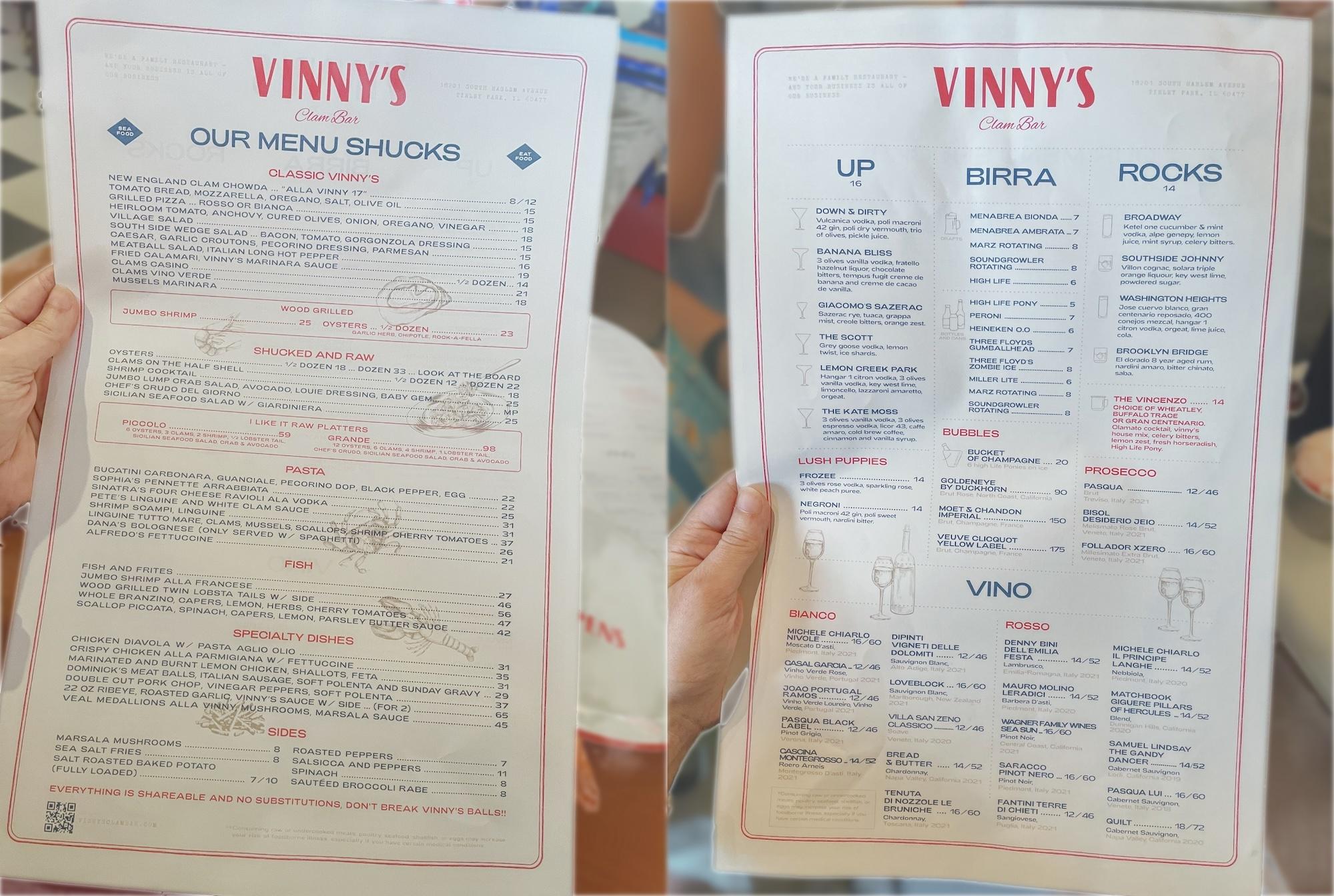 The menu is a balancing act between neighborhood Italian-American restaurant and cool coastal bar. High end meets salt of the earth if you will. A mingling of warm and cool eats.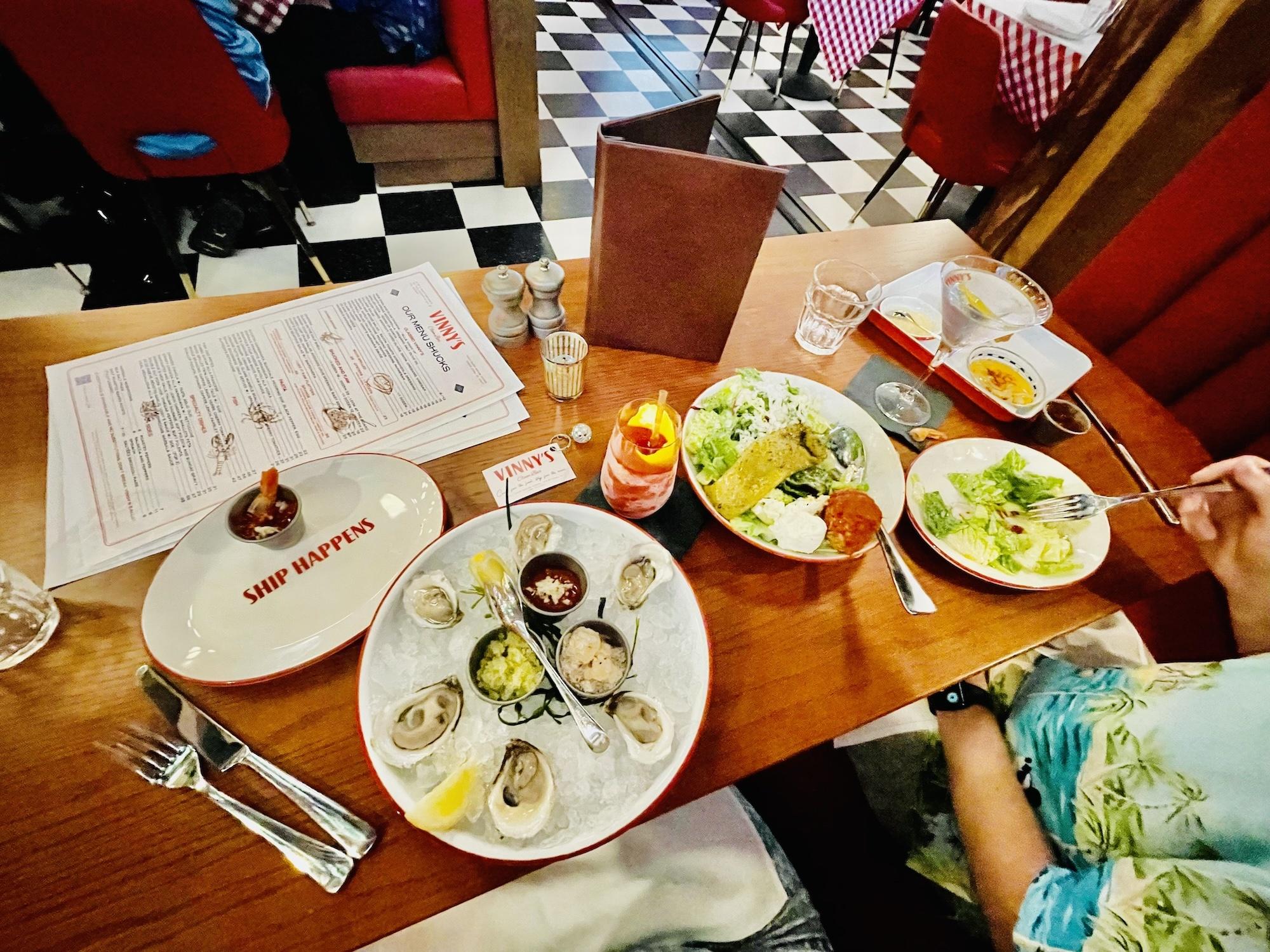 Fun fact: the meatball salad apparently was inspired one day by a hungry PR pro.
My husband and I enjoyed shrimp cocktail, East Coast style fresh oysters, and a meatball salad. It's summer, so we didn't want to overdo ourselves. But we truly do plan on coming back and working our way through the menu.
If you're curious about the main difference between the East Coast (Atlantic Ocean) and West Coast Oysters (Pacific Ocean) are salt flavor levels. East Coast have higher salinity and a lot of minerality. And the meat of the oysters tends to be more chewy, distinctly more firm. With your oysters, you will also get two different flavored salts on the side, if you'd like to enhance your oyster bite. For my East Coast Oysters, one salt had cucumber essence and the other had vinegar essence.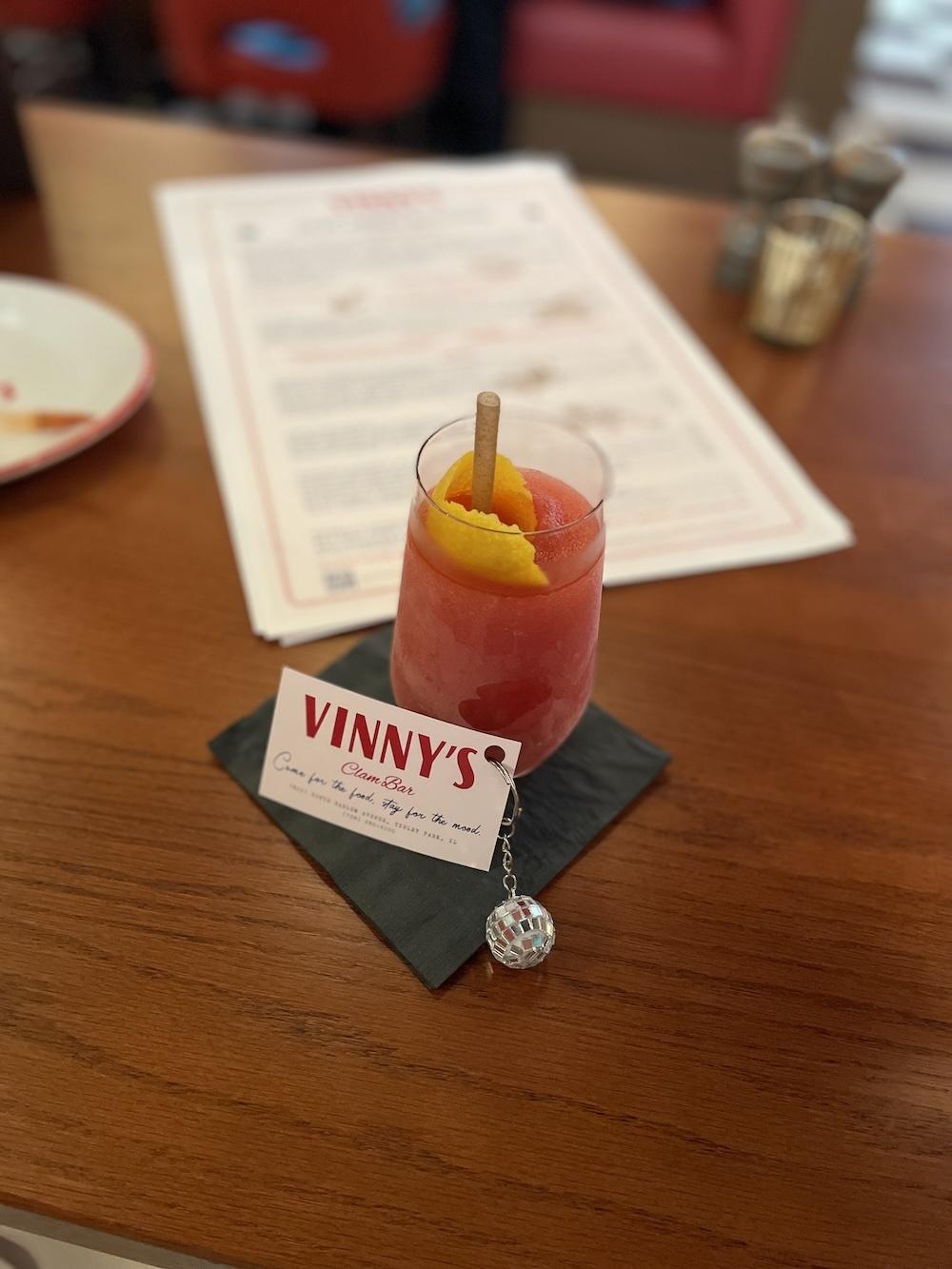 And because Vinny's is an Italian establishment, I wanted to have a quintessential Italian cocktail, which of course is the Negroni—not just any Negroni, but a Frozen Negroni! And it was perfect. I tend to like sweet drinks but the bitterness and sort of licorish flavor actually didn't bother me. Felt like it matured me as I drank it. For the unfamiliar, a Negroni is a combination of gin, campari, and sweet vermouth.
For the middle classes and working classes, the menu at Vinny's Clam Bar is a little pricier than we would like, but as their cheeky business card says "Come for the food, stay for the mood."
Decor and Layout
And the vibe, as its interior designer Meghan MacDougall describes it, is 1970s New York, inspired by a rustic Italian marketplace. MacDougall's behind-the-scenes glimpses of every inch of the restaurant on her social media profiles do a great job of capturing the atmosphere. And you get to see the thought process behind every charming modern touch. Even the shelfing is cool!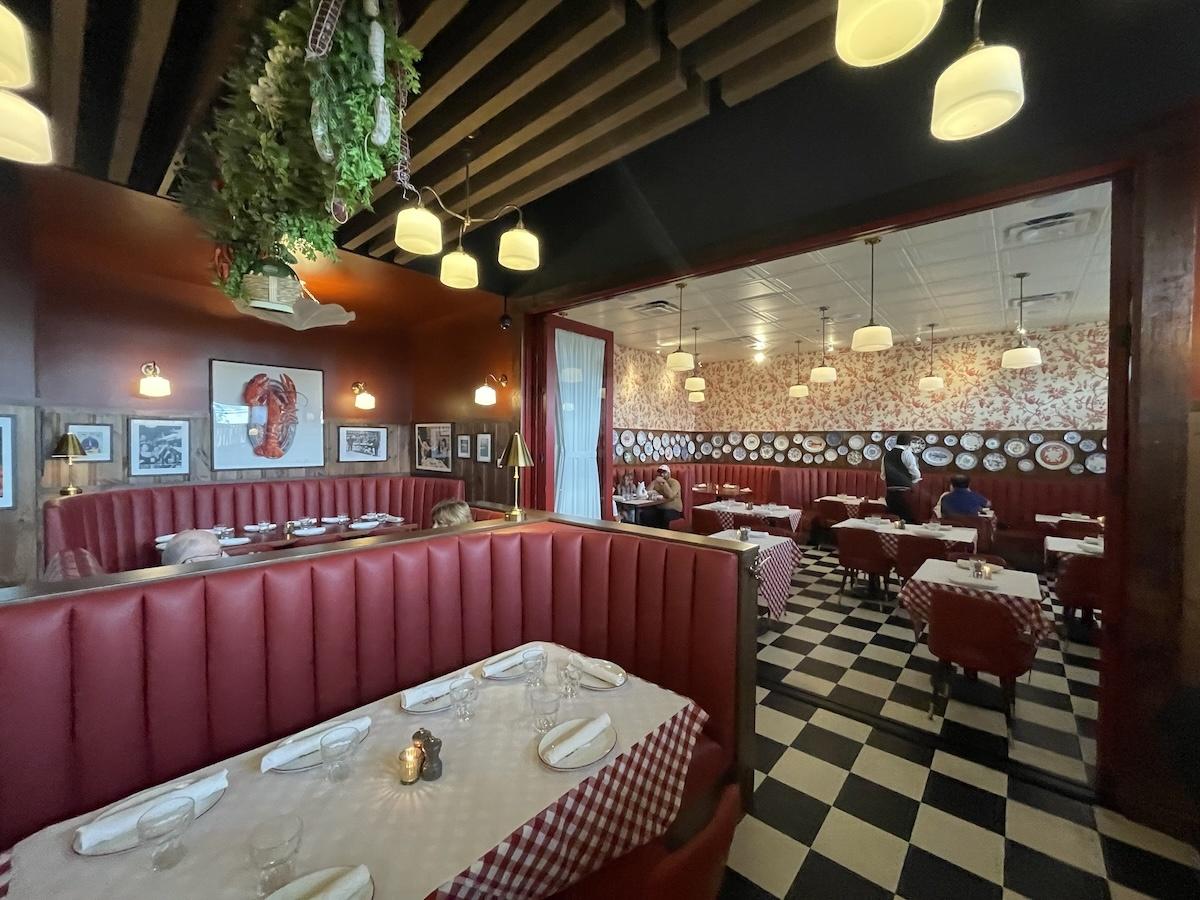 Former Tin Fish goers will also appreciate how the layout of the restaurant was opened up. There is a whole new southern wing that used to be walled off during the Tin Fish days.
And the middle of the restaurant has a sophisticated hand washing station for restaurant goers which is so smart following a pandemic. So you don't have to go all the way to the bathroom to wash your hands, and the ivory tile and golden sink fixtures, with copper pots and pans above your head will make you feel fancy while being responsible.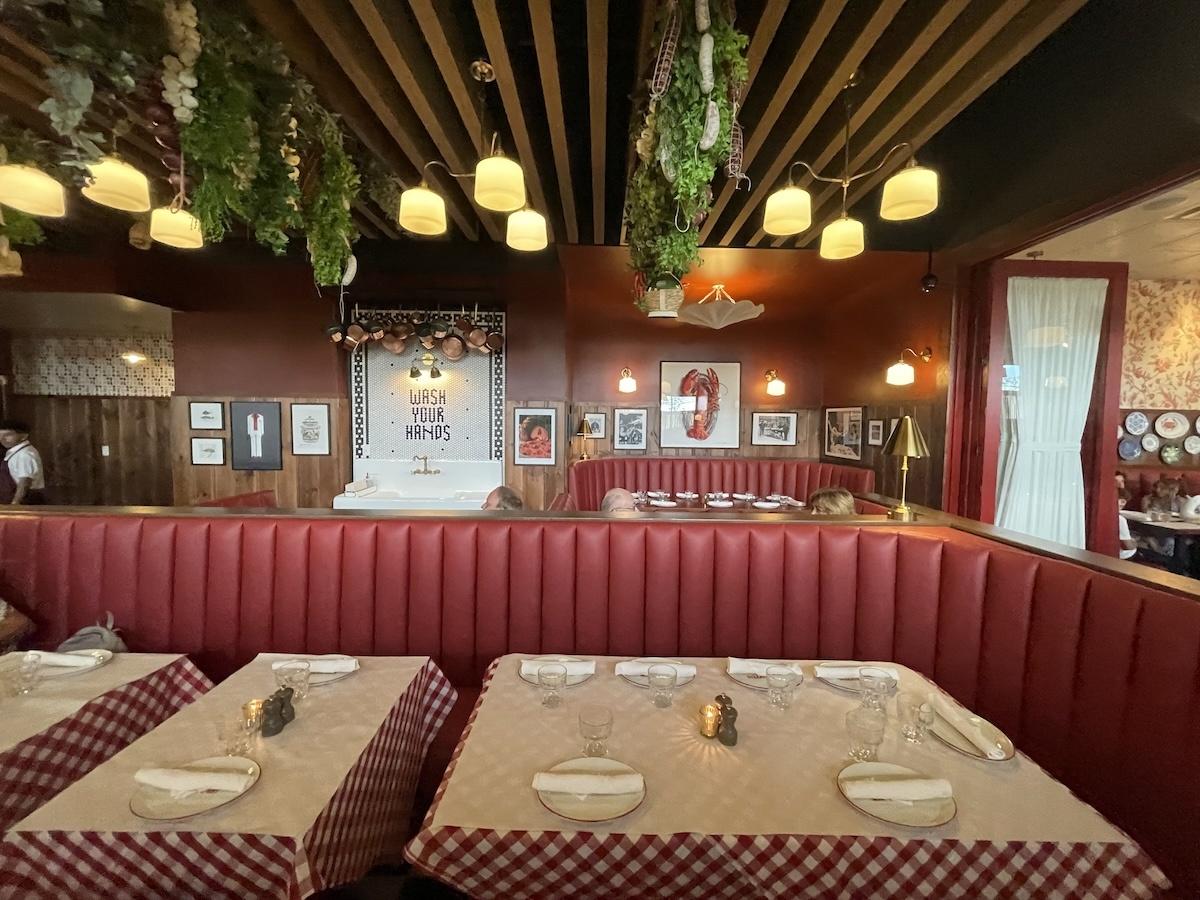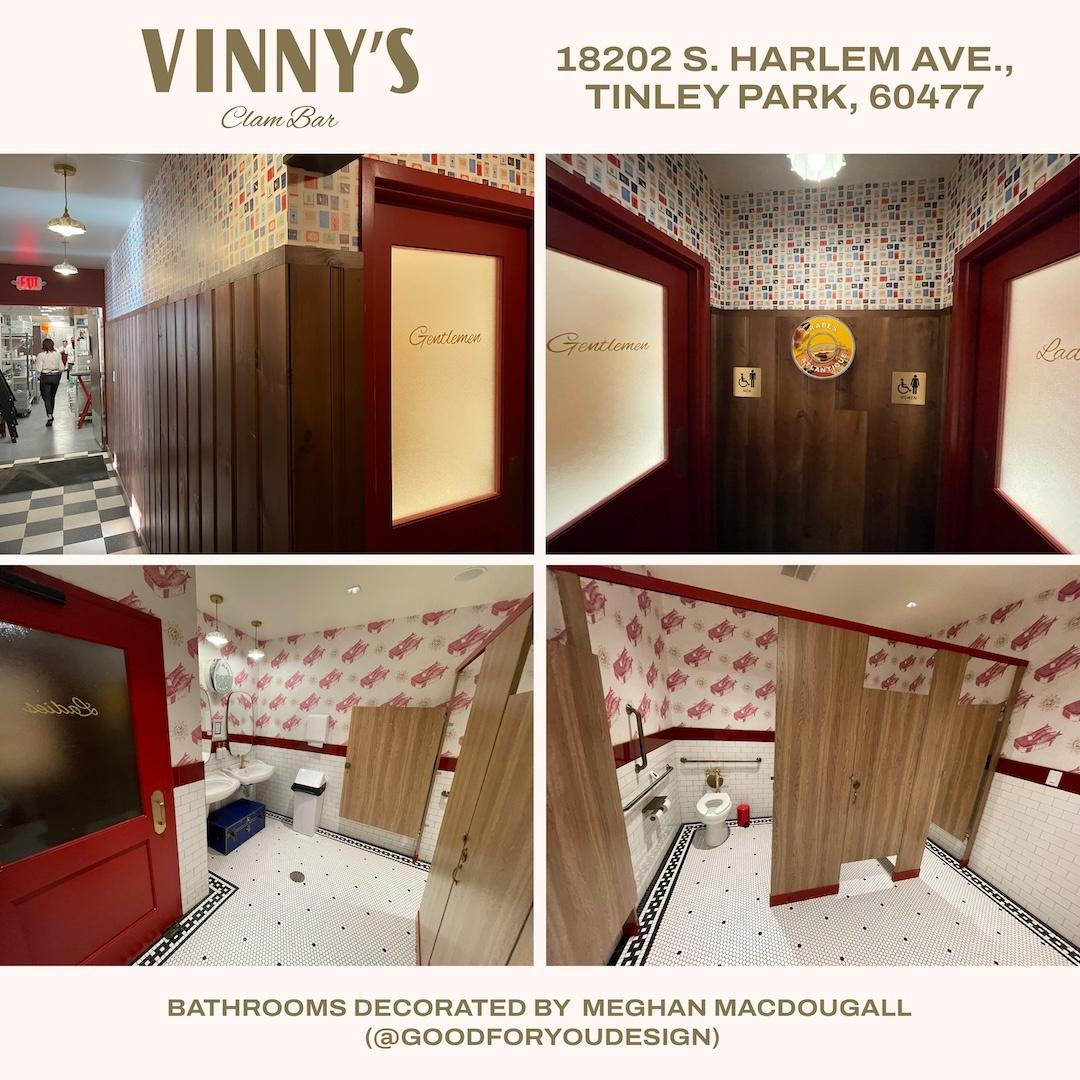 The north wing of the restaurnt, right at the entrance, has the energetic bar seating and Luis' Oyster Bar. When you first walk in, you are eyes are drawn to the rows of seafood over ice behind glass.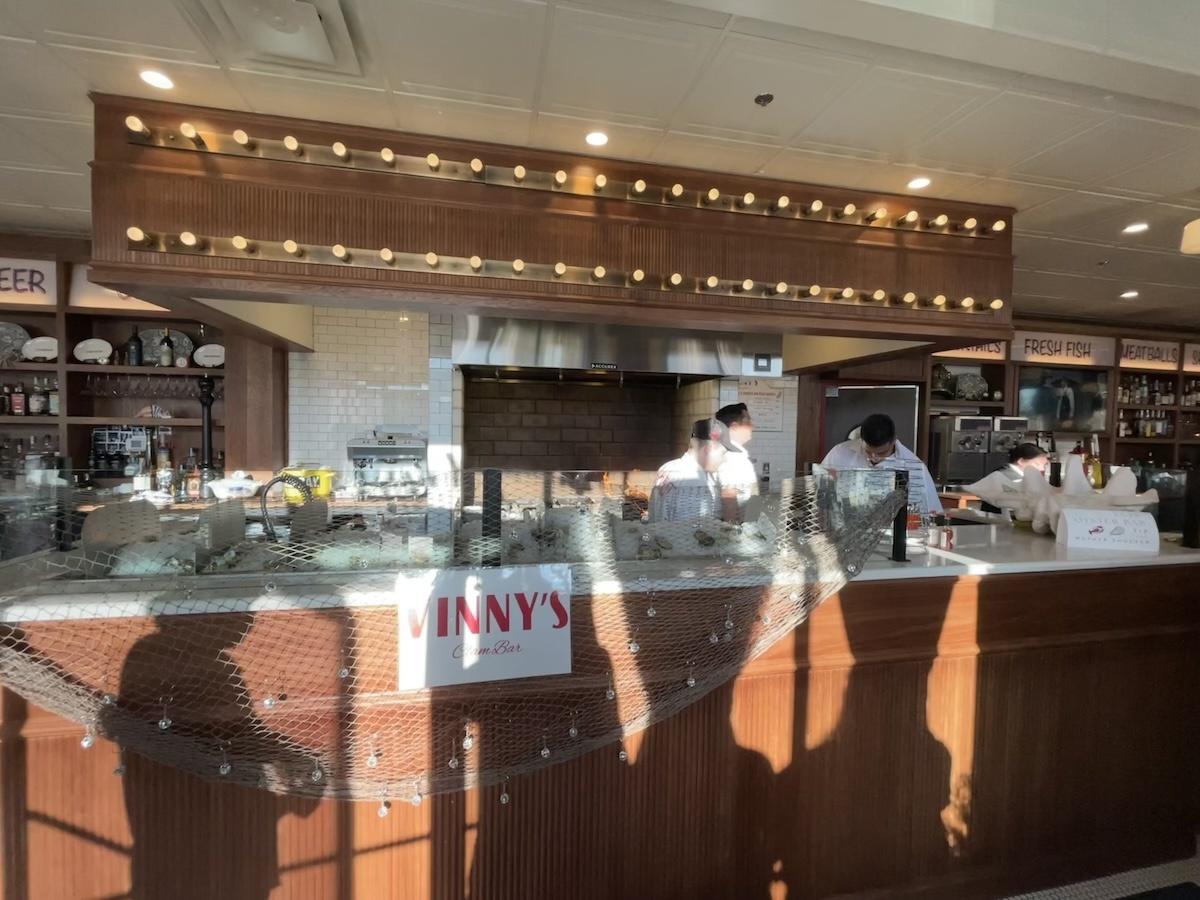 Music and Atmosphere
And there's a DJ there every Friday and Saturday night.
35 year veteran DJ Phil K Swift was at the turn tables at the grand opening celebration. DJ Phil K. Swift will be back this Saturday, August 26th disc jockeying at Vinny's Clam Bar from 7:00 PM till 10:00 PM (CLOSE).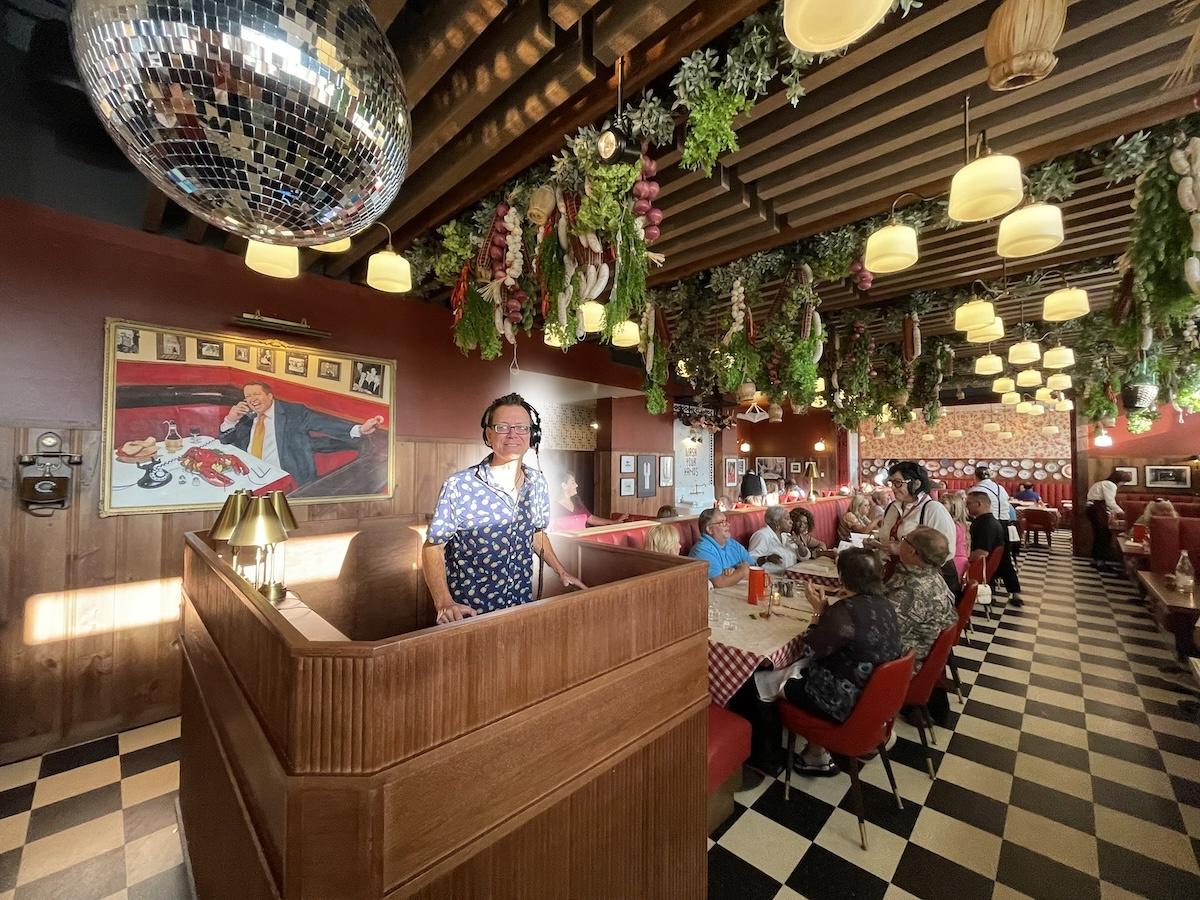 So would I recommend Vinny's Clam Bar? Shell Yeah! I felt like I was both back in the 70s, experiencing a date my parents would have had, and at the same time feeling cozy but fancy.
To keep up with Vinny's Clam Bar, follow their hashtag on social media 🦪#ShellYeah.
For you convenience, you can make a reservation, place an order online, and see their menu on the Vinny's Clam Bar website www.vinnysclambar.com.
How Vinny's Clam Bar Came To Be
RJ'S SEAFOOD COMPANY LLC
As I stated, the Tin Fin seafood restaurant used to occupy 18202 S. Harlem Ave., Tinley Park, 60477. It announced its permanent closure on July 2, 2020—citing coronavirus as the reason.
Fast forward to September 7, 2021 and the process of acquiring the restaurant space begins for Scott Harris Hospitality Broup. But it wasn't called Vinny's Clam Bar on the paperwork. The entity first introduced to the Village of Tinley Park for approval was RJ'S SEAFOOD COMPANY, LLC (File Number: 10287073).
But the same owners behind Francesca's Vicinato in Palos Park and Fat Rosie's Taco & Tequila Bar in Frankfort are behind Vinny's Clam Bar. All within the Scott Harris Hospitality Group—you'll see a bright painting of Scott Harris on the East center wall of the restaurant.
Edwards Realty is the landlord of Cornerstone Centre, that Vinny's Clam Bar.
It was May 11, 2023 when the name Vinny's Clam Bar became what the restaurant is known as, officially announced by the Mayor Glotz of Tinley Park on his Mayor's Corner page.
The restaurant's name is a tribute to the Executive Chef Peter DeRuvo's uncle Vincenzo, a resident of Staten Island, New York.
There were plans to build a 525 sqft building addition, with a restaurant patio (on the northside of the building), but it was cited in the May 19, 2022 Village Planning Commission Meeting Minutes that "RJ's is not doing the building addition due to shortages." As someone who was building a house for 16 months, I can confirm that supply and labour shortages have been a serious issue even after the pandemic was considered lifted.