Tinley Park Benches on the Avenue 2021 Walkthrough
May 14th was the day the 2021 Benches on the Avenue came out on display all along Oak Park Avenue. Check out our family's favorites, or the ones that captured our eyes the most. This year's theme is Music Albums, totally on brand for the Village of Tinley Park.
This year's benches pay tribute to some of the most iconic and memorable album covers of all time! The benches feature unique, kid-and family-friendly, imaginative and three-dimensional designs that take visitors on an "Album Cover Tour" through all genres and eras of music.
Tip for parents: if going when it's very hot and sunny, cool off under the trees above the Madonna, Prince, and Yellow Submarine benches ?.
To learn about each and every bench, click here to access the digital booklet guide to all the 2021 Benches on the Avenue from the Village of Tinley Park.
And if you would love to participate by designing a bench next year, you should apply! The theme for each year is revealed at the end of the previous year, so keep your eyes out late this fall or in the earl part of the new year. Check out one of the sketches submitted by the artists of the Chance the Rapper bench artists, Gabrielle Ciuteikis and Jacob Diaz:
For more information about how to participate next year, contact Joanne Carroll at (708) 444-5031 or [email protected].
Learn more about the Benches on the Avenue public art program on the Village website at here: TinleyPark.org/Benches.
2021 Benches On The Avenue Winners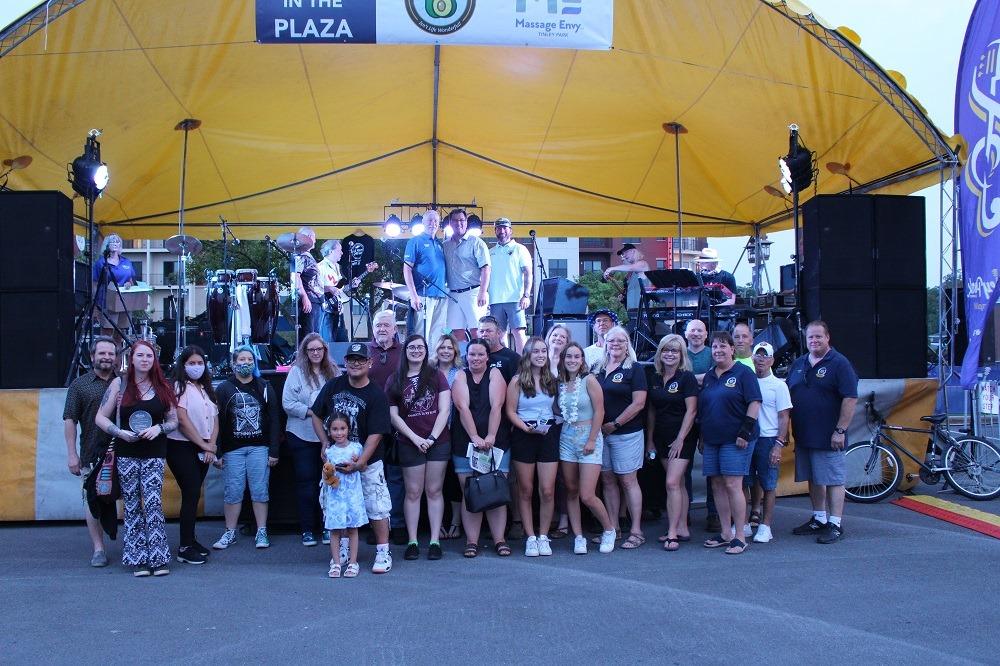 The Village announced the winners of its annual Benches on the Avenue public art program during the Aug. 7, 2021 Music in the Plaza concert. Judges looked at each of the 20 benches and selected winners in seven categories, including:
Best Portrayal of Theme: "Kiss Destroyer" by Rick Villarreal
Most Creative: "Illinois Represents" by Amy Frale and Carla Zidek
Best 3D Bench: "My Fair Lady" by Nick Schulien
Best Use of Materials: "Stairway to Heaven" by Angela Simpson, Mike Schultz and family
Best Individual Artist: "Albums of My Childhood" by Jennifer Schulien
Best Group/Family Project: "Fleetwood Mac Rumors" by Tim O'Brien and Samantha Cook
Judges' Choice Award: "Yellow Submarine" by Delaney Dillion
And if you're more video-onclined, meet the artists behind every bench on this episode of "Discover Tinley" at the link below: