Process Of Building A House in Tinley Park: Month 10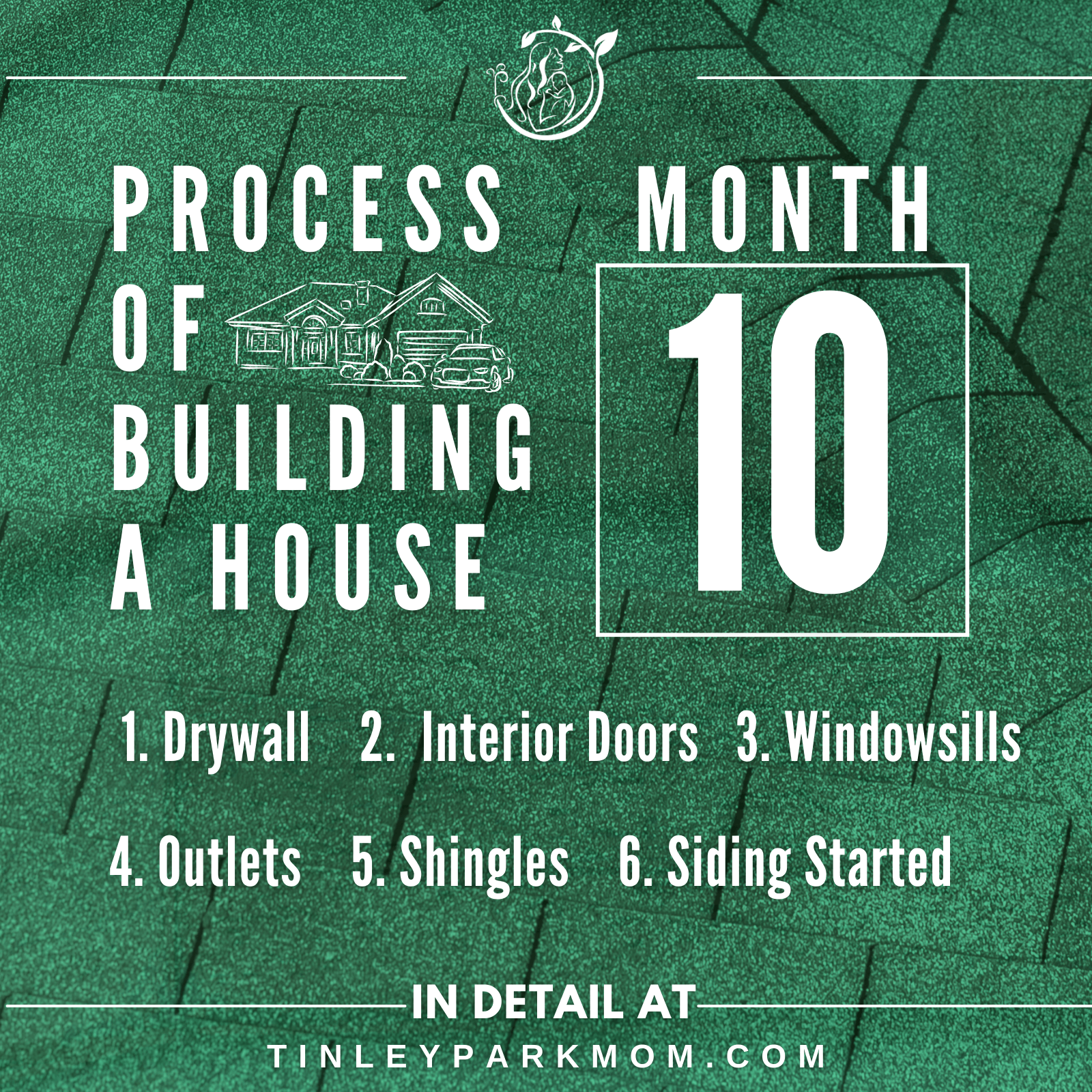 Close To Completion
In month 10 you feel happy a lot of the time because of how much and how fast you see things coming to together. You've made all your selections (except your mailbox and maybe a couple other items) and what's left to be done means only one or two more months before you move into your home. So it's one of the easier times of the process, where you can sit back and relax more.
Still, keep in constant communication with your builder to get accurate timeline updates. Once a week is good, or call once a month, depending on the progress you observe during your drive-bys or walk throughs.
And remember that completion dates depend on the size and complexity of a house project. As well as external forces such as supply or labor shortages, and delays from your local government (approving permits, inspections, etc.).
Finger's crossed for us that the new timeline of 30-45 days away from completion comes swiftly.
Here are exactly what were accomplished this month:
Drywall
Interior Doors
Windowsills
Outlets
Shingles
Siding
Interior Trim and Fixtures
Drywall, Interior Doors, Windowsills, and Outlets completed.
The keyword this month is "Drywall". When you learn that drywall is being put up on the interior walls, you can be sure that your home is finally nearing the home stretch (a.k.a the finish line).
PRO Tip: Still keep doing periodical walk throughs. Don't get in the build crews way—but make a point of calling in advance that you'd like to come by and check how things are looking.
Note that although the electrical panel was completed in month 8 (May), the light fixtures, outlets and switches were not all technically considered installed until this month. The reason being that the ceiling light we asked for specially for the master bathroom had been missed. We only noticed that on a walk through, which is why it's good to check up on your home. Miscommunications happen and taking an active role in the home building process separates the happy from the unhappy customer.
Exterior Finishes
Shingles and siding installed.
One of the June holiday observances is Pride Month, and sweetly we got to witness the coming out of the colors of our house explode! Timing is everything they say, and we're very much looking forward to our finished product. Me personally, I've been waiting a lifetime for a real house-house. When you see the brick, shingles, and siding go up, it's yet another sign that you'll be coming home faster than you know it.
Optional: List Your Current Home For Sale
Two months ago, in month 8 of the home building process, I recommended that as a good time to start looking for a realtor. So by month 10 it is definitely the time to seriously get your current property off your hands.
If you are currently living somewhere as a renter though, this step doesn't apply to you. However, make sure at the very least that by now you have already coordinated with your landlord.
For us, we listed our townhouse at what would be considered 4 months prior to our home completion date. Our decision was based on real estate trends for spring and late spring, and getting the most value for our investment in renovating said townhouse. So for us, month 10 was when we said good bye to our first home.
As of now we have moved in and are enjoying spending extra quality time with nearby family as our move in day approaches. I plan on writing about our real estate experience sometime in the future. Suffice it to say, we learned a lot and it wasn't all roses. So I hope our story helps some of you who will be entering that chapter in your home owner journey life.
And that was month 10!
The final month or two of building don't look exactly the same for every house. But in our case we have these items to look forward to next month: installation of Sinks, Toilets, Faucets, Walkways, Driveway— the sky's the limit really.
PRO Tip: Get friendly with the masonry and concrete teams if you want your mailbox to be brick and match with your home. Our builder put the onis on us to get our own mailbox, but we were more than welcome to speak with and work directly with their masonry and concrete contractors. Saves all sides, time, money, and liability.