Process Of Building A House in Tinley Park: Month 8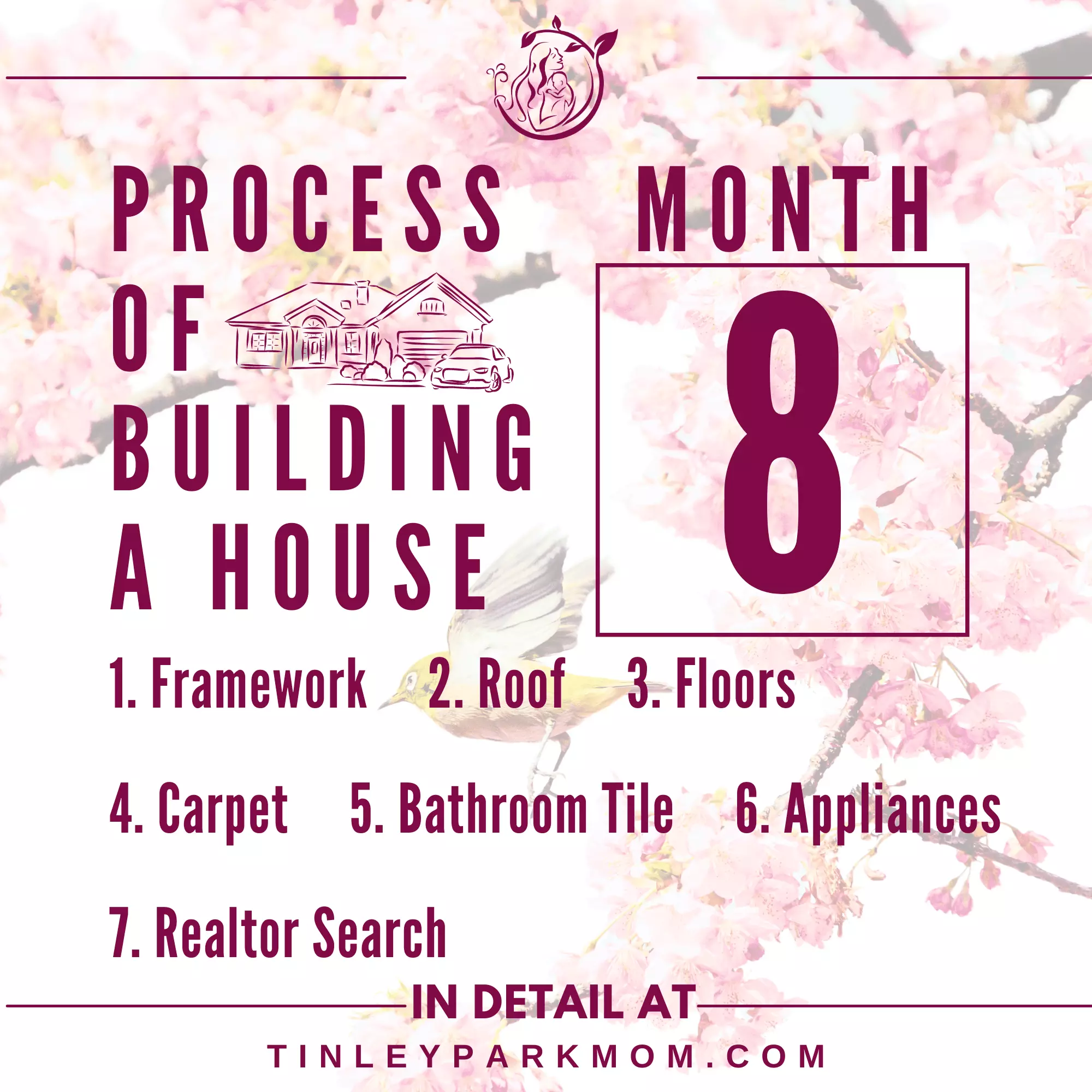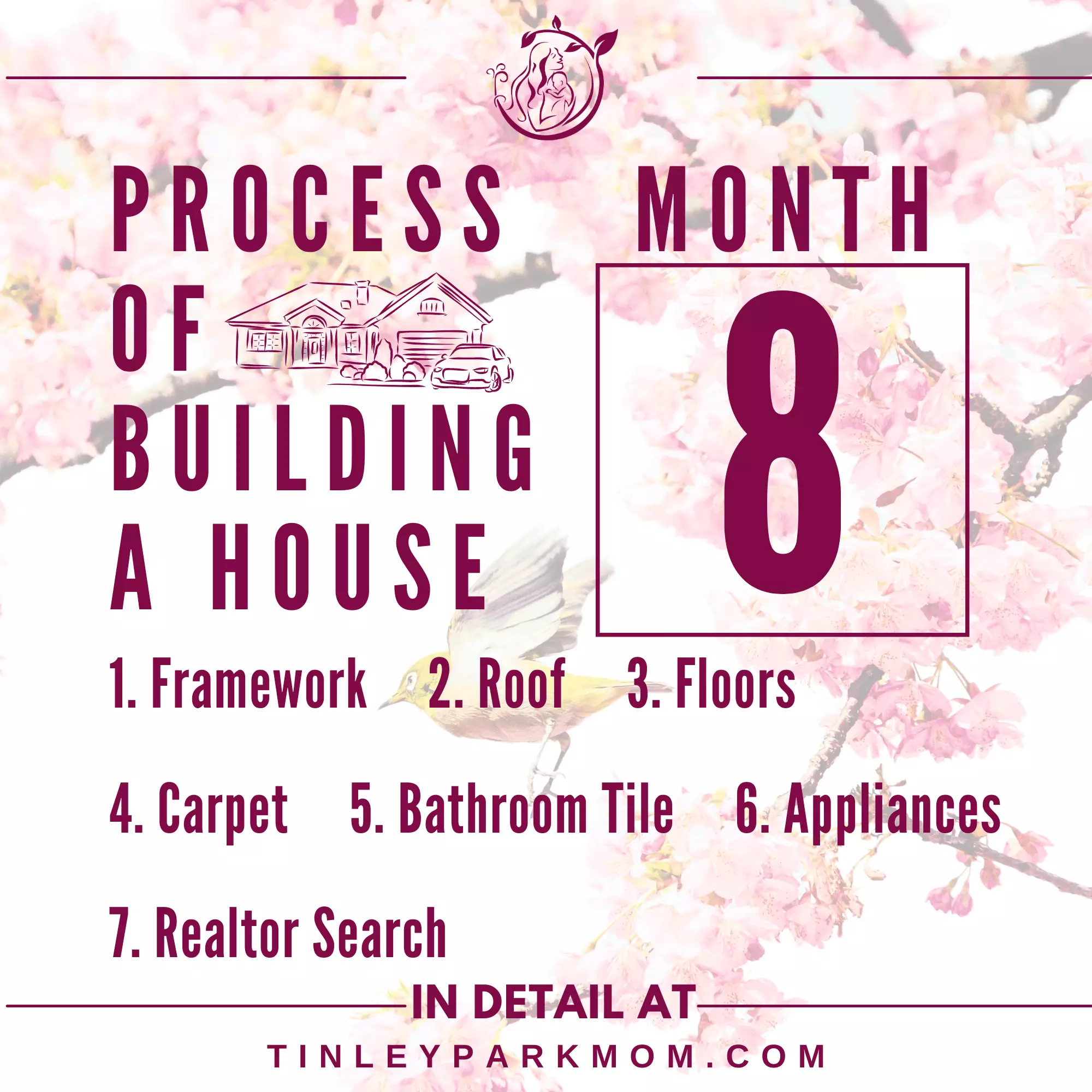 In month 8th we saw our home finally blossom out of the ground, seemingly like the flora all around. Seeing so much finally come to life after so many months of work has made this our favorite month thus far. This month was been about relishing how far we've come and the actualization of our forever home. Along with weekly drive bys to check the building progress and walking through it as it grows. Here are exactly what were accomplished this month:
House Framework
Roof (shingles got done too!)
Floors (just base boards —color staining and varnish come in month 12)
Chose Carpet
Chose Bathroom Tile
Chose and Purchased Appliances
Worked With Our Realtor (but if you don't have one, this month is the right time to find yours).
Framework, Roof, Floors
This part of the process is all the builders who have been working so hard for our family. We make a point to stop by the house at least once a week to walk through and soak up all the progress they make. If you're going to do a walkthrough though, always do so after your crew has gone for the day so you're not in their way of course. Our build crew is super nice and got the basic frame and wood roof up in 3 weeks!
On sunny days it felt like looking through a cathedral ceiling in that state of just wood frame and no walls—truly celestial. And when the shingles were installed my heart just burst.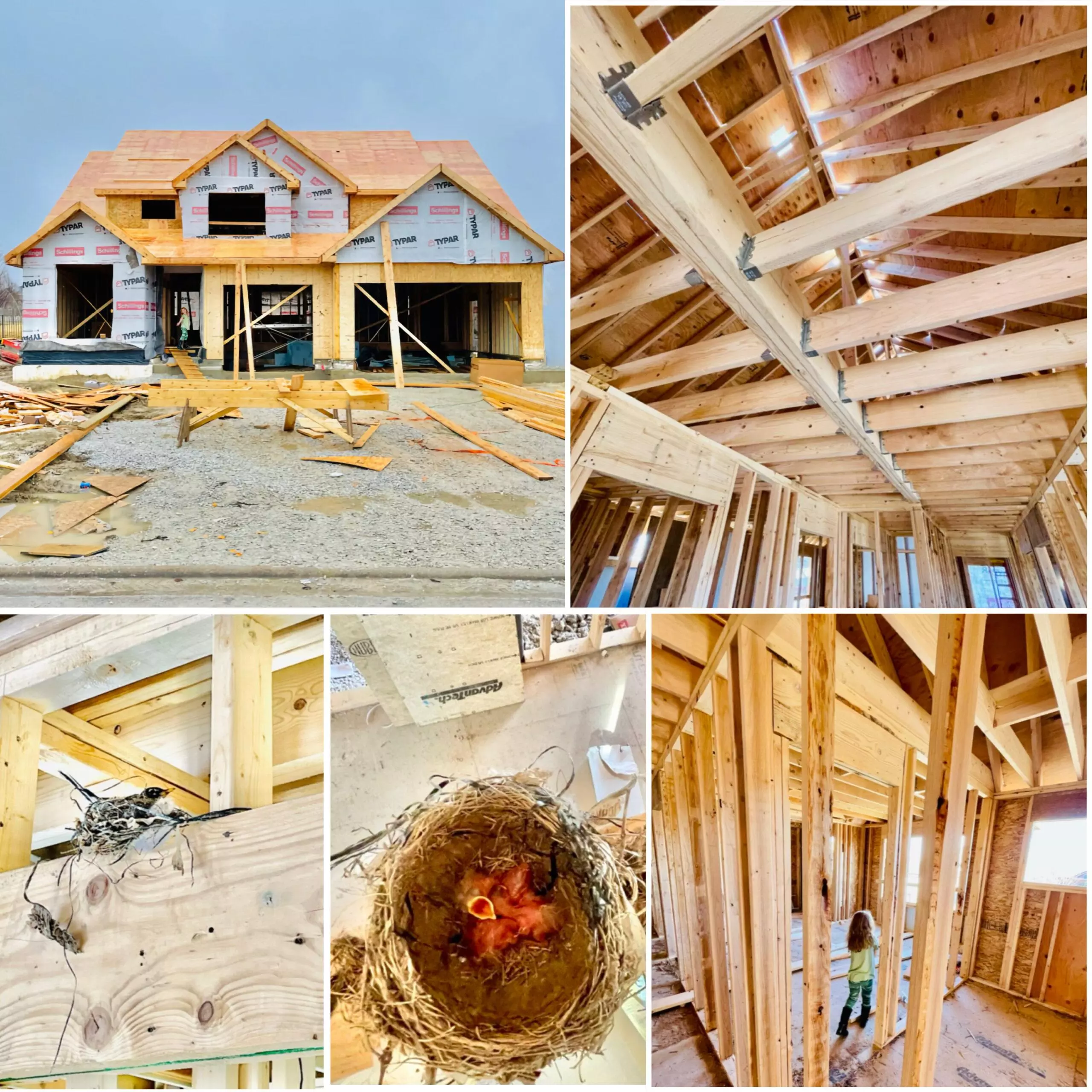 And the next sweetest thing besides seeing our daughter dance and light up every time was us finding a nest on our office doorway. You know you're in the right place when a mama bird chooses your spot as her own. Her 4 little baby chicks hatched last week.
Though her chicks and her will leaving before the house is move-in ready, at least we know completion is near. Can you believe it's been a whole year since we signed the contracts?! If you've been following this series, you'll know that the tail end of the pandemic delayed ours as well as many family home building projects. We wrote about that back in month 5 of the home building process if you'd like to read more.
Final Selections
While this month saw the mega watt start of spring, it marked the end of our meetings with our builder's liason, by signing off on the bathrooms and laundry room tiles and upstairs carpet.
PRO Tip: Pick your bathroom tile before your carpet!
Tile for Bathroom and Laundry Room
Tile was a little aggravating—part of that has to do with how fond we are of our current bathrooms. But mostly to do with the tile vendor team member. Being so used to working with small contractors from the renovations we made on our current small home, we were suprised with something as simple as the shower niches being such a big ask. We had to do some extra homework to find out that the brand our vendor recommended does make the niche size we requested. A Schluter Kerdi Board 12″x20″ Shower Niche to be exact.
A shower niche is that inner shelf you'll see in the shower walls of some bathrooms—we have this exact size in both bathrooms in our current home. And in trying to see if this size was something Schluter Kerdi makes, we now think we might even have a Schluter Kerdi Board ourselves!
PRO Tip: There's a way of asking for what you want without getting mean—first do your homework and be patient. As in all customer service situations, it's better to be professional than make a situation ugly just because the team member is being lazy or difficult to work with.
I don't like to bad mouth anyone, but the tile experience was the only disappointing part of our home building journey so far, and we're really at the tail end. We didn't do the "I'd like to speak to your manager" thing, we simply told the person we were assigned that we'd be happy to purchase the shower niche directly if needed, because we found that the brand she was showing us had the size we were asking for. That changed her tune to say the least.
The point of our builder sending us to the vendors they work with is to make the process easy for both sides, and it's good for all businesses involved. The materials such as tile and carpet are included in our contract, so all we need to do is pick the materials that fall within our contract. For us to offer to buy the niche on our own credit card when this is not something more expensive would be interesting for her to explain. So suffice it to say, everything turned out ok.
You shouldn't have to work this hard as the customer, but what's the alternative? If there's one thing I've learned in this life is that making the best of a situation is harder but so much better than what seems easy and juste.
Upstairs Carpet
Carpet was easy. Len Stolarski Jr. who is owner of Key Carpet in Oak Lawn made things really clear and simple. By far this was the quickest selection process; we actually spent more time just chatting and having fun, than mulling over carpet. And one thing we learned in chatting with Len is that he is an investor in the new brewpub in Downtown Tinley called Banging Gavel—small world, right?!
If you're into beer, I encourage you to visit Banging Gavel Brews Frequentyl Asked Questions page in the meantime: bangingavel.com/faqs. Also, do check out the Banging Gavel Sustainability page to learn all things related to their restoration of the Karl Vogt House, otherwise known as the Vogt Building—which soon will be referred to as The Vogt House by Banging Gavel.
We told him the color tile we chose for our bathrooms and laundry room and he was off to the races. The only advice we can't stress enough is to not cheap out on your carpet—you get what you pay for and carpet is a pain to replace if you get it wrong the first time. But don't be afraid to wait and comeback to choose your carpet by double checking your options and doing some research.
Kitchen and Laundry Appliances
Though we could have bought all our appliances through our builder's preferred vendor ABT, we chose to go through a local vendor in Tinley Park called Ferguson Bath, Kitchen, & LIghting Gallery. My in-laws recommended Ferguson to us because they carry some higher brand and more techy appliances, and as digital folks we love our tech toys. Though the Public Health Emergency Declaration is ending, supply chains are still catching up to normal pace after the impact of the pandemic. So be advised as we were to pick your appliances as soon as possible so they arrive on time for installation by your builder.
Start Talking To Your Realtor Or Find Yours
This applies to folks who need to sell their dwelling before they can move into the house they're building. You need to start looking for or talking to your realtor 4 to 3 months before your house is completly built. The reason for this is because once your house has its roof done, you can expect to move in 4 months normally. And One of the important points for you to plan with your realtor is coordinating when to sell your home.
It may be difficult to weigh the timing—finding the balance between when gives you the better sale or when is more convenient for you is the dream. For us, we sold our townhouse in the middle of this month because we have family nearby who we can stay with for 1 month or 2 before our house will be move-in ready. There are pros and cons with moving before or moving after the sale of the property you're leaving, and your realtor will help advise.
Next month we'll be interviewing moving and storage companies. Got some good recommendations from the Tinley Park Moms Group on Facebook. Stay tuned!