My First Self Service Wine Bar Experience – sip. in Tinley Park
Now that there are vaccines for COVID-19 and mask mandates are softening, getting together is feeling less risky. Fortuitiously I was asked to a wine night with some new moms from my Facebook mom group, Tinley Park Moms. We all proposed ideas, and a new self service wine bar in Tinley Park won our votes. Wispily called sip.wine bar and restaurant and located in Downtown Tinley Park.
Self-Serve is certainly bringing new life to wine bars! Although the concept of self serve wine or self pour wine bars and restaurants is well over five years old, they are still a novelty for most folks. So here's what my first self service wine bar experience was like.
Having opened during the beginning of the pandemic, the fact that sip rose to the occassion and didn't go flat speaks volumes.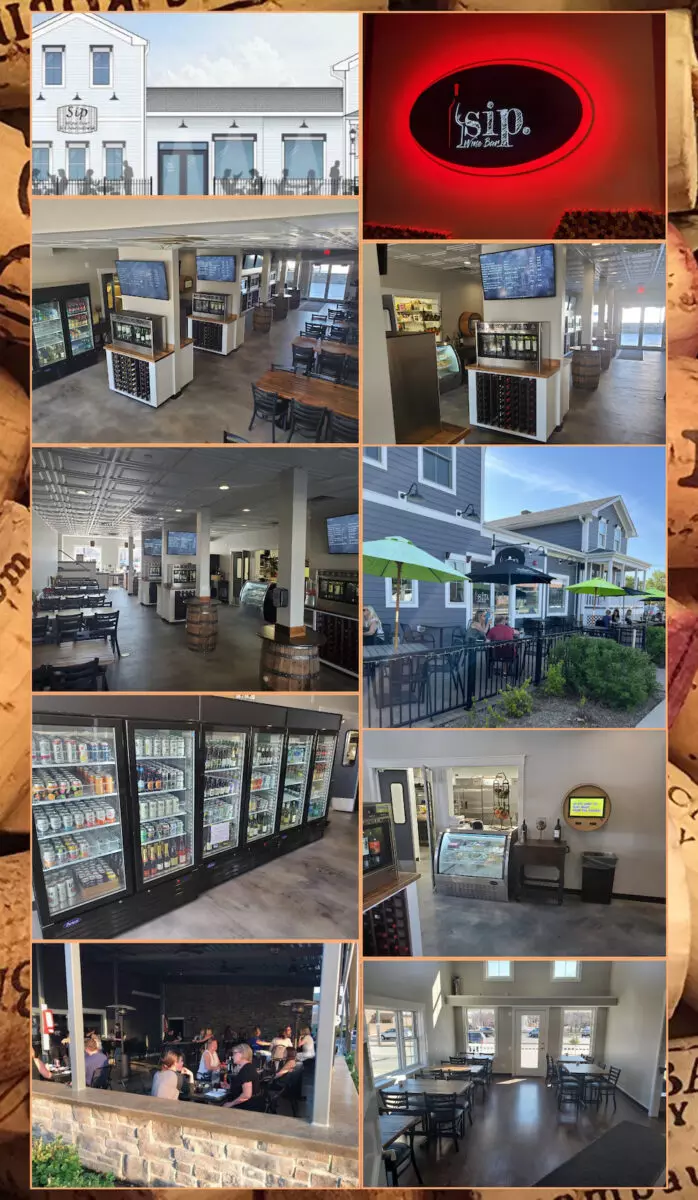 FOB Key
What is a fob? No it doesn't stand for 'Fresh out the bottle.' Learn why it stands for Free On Board.
When you arrive, you'll be asked to leave a credit card or debit card for the tab you'll be building through your sips and pourings of wine. You'll then be given a fob key to wear on a wrislet that will be tied to this tab you're opening. You scan the key fob at the station of each wine you want to sample. Think self-check out at the grocery store with a soda machine. This key fob will track every wine you serve yourself and your receipt will show the itemized list of wines you sampled.
Pour Sizes
1 oz ~ 3 oz ~ 5 oz
The pours that sip's self-serve machines offer are 1 oz, 3 oz, and a standard 5 oz. wine pour. Founder Lisa Knauf Hummitsch says the concept is for people to be able to "get a 'sip' to try something without having to commit to a full pour. This also allows our guests to try multiple wines which can be a lot of fun! Our price points are based upon the cost of each bottle-we have a range of prices to suit all budgets."
Fun Fact: Lisa's husband Neal Hummitsch is the owner of Salina's Pizza & Catering in Tinley Park.
There are over 70 different wines on tap to taste, all different price points, from allover the world to all across America.
TIP: Set a budget for yourself before you arrive—try to look up prices ahead of your visit.
What I Had At Sip
I tried a Villa Wold Gewurztramin (white) and a Trapolino (Sweet Red), with homemade potato chips. Since they didn't have french fries (?) I just went with what I hoped would work out, and although I didn't care for the potato chips appetizer, I enjoyed everything else.
I blind bought 2 wines on my way out, one of which I loved (the blue sparkly Indigo wine from August Hill Winery), the other not so much (Lolailo Sangria). Got a nice bag to carry my wines in, which I can bring back and use every time I stop back in (? saving the planet).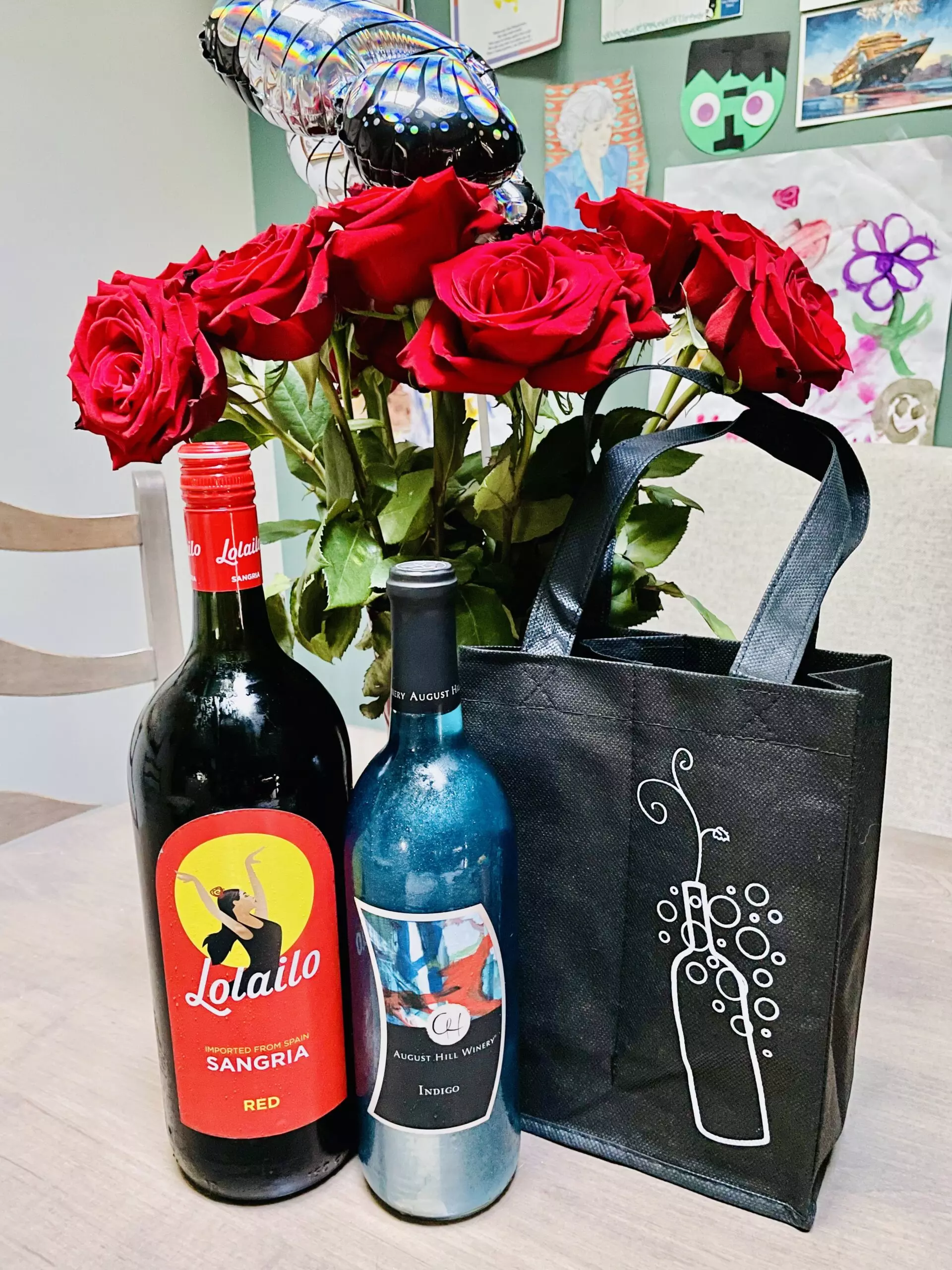 Parking
Tip: People also park across the street in the Citi Bank parking lot—it's tough finding a parking spot closeby.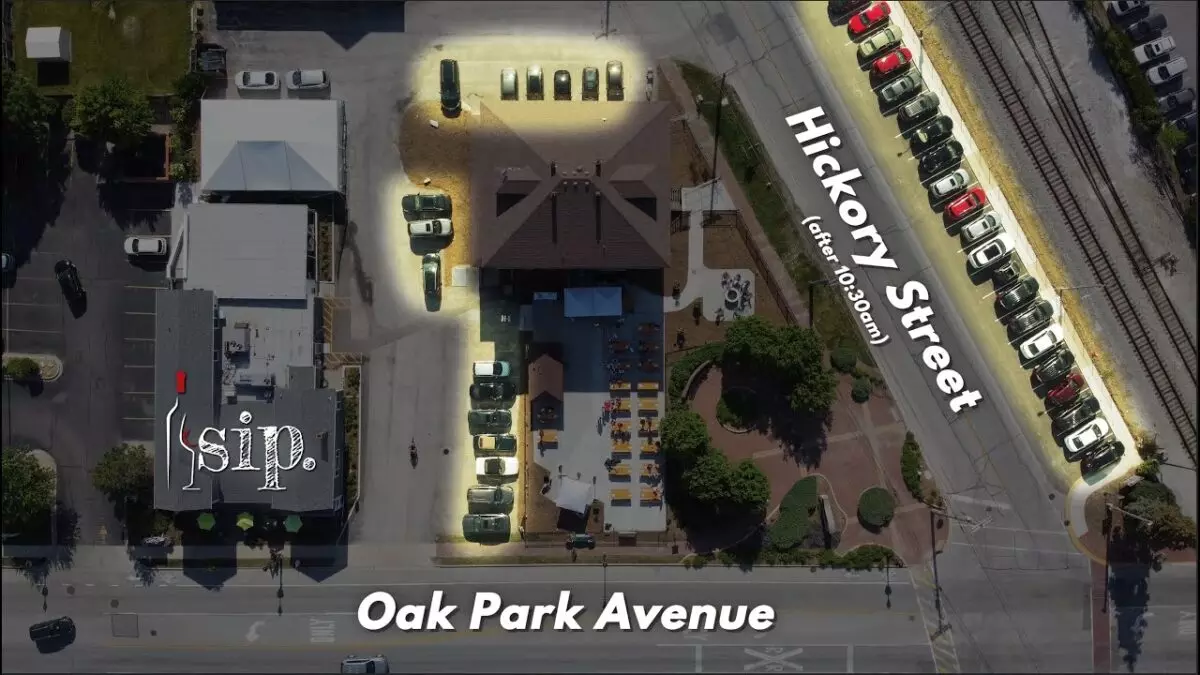 Mickey's continues to tow customers, please DO NOT park in their parking lot.

17424 South Oak Park Ave Tinley Park, IL

Parking in the train lot after 10:30 is free. Park along the tracks on Hickory Street.

Use the shaded area to find available parking. Please don't park in the Citibank lot during normal banking hours.
Menu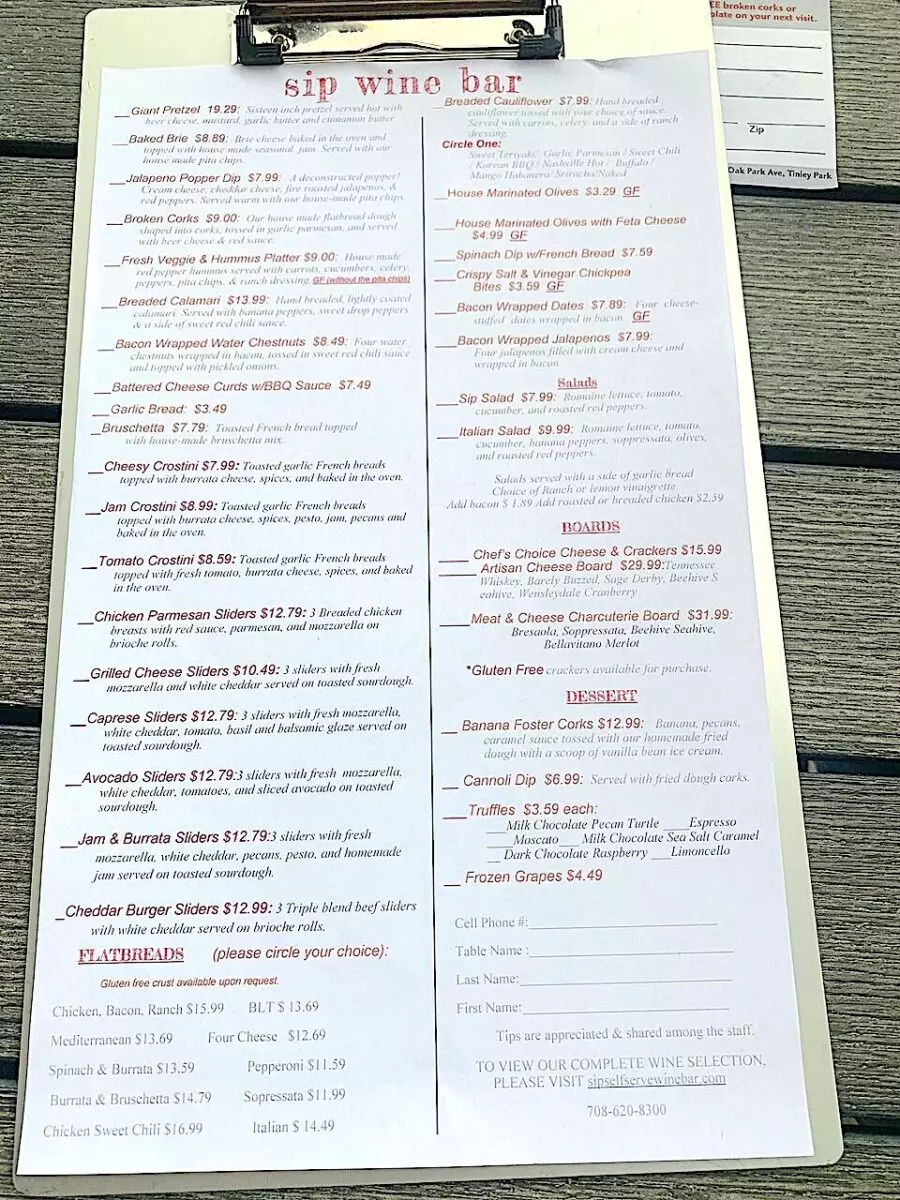 The emphasis at sip is on the wine tasting experience.
Final Analysis
I had a good experience, sip is perfect for date nights and nights out with friends, and for parents it is a nice alternative to Cooper's Hawk for getting away from your kids and having sacred grown-ups only time.
Many things about sip reminded me of wine tasting in Southern Michigan, and at four years in business I hope sip continues to mature and get better with age. God knows we parents need a water hole to get a way for a sip. ☺️
Other Reviews of sip. Wine Bar and Restaurant
Yelp (Average rating: 4.05/5)
Google (Average rating: 4.70/5)
Facebook (Average rating: 5.0/5)