A Review Of Lou Malnati's in Tinley Park
December 5th, 2018


On Monday, December 3rd, 2018 the new Lou Malnati's restaurant opened.
Nextdoor (to the left of the restaurant) remains the Lou Malnati's pick-up spot where Tinley Park and Chicago Southwest Suburb residents would call for pizza deliveries or come to pick-up their meals. Now with the new restaurant adjacent, that strip of 171st street is going to be even more of a draw for the Tinley Park west-siders.
Built by Acme Builders the inside reminds you of being inside of a machine. Very steel mill, Big Ben clock, or factory feel. Don't get me wrong, the way it's rendered is beautiful in this modern, whimsical industrial way.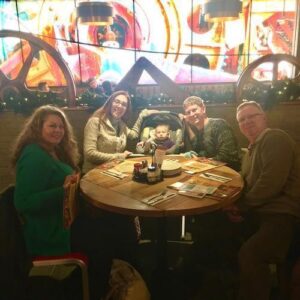 My family and I went the day following the grand opening. The restaurant was largely empty, not attracting the big crowds that it will inevitably have soon enough. For most residents, we've been hearing about the opening through word-of-mouth. We haven't seen any marketing about it, save for the social media post yesterday from the official Lou Malnati's accounts. But our family enjoyed the low-key and almost having the restaurant to ourselves atmosphere. Our server was so nice, a local Tinley Park resident like us. My husband Geoff's parents came along with us and we got the best table, right in the center, just enough away from the big light up screen that covers the back wall of the restaurant. It's like we were in the middle of a show but in a good way.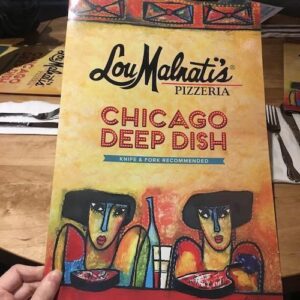 The cocktails are nice and simple. I had an Italian Margarita, we all shared the Lou Malnati's salad with the popular sweet salad dressing and the gluttonous stuffed bread with spinach, artichoke, and cheese. For our main course we chose a traditional pepperoni pizza. My favorite thing was the stuffed bread with marinara sauce and the Italian Margarita. I wish we had had room for dessert, but it's hard to save room with such generous portions and rich food. The tiramisu and chocolate chip cookie pizza I have to make a point to get to one of these days.
My rating for Lou Malnati's in Tinley Park: 4/5
Reason being: Lou Malnati's pizza isn't my go-to choice, it's more of my husband's family's choice. It's a great place none the less, family-friendly, baby-friendly (they have special slings for baby car seats), yummy food and cocktails, and well thought out in design and spacing between tables. And also a great date spot too!