Interview With Instashield's Dan Brown Sr.
Not since the cup holder cap has a hat so ingenious been designed.
Father and Son Develop a Low Cost Face Shield For Your Baseball Cap
This summer my husband and I endorsed Mr. Brown as a nominee to represent inventors at the Patent Public Advisory Committee. And n so doing we discovered that Dan Sr. and his son Dan Jr. had launched a new invention.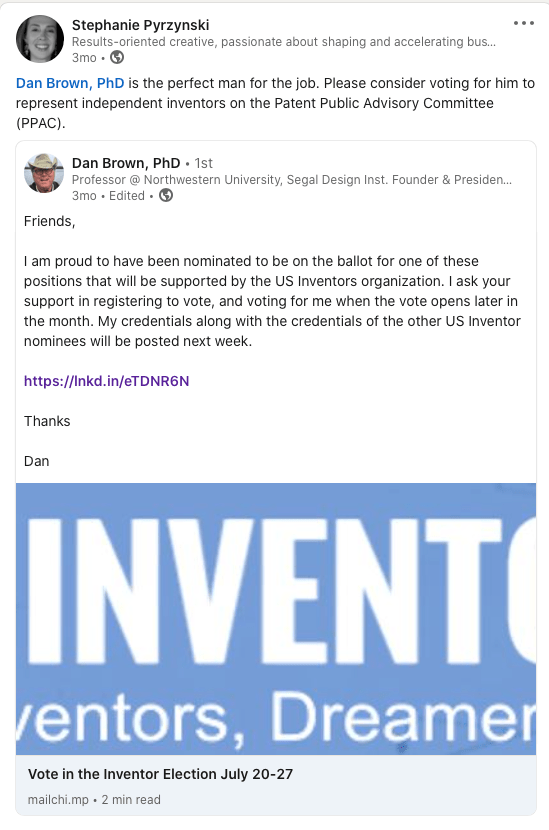 Facts About InstaShield
Spearheaded by his son Dan Jr., the InstaShield is a creative face shield that hooks up to any baseball cap.
FYI: InstaShields are MADE IN AMERICA
InstaShield LLC was co-founded by Dan Brown Jr. and his father Dan Brown Sr PhD to quickly fill the void of protective face shields due to COVID-19. Since the beginning of the pandemic they are determined to find a way to mass-produce shields in the U.S. and get them to essential workers and consumers expediently.
Where Did I Find Out About Dan
FUN FACT: Dan has over 35 US Utility Patents, 100 US & International Patents
I know both Dans back when I was social media manager for their company Loggerhead Tools. The story of Loggerhead is heartbreaking; essentially one of the tools Dan invented was plagerized by Sears. Dan won the lawsuit case, but at great cost. But this article is about the positivity of the now and the future in his and his son's life. Like phoenixes, they never stopped believing in themselves. So here is my interview with International and National award winning inventor and professor Dan Brown Sr. PhD, on InstaShield, business, and fatherhood.
---
Million Dollar Challenge
If you would like to help essential workers and seniors to get an Instashield for free— through Instashield's "Million-Shield Challenge," InstaShield LLC will donate a shield to an essential worker or senior for every one purchased on its website (InstaShieldUSA.com) until it sells one million units. Visit the Instashield website to learn more and to purchase a shield for yourself and others https://www.instashieldusa.com.
Dan Brown Sr. In His Own Words
"During my first 13 working years I worked for companies in various design-engineering and management roles, (CV) creating new products. Notably, every Space Shuttle that was launched used an invention of mine. https://www.amazon.com/s?k=froth+pak&ref=nb_sb_noss_1

In 1991, I launched my own product design and development consultancy, Consul-Tech Concepts. My work has been known for an ability to continually create new products with competitive advantages. During this time, I created many successful products that were patented.

In the early 2000's I refocused on the goal of pioneering a new product for my own startup (CV). The Bionic Wrench is the outcome, a 100% American Made product, creating jobs, and selling approximately 3 million units to date. This was an amazing experience that also painfully allowed me to directly experience the trials and tribulations of the small inventor-entity in our system.

At the same time, I had followed another life goal of pursuing my master's degree as I always thought I would enjoy teaching design. In 2005 I had received my master's degree in Product Design and Development from Northwestern University. Once I began teaching full time, I pursued my PhD in Product Design, I successfully defended my PhD in May 2017.

– Dan Brown
Links
You can Follow Instashield on social media on: