Interview with Dan Ryan Expressway Horse's Therapist Jagoda Labuz
The story of Nunu, the horse who was ridden approximately 7 miles on the Dan Ryan Expressway nearly to death got all the attention last month, but I want to bring attention to the happily-ever after of Nunu's story, which happens to be in Tinley Park. NuNu has been receiving some TLC from JL ElectroTherapy and I had the great pleasure in interviewing the founder, Jagoda Labuz, one of Nunu's equine practitioners/caretakers.
---
Where did you grow up? Where do you call HOME?
I grew up in the suburbs of Orland Park / Palos Park and partially in Downtown Chicago. Home is Orland Park for now.
What inspired you to create JL ElectroTherapy?
For most of my teenage years, I was showing a horse that was fairly high maintenance and needed much care. After selling her, I started to research different ways to promote relief and comfort that could help horses in need of extra help. I was inspired to start a business after I found the many benefits of using PEMF sessions and how it could help horses like mine and many others. So, from that point I knew I wanted to provide the best care and services possible for animals and athletes.
Walk me through something you offer at JL ElectroTherapy.
We offer multiple services and rentals for athletes, equines and small animals. A popular service we offer is pulsed electro-magnetic frequency sessions which is said to stimulate cell metabolism, increase blood circulation and reduce inflammation. This service has been beneficial for both my horse and many of the clients using these sessions! We also offer "PEMF" systems for lease as well as other systems like ice compression and vibration.
When did you first start to develop a passion for equine therapy and care?
It was about 3 years ago, the first time I started to research about different forms of therapy. Once I started researching different therapies, PEMF was my first option to start with. This is because PEMF had many great results and testimonials both from people I knew and others over the internet.
What or who are your influences?
My influences are the animals as well as people I hope to help feel more comfortable.
What's the driving force behind what you do?
My driving force would have to be my own horse, my family and my ongoing effort to offer great services and rentals. I continue to push to be better each day so both my horse and family can have the best care possible if needed. I am always striving to provide the best services, this keeps me driving forward because I am always in competition with myself.
Everyday something interesting happens.
What gets you really excited or makes what you do a joy to work?
I love seeing each animal comfortable and relaxed during a session. It makes my long days worth it because they are happy after the session is done!
What can you tell about Nunu the horse that was injured on the Dan Ryan?
She is continuing to recover at her own pace and did not seem the most comfortable after the incident. She is a very sweet and loving mare. She is being taken care of with tons of care and attention from the vets continuing to help her medically and caretakers seeing her daily. I am providing sessions as an addition to everything else.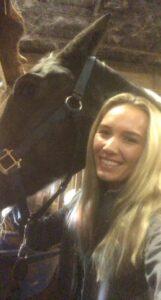 What was the hardest lesson you've learned about work?
Not everyone is meant to be your client, rejection is always redirection.
What is your favorite memory of your mother or an influential woman in your life, growing up?
Growing up, my mother was and still is an Entrepreneur. My favorite memory would have to be when she would come to horse shows and encourage me to do my best no matter where I placed on the board. She was always supporting me through my hardest and most stressful periods.
In today's struggling economy, what steps have you taken to continue to grow?
I have continued to explore therapy options as well as trying out each system or therapy to always provide my clients with the best.
Where did you get your training for what you do?
I received my training through Magna Wave, they provided certification and hands on training.
What books, podcasts, articles, etc. do you read/listen to that have influenced the way you approach your work/art?
There are many books I've read but the one that recently influenced my approach toward my work would have to be Super Attractor.
What's the #1 most asked question people have been asking you lately?
"How is business going?"
What's something you wish people would ask you more about?
I love all the questions I get asked! I do not have any!
What are some future plans for JL ElectroTherapy, etc.?
We are always adapting and have a few upcoming plans. Our website www.jlelectrotherapy.com​ will have some updates in the next few months on what we offer and our online store will be up soon!
How can people check out what you're doing, virtually?
We have many ways to check out what we do, our website includes what we do and testimonials. We also have social media pages on Instagram, Facebook, Twitter and TikTok which are updated almost daily. These pages show where we are, what we are doing and interesting facts/ information.
Is there anything else that I haven't asked you that you would like people to know about your business and you?
My business is about finding the best care for each athlete and animal, we are always finding new ways to keep everyone feeling their best!
---
If you'd like to learn more about Jagoda and/or her business, checkout JL Electrotherapy at the following links:
https://www.jlelectrotherapy.com
https://www.facebook.com/jlelectrotherapy/
https://www.instagram.com/jlelectrotherapy/?hl=en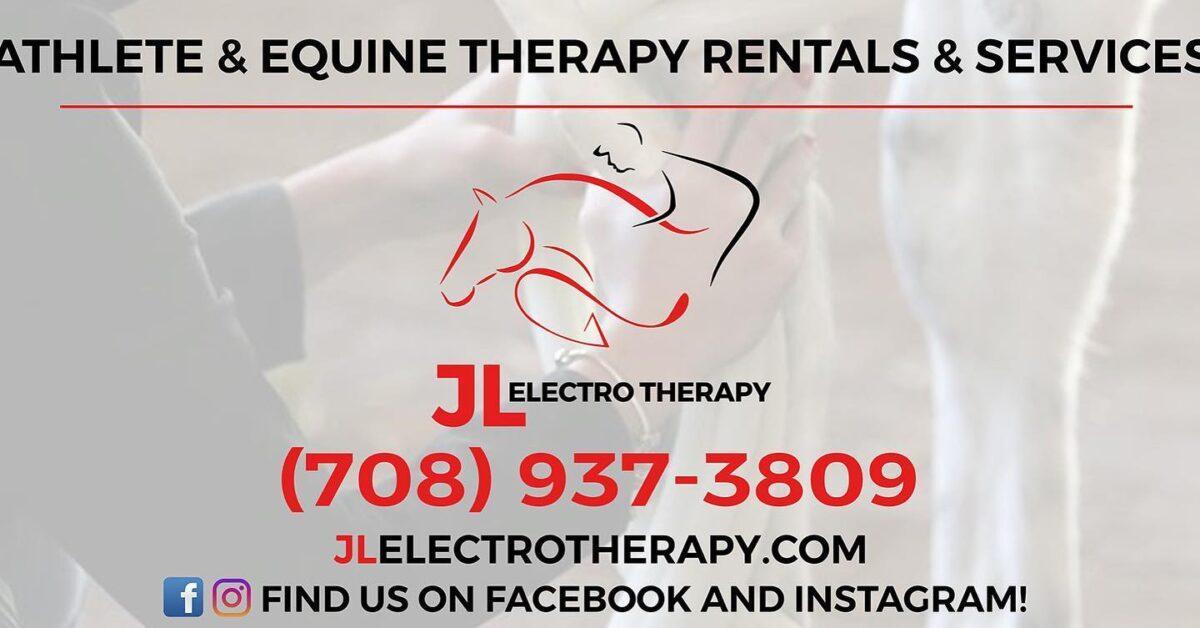 Short Zoom Video Interview With Jagoda