Quick Recipe for Seafood Paella That Tastes Like It's From A Barcelona Restaurant
The beauty of the timing of this article is that I received an incredible invitation to sample and write about a new product from a trusted brand in the professional restaurant business called Harvest of the Sea. What luck, right? Their frozen Seafood Medley was perfect for a first crack at paella.
You can check out my interview with their Research and Development head Chef Ken Fryer here:
The Paella I'm Trying To Touch
There is a restaurant in Barcelona, Spain that my parents took me to on two different trips abroad, called Los Caracoles. It made by far the best paella I've ever tasted, and I've always wanted to attempt to make paella myself. To get as close as I can to the paella I tasted at Los Caracoles would be an achievememt—I wouldn't need to travel abroad or have someone else cook this gastronomy staple.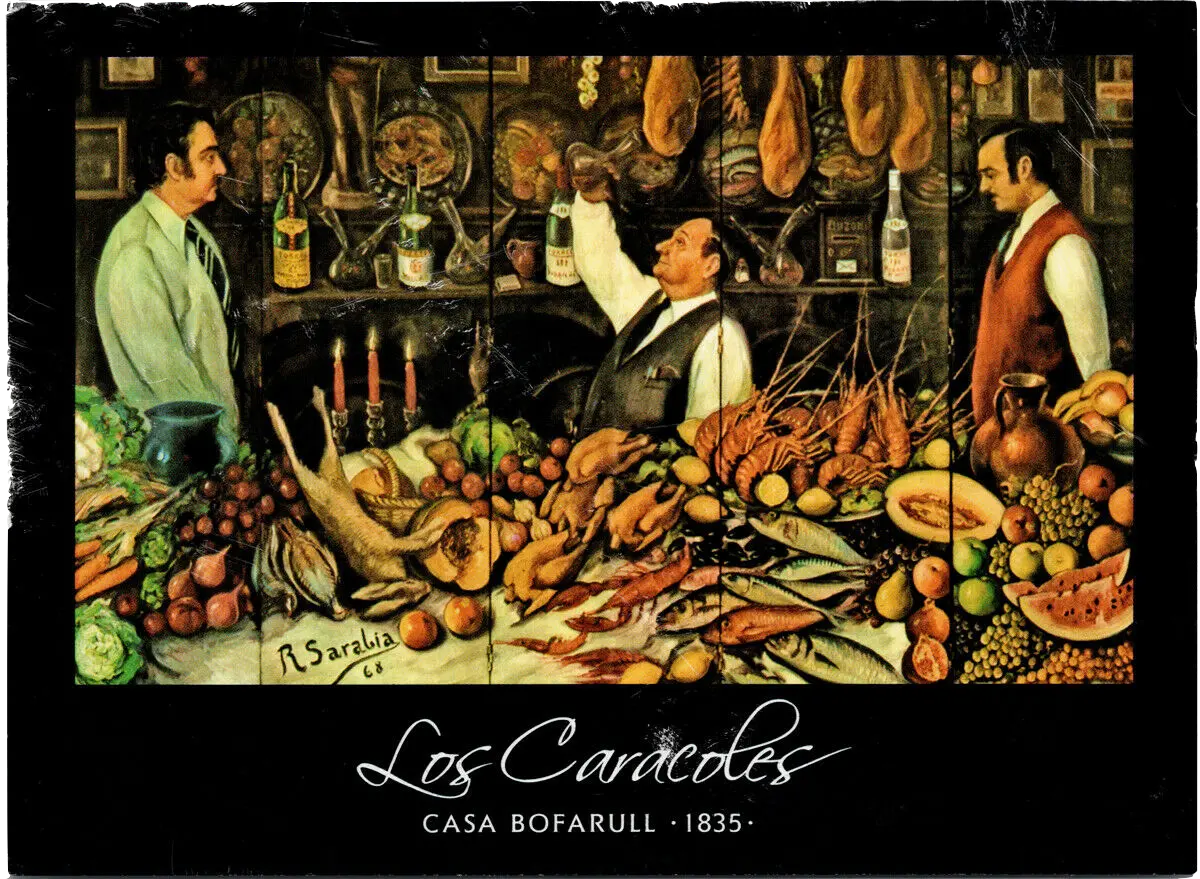 I still have the postcard of this famous mural done by Rafael Sarabia, which you can find on a wall inside the restaurant—it was completed in 1968 if I'm not mistaken. Defintely check out Los Caracoles—it's been years since I've been, but it having been in business for 187 years and famous with well known dignitaries and celebrities, it's worth an online search to learn about.
Quick Seafood Paella Cooking Instructions
This dish only takes minutes to prepare but delivers flavor like it took hours.
Ingredients – Only 2!
Half Bag of of Frozen Seafood Medley (Harvest of the Sea – $20.99): 1.25 lbs

Shrimp
Calamari
Scallops
Mussels
1 Box Packaged Paella Rice (Alessi Saffron Risotto con Fruitti Di Mare – $10.43 or less): 17 oz

Safron
Tumeric
Garlic
Onion

*don't use the canned seafood that comes with the package paella rice—I threw it out because it smelled and looked awful.
Steps to Cook Seafood Paella for 2
Thaw the Seafood Medley overnight.
Drain and place the Seafood Medley in a big bowl—leave to the side of the stove.
In a large saucepan with a tight fitting lid, bring 2.5 cups of water to a boil.
Add entire package of rice and stir while boiling for 1 whole minute.
Cover the saucepan tightly and reduce heat to simmer to cook for 18 minutes.
Mix in the thawed pre-cooked Seafood Medley at the 13 minute mark (only needs 4-5 minutes).
Remove saucepan from heat and allow to cool uncovered for 3 minutes.
Fluff rice and stir together with seafood well, and serve.
Buen provecho!
Where To Find The Best Seafood Medley
You don't have to source your seafood from a pre-cooked and cleaned medley from the grocery freezer section. But if you want to make things easy on yourself while still having high quality seafood that professional restaurants source, Harvest of the Sea was wonderful; no joke.
I'm sorry to report that there is only one carrier of the Seafood Medley near us at this time in Chicagoland: the Costco near Midway Airport, located at 7300 S Cicero Ave, Chicago, IL 60629. But anyone can order the Seafood Medley online from Costco and have it shipped to them—depending on your location.
And remember, the more people express interest in a product to their local store, the better the chance of said product being more quickly and widely available.
The 2.5 lbs resealable bag retails for only $20.99.