Gordon Lees — The Oil Painter Before Bob Ross
Gordon Lees, Forgotten Painter Because of Bob Ross?
Just watched the new Netflix documentary Bob Ross: Happy Accidents Betrayal And Greed, and I'm all for #JustforSteveRoss (which is trending right now all over Twitter and elsewhere), but it reminds me that people have also forgotten about painter Gordon Lees.
Internationally renowned and known by many as 'The original master of light', Gordon Lees doesn't seem to be known her in the U.S., and certainly not to the level of Bob Ross or some other 20th Century painters.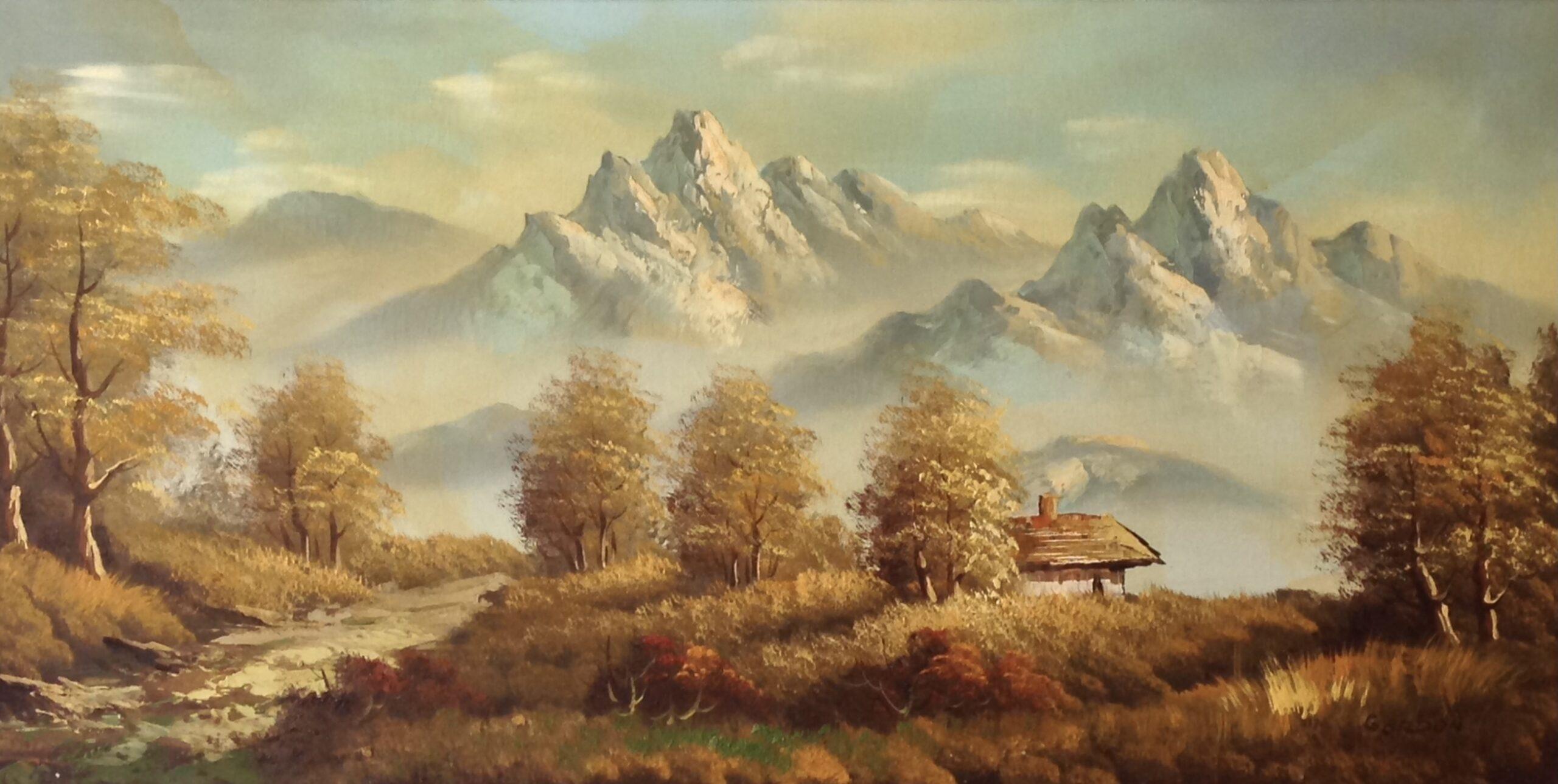 I came to know the UK painter Gordon Lees from a painting of his that hung in the living room of my maternal grandparents' home—my Baka and Djedo. The painting reminded them of the village where they grew up in Bosnia. It's how I picture where they grew up as children, and it holds great significance for me; especially when sunset starts.
Gordon Lees, Biography
British Landscape Artist
Original oil paintings
(b.1933) Birmingham, England
'The Original Master of Light'
Gordon's combination of technique and style yield work of exceptional calibre. His technique and precise application of brushstrokes effortlessly translate complex subjects into inviting scenes brimming with light and emotion. Likewise, his romantic style enables him to capture the idyllic atmosphere of Britain's towns and villages, and to reflect the traditional values of a rural England now so sadly missed.
It is thought by many that Gordon Lees' work was the inspiration for the trademark village scenes of Thomas Kinkade, one of America's most prolific artists, who recognised Gordon as 'The Original Master of Light'. Following Kinkade's recent passing, Gordon Lees' work has shown a surge in transatlantic sales.
Gordon is a self-taught artist who came late to a career as a full-time artist. He first had careers in the R.A.F., industry, mining, commerce, and finally, in plastics design where he was a successful industrial stylist. Throughout these years, Gordon painted and exhibited in his spare time. By the mid-1970s the demand for his work was such that he decided to fulfil his lifelong dream of being a full-time artist. Today he lives and works in the West Country where he draws much inspiration for his nostalgic scenes.
Gordon Lees has done extremely well in establishing himself as a British artist. His paintings have been exhibited at the Mall Galleries in London, the Home Counties and many leading galleries throughout the U.K., America and Japan. In recent years, Lees' has also become well-known on greeting cards throughout the country.
Nostalgically capturing the beauty of British landscapes and towns, the work of Gordon Lees continues to be an international investment favourite.
Gordon was born in Birmingham in 1933 and he has worked in Industry, mining, commerce, and art and plastic design. Being self-taught, he has not adopted other artist's ideas and style and thus is something special in his uniqueness. He became a full time professional Artist sometime in his forties.

He lived in Gloucestershire for many years, but now lives and works in the West Country. He made his name originally in the Cotswolds, but his reputation has spread throughout the United Kingdom, and indeed his works are in collections throughout the world, but particularly in America, where his accurate depictions of almost forgotten parts of England are very popular, as well as throughout Europe.

His work is exhibited at select leading Galleries throughout England. He has also exhibited at the prestigious "Mall Gallery" exhibition in London. Adding further to his reputation are the greeting cards produced from his paintings.

Stewart Gallery Bio on Gordon Lees
A Comparison of Gordon Lees to Boss Ross
Gordon Lees came before Ross not only in career chronological but in birth order too; Lees was born in 1933 and Ross was born in 1942.
Where Ross' career really was a "happy accident," Lees' career was a pursued interest from the start.
Not to be too critical with this point, but objectively, as stated in the Netflix documentary by art historian Julia Friedman, "Despite Ross' success he was not completely unique."
Lees did not have a TV, so his audience was limited in reach.
But in the final analysis, both gifted in their own way, these two oil painters are no better than the other—art after all is the most subjective of things in life.
Why Is This Important?
What prompted me to write this was my learning from the Netflix documentary on Ross that there was this flourishing of "how to paint" shows. Bob Ross' The Joy of Painting was popular for many reasons, chief among those was his personality. But this insight about the growth of local TV stations and public funded broadcasting made me think of my childhood…watching PBS and sometimes Bob Ross' show, and behind us up on the wall was this painting that looked like a Bob Ross painting…which turns out isn't a trademarked thing. You can't trademark something that you didn't invent, and Bob Ross did not invent oil painting or the wet-on-wet technique that he and countless oil painters use even today. It's hard to tell the difference between artists of the similar style and medium, and when I saw what a small footprint Lees had on the internet, I felt compelled to write about him here.
The Power of the Internet For Giving Artists The Same Shot
The Internet creates an opportunity to make people aware of the little known who deserved or deserve more recognition. I don't mean to pretend to know if Gordon Lees is happy with the way his career turned out, but as someone who all these years has had his painting in my life…it just felt like the right time to sing his praises a little bit, here on this silly little blog of mine.
Ross was an unlikely hobby craft celebrity, so why not take a shot and put an extra piece of real estate on the internet so people have a better chance of stumbling upon this British oil painter named Gordon Lees?
My PR, marketing, and journalism background has shown me how unfair life can be for people who just never got even at least one spotlight moment. A simple article in a widely read magazine like the New Yorker can do wonders for an artists' career for example.
Sadly Ross passed away in 1995—Lees is still living in his native United Kingdom. And if you'd like to look at some of his work for sale, here's the link I found to his website: gordonlees.co.uk.
Also, another little known person you should know: Larry Muhoberac (Lawrence Gordon "Larry" Muhoberac, Jr.), the composer behind the intro theme song that plays before every Bob Ross episode of The Joy of Painting. I encourage you to learn all about him here at the American Songwriter Magazine website; he's got an interesting story to know too (know Elvis and Barbra Streisand? Muhoberac made music for them).