Eileah Pyrzynski Makes The Front Page Of The Tinley Junction Newspaper
It's not often that you, someone you know, or your own child makes the front page of anything. Today that all changed. A photo of my daughter Eileah and we her parents was the front page cover story in this week's Tinley Junction newspaper. Obviously at almost 20 months old she can't speak for herself, but I was interviewed to give an account of the experience she had last September during the filming of the movie she is in called Girl On The Third Floor which filmed in Frankfort, IL, just a few short miles from our very own Tinley Park.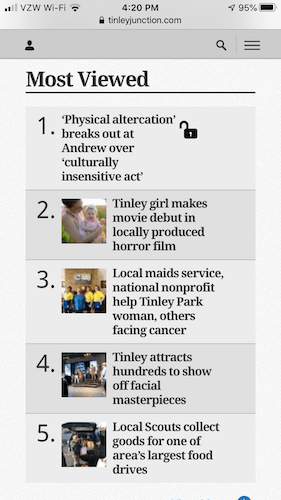 You can read the full article anytime online at the Tinley Junction website here: Tinley girl makes movie debut in locally produced horror film, though you will have to pay a subscription fee. Or you can read my article from last year entitled How To Get Your Baby In A Movie for more details on how my daughter was cast at 6 months old.
The Tinley Junction's parent company (22nd Century Media) closed in 2020, but you can still read the November 12, 2019 issue at this link on Yumpu.com.