Dr. Robert J. Oliver, MD – Pediatrician
Today was Eileah's 1 year since birth appointment with her pediatrician Dr. Oliver, at the DuPage Medical Group Tinley Park location. So what has our experience been like with him and how did we come to choose him over another pediatrician?
Came Recommended By The Man Who Delivered Our Baby Girl
Dr. Yen (read my review of Yen), who became my OBGYN in December 2017 and who delivered our precious Eileah in March of 2018, recommended Dr. Oliver to my husband and I while we were in the hospital following Eileah's birth. He told us Dr. Oliver had taken care of his kids and that was very encouraging to us. Dr. Yen is such a special guy, and you'd know that if you get to know him during your pregnancy and afterwards. He is talented at what he does, but what's more he earned our trust and respect. Every recommendation he gave us during pregnancy, delivery, and for me as my OBGYN has never been wrong. Valuing his opinion then, we were interested in meeting Dr. Oliver. Lucky for us, we got to while we were at Silver Cross Hospital with Eileah.
In the two days Eileah and I spent in the hospital before going home we met with two pediatricians. The first was Allison Croucher, DO who also happens to practice at the Tinley Park location we've been going to. The second was Dr. Oliver on the day we were discharged. Both physicians were great with Eileah as they examined her. While we appreciated Croucher for being so attentive with us, Dr. Oliver had a less "trying to prove myself" mien about him. He talked with Eileah more, which was adorable by the way. He told us if we need an appointment urgently to ask for one of his nurses when we call DuPage Medical, that she will get us in. He didn't feel corporate, he talked to us like grown-ups and didn't make the next few weeks sound like we had to be worried and extra careful. He was like (not a quote), "just relax, this is hard to screwup. It'll be hard, but you've got this. Everyone makes it out alive and I can tell you're earnest parents who will do everything in their power to care for your baby. I'm there for you." I don't know how else to describe him with adjectives, but that was essentially what you got from what he was communicating.
Our Visits
From the one-week follow-up, to the two-month, four-month, six-month, nine-month, to the 12-month follow-up, Dr. Oliver has proven he's a great fit for our daughter.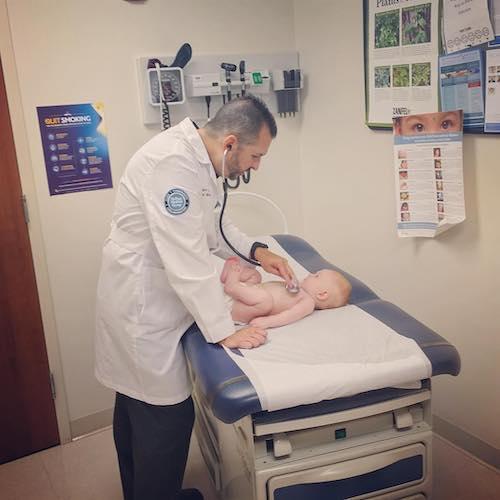 It's a very chill vibe when you meet with Dr. Oliver, as a parent. He's not warm and fuzzy with us, he's more matter of fact, confident yet laid-back. He never makes us feel nervous when we talk with him. Then again, maybe if we were different parents he might be more stern, but I think on the whole he makes things very simple to understand and not life shattering. I don't know where I got this idea that pediatricians are preemptively hard on parents. He also doesn't instill fear in you as a parent, like everything he tells you must be followed like gospel or everything you do has to be a huge deal that if you screw up you're a terrible parent. No matter what you ask him, whether it's a simple question or complex, he doesn't make you feel dumb, inferior, or like you're wasting his time.
With our daughter it's like she's the only one in the room. He's totally in tune with her, talking with her like they're old buddies, teasing her and making her laugh.
Would I Recommend Dr. Oliver?

No doubt. After one full year as our daughter's pediatrician we're very happy with him. He's very present in each appointment, creates a low pressure vibe, is thorough, doesn't overwhelm you, focuses on what you need to know and somethings you'd never think of. And most importantly has a unique way with kids with a dry yet warm sense of humor.
Other Reviews of Dr. Oliver
Healthgrades (Average rating: 3.8/5)
Vitals (Average rating: 5/5)
WebMD (Average rating: 5/5)
No Reviews on Google