Burrito Julisco Tinley Park — Review
The Best Laid Plans For Cinco de Mayo
You know how crazy it gets on Cinco de Mayo when you eat out, so, to avoid the crowds and long waits, we decide to push up our Cinco de Mayo to May 2nd.
Takeout is a great way to feed your family after a long day or a rough day with the kids and you don't feel like cooking. Unfortunately my husband and I did not have the best experience with the takeout spot we tried Sunday. And what behooves me to tell you about it follows.
How I Learned About Burrito Jalisco
On April 9 a new friend of mine posted about a Mexican restaurant called, Burrito Jalisco. It always makes me want to try a place I've never experienced when someone a regular recommends it. The photo my friend shared was also very appealing, and the fact that she got margaritas to-go made it imperative that my husband and I order from there one night. And what better time to try a Mexican restaurant than Cinco de Mayo?
Bad First Impression Online
From the beginning, in my going online to find Burrito Jalisco's contact info and menu, there were bumps. As someone whose job is to ensure her clients have stellar online presence and visibility, the first page of the search results for Burrito Jalisco Tinley Park is not how I would like them to look for my clients. It's a bunch of menu websites and their Ubereats profile is on the first page, not their website. And I still don't know which page their website pops up, I gave up after several pages.
It took some digging, but I eventually found their website. The website appearance-wise is absolutely charming, but there are several technical issues with it. Firstly, if you're serious about your business it doesn't reflect well to not own the domain. Burrito Jalisco's domain url ends with .wixsite.com… I can understand not having a big budget to invest in a website with every bell and whistle possible, but buying a domain doesn't usually break the bank.
Next, I'm looking at their code and scan their infrastructure with our proprietary Geoffresh crawler and find that there is a lot to be desired that explained why their website wasn't on any of the first few search results pages. But as I said, even in their Google My Business profile, the thing you usually see on the right-hand side wasn't even showing up—again, bad form. Contracting a devoted webmaster does not break the bank, it shouldn't anyway, and whomever is responsible for their online presence is not doing them good service.
But all those faux pas in marketing and image didn't deter me. It made me want to help, especially because a new friend of mine spoke so highly of this small local restaurant business. But I will say that the devil is in the details, and that goes for websites, food, customer service…everything.
Between A Rock And A Hard Place
I call to place our order, since their online ordering system UberEats read "unavailable," I called our order in. Before I headed out to pick up our order, my husband asked, "why not take Sammie? See deserves a car ride today." The reason he suggested I take our dog was because their website says they offer curbside pickup like all restaurants during quarantine. So I could sit in our car with our dog, and then drive home after someone would come to our car. Why am I telling you all this? Keep reading.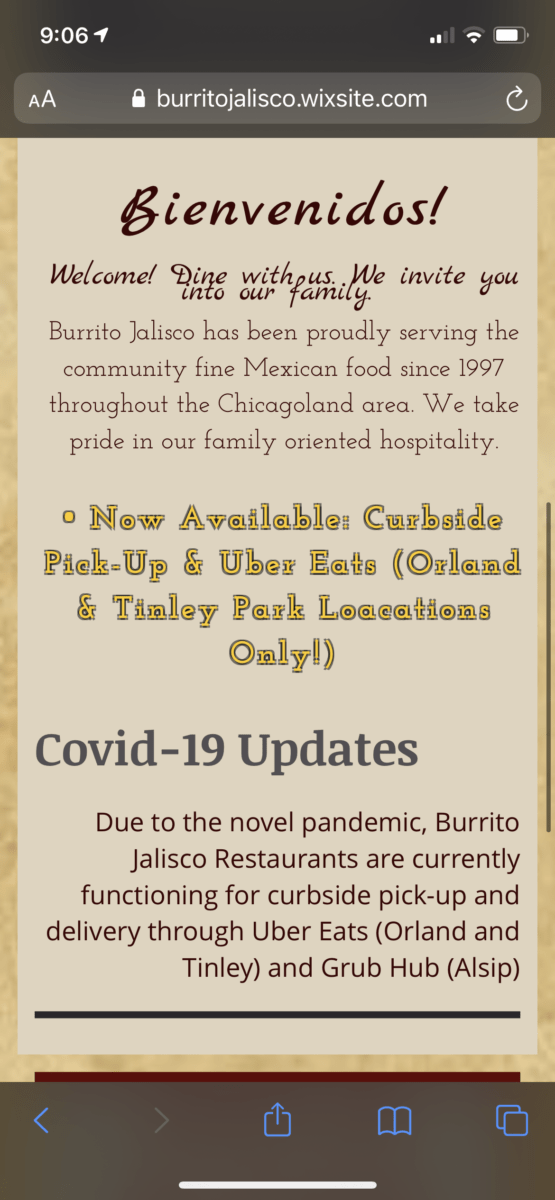 When I called to let them know I arrived I was told that they don't do curbside pickup. Nervous and scare, I didn't know what to do. It's not legal to leave your car in a car, even if you're just going in for something quickly. But they won't bring our order out, so I am literally up against a wall.
It did sound busy in the restaurant from the soundsI overheard on the phone, but it was still not fair because their website said they offer curbside pickup. I wouldn't have brought Sammie if I knew they didn't offer curbside pick up, but without her leash I couldn't even just walk in with her. How could I carry her and the food? It was a big order and I didn't want to risk her running away. So I did what I was forced to do—I left Sammie in the car with the A/C running and ran in then ran right back with the bag of food and the 32oz to-go margarita we ordered. But that wasn't the end of the experience.
I notice in the car that the margarita is yellow, not red like a strawberry margarita would be; the flavor we had ordered was strawberry. Again, I'm in an uncomfortable position. Do I leave Sammie alone one more time for a drink? Do I just not speak up? So I went in and politely tell them about the mistake. I nervously look out the window to check on Sammie. Every second I was nervous. And graciously they offered the mistake margarita to me, no charge. It felt weird to take so I insisted I pay for it too, but the lady was very nice and said no, no.
Ay-ay-ay
When we got home everyone was starved, but I was relieved Sammie was ok and I wasn't going to jail. But that's not the end of this story… The food sadly made us not want to eating anymore.
My husband thought the way the pickled carrots in a plastic bag was funny —mostly weird. They were not looking good. They're usually packed in a more organized and appealing way too. And the pico de gallo, his favorite topping made him sad. And the three entrees we ordered for the three of us were a mixed bag of decent and depressing.
(Taco, Quesadilla (DeQueso) y Tamal (De Puerco)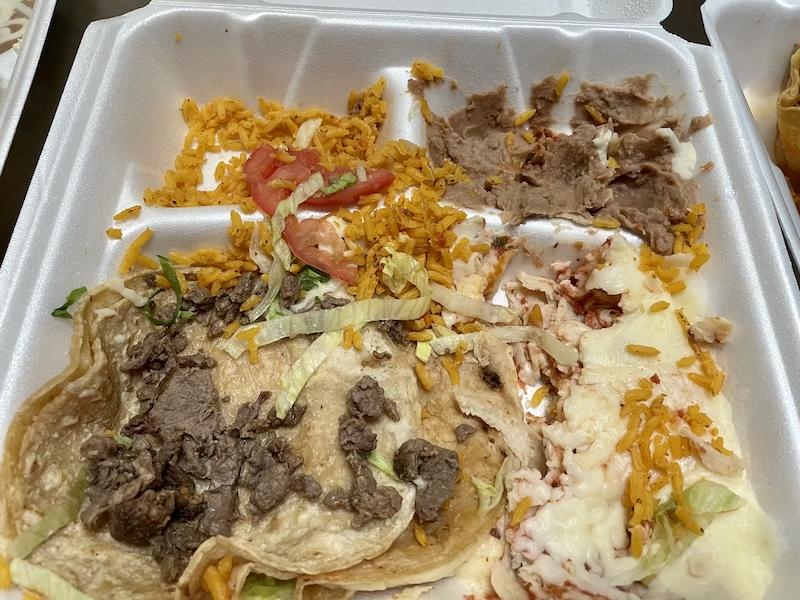 This entree was not flavorful, very flat.
Tamales de Puerco Suizos Dinner – Steak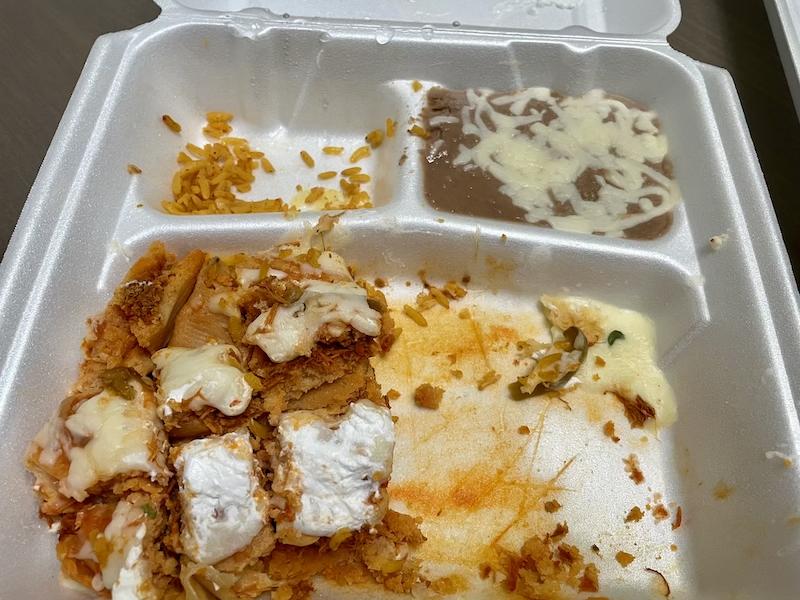 I quite liked my entree of tamales.
Combinación Tequila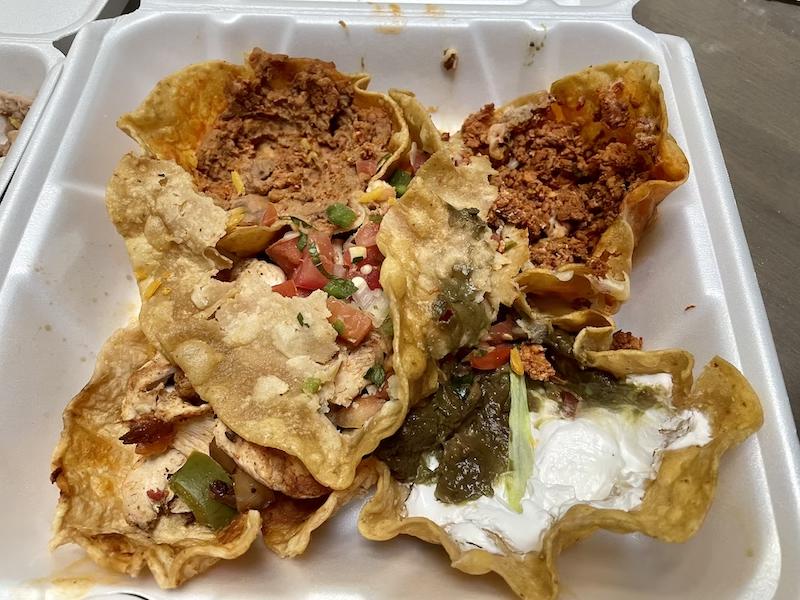 This entree was falling a part, sort of crumbling apart. The idea of the three opened taco shells was not something we often see, but when we bit into them, they were not very flavorful or enjoyable.
But this is where my heart broke: the frozen margaritas. Our drinks tasted like kool-aid; what we were drinking was like a juice, not an adult drink. A margarita, when enjoyed responsibly, relaxes you and is usually tasty, this just put an extra dash of regret to our evening.
---
What went wrong? Was this the place my friend told me about? Was this just a bad night? Who knows? But if you are thinking of trying Burrito Jalisco tonight on Cinco de Mayo, I hope your experience is better than ours—like way better. I hate writing bad reviews, but not only do I want to save some others a poor takeout dining experience, I also would like others to voice how unacceptable it is to state they offer curbside pickup on their website, and then pull the rug from under you during a pandemic. To be safe, don't bring your best furry friend.
Burrito Jalisco – Tinley Park
7547 W 159th St, Tinley Park, IL 60477
Average Google Rating: 4.5/5
Average Yelp Rating: 3.8/5
Average UberEats Rating: 4.4/5