Blissful Fantasy – New Britney Spears Perfume – Review and Where To Buy It
The above header art was designed by me, please contact and credit me if you would like to share it elsewhere online.
I can't believe it but I was able to purchase the very new and very hard-to-get Britney Spears fragrance Blissful Fantasy. I was just in the right place at the right time—social media algorithms have done more harm than good for people personally and businesses marketing-wise, but Instagram's algorithm for me brought a post that landed me this good fortune.
January 18, literally only 10 days ago, a post from BSAvenue—THE purveyor of Britney Spears merchandise in the world—teased a photo that was total catnip for the Britney Army.
The comments sections of different fan accounts were a flurry with questions about the notes and complete surprise—no trace of this fragrance was anywhere online 10 days ago and as someone who works in tech, I checked the search engines like a bloodhound. Even Fragrantica, the authority website for serious perfume folks, still doesn't have the fragrance listed! Suffice it to say, the BSAvenue Instagram post lit a wave of posts as the big reveal date remained a mystery.
Then 2 days later, BSAvenue posted the official promo photo for the frgrance with the caption "The new Blissful Fantasy, available NOW ! Only at BSavenue.com ! And it smells gorgeous ???."
And I kid you not, the fragrance was sold out in like 3 days! I was lucky!
BSAVENUE.com

I highly recommend going through BSAVENUE.com. This was my first time purchasing from them, but I had heard great things about them for years. I was seriously impressed with them, A+ service, and so quick! Out of Paris, France, there is 0 language barrier—their website converts to different languages depending on your country, and communication with them is flawless. A tight operation from my experience anyway. And they give you a few unexpected memorabilia in your package, which is soo sweet. Though it might be overstock items, still, it's always nice to get a little something extra by surprise.
Here's what you'll pay, including the shipping and handling for those living in the U.S.:
| | |
| --- | --- |
| Blissful Fantasy – Eau de toilette – Contenance : 30ml | €39.90 EUR |
| Shipping and Handling | €31.90 EUR |
Yay for duty free!
My Review of Blissful Fantasy
After like 10 years+ since a good fragrance was released from Britney Spears Fragrances, I knew the risk I was taking in getting a fragrance I wouldn't like. Happy to say that Blissful was better than I feared. I'd give it a 3/5. Not bad at all!
The official description goes like this:
"Inspired by Britney's eternally sunny mood. Paradise is not a singular place. It is a state of mind. Escape into your own bliss.

Blissful Fantasy is an olfactive escape, a one-way ticket to paradise to achieve bliss and tranquility wherever it may take you."

~

Bottle: Iconic fantasy bottle studded with flecks of orange coloured rhinestones throughout the glass. Warm euphoric hues of yellow and orange-red to remote Britney's happy spirit and eternally sunny mood.

Scent: Sunny, woody, white floral.

Joyful. Glowing. Carefree.

Find your Bliss."
The sillage is moderate—doesn't leave a trail on your skin which is good if you don't like staining from fragrance oils. The longevity is on the weaker side sadly. The bottle is the same old original 2005 Fantasy bottle, jut with coloring reminiscnet of sunrise. Definitely a summer or warmer weather scent, for daytime or a light occassion. I can even see myself wearing this in spring for Easter in a few months too.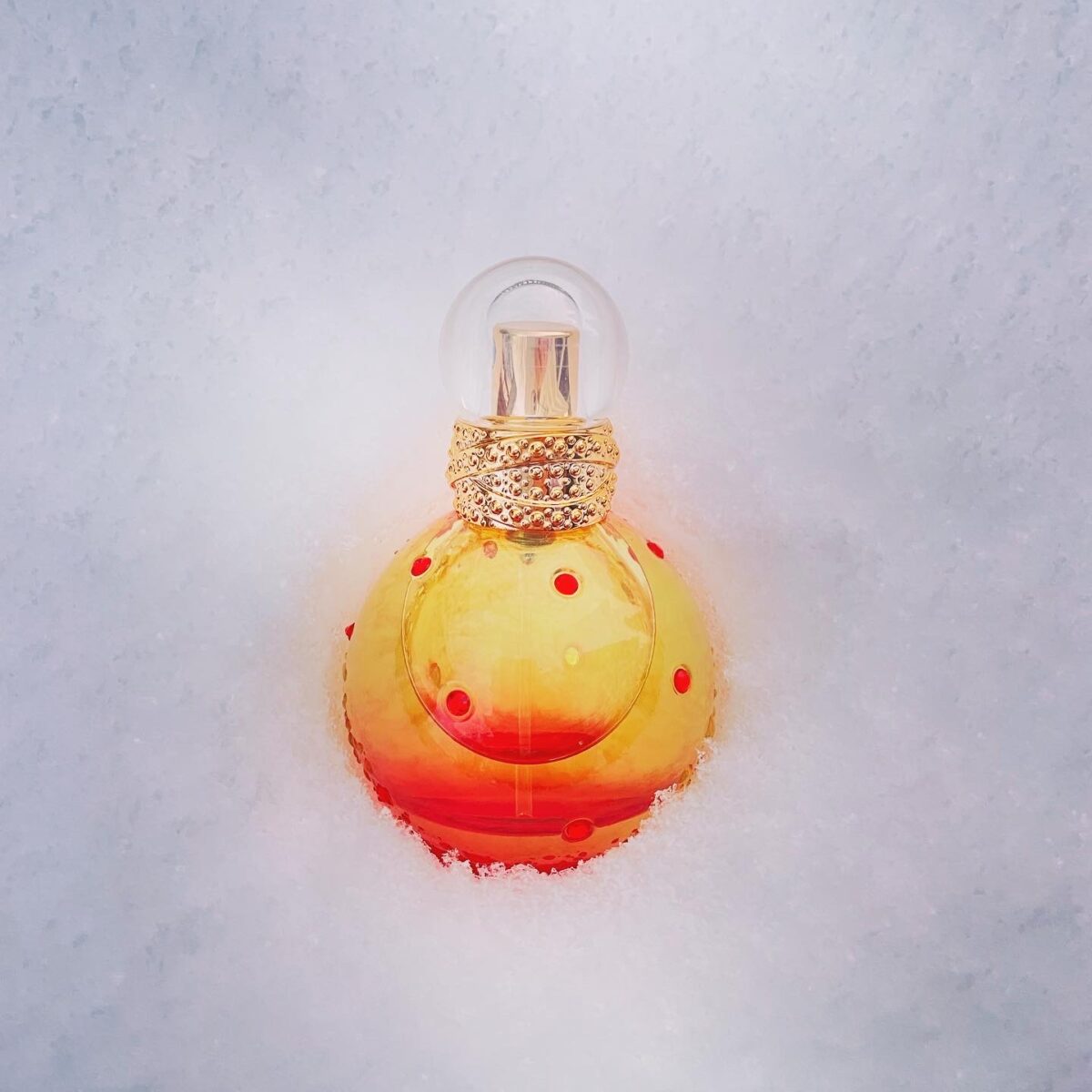 Blissful Fantasy's Fragrance Notes
TOP NOTES
Fire lily (also known as orange lily)
Honeydew melon
Freesia
HEART NOTES
BACKGROUND NOTES
This isn't the first tropical vacation getaway themed fragrance from Britney Spears Fragrances actually. The comprehensive Britney Spears Wiki page has every detail about every fragrance (except Blissful) if you're curious. Dang it, that's her first one's name! ☺️
In comparison to the past tropical vacation themed Fantasy fragrances, Blissful is better than those.
And fun fact for non-Britney followers, she happens to be vacationing with her fiancé Sam Asghari in Hawaii right now! Happy to see that only sunny days are ahead for her after the last 13+ years. The question now is…is she wearing Blissful? ?
Britney Spears Fragrance Account To Follow For New Releases
Just learned about him and he is the aficionado influencer for Britney Spears Fragrances Reviews. His name is Edward Preston. Follow him on Instagram, YouTube, etc. at BSPerfumeReviews. So if you want to keep up with new fragrances before they hit social media or want to see what they are really like before buying, he's the man to follow.
P.S.
Not sure if she consented to this fragrance or if it was developed before she was freed from her conservatorship—but after 12+ years of pretty dismal productrs, I was pleasantly surprised.
By the way, if anyone knows anything about whether she is actually getting the proceeds from her fragrances from pre-Nov 2021, please share below. I definitely would feel bad about buying this only to find out her toxic conservator team is getting what she should actually be earning.
Disclosure: I am not compensated for reviews. I always give my honest opinions, findings, beliefs, or experiences on any topics or products. If there is any material connection I share with the seller of the product I will disclose that relationship within the text of my review.