New Podcast For Women's History Lovers and Wine Lovers: A Fine Vintage
A new podcast for history lovers and those who appreciate a fine vintage of wine?.
I stumbled upon A Fine Vintage Podcast by chance—the Instagram algorithm got something right this time. I am so excited to see that gal pals Bronwyn Kirkpatrick and Sophia Summits are doing a podcast episode this week on an unsung heroine who I recently wrote about. The next episode comes out tomorrow Wednesday, May 25, and for my loyalest followers you'll be able to guess who it'll be about
.
What I will tell you is about episode 9 is that it will be hosted by Sophia and the wine pairing will be a Luis Vieira Montaria White from 2020.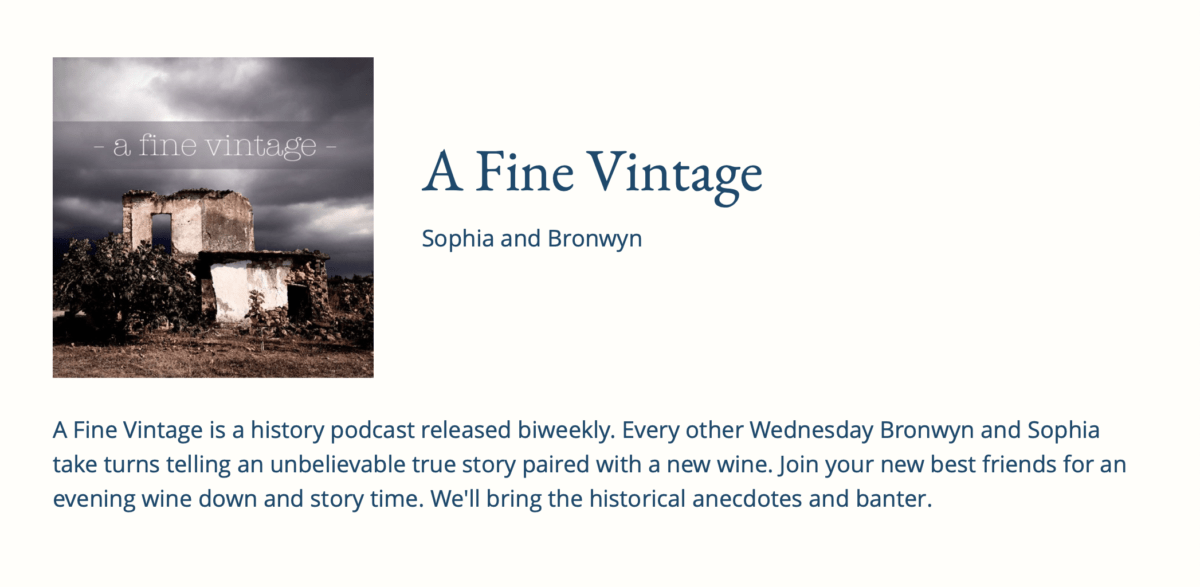 I have to mention one thing I learned, which just adds to this kismetic feeling in discovering this podcast: their first podcst episode came out on 2-22-22! Numerology is cool to me and I think that was a really clever launch day to choose. This podcast in general sounds really clever, and classic! And I love its premise: "Making history palatable and exciting." So I'm really looking forward to trying it out with tomorrow's episode, and I hope you'll tune in too. I'll add a review down below later.
Learn more about Bronwyn and Sophia's project at the A Fine Vintage Podcast About Page.
Connect with the A Fine Vintage Podcast ladies on Instagram at @afinevintagepod.
Coming Soon: Review of Episode 9