Special Easter, Passover, Ramadan, Etc. Not Seen Since 1991
---
? HOLY DAYS IN CHICAGO
Religious or not, this spring presents us with an opportunity to connect with people in our communities of different faiths. For the first time in more than 30 years, several spring holy days are overlapping this month. This is a rare alignment of major Christian, Muslim, Jewish and other religious holidays this April 2022—not seen since 1991. Here are those religious holidays and observances around the world:
Ramadan
☪️ Ramadan is a sacred month in Islam, celebrating when the Quran was revealed to the Prophet Muhammad. Many Muslims fast, pray, and reflect during this time. Since Islam follows a lunar calendar, Ramadan starts and ends with crescent moon sightings. It ends in early May this year.
Passover
✡️ Passover begins Friday, and is the weeklong holiday commemorating ancient Jews' escape from slavery in Egypt.
Orthodox Easter
✝️ Easter commemorates Jesus Christ's resurrection. But some Christians will celebrate next Sunday on April 22, 2022 because their observance is centered around the Julian calendar, not the Gregorian calendar. As a Serbian Orthodox American, I have to say that the way we do Easter is next level.
Honorable Mentions
That's not even ALL the spring holy days: This week, some Sikhs and Buddhists celebrate new years and Jains remember their last spiritual teacher, Mahavira.
To learn more about each special religious holiday, festival, and practices this spring, I recommend the Aspen Institute's comprehensive article on this very special spring called, Celebrating Together: 2022 Spring Holidays, Festivals, and Religious Practices.
Chicago Southside Interfaith Trolley Tour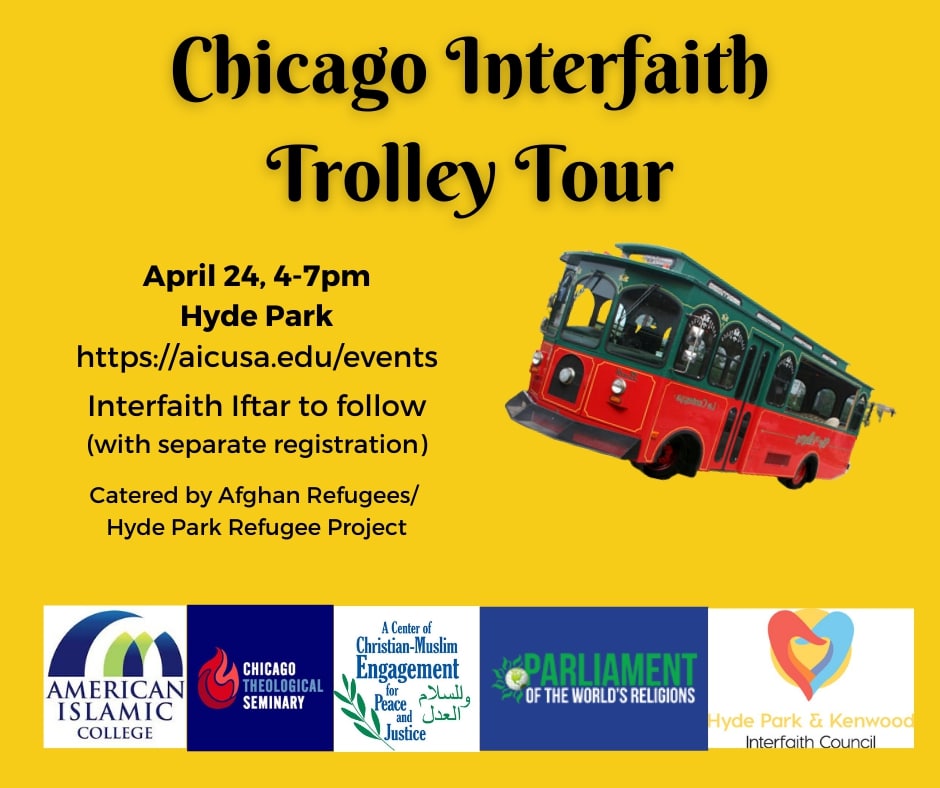 Fun Fact: Cook County is more religiously diverse than many parts of the U.S., according to the Public Religion Research Institute!
Serveral South Side religious groups have come together and organized a program that I hope will inspire other communities. To celebrate this holy April, these interreligious organizations will convene for a CHICAGO INTERFAITH TROLLEY TOUR. It's sold out, but you can tag along in your car as the interfaith trolley tour visits sacred spaces in Hyde Park and Kenwood, next Sunday on April 24, 2022.
Below you can find a list of the stops. The trolley will start promptly at 3:45 PM at the Chicago Theological Seminary.
| Time | Program | Location |
| --- | --- | --- |
| 3:45 | Leaders and participants gather and board trolley | Chicago Theological Seminary (CTS), 1407 E 60th St |
| 4:05 | University of Chicago Spiritual Life Office | Rockefeller Chapel, U of C 5850 S Woodlawn Ave |
| 4:10 | Vaisakhi/Sikh presentation | Rockefeller Chapel |
| 4:20 | Mahavir Jayanti/Jain presentation | Rockefeller Chapel |
| 4:40 | Holy Week-Easter and site significance | Ebenezer Baptist Church 4501 S Vicennes Ave |
| 5:10 | Hanamatsuri/Buddhist presentation | Claret Center 5536 S Everett St |
| 5:40 | Leaders and participants gather and board trolley | Chicago Theological Seminary (CTS), 1407 E 60th St |
| 6:00 | Ridvan/Baha'i and Hyde Park Kenwood Interfaith Council | Trolley |
| 6:20 | Ramadan/Islam and site presentation | Masjid Al-Taqwa 9333 S Escanaba Ave |
| 7:00 | Return to CTS for departure or Iftar meal | Chicago Theological Seminary (CTS), 1407 E 60th St |
If I missed any faiths or events in this article, please leave a comment below or e-mail me directly at [email protected]