Village of Tinley Park to Offer Textile Recycling Program
A Little Delay For Some Residents
If you've been wondering about the recycling bag you were expecting from Simply Recycling, you are not alone! Tinley Park Mom Evelyn A. reports that Simply Recycling emailed to inform her that the special textile recycling bags have been in the hands of the Tinley Park Post Office for the past 2 week…I've reached out to the Village of Tinley Park Environmental Enhancement Commission, and will keep you updated when I learn more.
In their weekly community update e-newsletter, the Village wrote "Residents should have received a starter bag in the mail already, and Simple Recycling will leave a new bag when they take the old one. If you did not receive a starter bag, please reach out to Simple Recycling at [email protected]."
UPDATE: Got our starter bag and documentation materials today (11/19/2021). If after a few failed attempts at reaching Simply Recycling, do what I did: e-mail the Village of Tinley Park's Environmental Commission at 

[email protected]
The Tinley Park Simply Recycling Textile Program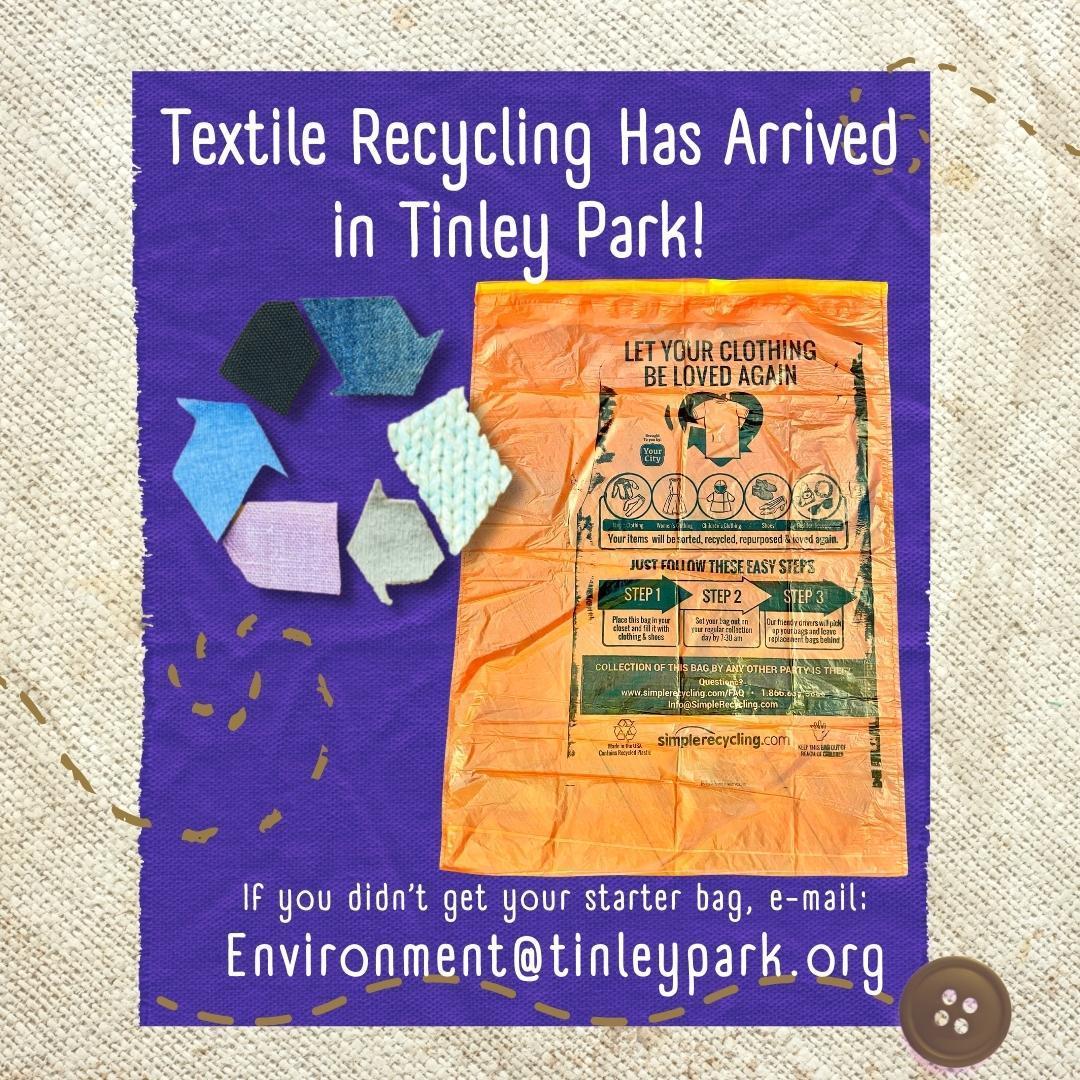 Late last month the Village announced this new recycling program through a partnership with Simple Recycling to offer a new, optional and entirely free curbside textile recycling collection for residents.
Residents were to receive a mailer with more information and a starter bag the week of Nov. 1. The first day of pick-up was supposed to be Monday, November 15, but some households like mine haven't received anything just yet—neither the mailer paperwork or the special textile recycling bag.
Residents who are interested in participating only need to fill their Simple Recycling bags with textiles and then leave them out for collection on trash collection day. Then a new bag will be left when the old one is taken. Items that can be recycled include clothing, coats and jackets, jewelry, shoes, purses, hats, blankets, drapes/curtains, pillows and sleeping bags. All of the collected materials will be graded and sorted locally and/or regionally based on quality and condition. The top-quality materials will be resold to local thrift outlets, while mid-grade materials will be exported to international markets. "Unusable" items will be processed for raw materials.
"When Will My Items Be Collected?"
Simple Recycling follows the existing garbage schedule, so be sure to leave your bag out on your regular trash collection day. If you belong to a townhome association that isn't currently serviced under the Village's garbage contract, you're encouraged to reach out to Simple Recycling at [email protected] to confirm pickup.
"How Can I Get More Bags?"
Once Simple Recycling collects your bags on your trash collection day, they will leave behind additional bags for your use. You can also call (866) 835-5068 or email [email protected].
It's been a long time coming because the village hasn't had a recycling program for several years.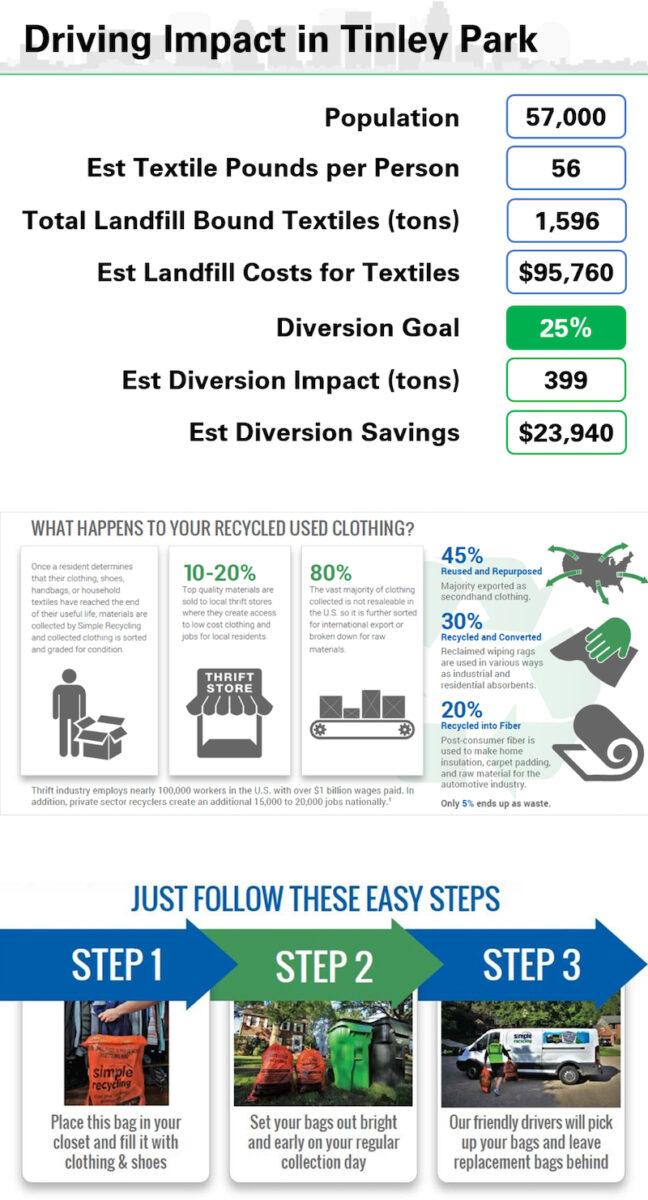 Who Is Simply Recycling?
Simple Recycling is the leading residential waste reduction company in the United States. Its mission is to cut the cost of trash in half, helping communities save money and reduce waste. This program is not meant to replace donations to thrift stores. In fact, most nonprofits and thrift stores tend to have more goods than they can handle and are not looking for poor-quality items. Therefore, Simple Recycling helps supplement donations and accepts ripped and torn clothes, old linens, single socks, etc.
Simple Recycling was established in 2014 and serves more than 4,500,000 households in more than 160 cities. Other Chicago-area communities that Simple Recycling serves include Elgin, Mount Prospect, Hanover Park, Skokie, Niles, Northbrook, Villa Park, Hoffman Estates, Barrington and Elk Grove Village.
For more information, please visit the Simple Recycling website.