Traveling With Baby On Chicago Public Transit
Traveling With Baby On The Rock Island Metra and Chicago CTA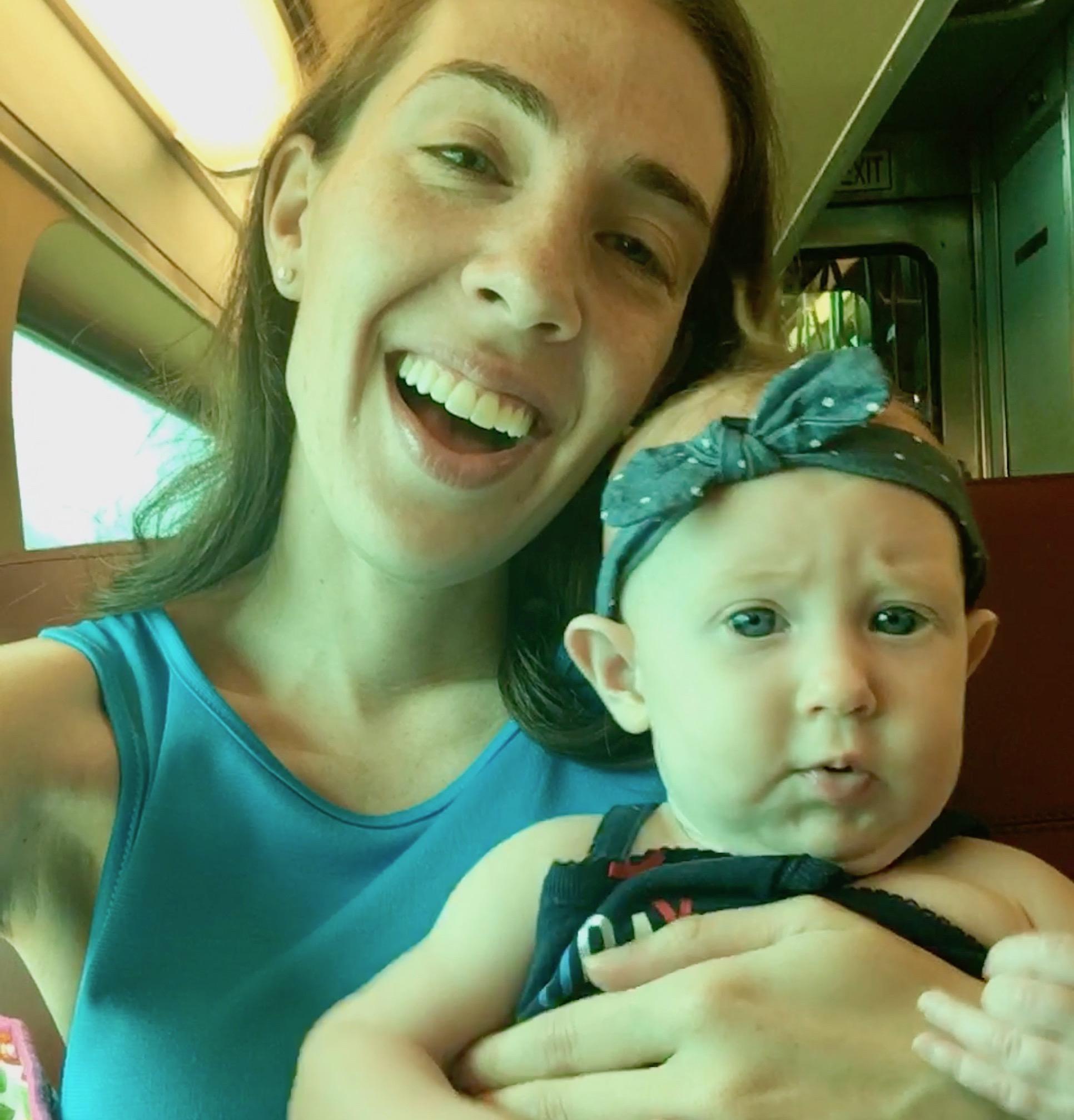 I've been a traveler for almost my entire life. My first trip was when I was forty-five days old, so naturally I thought I wouldn't be nervous about traveling with my baby. And yet, I was a little nervous. It's natural though, our children are very precious to us. But, I knew that the only way to get over the nerves was to just do it. So here was my baby and I's experience traveling on Chicago public transit.
Stroller or Carrier?
If you can avoid the stroller, by all means do so. A stroller that folds up very quickly is your best bet.
You won't be able to wheel a stroller on your typical CTA bus and "L" trains can get so packed that it is nearly impossible. Most Metra trains have a couple tiny sections for wheelchairs and bikes, but they can fill up fast when it's rush hour, on the weekends, or during a big event day. The sidewalks in most areas of downtown Chicago are wide and can easily accommodate strollers, but many of the buildings are only marginally wheelchair accessible.
My fifteen week old weighs 13lbs and carrying her all day in her LilléBaby carrier was the best decision for me. With it being summer I was a little worried about her getting too hot since we'd be so close together, but actually we were good.
Staying Cool During the Summer
Tip: Bring a fan or fan-spray.
My mother bought this cute little pink fan on a trip to Las Vegas recently that you insert into the charging port of your iPhone, it was quite a help. Just be careful you don't get your hair stuck in the fan. That happened to me.
Carrying a baby around in a carrier all day when they're like six months old might not be good for your hips and back either.
Staying Warm During the Cooler Months
Since we live in the Southwest Chicago suburb of Tinley Park, city travel during the cooler months isn't something we need to do. However, if I was traveling on public transit during the cooler months, especially winter, I would bundle my baby in one of those onesie winter snow suits, and make use of those hand and toe warmers packets in some way to keep my baby toasty during our traveling. I would make sure to keep her as bundled and her skin as little exposed to the elements as possible. But I would really avoid public transit during the winter months. Chicagoland is famous for polar vortexes, and I would rather drive than put my baby through the elements if I could help it.
Stay Calm, But Be Careful
And while the people of Chicago are awesome, you can always run into a bad bunch of tourists who will, say, try to ninja your van cab on you even though they can fit perfectly well in a car cab, even though they see you have a stroller with you. Not that I've had personal experience with such a thing, of course, but be vigilant of being aware of your surroundings. It can be aggressive and unsafe in cities. But you know that already. As long as you keep that mama radar on, you should be ok. I would rather let someone in a rush pass me up, go your own pace. Keeping your outing as relaxed as possible will be good for you and baby.
Public Transit Fares
There are always ways to save on public transit but sadly we're not living in times when fares are 10 cents anymore.
For 2018, one adult roundtrip on Metra costs $13.50, one way on a CTA "L" train is $2.50, with $0.25 for one transfer, and traveling by CTA bus is $2.25 with $0.25 for one transfer.
The nice thing is babies and children under seven ride free on both Metra and CTA. And during the summer on Metra up to three children age 11 and under are able to ride free with each adult starting Memorial Day weekend through Labor Day.
However, when your child reaches age seven though you have to start paying a reduced fare price on CTA and Metra for them to travel with you.
Reduced Fare & Free Ride Programs
Metra: Kids Ride For Free All Summer Long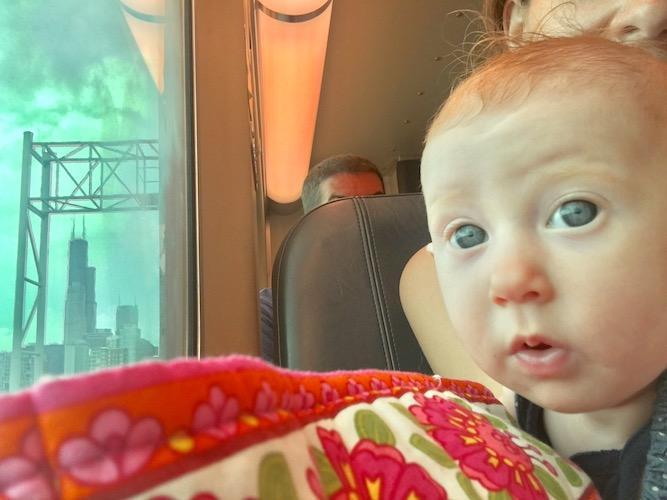 Overall Experience
For me I found traveling with my baby very easy at age fifteen weeks. In general I read online that up to their first birthday traveling with a baby is the easiest given their portability. Babies do get fussy, but up to age one as long as you can bounce them up and down in their carrier and bring all the creature comfort they need to stay comfortable, happy, and safe, you'll make it moms.
I leave you with this song by pop singer Sheena Easton called, "My Baby Takes The Morning Train" (9 to 5). While you probably won't be listening to your usual music playlist traveling with baby, this song I recommend to get you pumped up for your day out traveling with your baby exploring the sights and sounds of the city.
SaveSave