Top Decorated Houses With Christmas Lights In Tinley Park 2021
Tinley Park Home Wins ABC7's Light Fight 2021
A Tinley Park family recently took home bragging rights by winning ABC7's Great Chicago Light Fight 2021!
The home at 7414 W. 162nd Place was decorated by homeowner Scott O'Connor over the course of several weeks and utilizes more than 80,000 lights. This is the second win for Scott, as his home also won Best Use of Music in the Village's recent Holiday House Decorating Contest.
I remember seeing posts made by Scott in the local Tinley Park and Chicago Southland Facebook groups, so I'm very happy to see that people paid attention and supported his effort and his family's efforts.
ABC7 asked viewers to submit videos of their homes for consideration and then vote on their favorites. The O'Connor home beat out four other finalists from Schaumburg, Mount Prospect, Carol Stream and Naperville to take the crown. Scott and his family appeared on ABC7 Friday morning to accept the award.
"I just want to congratulate the O'Connor family for bringing joy and the holiday spirit to our residents," Tinley Park Mayor Michael Glotz said. "It's a wonderful addition to the many beautifully decorated homes across Tinley Park."
Scott is asking visitors to his display to make donations to Together We Cope, a Tinley Park nonprofit organization that provides resources to families in temporary crisis, enabling them to stay in their homes.
A video of the interview with the O'Connors, Mayor Glotz and Village Manager Pat Carr is now playing on the Village's YouTube page and on Tinley Park Television.
FUN FACT: The ABC7 anchor, Roz Veron, who reported live at the O'Connor's home is a fellow alum of Maine East High School, in Park Ridge.
Honorable Mentions Who Participated In The Village of Tinley Park's 2021 Holiday Decorating Contest
Click here for the interactive map the village made to make it easy to find the homes that participated in 2021's Holiday Decorating Contest.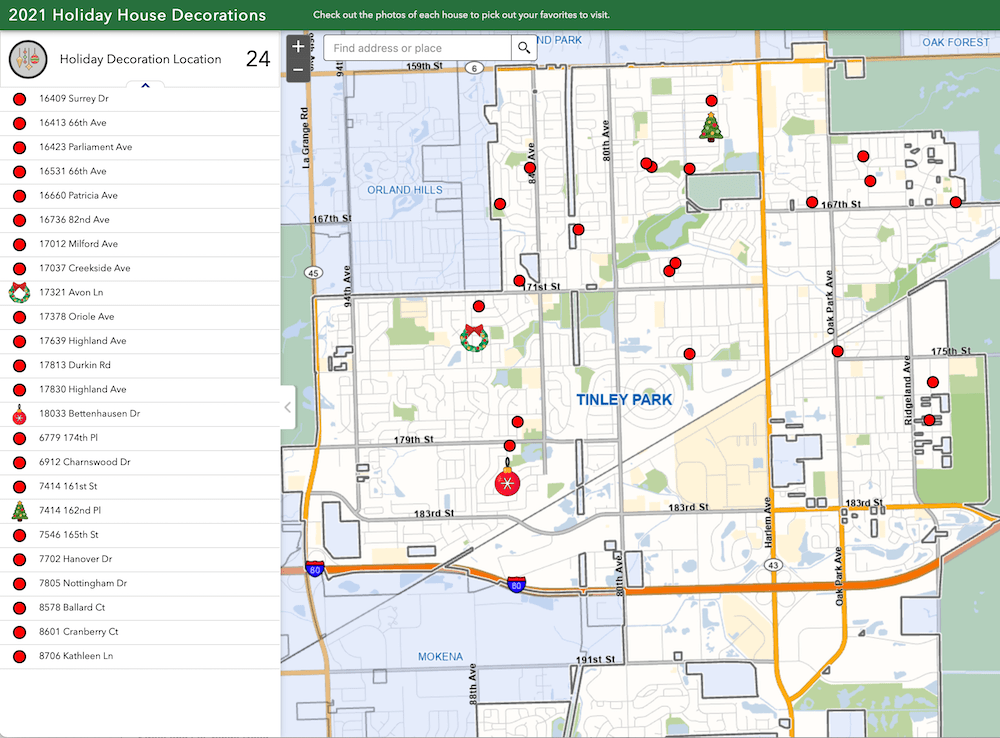 The Definitive Map of All the Christmas Displays Visible in Chicagoland.
This bad boy was created by the awesome admin of the popular Facebook group Playgrounds and Parks of Chicagoland Jason King, who is also a teacher. Fantastic guy, his group has been such a helpful resource.
Map of suburban Chicago Christmas light displays. (Created by @LightsOnRevere on FB)

**If you have any updates to the map please contact us through FB messenger, edit access will not be granted**

LEGEND:

* Trees are static light displays

* Music notes are displays synced to music

* Cars are drive-through displays

* Lines are entire streets that are decorated

* Stars are large parks or community areas with displays (FREE)

* Walking person is a PAID $ Walk-through display

* Green denotes the display is active

* Yellow denotes they haven't updated their pages for 2021 yet

* Orange denotes past displays that are unconfirmed Gray denotes an Inactive display