Tinley Park School District 140 Kindergarten Registration and Beyond
UPDATE [March 25, 2023]: Registration Opens April 11, 2023
If you're feeling a little lost about the school process, like when registration opens or how to schedule, etc.—now that I'm in those shoes, here's what I've learned to save you time.
When Does Kindergarten Enrollment Typical Open?
Registration announcements about Fall Kindergarten registration usually come out between March and April. But always call the office of whichever School District is yours, because things change all the time.
Last year enrollment opened on March 16th, 2022 (Wed) and ran thru May 18th (Wed) for the current Fall 2022-Spring 2023 kindergarten full-day and half-day classes.
Early registration discount is usually offered to families who register their students and pay their fees or set up a payment plan before May.
Keep an eye on this page while you wait for the 2023-2024 kindergarten school year registration dates to be announced: ksd140.org/registration. And learn as much as you can about what your child will need in the meantime.
Tinley Park Mom Alyssa Novak recommends keeping an eye on the 'blogs' or news sections of the school websites, "as well as following the Facebook pages for the the district and school PTA. They usually release a lot of information this way (registration, school supply sales, etc) and there's no other way to be alerted if you have an incoming kindergartener."
Set Up Online Account On District 140 Parent Portal
To save yourself a lot of time for future school matters, register your student online by setting up your parent portal account. Visit ksd140.org/registration to get started.
Paper Work You'll Need
For parents registering a Kindergarten student, it's very important that we provide our child's birth certificate with the county seal affixed. For those whose child was born overseas, you will need their birth certificate (no worries on the county seal because that won't apply to you).
District 140 (as of January 11, 2023) requires 3 documents for student registration from parents. Each document must be recent and show your your name and current address. And you can easily upload all of these documents when you set up your online parent portal account.
Only (1) document from this Category (I) needed:
Current property closing papers
Signed and dated lease with two rent receipts
Mortgage statement or payment book/coupon
Most recent property tax bill and proof of payment (i.e. canceled check or Form 1098)
Only (2) documents from this Category (II) needed:
Driver's License/State ID
Voter's Registration card
Current utility bill – gas, electric, water, cable, phone
Vehicle Registration
Most recent cable television and/or credit card bill
Current Bank Statement
Proof of payment for current Homeowner's or renter's insurance premium
Kirby District 140 Schools With Kindergarten Programs
Kindergarten is usually provided for children who will be 5 years old on or before September 1st.
Here are the District 140's schools which offer kindergarten programs:
Always check which school boundary your child falls into to save yourself time (your school is based on your home location).
For those not yet in the school district system, I recommend following Kirby District 140's Facebook page to get to know it and stay up with news until you become a part of the regular newsletter schedule.
Technology Curriculum
Technology curriculum is one of the thing that's really cool about the times we're living in. As a Millennial, my first experience with a computer was 1st grade, but it's whole different world 23 years deep into this new century.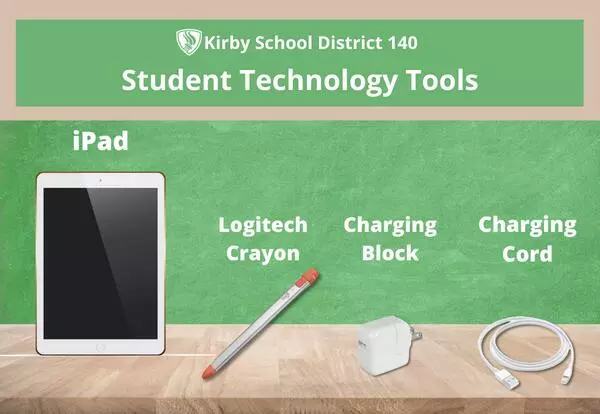 Kindergarten students will use classroom-issued iPads, and may be sent home with their iPad in anticipation for E-learning days. Pretty swank right? Here's school district 140's iPad program page for more details.
On their website you'll see District 140's technology curriculum focuses on these skill areas for kindergarten:
Vocabulary: Keyboard, mouse, cursor, printer, scroll, dock, icon, screen/monitor
Basic Computer Use: Use mouse: Point/Click; Drag/Drop: Login
Keyboarding: Recognize and locate on a keyboard: return, spacebar, arrow keys, shift key, number and letter keys, delete key, volume control
Word Processing:
Entering text; Use lower and upper case text
Presentation of Knowledge and Ideas: With guidance and support from adults explore a variety of digital tools to produce and publish writing including in-collaboration with peers CC K. W. 6. (stands for Common Core State Standards for Kindergarten Language Arts).
Tinley Park Schools Boundary Maps
Here are the boundary maps for the school districts that serve Tinley Park. For a full list of every school that serves Tinley Park residents
School District 140 Boundaries Map
School District 145 Boundaries Map
School District 146 (K-12) Boundaries Map
School District 159 Boundaries Map
School District 161 Boundaries Map
School District 228 (High School) Boundaries Map