Tinley Park Progress Fills Local News Hole
Jockying For The Spot Of Tinley Park Newspaper
Over a year ago, in the early part of quarantine (2020) The Tinley Park Junction and its parent company 22nd Century Media shut their doors. The only other hyperlocal news source that remained was The Tinley Park Patch (which is a part of a larger company also). It's not uncommon for a town or city's newspaper not to be locally owned intown, but as a child it always made more sense for the people of a town to tell their town's stories. However, as an adult I learned through my journalistic experiences from as early as being Maine East High's school newspaper, in order to grow and sustain your publication—you need money but above all you need passion to make it happen. "So who", I asked myself last year "will fill the hole left by The Tinley Junction?" Early last summer the new Southland Your Times arrived in our mailbox, a new micronewspaper that's only a few pages in length, from the nearby Northwest Indianan Times. Cleanly designed, it was great to see the return of a traditional newspaper in our home. But then in October, a new surprise turned up.
Tinley Park Progress Newspaper's Arrival
The Tinley Park Progress Newspaper venture began last October in 2020. February of this year an online digital version of the newspaper became available. I reached out to the creator and editor Ben Desnoyers indicated that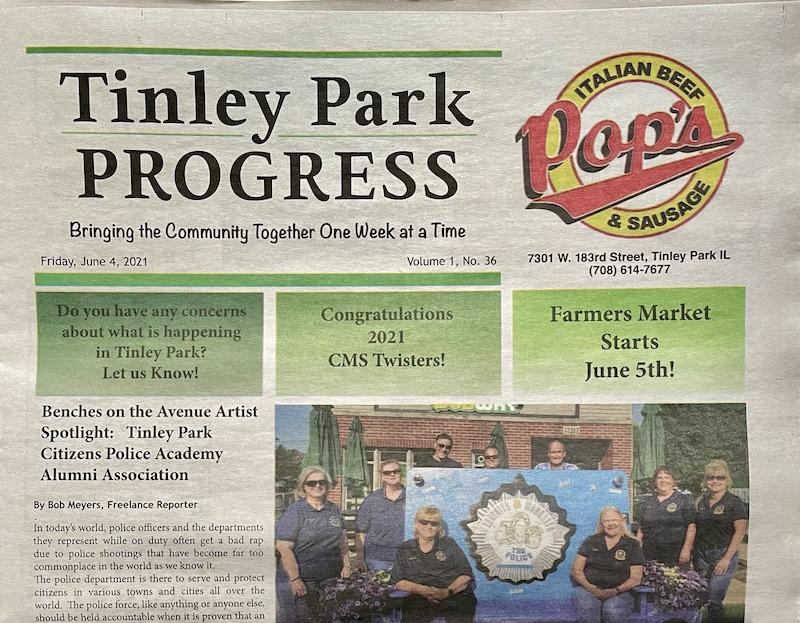 Being a smaller operation than say the Chiago Tribune's Daily Southtown and the Northwest Indiana Time's new Southland Your Times newspapers, Tinley Park Progress is limited in staff and finances, but is growing thoughtfully and has alittle more heart with the added bonus of local staff writers, reporters, and contributors. Myself, I've contributed two articles thus far and am looking forward to contributing more when I can.
Taylor Media and PageSuite and Publication Point are how the paper is distrubted, both in print and digitally online.
If Interested In Contributing To The Tinley Park Progress Newspaper
Right now there is a limited staff, but the newspaper is taking contributions—but for now there is no compensation, but contributors will retain copyright of their content. If you'd like to contribute to the newspaper, contact Ben Desnoyers.