Tinley Park Mom Writes Children's Book About Race And Inclusion
Included by Megan Prendergast
It's funny how paths cross more than once in life, and how in your own backyard there are so many neighbors doing great things you didn't know about. The author of the new children's book Included, Megan Prendergast, is a Tinley Park Mom who I've chatted with through our mutual local Facebook groups, like the Tinley Park Moms Facebook group, with questions about various local things I don't know too much about. When I learned about her new book coming out, I had to write about it because its message is relevant now more than ever.
My Interview with Children's Book Author and Publisher Megan Prendergast
When did you first start to develop a passion for what you're doing now?
I have always enjoyed writing and I have desired to be an author for quite some time. I dreamed of writing a novel, but after having my first child, I decided to write a children's book, as I feel that reading is so important and there are so many positive life lessons to teach children.
What's something interesting that has happened since your book's release?
Several interesting things have happened since my book was released! My book was selected to be used at by a school district for their "One Book, One School" program. Additionally, Jeremy Roloff of TLC's Little People Big World talked about my book on his social media stories. I have also been invited to participate in news interviews and the Best Buddies Friendship Walk, which were unfortunately canceled due to COVID. Former news anchor Rob Johnson read my book for storytime for Special Olympics Illinois where it was posted on YouTube and Special Olympics social media pages. I also made it to the second round where my book was considered for the upcoming season of Shark Tank, but unfortunately I did not make it to the final round. I have also been able to personally share my book with students in the U.S. as far West as Oregon. Included has been sold to readers in 30 states so far and Australia! I have really been having a wonderful time working with such wonderful organizations and I feel so fortunate to be able to share such an important message in so many outlets.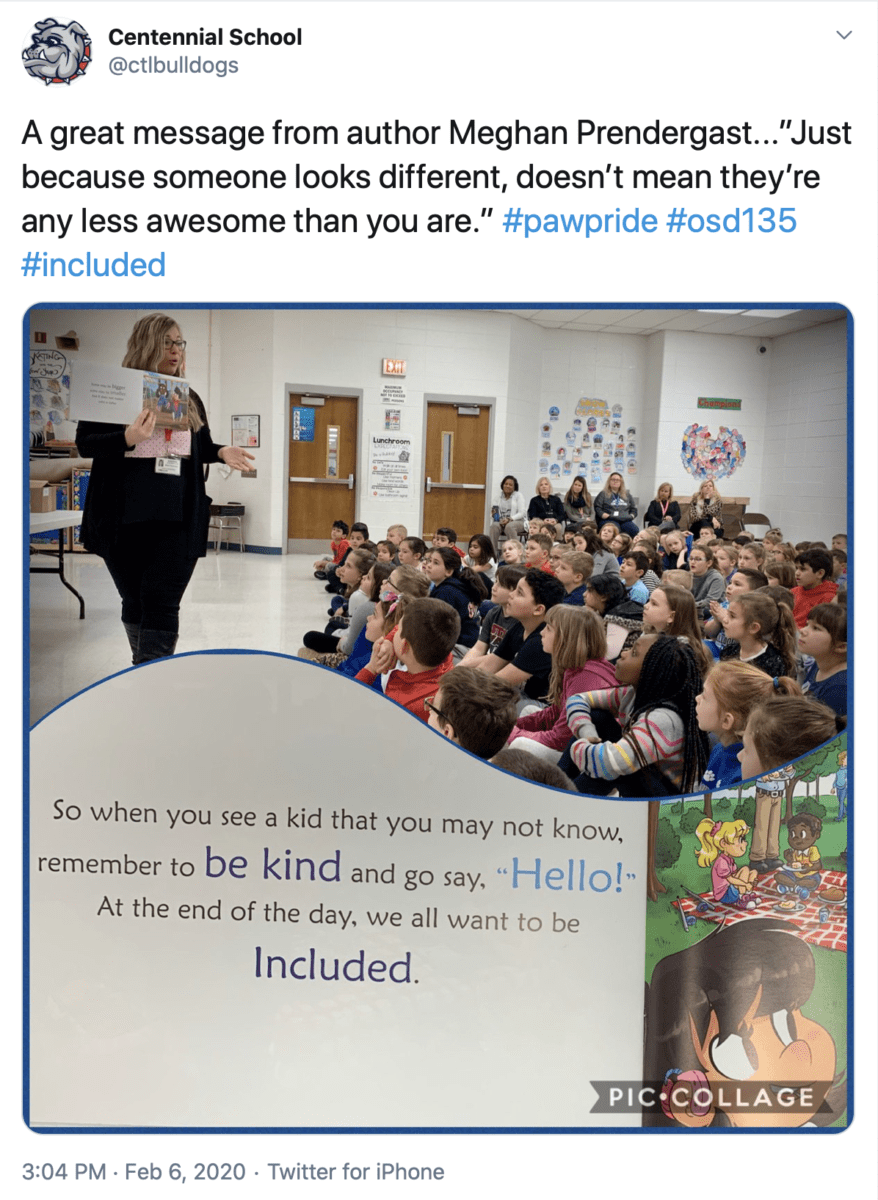 What's the driving force of what you do?
My children are my driving force. Bullying in schools is a scary reality that I hope to help put an end to. I want my children to grow up in a world that is accepting, kind, and inclusive. I strive to teach them these values and hope that my book can reach children around the world to make a difference.
How did you go about starting your book? What was the inspiration?
I have worked with children and adults with abilities of all kinds and I know how much they want to be included just like everyone else. I think it such an important message to teach children at a young age and I want to help make a difference. I actually went to a book signing of one of my favorite reality TV stars and I went home and wrote my book that night. I decided that I wasn't going to waste one more minute just thinking about writing a book one day, but instead, I was going to finally just write that book. I was able to get the book mostly completed in one night. The revisions and illustrations obviously took much longer, but I was so determined and focused that the words seemed to flow right out that night.
Walk me through something you do to help you with writer's block?
I write down my thoughts and then walk away from it for a bit. After awhile, I like to revisit my writing and re-read what my original thoughts were. Sometimes I find the need to reorganize or ask for opinions of family members to help me express my thoughts the way I want them to be read. I have found that taking a break and coming back to my work has really helped. I am also a visual person, so doodling ideas out also tends to be beneficial to my writing. Sometimes I am able to doodle an idea quicker than I could write it out. After the images are drawn, I am able to reflect and find the words that accurately describe my vision.
What get's you really excited, that makes what you do a joy?
I absolutely love sharing my story with children. Since the release of my book in the Fall of 2019, I have been fortunate to personally share my book with around ten thousand children at schools in four states. Sharing such an important message and hearing stories from kids around the U.S. makes me feel very fortunate.
What are some future plans you have?
Right now I am finishing up an accompanying activity book for Included and I am going to start working on my second children's book very soon. I hope to continue to partner with organizations to help spread inclusion and kindness in schools and to children everywhere.
In today's struggling economy, what steps have you taken to continue to grow?
I have certainly had to make changes in my marketing strategy. However, I know that my message is more important now that it has ever been. To continue to share this important message about kindness and inclusion, I have been doing virtual readings, offering free printable resources for parents to use with their children at home, and I've also developed an activity book so that children can continue to learn valuable lessons about being kind and including others, even when the current circumstances seem to be forcing us apart.
Where did you get your training for what you do?
I am a Licensed School Counselor, mom of two, and I have worked in schools in various capacities for several years. I have drawn upon my own personal experiences to help me with content, but also taught myself a lot about writing a book by doing research online.
What or who are your influences?
Some of my former students and clients have inspired me to share these values and life lessons through writing. My children also have been huge influences for me to continue to write.
Where did you grow up?
I grew up in Burbank and moved to Tinley after getting married in 2014.
How many children do you have?
I have two children – an almost 3 year old son and a soon to be 2 month old daughter.
What books, podcasts, articles, etc. do you read/listen to that have influenced the way you approach writing?
I have talked with some people that have authored books in the past, including a former piano teacher of mine who has written his own music book series and story. These first-hand experiences were especially helpful to me throughout the process.
Is there anything else that I haven't asked you that you would like people to know about you and/or your book?
My website, mmcpublishing.com, offers free printable resources for parents to download. My activity book will be released very soon and the second book will also be released this year. Keep an eye on my website or social media pages for updates on release dates!
---
You can read more about Megan and her book at her on her publishing company website: https://www.mmcpublishing.com/book/included/.
Included is on sale now thru 9/7 for $7.64.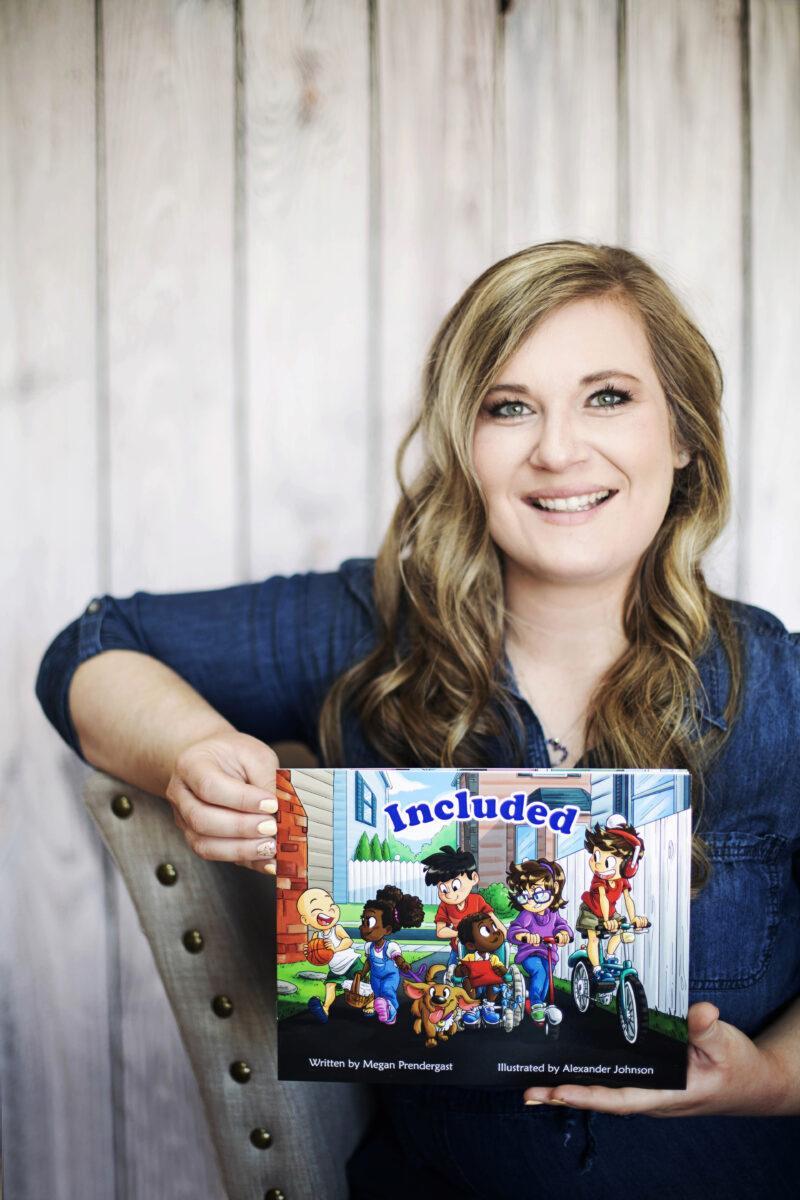 Follow Megan on social media your way: