Tinley Park Christmas Tree Lighting Ceremony And Holiday Happenings
Every year, usually the first week of December Tinley Park kicks off Christmas with three special days of parades, live music, shopping, photos with Santa, and of course the Christmas Tree Lighting Ceremony. Here's an example of what to expect from this year, 2018's official flyer from the Village of Tinley Park:
Here's the usual schedule for the three-day celebration:
Community Tree-Lighting Ceremony: 6 p.m. 1st Friday of December usually, in Zabrocki Plaza, 17375 S. Oak Park Ave. There is also a community sing-a-long that begins at 5:30 p.m. during the festivities.
Holiday Market: This is where you do all your Christmas shopping from local shops and other vendors. This takes place in a heated tent near the Oak Park Avenue train station, 6700 South St., and opens from 6 to 9 p.m. on the first day; noon to 6 p.m. on the second day; and noon to 5 p.m. on the last day.
The Tinley Toyland Parade: Begins at 11:45 a.m. on the Saturday or second day. Santa and Mrs. Claus are always in the procession, which starts at 175th Street and travels north along Oak Park Avenue and South Street. Parade-goers are asked to donate an unwrapped toy to the organization Together We Cope at the collection center near the Holiday Market.
Photos With the Clauses: From Noon to 6 p.m. on the Saturday or second day, and from noon to 5 p.m. on the Sunday or third day, at the Oak Park Avenue Tinley Park train station. Tickets for complimentary photos are handed out until 4:30 p.m. the second day, and until 3:30 p.m. on the third day. Visitors are asked to donate a nonperishable food item for the Tinley Park Food Pantry.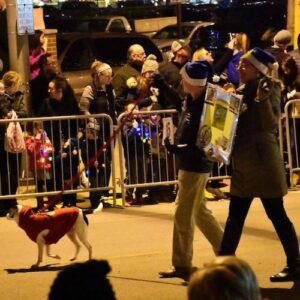 Parade of Lights: 5 p.m. on Sunday or the third day, traveling north from 177th Street to Oak Park Avenue. Sponsors are usually Tinley Park Chamber of Commerce members like my husband and I's business Geoffresh Inc. digital marketing.
Carriage Rides: 12:30 to 5:30 p.m. on Saturday or the second day, and noon to 5 p.m. on Sunday or the third day, throughout the downtown.
Ice-Carving Demonstration: 2 p.m. on the Saturday or second day in Zabrocki Plaza.
Holiday Happenings is a staple of Tinley Park, a great thing or families, couples, and pets.
For updates and new information about the three- day event, check the Downtown Tinley or Tinley Park Mom Facebook pages.