Things To Do In Tinley Park In March 2021
As I've come to learn in the last seven years living in Chicago's southwest suburb of Tinley Park, St. Patrick's Day is one of the big deal holidays/events down here. So here's what to look forward to this month. No matter how much more restricted life has gotten because of COVID-19, there's a pot of gold at the end of this rainbow.
Tinley Park Irish Day Parade Cancelled Due To COVID
Sadly this year Tinley Park, along with other suburbs and cities across the world, has to cancel another parade due to the COVID-19 pandemic. This year would've marked Tinley Park's Irish Day Parade's 22nd year.
If you've never been, here's a video we posted on social media back in March 2019 from the 2019 Irish Day Parade.
As a commissioner on the Village of Tinley Park's Branding and Marketing Commission, I am invited to ride on the Village's float with my family. March 2019 was a cold and cloudy day, but it was really special because it was our daughter Eileah's first parade; she was almost 1 year old at the time. Though there's no parade this year, there's a tagline from a new commercial from the Guinness beer company that I think is perfect for what the world is going through right now: "make your own parade." It's the hardest thing in the world (even without a quarantine) to lead your own parade everyday, but you've only got one life to live, so why not live it to the fullest?
It's unfortunate that another year is passing us by and more events like the Irish Day Parade are being cancelled, but sometimes you need to make your own luck, and Tinley Park has devised a couple of cute initiatives to engage the community and bring a little luck to local businesses.
Luck Of The Irish Virtual Map Highlights Tinley Park Businesses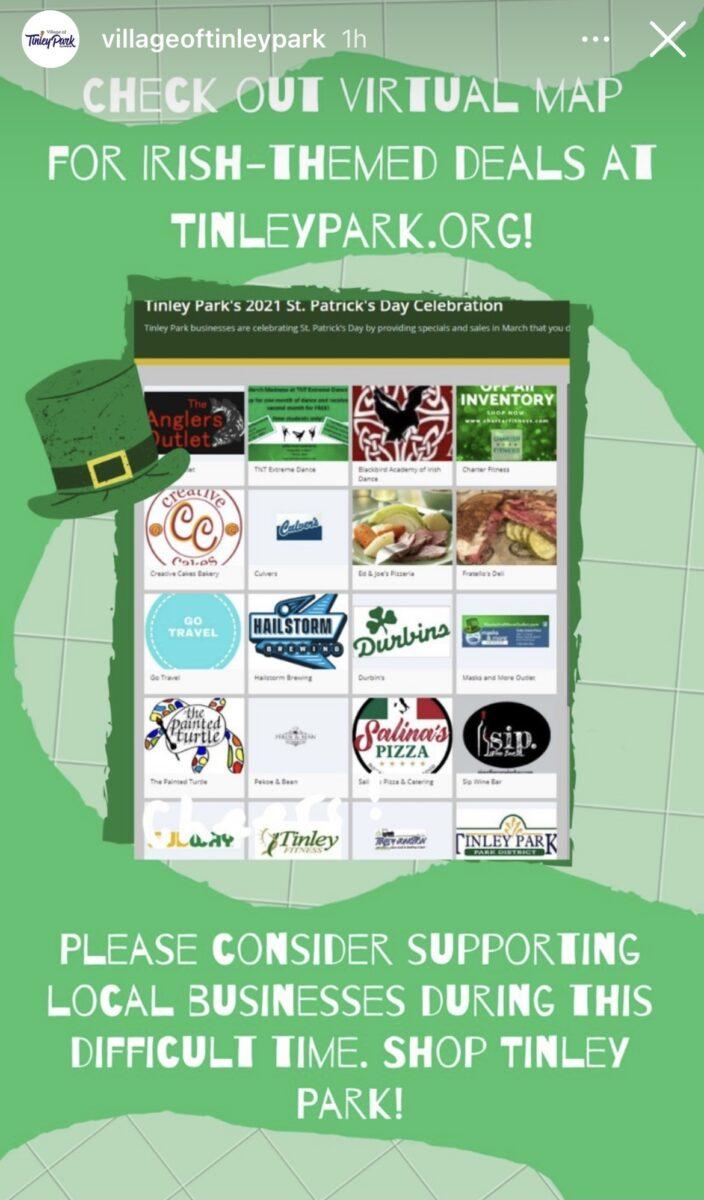 The Village of Tinley Park's "Luck of the Irish" virtual map promotes the specials and sales of Tinley Park businesses throughout the month of March. The Village is offering this map to Tinley Park businesses at no cost and will promote them through all Village social media channels, in the Tinley Park Community Email, and on the Village website. The economic impact of quarantine has hit small businesses hard across the world, so this is a noble effort of the village to help get the word out to support local and small businesses during this difficult time.
Participating businesses include:
Angler's Outlet
Blackbird Academy of Irish Dance
Charter Fitness
Creative Cakes
Culver's
Durbin's Pizza
Ed and Joe's Restaurant
Fratello's Deli and Cafe
Go Travel
Hailstorm Brewing Co.
iCan Dream Center
J.W. Hollstein's Saloon
Masks and More, the Painted Turtle,
Pekoe and Bean
Salina's Pasta and Pizza
SIP Wine Bar
Subway
Tinley Fitness
Tinley Junction Mini-golf
TNT Extreme Dance
Tinley Park Park District
UPS
Vogt Visual Arts Center
White Water Canyon Water Park
Lucky The Leprechaun's Treasure Hunt
Going hand in hand with the virtual map, Lucky the Leprechaun has hidden some of his treasure in various Downtown Tinley businesses and needs your help to find it! Find the green cauldron in the window of each participating business and use the official game form to note the treasure that Lucky has hidden in each one. If you get them all right, Lucky just might pick you as the winner!
Completed cards are due by March 18 and can be dropped off at the Tinley Park Chamber of Commerce, 17316 S. Oak Park Ave., or Tinley Park Village Hall, 16250 S. Oak Park Ave. Participants also can email their completed forms to the Marketing Department at [email protected]. Only one entry per person. Winners will be contacted after March 22, 2021.
Luck Charms Bingo With The Tinley Park Park District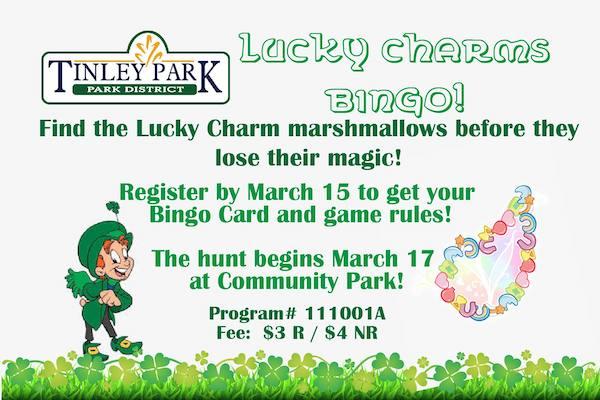 Like a treasure hunt only you fill out a bingo card as you find each Lucky Charm around Community Park. Turn in your completed bingo card for a small prize. One lucky winner receives the grand prize!
Tinley Park Public Library Virtual Movie Night
If you're more of an indoor girl like me, this might catch your fancy. The Tinley Park Public Library is hosting a virtual movie night on March 10th of the movie Brooklyn (2015). It's about an Irish immigrant played by Saoirse Ronan and the film sounds intriguing:
"An Irish immigrant lands in 1950s Brooklyn, where she quickly falls into a romance with a local. When her past catches up with her, however, she must choose between two countries and the lives that exist within."
Photo with the Bunny on Oak Park Avenue
It's been a while, but the Easter Bunny is back in action! Grab the kids and head down to Photos with the Bunny, which will take place from noon to 3 p.m. Saturday, March 27 at the Oak Park Avenue train station, 6700 South St., Tinley Park.
Tickets will be required for the event, and registration opens at 10 a.m. Monday, March 8 on the event's Ticket Tailor page. Registration will be limited to Tinley Park residents through March 15; tickets will be available to everyone after this date. When registering, families will be asked to select an arrival time. Tickets will be scanned at the door.
Families will take their own photos, so make sure to bring your camera or smart phone! Please note that this is a no-contact event.
---
If there are any events or activities you think families and people should know about, shoot me an email via my contact form: https://tinleyparkmom.com/contact.