Things To Do In Tinley Park In April 2021
Ah April, the month of Easter (usually), the month of the eponymous April showers, and of course the month of April Fools' Day. So here's what to look forward to this month despite how restricted life has gotten because of COVID-19.
---
"My Mom is the Best" Essay Contest
Today entry forms are now available for your little Tinley Park kid to write an essay about how you're the best mom, for a chance to win something special for you for Mother's Day.
In fifty words or less your child needs to tell the Tinley Park Park District why you are the greatest mom in the world. First and second place winners from each division receive a special prize for their mom!

Divisions:
Pre-K and kindergarten
Grades 1 and 2; Grades 3, 4 and 5.
The entry form is available as of today at the Recreation Center: Tony Bettenhausen Recreation Center, 8125 W 171st Street, Tinley Park.
Entries must be submitted by Apr 30. Winners announced May 7. And you and your child must be Tinley Park residents.
Doggie EGG-stravaganza at Canine Campus Dog Park
Celebrate Spring at the Canine Campus with a 'bone'-afide egg hunt for our four-legged friends. Will your pet find the special golden egg for a special prize? Other activities include a spring theme photo area, Easter Bonnet contest, crafts, raffles and more!
This event is open to members and non-members of Canine Campus. Dogs who threaten/show aggression toward other dogs/owners will be asked to leave.
Location: Canine Campus Dog Park, 18200 84th Avenue, Tinley Park, IL, 60487
PROGRAM# DATE DAY/TIME                AGE
111046A       April 17 Sa 10:30am-11:15am All
111046B       April 17 Sa 11:15am-12pm       All
Earth, Wind, & Fire StoryWalk
Celebrate Earth Day with hands-on games, scavenger hunts and activities as you stroll through our StoryWalk®. The Wind will be blowing at the kite fly on McCarthy Field, bring a kite to fly and fill the sky! Stop by the warming Bon Fire for roasted marshmallows.
*One kite per family while supplies last.
Sat, Apr 24, 2021 at 10:00 AM – 12:00 PM at McCarthy Park, 16801 South 80th Avenue, Tinley Park, IL, 60477.
Tinley Park Moms Walking Club: First Meet Up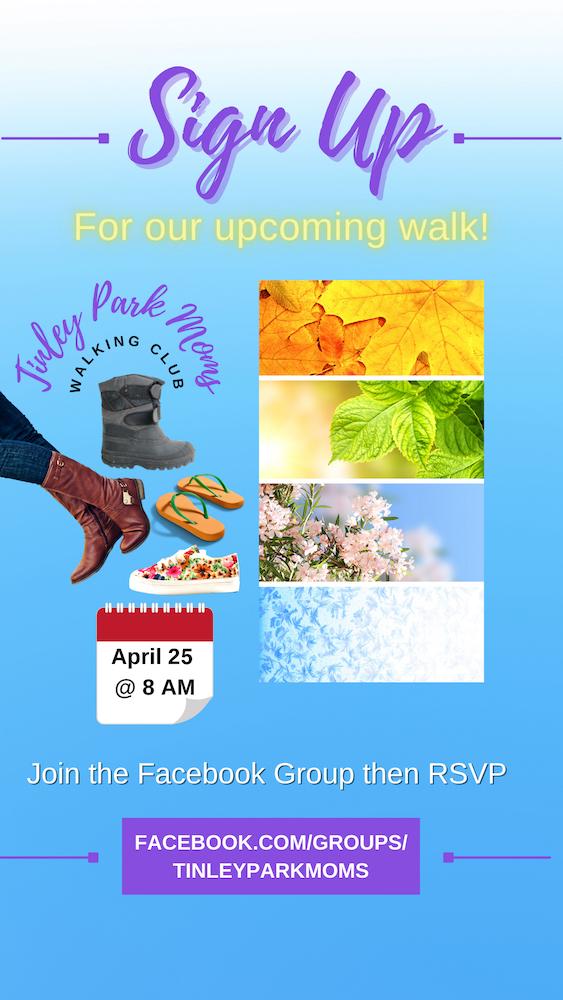 Are you a mom who lives in Tinley Park and is looking for walking/hiking buddies? Join the Tinley Park Moms Walking Club. The first walk of the year is Sunday, April 25 on Sun., at 8:00 AM. Location to be voted on in the group. So come and share where you would like to meet up before it's too late. Right now Tinley Creek Trail is winning at the poll. To RSVP join the Tinley Park Moms group first, then RSVP at this link: https://fb.me/e/LxAJ7Y83, which is only accessible for Facebook group members.
As a group of moms, we totally understand if you are running late! ? We will wait until 8:10 AM to begin walking if everyone on the RSVP list has not yet arrived. It is important to RSVP so we know if we should be expecting you. ?
This a kids free activity, but fur babies are more than welcome. We'll split up into two groups:
1️⃣ Moms who are pumped up for hiking.
2️⃣ Moms who prefer a walking pace.
Wearing masks ? and observing social distancing is recommended.
We'll divide in one group that's the moms who want to walk and the other group that's moms who want to hike.
Hope to see you later this month.
Wills & Trusts 101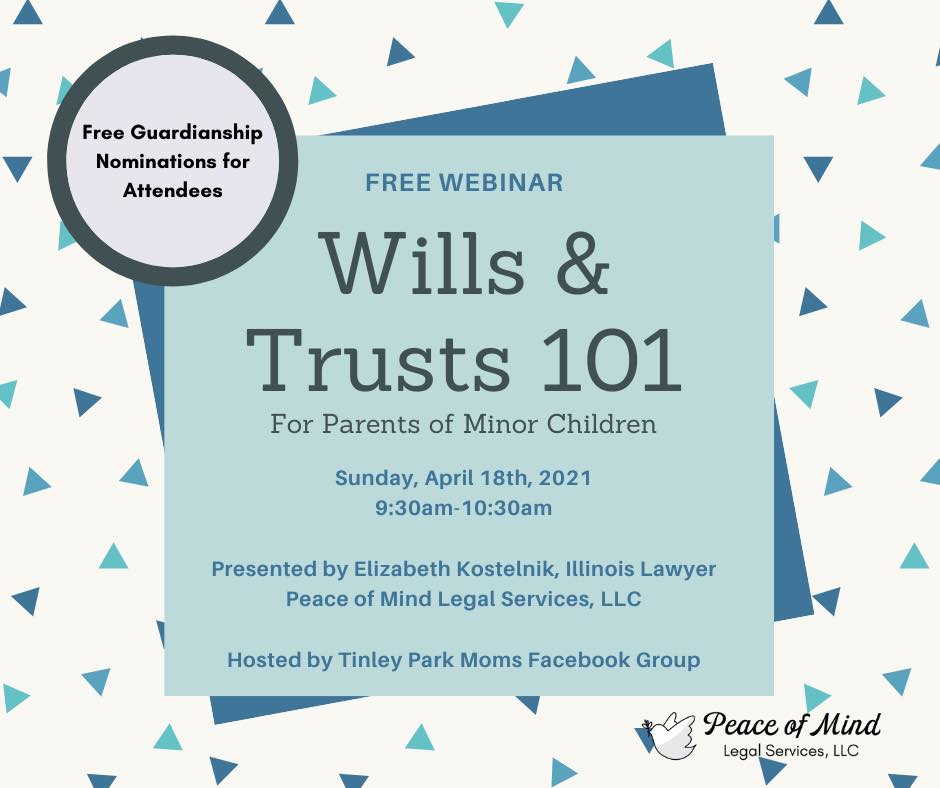 This is more for you parents out there.
Hope for the best, plan for the worst is never more true than when it comes to estate planning. Death is a somber subject but as parents it's important to make sure we think of all possible scenarios when it comes to our child(ren)'s well-being. Hosted by fellow Tinley Park Mom and estate planning lawyer Beth Kostelnik, in this free webinar parents of minor children will learn the 101 on Wills and Trusts. Participants will receive a basic guardianship nomination for minor children with instructions for how to execute it. The webinar will take place Sunday 4/18/21 from 9:30 am – 10:30am. 
*To join the webinar you need to be a member of the Tinley Park Moms Facebook group.
Tinley Junction Opening Day & Twilight Golf
Come out for Tinley Junction Mini-Golf and Batting Cages' first event of 2021 and play a round of golf with a 'glow-ball', receive a free glow necklace, and a 2-for-1 coupon to use another day from 6-9pm. The batting cages will be open too!
Fri, Apr 30, 2021 at 4:00 PM at Tinley Junction Miniature Golf & Batting Cages, 16801 South 80th Avenue, Tinley Park, IL
---
If there are any events or activities you think families and people should know about, shoot me an email via my contact form: https://tinleyparkmom.com/contact.
Quick Tip On How To Find Things To Do Online
Google
Another way to search for things to do each month is look at Google's new Events feature. Simply type in "events in tinley park" and you'll see this pop up.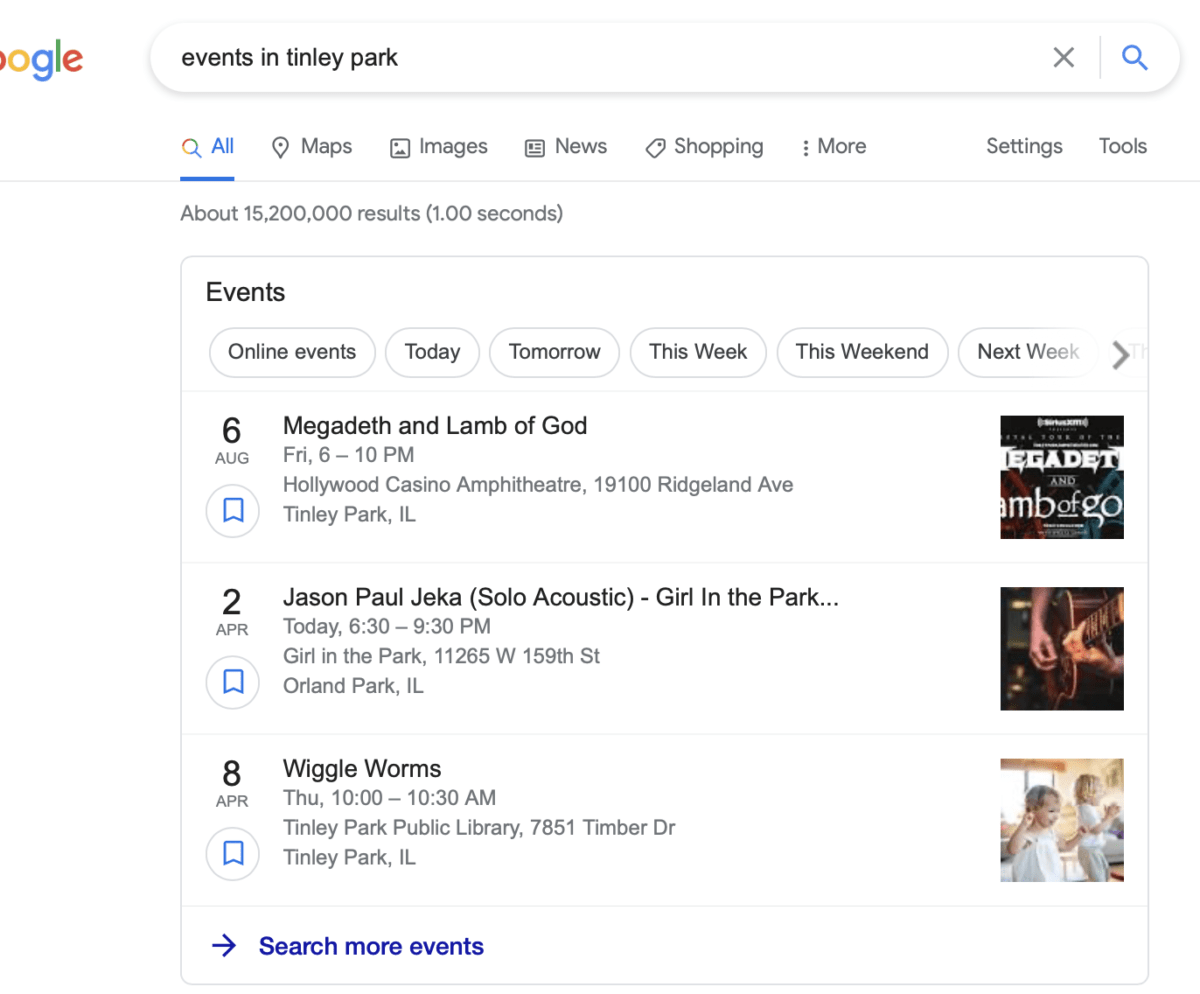 Click through and make sure your view is set to "This Month" and scroll through to find an activity or event you and/or your family would like to do.
The Patch
Visit https://patch.com/illinois/tinleypark/calendar and look through events submitted by anyone, including the larger institutions like the library, park district, and village.
The Tinley Park Public Library
Visit https://www.tplibrary.org/events/calendar to stay up on all events at the library. As a resident you'll also be kept abrest by the library's e-mail newsletters and the magazine.
There are many virtual events going on during quarantine, such as the No-Cook Club which is having their next activity is on April 26th—all you need are some ingredients to buy and then let your child(ren) have fun over Zoom with other kids in grades 2-3.
Tinley Park Park District
Visit https://www.tinleyparkdistrict.org/calendar-of-events/ to stay up on all events through the Tinley Park Park District. You'll need to register for some events through their website aswell, so it's good to add this link to your Bookmarks or Favorites folder on your internet browser.