About Woman-Owned Chicago South Suburban Newspaper: The Shared News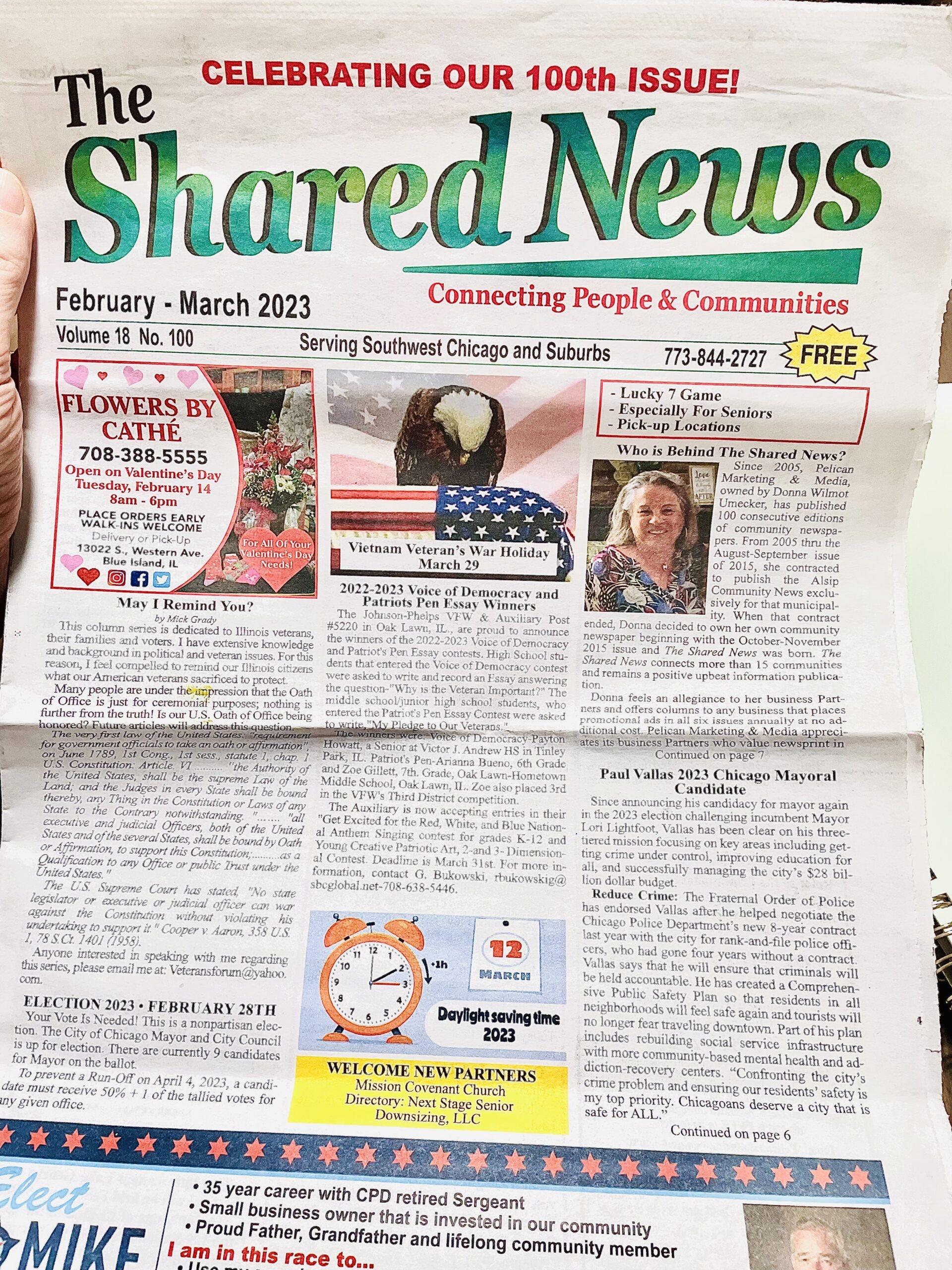 Today marks the last day of Women's History Month, a month full of reflection and appreciation for women throughout history but also the women in our lives today. And there's a local lady I don't know but who I learned about while over at Lake Katherine Nature Center & Botanic Gardens in Palos Heights, Illinois: Donna Wilmot Umecker, who I want to make sure to share before month's end.
"Since 2005, Pelican Marketing & Media, owned by Donna Wilmot Umecker, has published 100 consecutive editions of community newspapers", I read that in the latest issue of The Shared News, free in the lobby of Lake Katherine. According to the article (which appears in the current *100th* issue of the paper), The Shared News was born from Donna's company being originally "contracted to publish the Alsip News ? exclusively for that municipality." Then in 2015, when the contract ended, "Donna decided to own her own community newspaper beginning with the October-November 2015 issue and The Shared News was born."
Headquartered in Mt Greenwood and Ad Supported, this Bi-Monthly publicationn aims to promote and connect people in more than 15 SouthwestChicagoSuburbs and communities. In a time when local newspapers are scarce, it's good to see a valiant effort being made to resurrect what we've lost with the advent of social media. I didn't realize this until becoming a homeowner and parent.
The Shared News Website: www.TheSharedNews.com
The Shared News Facebook page: https://www.facebook.com/alsipnews
Observations On The Local News Scene In The Chicago South Suburbs
When 22nd Century Media shuttered its doors during the pandemic, I observed noble jockeying for top news source in the Chicago Southland suburbs. Richard Free Press, Southland Your Times (by Northwest Indiana Times), the DailySouthtown (formerly the Southtown Star—acquired by Chicago Tribune some years ago), and so forth. But as I like to do, I like to find the hidden gems, and The Shared News community newspaper is the latest local gem I wanted to share about.
On that note….Is there a local paper near you that you wish more people knew about? Share in the comments below.