The Next Top Name of Baby Girls: Tinley
There are traditional names that end in y like Audrey, Beverly, and Stanley — and then there are the new favorites like Ensley, Kinley, and Mavy. But if you're looking to get ahead of the curve, there's a contemporary girl name ending in y to keep your eye on: Tinley, a surname and also the name of a town in Illinois (Tinley Park).
Choosing surnames or places as baby names has been a growing trend since the mid 1980s. And as of late, Tinley has become a new contender in baby names lists—particularly baby girl names lists.
Tinley is perfect for parents who are searching for an unique name that sounds modern with some history. As a parent who stressed over the spelling of our first child's unique name, I think it's important to research the deeper meanings and origins of names that catch your eye because:
a) You don't want your child feeling so embarrassed that they feel the need to change their name. Research helps you avoid unknowingly giving your child a name that refers to a part (or parts) of the human body or worse.
You're going to have to answer why you chose your child's name one day when they are older.
b) Names play a bigger part in our lives than most of us think about.
You are facing a part of your identity that your parents chose for you, everytime you write it out in your cursive handwritting, or say it out loud, hear someone say it, see it on a surface printed somewhere. Names influence how we feel about ourselves and they can influence how people think or treat us too. It might make you feel proud or annoyed. So names can help or hurt you in many ways. That's why
---
No matter what kind of y name you're looking for, let me save you some time with the name Tinley.
Here Is Everything To Know About The Baby Girls Name Tinley
Tinley is currently topping the charts in…
IThe Social Security Administration registered Tinley as a first name on Thursday, February 12th, 1891. So far Tinley's peak in popularity as a first name was in 2016. That equates to approximately 358 baby girls given the name Tinley in 2016. And get this—Tinley is currently topping the baby girl name charts in Texas!, but is the least popular in California at position #2,746.
2018 was a particularly good year for the name Tinley.

Meanings And History Of The Name Tinley
Tinley is a spelling variation of the name Tenley, an Old English surname meaning "town clearing." But give your little Tinley a chance to fill a few rancid diapers and you may wonder if her name really means "room-clearing."
The name "Tinley" also has Irish origins, meaning "Tyne's meadow" or "river's meadow", with tyne being a variant of the Celtic word tain. And Tyne might sound random, but you might be suprised that you've heard it before. Remember Tyne Daly from the 90s TV show Judging Amy?
If you by Chambers 20th Century Dictionary, in English Tyne as a verb means "to become lost, to perish" and as a noun Tyne means "anxiety." I think I'll take the river's meadow meaning.
Comments And Insights On The Name Tinley From Others
Pros
The name Tinley has a "bell-tone" cadence.
The tin– part of Tin-ley makes you think the meaning of the name has something to do with the metal of the same name. What's cool about that is, Tin is in every single electronic device with a circuit board in it—with that information, wouldn't it be perfect if Tinley Park became like a Midwest Silicon Valley? Tinley Park, Tech Park? Has a nice ring to it, doesn't it?
Cons
Most people associate tin with canned food from supermarket shelves, which is usually cheap and not the healthiest for you.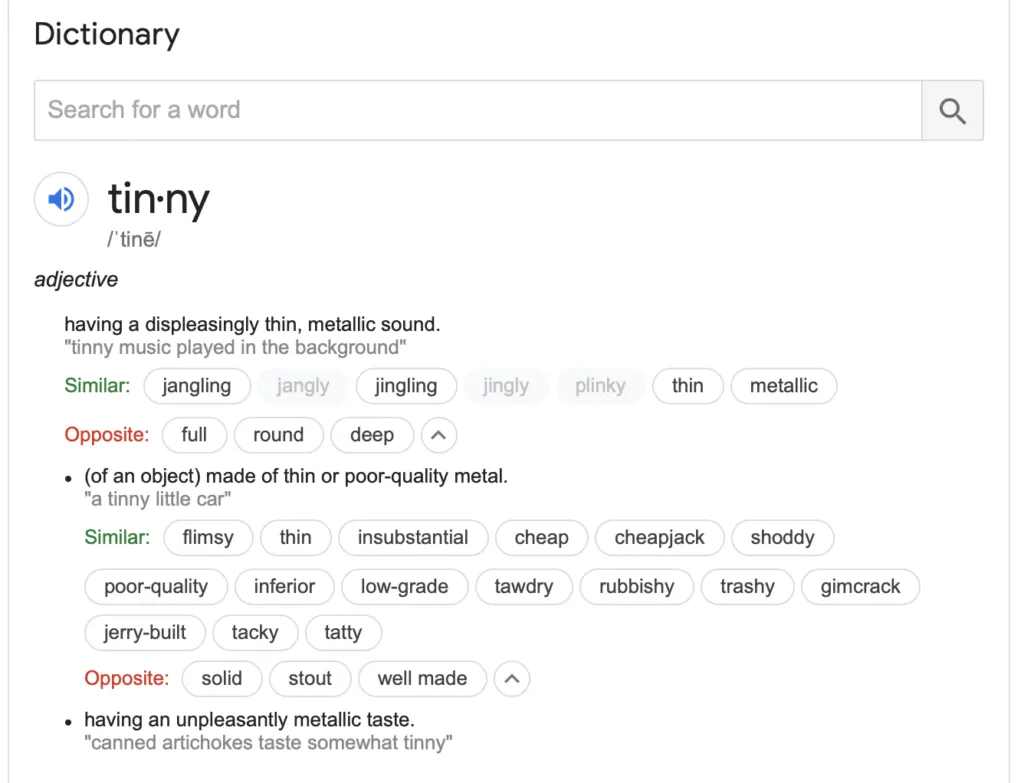 One mom said online that: "this seems like it would not age well. I can't imagine a 30 year old Tinley, only a 4 year old, but that is relative to the time I grew up."
Nicknames For The Name Tinley:
T, Tin, Tinny, Ley
Alternate Spellings For The Name Tinley
Famous People Named Tinley:
Before 2011, the only famous Tinley was the man for whom Tinley Park owes its name: Samuel Tinley, Sr., the village's first railroad station agent. But now there are two famous Tinleys, thanks to the birth of Tinleigh Louise Roberts (b. 2011), daughter of Sarah Roberts of the MTV reality TV show 16 and Pregnant.
To learn why Tinley Park was names in honor of him, checkout the Tinley Park History page.
So do you think Tinley has a shot at being the next top baby girl name?
Would you name your little one Tinley? Fill out this short 2-question poll, or leave your thoughts in the comments section below.