The Best Thing About Living In Tinley Park
Is this going to be the most objective blog article? I hope so. You want to know the best thing about Tinley Park? It's location.
Why Is Tinley's Location The Best Thing About It?
There are many things that make Tinley Park a great town to live in, but I think location has a lot to do with it. Location can tell you about crime rates, school quality, and neighborhood connectivity, and of course about things like natural beauty and ammenities (like a beach or lots of open land). But when I say location, I venture to say that the beauty of living in Tinley Park is that you are literally at the junction point at the heart of the Southwest Chicago suburbs. It's been being at this fulcrum between north, south, east, and west.
You're between all these great neighboring towns, which makes having fun easy and accessible for moms to take their kids on adventures. But you've also got LaGrange Road (Route 45), four interstate highways (I-80, I-294, I-57, and I-355) all within a 12 mile radius of Tinley Park, and public transit perfect for commuting on a budget (Metra Rock Island). This specific part of America is the busiest intersection of highways and driving, so to be at this very pleasant part of this tapestry of roads, freeways, and highways is very lucky thing if you choose to make your home here.
You have access to go anywhere really quickly while still enjoying just enough distance to live a peaceful, quiet suburban life in a nice two story home or other.
Take today for instance—We visited a new forest preserve in Homer Glen called Messenger Woods. Watched Ferdinand at Orland Square mall. And then I attended the monthly meeting of the Tinley Park Chamber of Commerce Marketing Committee, of which I am a member. My daughter and I were literally allover the Chicago Southland map!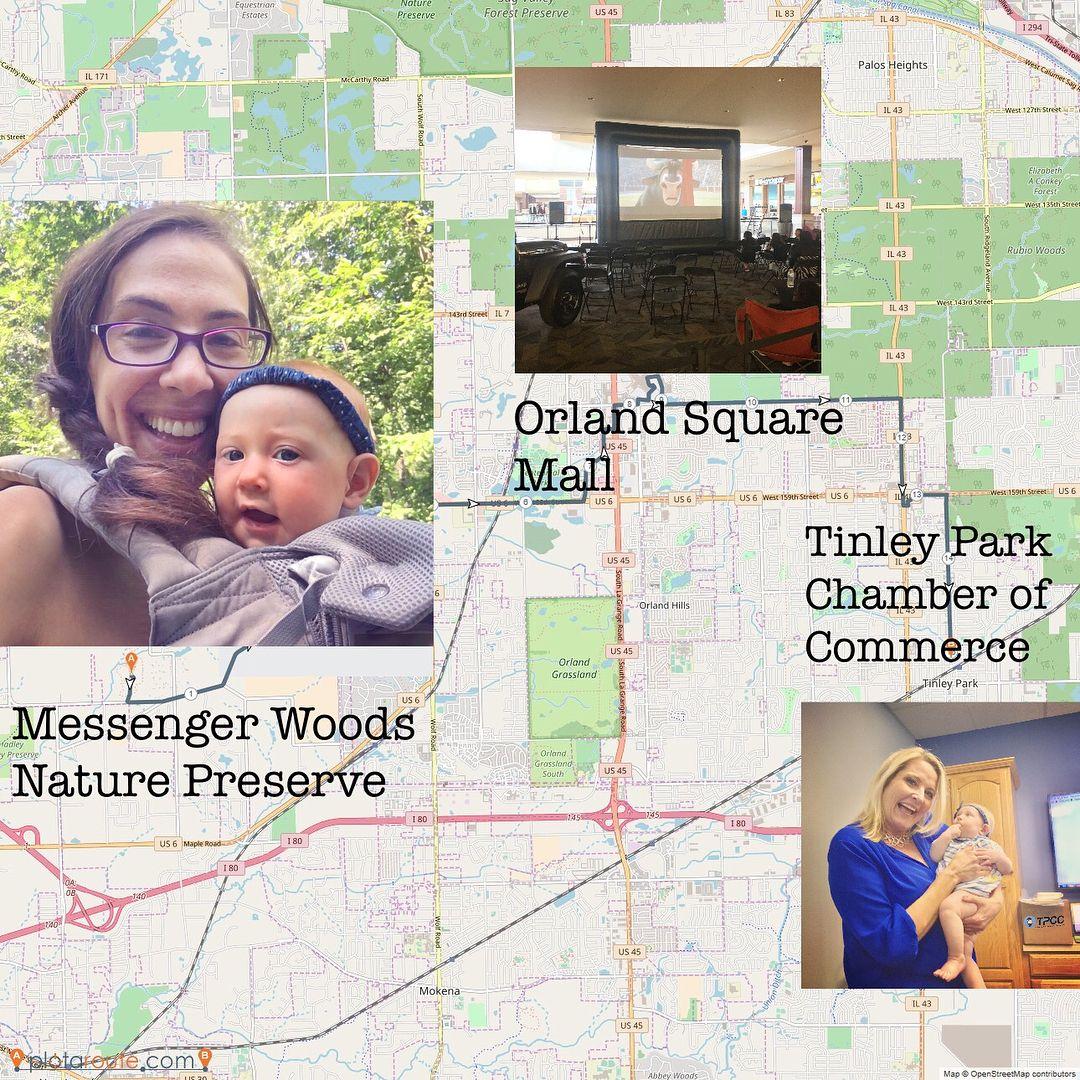 Click here to read about Tinley Park's railroad history.
This is not to say that there's not much to do in Tinley Park or that you have to go elsewhere for events and fun activities. The important point I want to make is that you have the option to get away for a bit to explore Chicagoland or a neighboring state easily. Think of Tinley as a springboard that can catapult you like no other Southwest Chicago suburb.
What Others Say About Tinley Park
Business Week:
Back in 2009, Business Week released its 4th annual rankings of 'Best Places to Raise Your Kids' and Tinley Park won the nation's overall best ranking for its 50 percent lower than the national average crime rate, a median household income 45 percent above the national average, at $76,605, and other factors.
The irony though about the 2009 big win is because the village was shaken the previous year, on Feb. 2, 2008, when a man posing as a delivery man shot five women to death at a Lane Bryant clothing store in Tinley Park's Brookside Marketplace. But according to Tinley Park High School Principal Theresa Zielinski, it brought the community even closer. "It shocked everybody," said Zielinski, a lifelong resident. "It's not what happens here in our town." (Source: Bloomberg/BusinessWeek)
Earlier this month when I spoke to former Mayor Ed Zabrocki (yes THE Zabrocki that beautiful Zabrocki Plaza is named after), he said it was a huge surprise to find out that Tinley Park had even been considered. He didn't know if someone had submitted the village or if it was part of Business Week's process to consider all towns in the United States. But it was a great boon given the horrific Lane Bryant Murders that took place the previous year.
Here's the snippet from the Business Week article:
"You'd think that the character of a village that grew from 12,000 to 60,000 residents in less than 40 years might have changed with the population. But young families move into Tinley Park, Ill., a proud village 25 miles southwest of Chicago, for the same reason that Edward and Emily Zabrocki chose to raise their children there in 1970. "We looked at the schools and the community services," said Zabrocki, a retired high school guidance counselor who has been Tinley Park's mayor since 1981. "And we found a house that was good for our pocketbook." Tinley Park, with its top-rated schools, low crime, beautiful parks, relatively affordable houses, and easy access to jobs, is the winner of BusinessWeek's Best Places in America to Raise Kids. Working with OnBoard Informatics, we chose a winner for each state, but the Chicago suburb—only an hour south of last year's winner, Mount Prospect, Ill.—scored the highest. Named after the village's first railroad master in the 1800s, Tinley Park has two train stations, which carry commuters to Chicago in 45 minutes. Single-family homes for sale in Tinley Park start at $166,000 for a two-bedroom, two-bath house spread over 1,200 square feet to brand-new four-bedroom house for $630,000. Settling DownAll three of the main high schools serving Tinley Park are ranked in the top 100 in the state. And the students are closely tied to the community and often stay there after graduating. At Andrew High School, where each student is required to complete 24 hours of community service to graduate, only about 3% of the 2,400 student body move away during high school, compared with the state average of 14%, said principal Robert Nolting. "There are a high number of kids in Tinley Park who have lived there their whole life," Nolting said. "Of the communities I've lived in or have been part of, it has more interconnectedness to it. It feels smaller than it is." The village is quiet and safe. But it was shaken on Feb. 2, 2008, when a man posing as a delivery man shot five women to death at a clothing store in one of Tinley Park's outdoor malls. It was a big shock but it brought the community even closer, said Tinley Park High School Principal Theresa Zielinski. "It shocked everybody," said Zielinski, a lifelong resident. "It's not what happens here in our town." Friendly AtmosphereSafety, along with school test scores, air quality, and affordability, were weighted especially highly in this year's calculations. But we also considered job growth, diversity, and amenities such as museums, parks, and theaters. Many of our picks also share Tinley Park's family-friendly atmosphere."

By Prashant Gopal (BusinessWeek/Bloomberg)
November 17, 2009
Movoto
In 2013 Tinley Park landed at number 9 of 10 on real estate blog Movoto's list of Best Small City to Move to in America, based on its crime rate, median household income, and average home price. For this study, "small" cities were described as those with a population less than 60,000.
Homes in Tinley Park cost seven percent below the national average at $184,900 and there is one home for sale for every 127 residents, according to the report.
The unemployment rate in Tinley Park is the highest in the top 10 at 8.2 percent, which is 14 percent above the national average.
Niche
Niche connects people to their future schools, neighborhoods, and workplaces with their powerful web crawler and database, always up-to-date with every piece of information on a town and school distilled concisely and visually easy to understand quickly.
As of right now, Tinley Park is the considered 5,120 Best Place To Live In America according to Niche.
Jessica and Tony Martinez from Your Real Estate Fam – Living in Chicago
(Video) How Much Does It Actually Cost To Live In Tinley Park
In this video this real estate power couple talk about the Cost of Living in Tinley and the things to consider before moving to Tinley Park.
(Video) Living In Tinley Park
---
Well that's all folks, everything I know and that I think will be helpful for you to know about Tinley Park