The Battle of Midway and Chicago's Connection To It
Today marks the 80th anniversary of the conclusion to the famous World War II Battle of Midway. For those who don't remember, The Battle of Midway was one of the U.S. Navy's greatest victories and a major naval coup following the devastating Pearl Harbor Attacks 6 months earlier.
WWII History Buffs
If you're a history buff, my husband found this comprehensive 3-part play-by-play video series that takes you through those 4 days of battling (June 4th – June 7th) on the Pacific Ocean. 2 out of the 3 parts walk you through the battle days from the Japanese perspective since that is less familiar to most Americans.
I'll admit, battle studies are dry and tend to bore, but as my husband told me "see how you can apply some of the strategies and thought processes they used in your life." In the video series you learn about the different conundrums each side faced and the narrator pauses, asking you which strategy you would take, before giving the answer to how things played out.
The Chicago Connection
Here's how The Battle of Midway is relevant to Chicago and Chicago history.
What you might not know is that Navy Pier provided the platforms for the pilots (who fought in Midway) to train—in fact, over seventeen thousand pilots became qualified through the Lake Michigan training project.
Midway Airport (MDW) was named in honor of The Battle of Midway and because Chicago is the major airport at the midpoint of America. A fully restored original plane from WII that was of one of the model planes flown during the Battle of Midway is on display in an exhibit lead by the Chicago Marine Heritage Society in the late 1960s.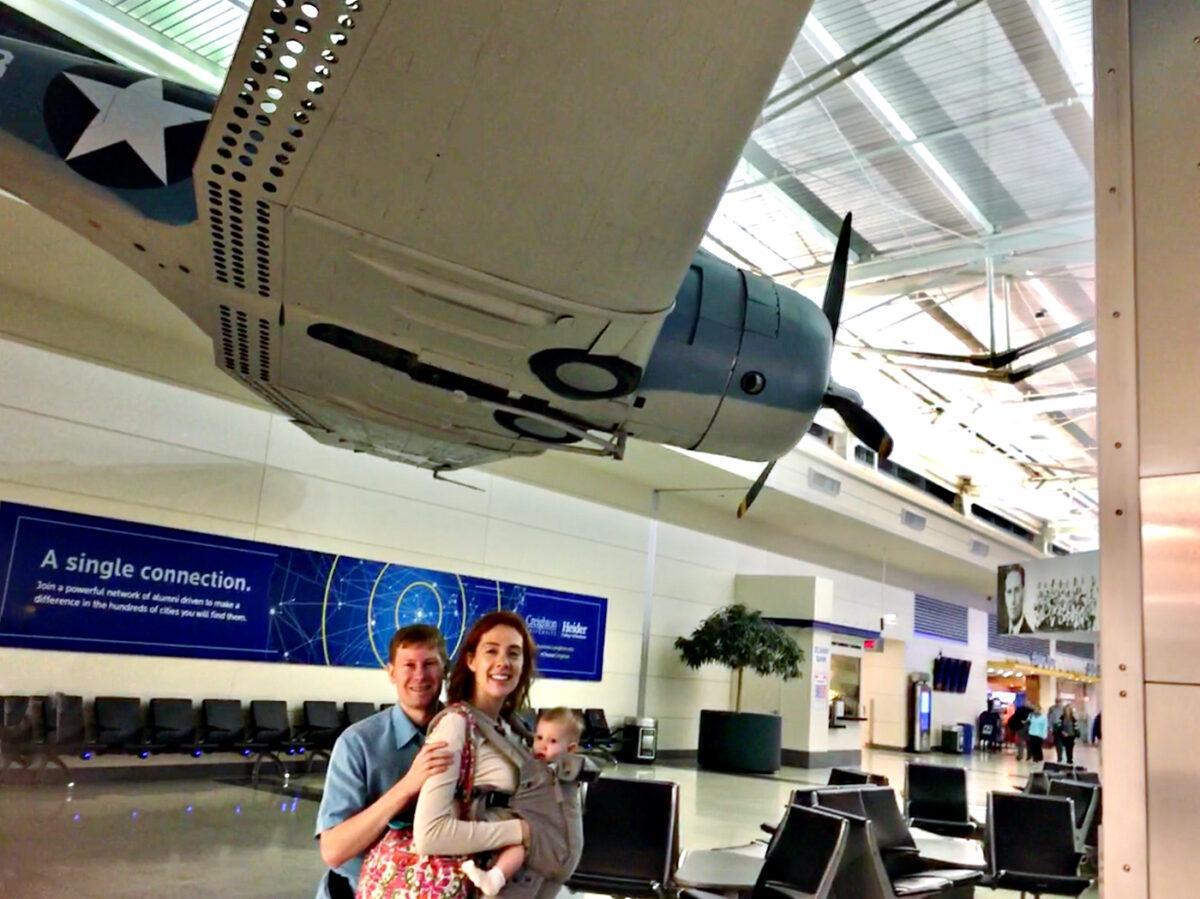 (Left Photo) My family and I at 7:00 AM on our first family vacation in October 2018.
(Right Photo) That's no poster! This is a picture I took of the DAUNTLESS SBD plane that crashed into Lake Michigan on September 14, 1944.
You can learn more about the exhibit at the Midway Airport on the Chicago Marine Heritage Society's webpage for it: Midway Memorial – Dauntless Exhibit.
INTERESTING TIMING: Top Gun: Maverick (2022), which is the much anticipated sequel to the 1980s classic Top Gun, interestingly was released in theaters and select streaming platforms on the anniversary of the first day of the Battle of Midway. 
So now you know why you see Navy men and women in Chicago a few times each year—it's not so random afterall. ?