Taste of Orland Park Is Back! August 6 – 9 2021
You've got to hand it to Orland Park, they know how to put on a show, and a good one at that. 2020 was tough when it came to annual community events for the world, but Orland Park was one of the few places to press on last year. They did their Tastestill at their tip top standards while practicing the utmost in safety protocols. And although we are still in the pandemic, this year we are all pros at how to go about outdoor events.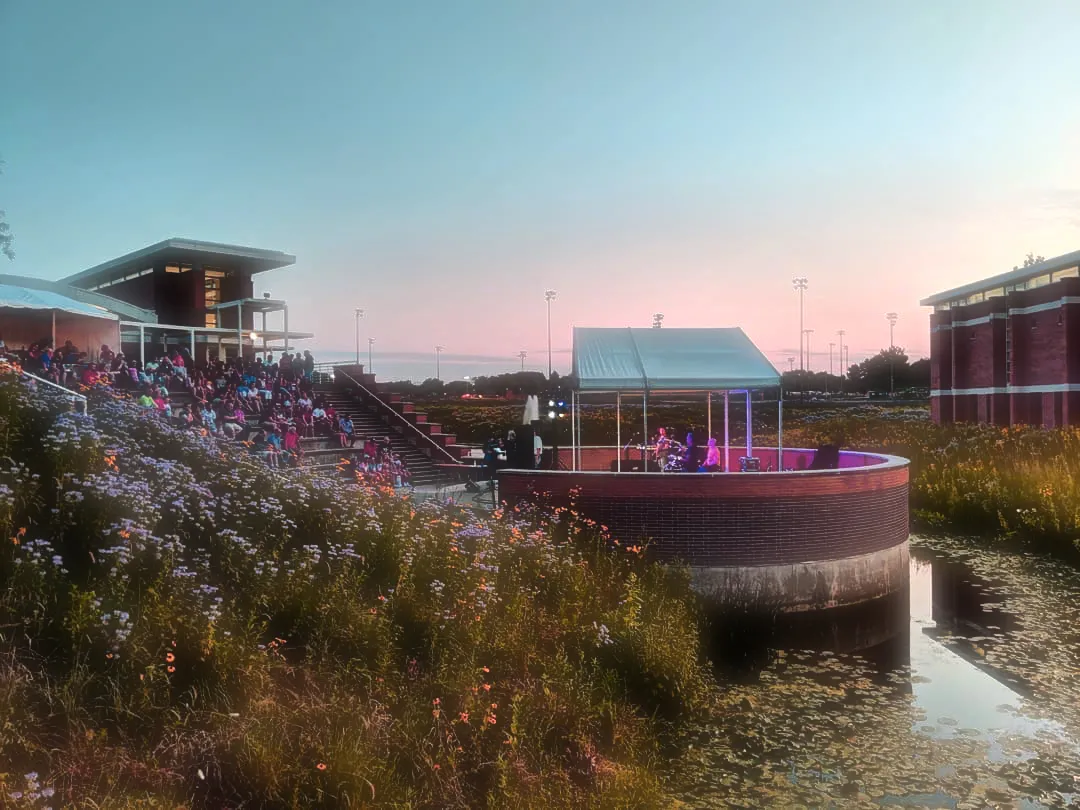 As one official told me last year, the taste has never been a money maker for the village and was never meant to be. "It's about giving the restaurants and organizations a chance to be discovered and to become a part of the community." Many people have told me over the years and I believe them now that I've experienced the Taste a few times, it really is like the best version of a big neighborhood block party. And that tradition continues tomorrow, when the first day of the 18th Taste of Orland Park starts at 5:00 PM.
What The Taste Of Orland Park Is All About
This tasty three date event showcases Orland Park eateries, community organizations and features live music throughout the weekend.
"The Taste of Orland Park is the event of the summer in Orland Park," Mayor Keith Pekau says. "People look forward to the Taste of Orland Park every year. It's a great way to sample dishes from some the best restaurants in Orland Park, hear great music and participate in family-friendly activities."
"While many of the participating restaurants are long-time, local favorites, some are relatively new to the event," Orland Park Mayor Pekau told me. "It's great to see the large variety of local offerings from local franchises as well as many independently-owned restaurants."
Participating Restaurants and Food and Drink Vendors
This year, participating restaurants include Beggars Pizza, Brass Tap, Chuy's Tex Mex, Little Milano's Wood Fired Pizza, Mo's Chinese Kitchen, Nothing Bundt Cakes, Papa Joe's Italian Restaurant, Pueblito, Smallcakes Cupcakery and Creamery, Square Celt Ale House and Grill and Stan's Donuts and Coffee.
Participating restaurants will offer their signature dishes, beverages and desserts at individual food booths located throughout the complex, according to the release.
Special Events and Performances
Special events within the fest include
a new two-day Kids' Zone
the annual Taste of Orland Park car show
a Polynesian dance performance
a movie screening of Moana at the Civic Center
themed trivia contests
and of course live entertainment on two stages
Admission, parking and activities at the fest are all free.
The two-day Kids' Zone event goes from 1 to 4 p.m. Saturday and Sunday on the Village Hall grounds, as well as the Franklin Loebe Center Parking lot. All activities are free of charge and fun for the whole family, according to the village.
Performances include Rock Star Rodeo and Sixteen Candles on the main stage Friday night. Linsey Alexander, Blooze Brothers and headliner 7th Heaven on Saturday. Rhythm Rockets, ARRA and then American English on all on Sunday will be closing out the Taste from 7-9 p.m.
Saturday will also include a veterans' tribute beginning at 7:00 PM.
Entertainment Schedule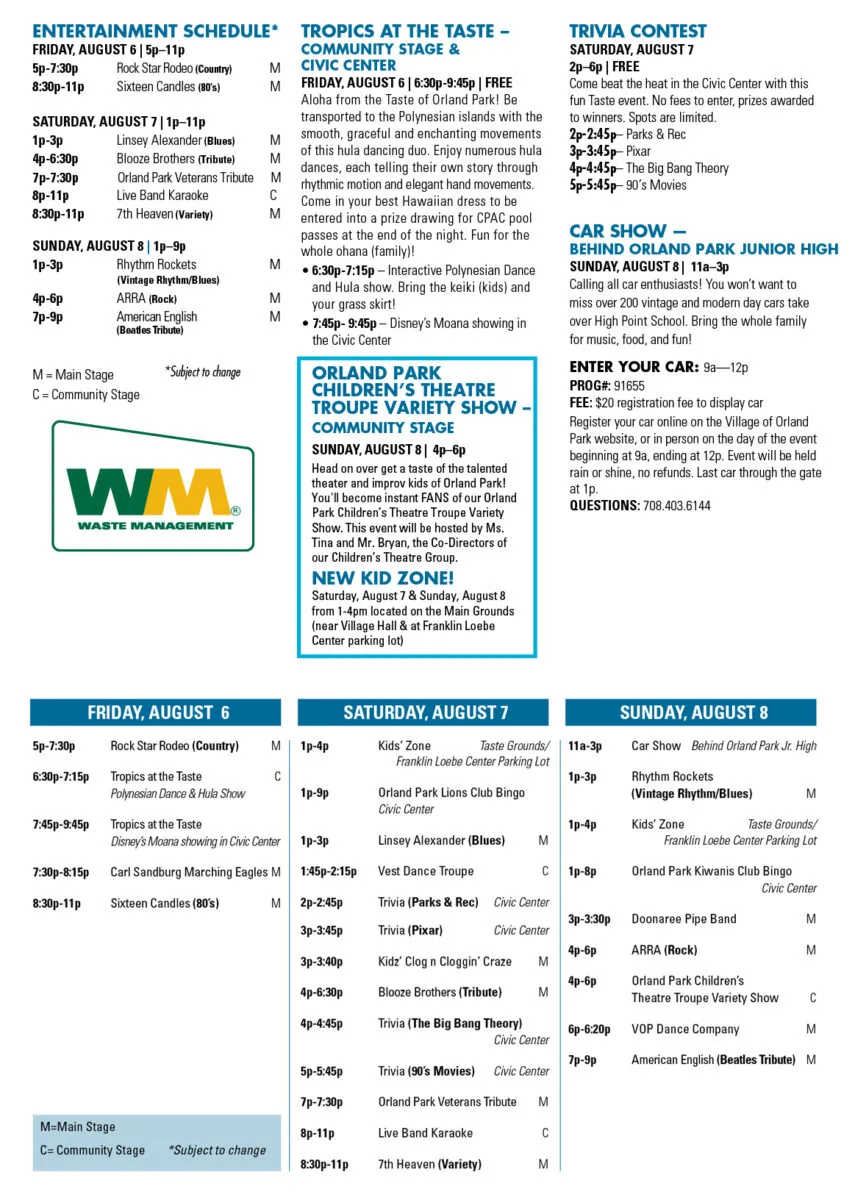 Friday August 6:
5:00 PM: Rock Star Rodeo (country)
8:30 PM: Sixteen Candles (80s)
Saturday August 7:
1:00 PM: Linsey Alexander (blues)
4:00 PM: Blooze Brothers (tribute)
7:00 PM: Orland Park Veterans Tribute
8:00 PM: Live Band Karaoke (community stage)
8:30 PM: 7th Heaven (variety)
Sunday August 8:
1:00 PM: Rhythm Rockets (vintage rhythm/blues)
4:00 PM: ARRA (rock)
7:00 PM: American English (Beatles tribute)
For more information visit www.orlandpark.org or call 708.403.5000.
Important To Note
Location: 14700 S Ravinia Ave, Orland Park, 60462 Illinois United States
Schedule: Friday 5 p.m. to 11 p.m. / Saturday 1 p.m. to 11 p.m. / Sunday 1 p.m. to 9 p.m.
Free parking is available at a number of sites around the Village Center, including the parking tower at 143rd Street and Ravinia Avenue, according to the release.
Important to know: Guests may bring one sealed water bottle per person. No other outside food or drink will be allowed into the event. Bags will be inspected at entrance locations. Attendees are asked to bring their own lawn chairs or blankets to enjoy the event and reminded that no tables are allowed to be brought in, according to the village.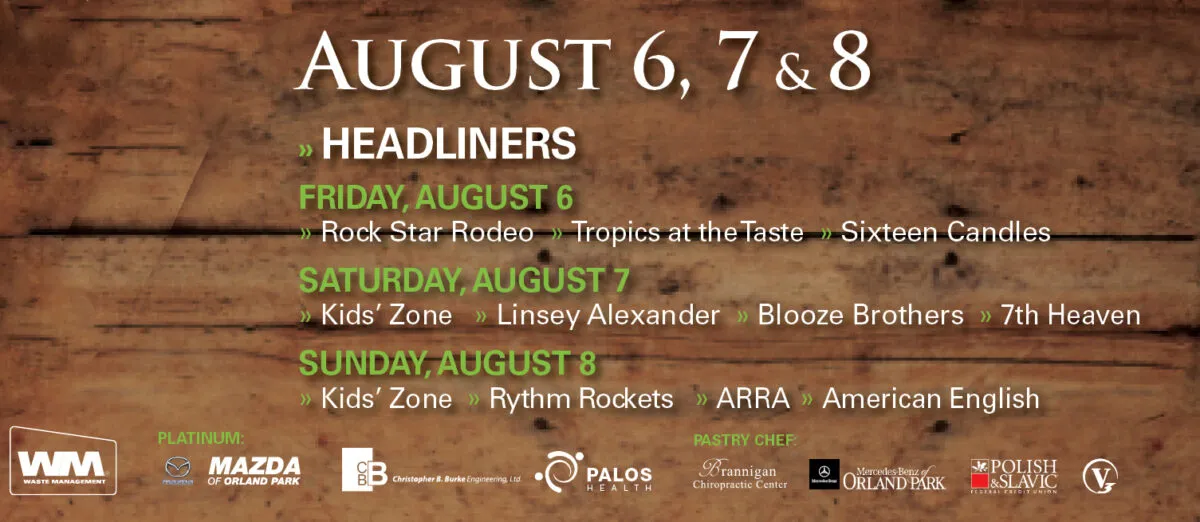 The presenting sponsor of the event is Waste Management. Sponsors also include Mazda of Orland Park, Christopher Burke Engineering, Brannigan Chiropractic, Com Ed, Mercedes Benz of Orland Park, Polish & Slavic Federal Credit Union, Premier Suburban Medical Group, REI Co-Op and V3 Companies, according to the release.