Summer Activites for Kids in Tinley Park
If you're a new mom who has just moved to Tinley Park or are just starting to explore all that the village has to offer you and your family, you can't go wrong with these:
Park Districts are a no brainer but not all park districts are the same. Tinley Park's Park District is especially creative in coming up with fun summer programs and events for kids of all ages and families.
For summer specifically they offer day camps or mini camp, as well as workshops, for kids as young as age 3 all the way up to teen aged.
Enrichment programs like pre-school, music lessons, swim classes, and children's theater programs through the Tinley Park Performing Arts Center are also offered during the summer.
And of course, through out the summer there are community events that the park district hosts such as Movies in the Park, Concerts in the Park, 4th of July Celebration, and the 5K and 8K Walk/Run Series.
And don't forget, it's summer so you and your little ones will want to definitely check out the Tinley Park Park District's popular White Water Canyon Water Park attached to the Bettenhausen Recreation Center. As of June 2018, admission for residents of Tinley Park costs $8/day ($5 after 5:00 p.m.) and $16/day for non-residents.
The Tinley Park Library is a really unique library. Aside from downtown Chicago's library, the Tinley Park Library is the other massive library in Cook county, serving a huge population. In fact you might be suprised to learn that many of the library's patrons come from towns in neighboring Southwest Chicago Suburbs. They choose to travel to the Tinley Park Library because it offers so much more than your average library.
Always on the cutting edge  of what a library can be to the community, the Tinley Park Library is usually the first in our state to try out new ideas, such as the Digital Media Studio they recently opened in 2016.
During the summer the library is extra busy because of the popular Summer Reading Challenge it hosts for kids, teens, and adults. Every year it's a race to see who will win one of the most coveted prizes. And what's more, the library offers a plethora of programs and events geared toward kids. For example, Share-a-Language Storytime: Arabic, or themed parties like Beach Party, Teen Movie Night, and of course the countless free classes that run every week like Photoshop 'til You Drop. And for those of you with babies, the Tinley Park Library offers a sweet storytime series for babies 3-23 months old with their Bouncing Babies program.
There's just so much to do at the Tinley Park Library, it's really easy to get lost in the books and the activites.
This is something new that I learned about through our Tinley Park Moms Facebook group. A mom named Alyssa told me about the local group back in May and my baby girl Eileah have been going ever since.
Kate is the mom who started this impromptu group. Hailing from Wisconsin and new to the Southwest Chicago Suburbs like myself, Wild Child was her way of making new friends and helping other moms do the same through a shared goal of sharing a love of nature and exploration with their kids.
Every week moms from as far north as Clarendon Hills and as far south as Frankfort come together at a different forest preserve or nature center every Thursday midmorning.
For moms like myself who have a baby under one year, it's a great chance to socialize with other moms. I actually met a mom who went to high school with my husband at one of the outings. She was really cool and her husband it turns out also went to school with her and my husband at Victor J. Andrew High School in Tinley Park. Small world, right? We're working on getting together some time soon in fact. That's the magic of what small mom groups like Wild Child can do if you give them a try.
Wild Child is all about nature, kids and learning!

Our local group, comprised of parents and their children, meet weekly to partake in outdoor activities in a natural environment.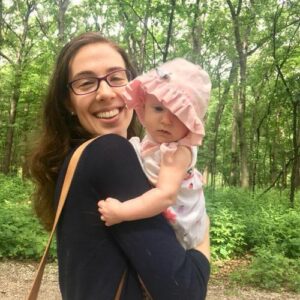 Don't Be Afraid To Explore
Take chances and don't be afraid to go outside your comfort zone. Exploring shouldn't stop just because you're a mom now. Keep exploring and be open to what's right under your nose because we've got some wonderful thing down here in Tinley Park and the Southwest Chicago Suburbs. You just need to take the time to look and ask around to find the activities that are right for you and your kids.
SaveSave
SaveSaveSaveSave
SaveSave
SaveSave
SaveSave
SaveSave
SaveSave
SaveSave
SaveSave
SaveSave
SaveSaveSaveSaveSaveSaveSaveSave
SaveSave
SaveSave
SaveSave