Special Deal For Tinley Park Moms – Parties with Character
Jessica McClure has been in business since March 12, 2016, creating unforgettable experiences for families around the Chicagoland area and beyond with her party entertainment services. Her company Parties with Character does birthday parties, corporate events, storytimes, and virtual visits. She's very popular with librarys in particular when it comes to corporate events. But I want to tell you about a unique special she is only offering to Tinley Park Moms.
Please read the rules and terms & conditions below.
How To Enter
You need to be signed up for the Tinley Park Mom newsletter.
If you get the monthly newsletters, you are eligible!
If you are not a subscriber, you can sign up using this form.
When you sign up for our newsletter, you'll be sent an e-mail to asking you to confirm your sign-up. You'll need to click the link to confirm and activate your subscription.
If you're already signed up you don't need to sign up again, but you must be a resident of Tinley Park.
And if you're worried a little about how to tell your little one about who Jessica is, tell them that Jessica is friends with the princesses and superheroes, and that she helps them all make new friends and find fun things to do around here! ?
Terms and Conditions
Tinley Park Moms will receive a special code for $50 off a booking with Parties with Character on July 18, 2021 only.
Applicants must be 18 years or older, have a valid email address, and have a valid mailing address.
Bookings are on a first come first serve basis. If Parties with Character becomes all booked for July 18, 2021, they and Tinley Park are not responsible for compensating anyone with the special code who was unable to utilize said code for a July 18, 2021 booking.
Note you can unsubscribe from the Tinley Park Mom newsletter at any time, but you must be an active subscriber between June 25 – July 18, 2021 in order to use the code. The code will only be good to use between June 25 12:00 AM – July 2, 2021 11:59PM (CST) (1 week).
The information entered in the newsletter sign up form will solely be used for the purposes of verifying your entry, and checking you are an active newsletter subscriber.
The special code for Tinley Park Moms to use will be sent some time on Friday, June 25, 2021 by Tinley Park Mom founder Stephanie Pyrzynski.
Full Terms and Conditions
The promoter is: Parties with Character.
The special code is only open to active newsletter subscribers of the Tinley Park Mom newsletter and living in the village of Tinley Park, Illinois.
Purchase is necessary in order to use the special $50 code.
You must be 18 years of age or older to participate in the giveaway.
You must fill out all the requested information in the newsletter sign up form to be eligible. Incomplete entries will not be considered.
Closing date for booking will be Friday, July 2nd, 2021 at 11:59PM CST. After this date the special code for booking a party or appearance by Parties with Character will not be permitted. Only one booking may be submitted per customer. Multiple bookings will not be considered. Incomplete, incorrect, or otherwise invalid newsletter subscriptions will not be considered. The Promoter reserves the right to verify the eligibility of all bookings.
No responsibility can be accepted for payment for bookings not received for whatever reason.
The special is as follows: $50 off a single booking for July 18, 2021 with Parties with Character (as described above).
Any tax liability, including taxes is the responsibility of the payee.
Bookings on July 18, 2021 are subject to availability and the promoter reserves the right to allow for bookings in Tinley Park after the afore mentioned date using the special code.
The odds of being able to secure a booking on July 18, 2021 will depend on availability in Parties with Character schedule. The promoter is not responsible for payment fulfillment nor for any technical failures.
Newsletter subscribers consent to providing their name, and email to Tinley Park Mom for the sole purpose of verifying their qualifying for making a booking purchase using the discount special code.
By signing up for the Tinley Park Mom newsletter, an individual is indicating his/her agreement to be bound by these terms and conditions.
The is special discount code and these terms and conditions will be governed by US Law and any disputes will be subject to the exclusive jurisdiction of the courts of the state of Illinois.
This special discount code is not endorsed by Instagram, Facebook, or Disney.
Void where Prohibited.
Best of luck! If you have any questions or concerns about the special giveaway special for Tinley Park Moms, please let know in the comments section below or email me directly.
The Woman Behind The Princesses and Superheroes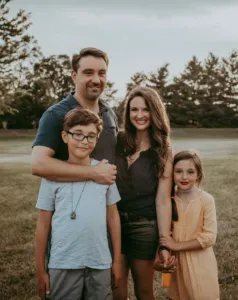 "As a mother, I have found that the traditions we create for our children are what keep us connected throughout that journey.

I created Parties with Character to create unique memories for the families in our communities, through entertainment that is truly meaningful.

I design and craft each costume and wig by hand, so every detail is authentic, and I personally portray each character at every Parties with Character event, guaranteeing the highest quality without exception. Please visit the Parties with Character Facebook page to read reviews from families who have trusted me to make their milestones shine – with five stars, every time.

The magic and wonder of having a favorite character come to life and join them on their special day is something your child will remember for years to come.

I am so excited to plan a celebration with you, and to make your family's journey through childhood even more memorable… and a bit more magical!"

Jessica McClure
More Information About Parties with Character
Service Area:
For In-Person appearances: anywhere between Northern Illinois to Southern Wisconsin
Examples: Aurora, IL · Wheaton, IL · Wilmette, IL · Sycamore, IL · Saint Charles, IL · Chicago, IL · Naperville, IL · DeKalb, IL · Oregon, IL · Park Ridge, IL, etc.
Virtual Appearances, called "Video Visits", are available for those who live beyond her travel range.
Contact Information
(815) 762-3656 (Mobile)
Website and Social Media Links
http://www.PartiesWithCharacter.me
https://www.facebook.com/celebrate.pwc
Average Rating:
5.0/5.0 Stars
Price Range:
$$/ $$$