Review of Polish Fusion Restaurant Tradycja in Orland Park
Tradycja first opened on Wednesday, September 6, 2017. Located next to a Fontano's Sub on Lagrange Road, between 144th Place and 147th Street. The parking lot is a tiny rectangle with only one way in and out, a nightmare if the restaurant is packed and the businesses nextdoor are also still open. The location isn't ideal in that respect for patrons to easily come and go, but luckily the size of the restaurant isn't larger than the parking plot it shares with other businesses.
The restaurant attracts mostly Polish people from near and far, but it's also attracting a wider audience.
There is no exact number, but outside of Poland's capital Warsaw, the Chicagoland area is home to the second largest population of Polish people, with most concentrated north of the city, and many north of Tinley Park. Polish culture is thus pervasive in the neighborhoods and suburbs of Chicago. When my parents moved us to the northwest suburb of Niles in December of 1997, there was a Polish Deli called Polish Deli a block away on Milwaukee and Crain. I had a college roommate who was Polish and came from the Oak Lawn neighborhood, and I learned from her that there was a bank in her area that only served Polish people. Isn't that wild? We've heard of these neighborhood bubbles where the dominant ethnic group will have their own newspapers, media, stores, restaurants, shops, and apparently banks that enable their people to never miss their homeland. Tradycja fills that void in the Southwest suburbs.
My husband and his family are Polish, though not born in Poland, don't speak the language, are far from first-generation, and pretty Americanized, they like staying connected to their roots though in ways such as baking kolacky, buying paczki on paczki day, buying Polish sausages and deli meats from Joe and Frank's, and trying a new Polish restaurant like Tradycja.
Our first time to Tradycja was on February 22, 2018. I was eleven months pregnant and we wanted to get together with friends who also happen to be our friends as well for dinner.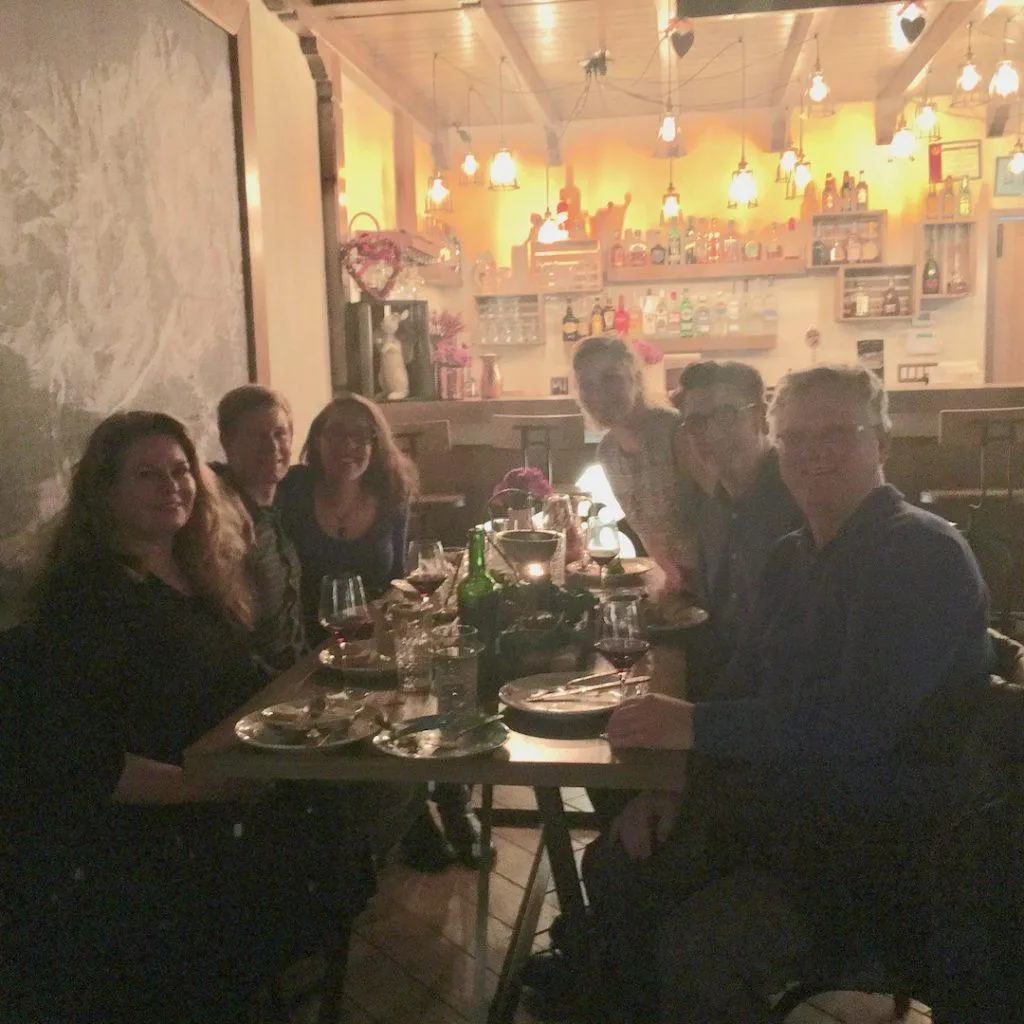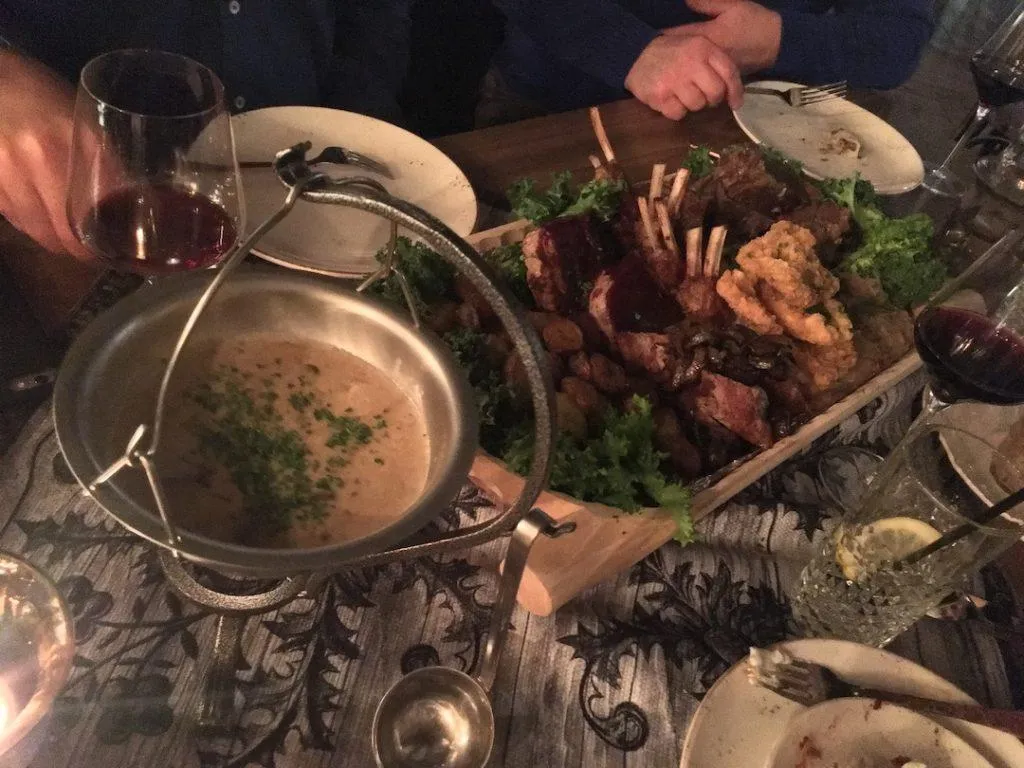 The thing to get is the Family Style Platter. It's pricy at $145 but it is a crowd pleaser, consisting of:
Boneless Beef Ribs
Rack of Lamb
Pork Tenderloins with Mushrooms and Onion
Pan Seared Pork Loin with Cranberry and Horseradish
Breaded Chicken Breast
Bacon
Dumplings
Sautéed Sauerkraut
Baked Potatoes

SaveSave
Here's a gallery of some other items we ordered. The bottom photo with the wooden spoon in the center of a small jar, that's lard with bread. Probably not what your doctor would like you to have if you're watching your cholesterol, but for someone who avoids fat as much as possible I could not have enjoyed it more. Totally go for it.
After the complimentary bread and lard, we ordered a mixed salad, then pierogis to go with our Family Style Platter, and for dessert we chose Apple Cake with Raspberries and Pistachio Ice Cream. Everything was very good.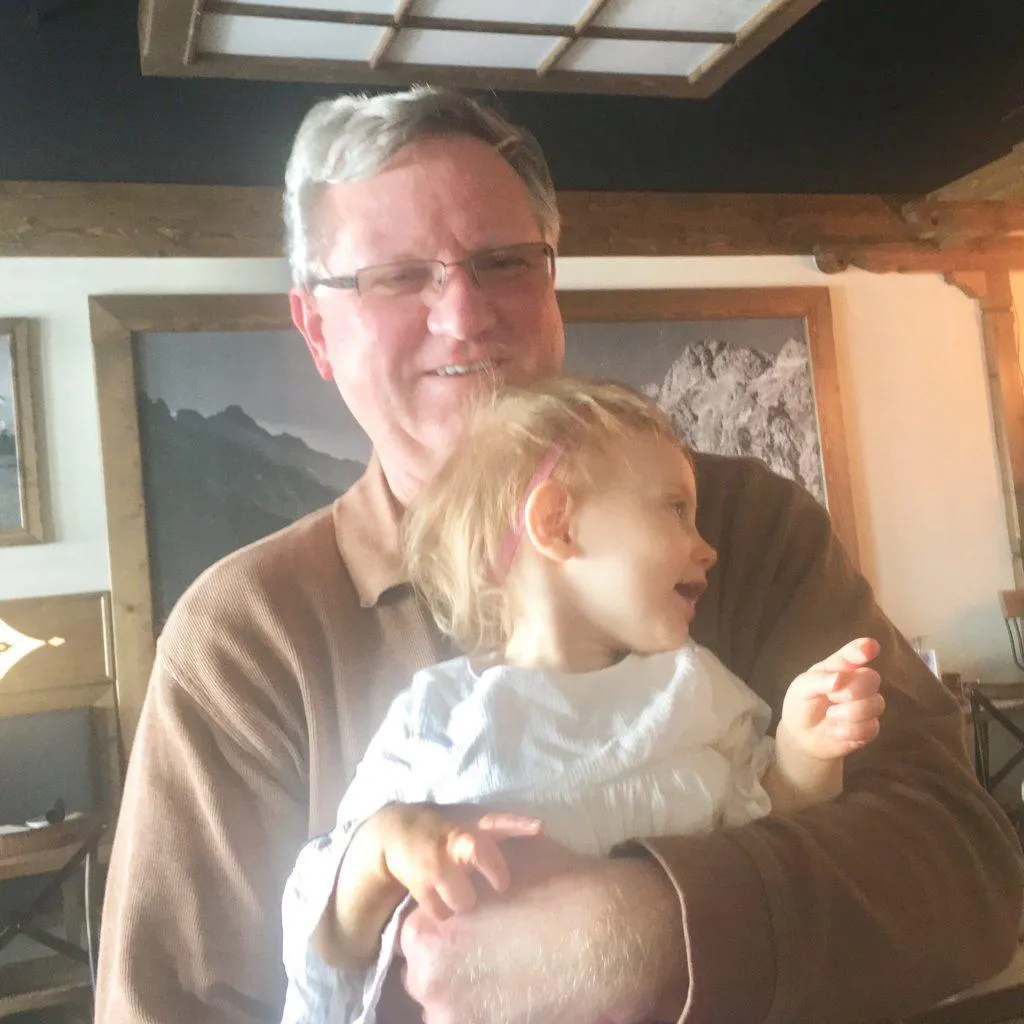 On our second trip this past weekend on Sunday, April 14, 2019 we came to celebrate my father-in-law's birthday with a lunch at Tradycja. It was Eileah's first time and she had a blast sampling what we ate, making a mess on the floor, and doing a little socializing with fellow babies that were with their families. This time I had to sample the veal stuffed cabbage (a.k.a golumpki). I grew up Serbian and I'm a really tough critic when it comes to stuffed cabbage. Sarma, which is how we call stuffed cabbage is divine and different from how Polish stuffed cabbage is made. But of course I had to see if Tradycja could redeem the Polish golumpki I've had elsewhere.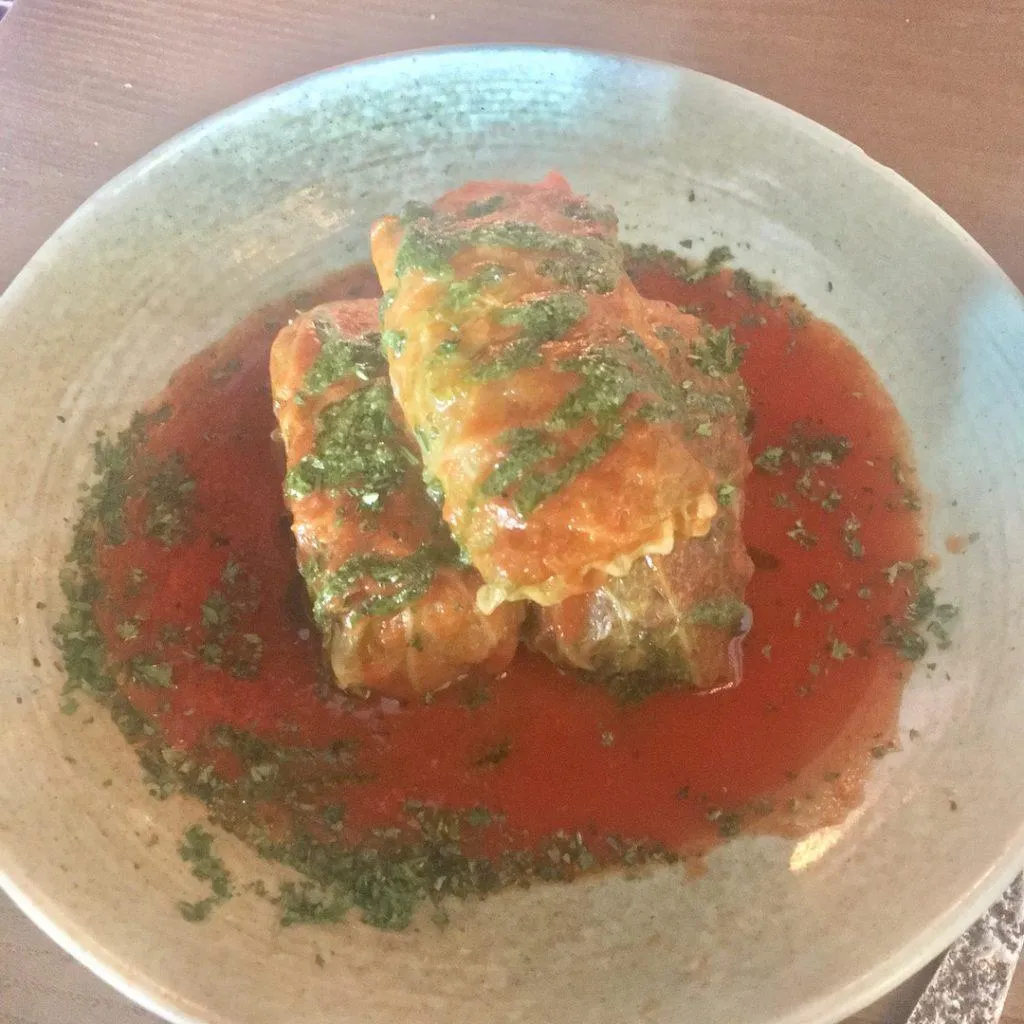 Though rustic with a unique herb I can't put my finger on, it just wasn't for me. The tomato sauce always cheapens the dish in my opinion. Serbian sarma sauce isn't just heated tomato sauce, the sauce is completely different and cooked with the stuffed cabbage. It consists of tomato paste, smoked bacon, stock, and the cabbage of course adds a great flavor. Aside from the golumpki, our second time was the same as the first, tasty and simple. However, when we told our server that it was someone special's birthday they did not do the compulsory restaurant tradition of bringing out a petit dessert with a candle on top with some staff joining in a birthday chant. There was a neighboring family who was celebrating someone's 50th birthday, but the difference I think was that they brought a cake. The servers in their traditional Polish garb sang Happy Birthday in Polish and all was well. I just felt bad for my father-in-law who was left in the cold, but not being one to complain he didn't look downcast one bit.
What Makes It Fusion?
I almost forgot to address something, what makes Tradycja a Polish 'fusion' restaurant? They take traditional Polish dishes and add influences from others cultures such as Asia.
Do I Recommend Tradycja?
I absolutely recommend Tradycja for people looking to experience Polish food closer to them here in the Southwest Chicago suburbs, for people of Polish heritage who miss the old country's classic dishes as well as unique flavors mixed with traditional plates.
Keep in mind they have a meat heavy menu, but there are delicious vegetarian options in the appetizers, salad, and sides categories.
Give it a try and get immersed. But don't expect special treatment if it's an anniversary or a birthday you happen to be celebrating.