14 Purple Cocktail Recipes You've Probably Never Heard Of
If you're looking for a fun, all-natural way to brighten up your cocktail game (and food), butterfly pea tea is the brew to try.
The little known ingredient has been around for centuries, but something about 2021 made it finally go viral.
What Is Butterfly Pea Tea?
Considered the new matcha, butterfly pea tea comes from the delicate flower petals of the butterfly pea bush (Clitoria ternatea)—a flowering plant native to Southeast Asia. It's a caffeine-free herbal tea (imagine a lighter version of green tea) that contains the antioxidant anthocyanin. Anthocyanin gives plants and produce (like blueberries and red cabbage) their blue pigment.
The flowers color and flavor water, creating a blue tea—but then add in something acidic like lime and the distrinctive blue changes into shades of indigo and violet. The more acids you add, the more pink the liquid becomes.
Widely available online, only in the last few years has it become more known mainstream—and this year awareness of it peaked. For instance, the hashtags #butterflypeatea and #butterflypeaflowertea on TikTok have earned 13M and 6.7M views so far, and are filled with clips featuring color-shifting lemonades, cocktails, and even foods! But the 14 cocktail recipes I'm about to share with you are tried and true delicious and the best part is that you've probably never heard of them.
According to Everly mixologist Logan Benson, "Butterfly pea flower tea is pretty fresh this year, one of the hotter new cocktail ingredients. It's a little blue flower that brews a very blue tea that doesn't have a lot of flavor. But it's a pH indicator, so when it reacts to pH levels, like citrus juice, it turns purple. It will change color based on the pH level that it hits."
Health Benefits Of Butterfly Pea Tea
Butterfly pea tea is more than just a drinkable mood ring. It also offers a myriad of nutrition benefits thanks to that antioxidant I mentioned earlier. The anthocyanins in the butterfly pea tea prevent the development of chronic conditions (heart disease, cancer, diabetes, etc.) by removing free radicals, thereby protecting the body against oxidative stress.
Key things butterfly pea tea can help to:
reduce high blood sugar lower – which lowers the risk of type 2 diabetes.
increase the production of insulin (Scientific Review, 2018) – the hormone that shuttles blood sugar into your cells.
reduce arterial stiffness (Megan Byrd, R.D. – founder of The Oregon Dietitian).
decrease inflammation
And it's also rumored online to be a good tonic for postpartum too!—not sure how true that theory is though.
How To Make The Butterfly Pea Tea
Like you usually make tea, boil water, reduce heat to simmer and drop in the dried flower to your desired strength. Then steep for 24 hours to create the defining blue color and bring out the subtle green tea character.
A secret trick of mixologists is to simmer the raw dried butterfly pea petals along with your desired spirit (i.e gin, etc.) and filtered (ideally) on your stove.
Since the delicate flower petals are ultrasensitive to pH, make sure no chemicals or preservatives are ever added if you want the most control over the color—A good low ph liquid like tonic water is safe.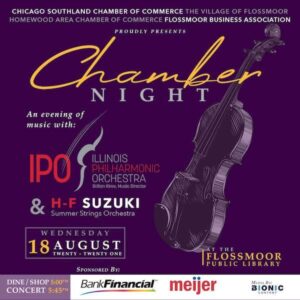 Butterfly Pea Tea Taste and Smell Like
Scent: Floral heavy, with slight notes of anïse—kind of earthy.
Taste: The floral notes are foremost, with a tinge of anïse and a subtle, green tea-like astringency, which probably gives it that crisp, clean palate.
From what I've learned about butterfly pea tea, it's an ideal ingredient for experimentation and pushing the boundaries of taste, which makes it perfect for the world of mixology—one of the most fun sciences. So play around with the butterfly pea tea. Like take classic dry gin drink and turn it into something floral. Sour cocktails with citrus work superbly with it too, as does adding butterfly pea tea to a glass of sparkling wine, mojitos, lemonade, etc.
Drink Recipe From Flossmoor's The Bistro on Sterling
Earlier this week at Flossmoor's First Chamber Night, local town vendor The Bistro on Sterling introduced a new cocktail perfectly on trend for the musical theme of the evening: The Harmony— a crisp floral summer drink and a perfect springtime sipper. It's actually the cocktail that inspired me to write this blog article when I learned the secret ingredient they used for the color.
New Chicago Southland Cocktail: "The Harmony"
The first Chamber Night was announced last month. The event (a collaboration between the Southland Chamber of Commerce, Homewood Area Chamber of Commerce, the village of Flossmoor, Meijer, BankFinancial and Bionic Content) featured an hour of dining at downtown Flossmoor's restaurants (with food specials like the Harmony Cocktail) and a string quartet performance by the Illinois Philharmonic Orchestra on the steps of the Flossmoor Public Library. Organizers said it's a night out for the community and an opportunity to discover small businesses while enjoying the downtown like a block party.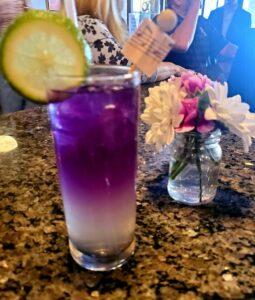 For The Harmony, the order of the cocktail ingredients need to be: vodka, ginger liqueur, fresh squeezed lemon juice, simple syrup, and finally topped with Butterfly Pea Tea. The science experiment happens instantly in a very satisfying way, leaving behind distinct gradient layers from white at the bottom to the vibrant purple at the top.
For a little more tropical version, we did this at home: lime, ice, coconut rum, and then the butterfly pea flower tea on top. Optional: add soda water to lighten it.
Other Drinks You Can Make With Butterfly Pea Tea
Don Julio + butterfly pea tea + flower to float on the top.
Madame Butterfly – Bar82
Beefeater Gin + butterfly pea tea (add a splash of Lillet Blanc to tame it).
Ona Wynn Lee
Gin + butterfly pea tea + lavender extract + simple syrup + a dash of lemon juice.
Pardon My Garden – Dewberry 1850
Hendrick's gin + lemon juice thyme + raspberry + butterfly pea flower tea.
The Void Cocktail – Roka Akor (San Francisco)
Pisco Portor + St. Germain + Butterfly pea flower tea + orange + yuzu juice.
Liquid Serenity Cocktail – Sips and Soirées
Elephant in the Room – Bluebird London NYC
Elephant Gin
Butterfly pea tea
Lemon
Juniper
Blushing Brit Cocktail – White Haron (turns out fuschia color)
1/2 Teaspoon of Butterfly pea tea powder
100ml Vodka
100ml British Framboise
1/2 Lime
Soda Water
Mix half a teaspoon of butterfly pea flower tea powder with two measures vodka, shake with two measures British Framboise. Split between the two glasses and top up with soda water
For two cocktails fill a high ball with ice. Mix half a teaspoon of butterfly pea flower tea powder with two measures vodka, shake with two measures British Framboise. Split between the two glasses and top up with soda water. Squeeze half a lime into each glass and watch the colour change before your eyes.
Royal Tea Cocktail – Hello Kitty Cafe
White sangria
Rhubarb
Butterfly pea flower
The Meadow – Eight Oaks Farm Distillery
Gin-infused with fresh lavender flowers
Lemonade
Brewed butterfly pea tea.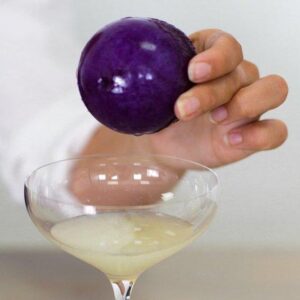 Cocktails For Halloween
Impress your friends with these boozy magic cocktail trick.
The Butterfly Effect
Recipe by Karsh Award winning photographer Michael Schreier
Ingredients:
2oz Scapegrace Gin
.75oz Butterfly Pea Infused Simple Syrup
.75oz Lemon Juice
Preparation:
Combine ingredients in shaker. Double strain into martini glass. Garnish with rosemary infused edible bubble.
*Butterfly Pea Infused Simple Syrup: steep butterfly pea tea into boiling water then strain the tea and make a (1:1) simple syrup with that infused water.
**Flavour Blaster Bubble: equal parts simple syrup to edible BubbleLick Mixture
Garnish:
Rosemary Infused Edible Smoke Bubble
Glassware:
Martini
Cocktail Inspiration:
This cocktail is extremely important to me because it makes EVERYBODY smile. Being a bartender is much much more than just making good drinks but how you change the guests life with how they feel better about themselves after spending time with me! Making people smile is so rewarding and makes me continue to learn more and enter competitions like these! That's why I call this cocktail The Butterfly Effect ?
Purple People Eater Cocktail
Start the night off with a bang with our Purple People Eater Cocktail! Our Purple People Eater Cocktail is made with Gin, Rum, Vodka, Lime, Grape, Lemonade, and Lemon Lime Soda!
INGREDIENTS:
Gin
Bacadri Rum
Patron Tequila
Grape Vodka
Grape liqueur
Raspberry liqueur
Fresh lime juice
Lemonade
Sprite soda
Hangover Cure Recipe with Butterfly Pea Tea
Genevivie Alexis shared this funny Butterfly Pea Tea Recovery Cocktail on Periscope:
Lots of ice
A little of whichever alcohol you were drinking the night before (i.e. tequila)

Butterfly pea Tea

Top off with sparkling lemonade (i.e. San Pellegrino)
Since I gave all these ideas, wanna buy me a drink? It's always nice to leave a tip ?.