Psychic in Tinley Park – Tinley Park Psychic
Who Is The Tinley Park Psychic?
Her name is Bianca and she is a third generation psychic based out of Tinley Park who specializes in soul readings and removing emotional imprints that cause energy blockages using New Age healing methods. Certified by the International Certification of Psychics (ICP) she has been doing readings and helping clients from around the world from her home in Tinley Park for over twenty years. For years she has gone by Readings By Bianca but as times have changed, she has also come to be known by the more search engine friendly Tinley Park Psychic as well.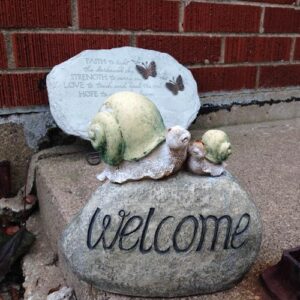 She has been featured in "Chicago's Best Magazine" and "The Tinley Junction" Newspaper. And she is rated the #1 psychic in Tinley Park on Google.
"I help clients achieve optimum balance in all areas of their lives by bringing the body, mind, and spirit back into alignment."
Her list of services on her website include but are not limited to chakra balancing, tarot reading, palmistry, healing with crystals, reiki work, and even pet psychic readings!
Her daughter Katarina is a psychic in her own right and is based out of Orland Park, and goes by the moniker Orland Park Psychic.
My Reading With Tinley Park Psychic
My experience meeting Bianca was at the annual Body Mind Spirit Expo at the Tinley Park Convention Center.
It was a spur of the moment decision to stop by. Since I moved to Tinley Park in 2014 I had heard about this but never made the time to go. What made this year different was the fact that I am a mom now and the future being so much on my mind what with my dear daughter in my life. I've always had a passing fancy with the idea of psychics and magic anyway, and what better time to get some questions about the future than right now as I am in the very beginning of this new stage in my life?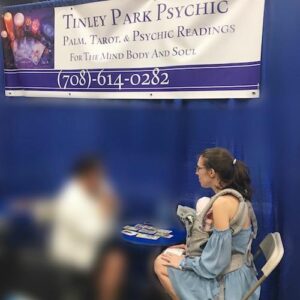 When I met Bianca at her booth at the expo the first thing I noticed was this immense positive energy coming form her. She was very welcoming and not at all kooky like the stereotypical clairvoyant. She is a grandmother and it totally adds to her charm. She still likes to keep a mystique about herself, which I totally respect, so when I asked if I could share a picture of her online she politely asked me to blur her out.
One of the first tarot cards she pulled out was the death card. I had to stop her. There was one question that had been bothering me for years about my birth chart. An aspect of my birth chart indicated that I would die young and quite suddenly (like in a car accident or other drastic manner), so when Bianca pulled out the death card I had to ask her if that was what it meant. She saw my concern, so she went ahead and did a palm reading for me. She told me that in my past life I did in fact die young, but in this life I meant to live a long life. The reason I was feeling this eerie feeling as of late was because I've been passing through the age at which I most likely died. So I've been feeling the echo of that past life. So what was the meaning of the death card for me in this deck? She said that someone I knew but am not close to would die, and so it came to pass this past week..
Disclaimer: This in no way is intended as an advertisement and I was not compensated to express this, this is the honest to goodness truth.
Hitting Too Close to Home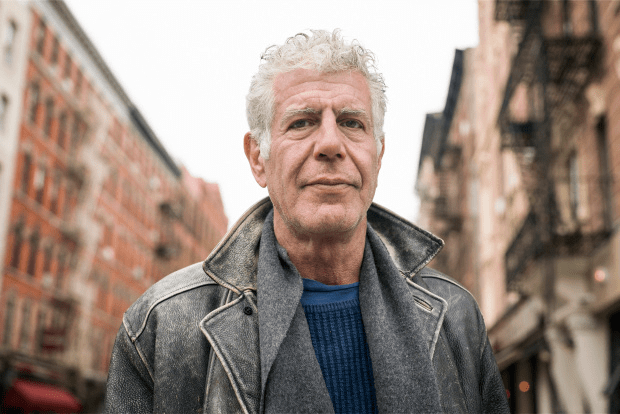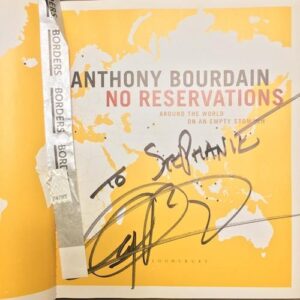 As we all know, we had two celebrity suicides this past week, the first was Kate Spade on Tuesday June 5, 2018 and the second was Anthony Bourdain on Friday, June 8, 2018. I never met Kate Spade but I had met Anthony Bourdain before. I was November 28, 2008 and I was a sophmore in college. He was doing a book tour for his new book at the time, called No Reservations: Around the World on an Empty Stomach. I attended his speaking and signing event at the old Borders on 830 N. Michigan Avenue and got to meet him and ask for my copy of his book to be signed. He was terribly sweet and surprisingly painfully shy.
But the real doozy came when I learned that the father of one of my husband's old high school friends had passed away earlier on June 5th, 2018. His name was Ronald Tunno, a big hearted guy who opened his home to friends every year for big barbeques in the summer. His wife and son will sorely miss him no doubt. It's hard to believe that he passed away. His funeral service is tomorrow on June 11th, 2018 at Kingdom Hall in Tinley Park, IL with visitation from 5:00 – 7:00 PM; his was of the Jehovah's Witness faith.
Why I Highly Recommend Tinley Park Psychic
For a first psychic reading it's pretty impressive to have one of the psychic's predictions come true soon after your reading with her right? I think it's pretty cool but the thing about a pyschic reading that's really important is whether you felt like you got what you were looking for. For me Bianca brought me a lot of comfort about some silly worry wart questions and she genuinely showed a level of compassion and emotional intelligence that I hope most psychics have. What I also like about her is she doesn't need to resort to flash and cheap tricks. It's very hard to seem genuine when you're not and I think she is the real deal. So why not do a psychic reading once just for fun? You only live this life once right? Bianca is a much more down-to-earth experience than the usual smoke and mirror acts out there. So if you're looking for an objective third party's perspective on your life, I definitely recommend you go see Tinley Park Psychic.
Have you had a reading with Bianca? I'd love to hear about your experience. Share below in the comments or if you'd like to write about your experience on the Tinley Park Mom blog, contact me.
Other Reviews of Tinley Park Psychic
Yelp (Average rating: 3.5/5)
Groupon (Average rating: 4/5)
Google (Average rating: 4.5/5)
Facebook (Average rating: 5/5)
SaveSave
SaveSave
SaveSave
SaveSave
SaveSave
SaveSave
SaveSave