Process Of Building A House in Tinley Park: Month 9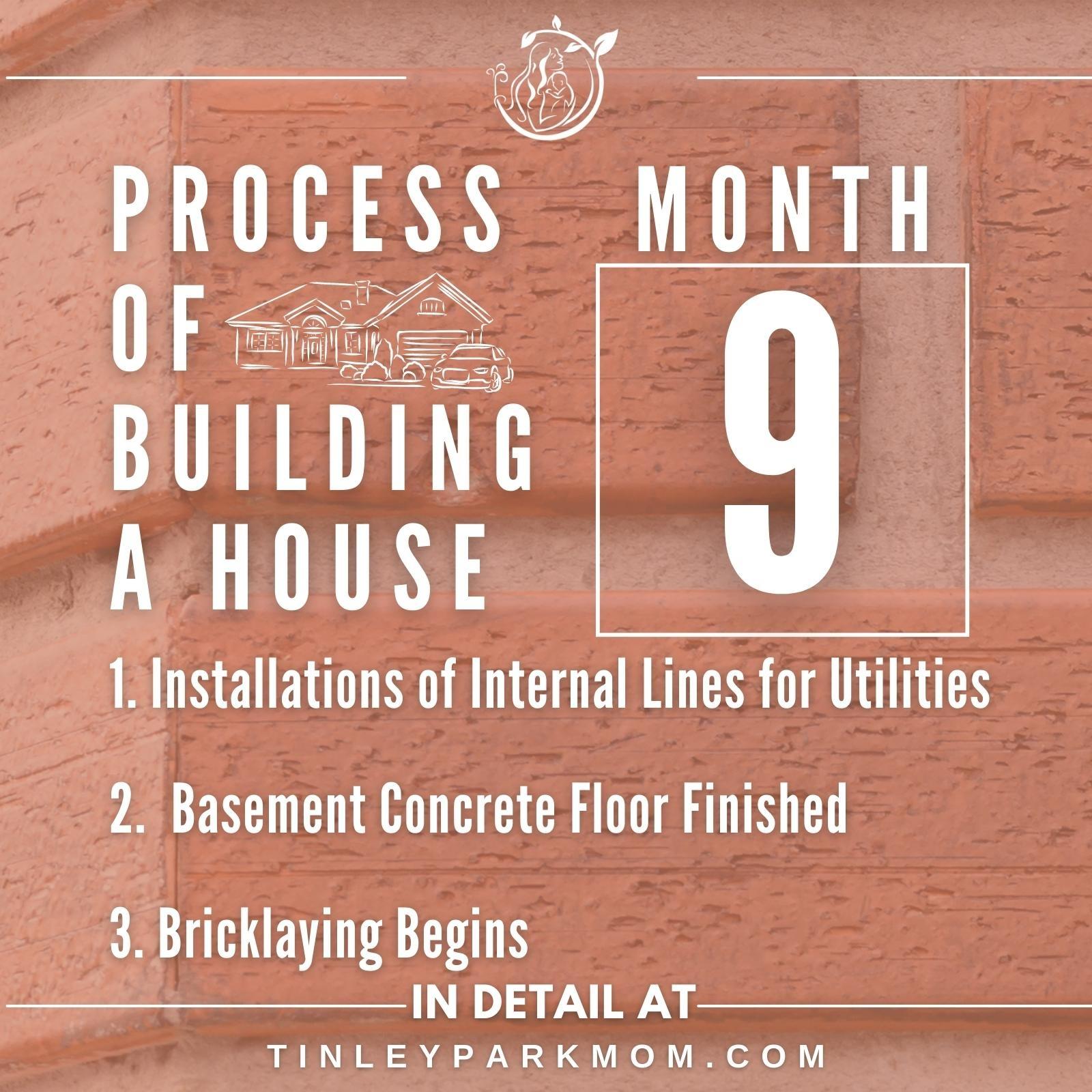 In month 9th the baby birds that had been nesting in our home took flight, and so did many things with the building of our forever home. Here are exactly what were accomplished this month:
Started on HVAC (Heat-Ventilation-Air-Conditioning), a.k.a the Air Duct System.
Plumbing Installation
Electrical Installation (Whole House)
Internal Gas Lines Installation (for Stove and Furnace)
Dryer Vent Installation (for Laundry Room)
Basement Concrete Flooring Poured and Leveled
Bricklaying (Exterior)
Decide Address Numerals Placement
Internal Work
As the list above suggests, a lot of this month was internal work. Our periodic drive-bys were not as exciting as last month's, during which we saw the completion of the house framework. And yet the weekly walk-thrus of the house this month, I think taught us the most about the home building process.
PRO Tip: Take Pictures Of Where Your Junctions Points Are Before They Seal The Walls
You should get in there as many times as possible before they seal the walls to understand where all of the junction points and different internal lines are in your home. And the big reason for this pro tip is to save you time and grief later on.
For example, if you want to put a picture up, or tap a line for something (like adding another electrical box). You don't want to accidentally bump into any of those lines, or feel limited in where you can place things you didn't think about. No body wants to open up a wall only to find out they don't have the right lines for adding something like a refrigerator, etc.
This is something you need to speak with your builder about before work is started on the internal work. We actually asked for our cable line to be moved more in the center of the home, to be close to the Internet router. The reason for this is to give us optimal Internet speed and performance quality for our work and entertainment.
Bricklaying and Address Numerals Placement
And the best part of this month was when, one sunset we saw all these metal punche outs on the floors, near the junction points. And a few days later the brick started being put up. The bricklaying actually started last Friday, before Memorial Day, and the team is half way done!
And don't be surprised in this month, to be asked where you'd like the address numberals for your home to be placed. That's really important for the bricklayers to know. We chose the center so it's easier for friends, family, and delivery servers to find us from the street.
And that was month 9!
Next month the big thing we're hoping for is for the draw wall to be put up.