Palos Health Closing, Deactivating Social Media Accounts: 11/01/2021
Palos Health Last day on Social Media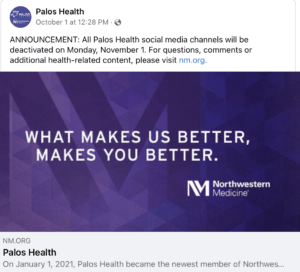 On All Saints Day (November 1st) It will be social media official that Palos Health, formerly Palos Community Hospital, hereto will be called Northwestern Medicine Palos Hospital, and Palos Medical Group offices will be named Northwestern Medicine Regional Medical Group with their town at the tale end (i.e. Northwestern Medicine Regional Medical Group Orland Park).
It's ironic for this to be the final step in the process of the transition for the Palos Heights based hospital system given Palos's religious roots. In 1920, the Religious Hospitallers of St. Joseph purchased several acres of land in the Palos Heights area, and a portion of this land, known locally as Mt. St. Joseph, eventually would become Palos Hospital. in 2013 Sister Margaret Wright, 77, was encouraged to resign as president and CEO of Palos Community Hospital after leading the hospital for 35 years. According to Crain's, she was the last nun to lead a hospital in the Chicagoland area.
So Palos Health's end is the end of a unique era and some actually saw it coming, especially after the chapel was closed at Palos Hospital and the groundbreaking of the new imaing center at Palos Medical Group in Orland Park on September 7, 2016, which I attended.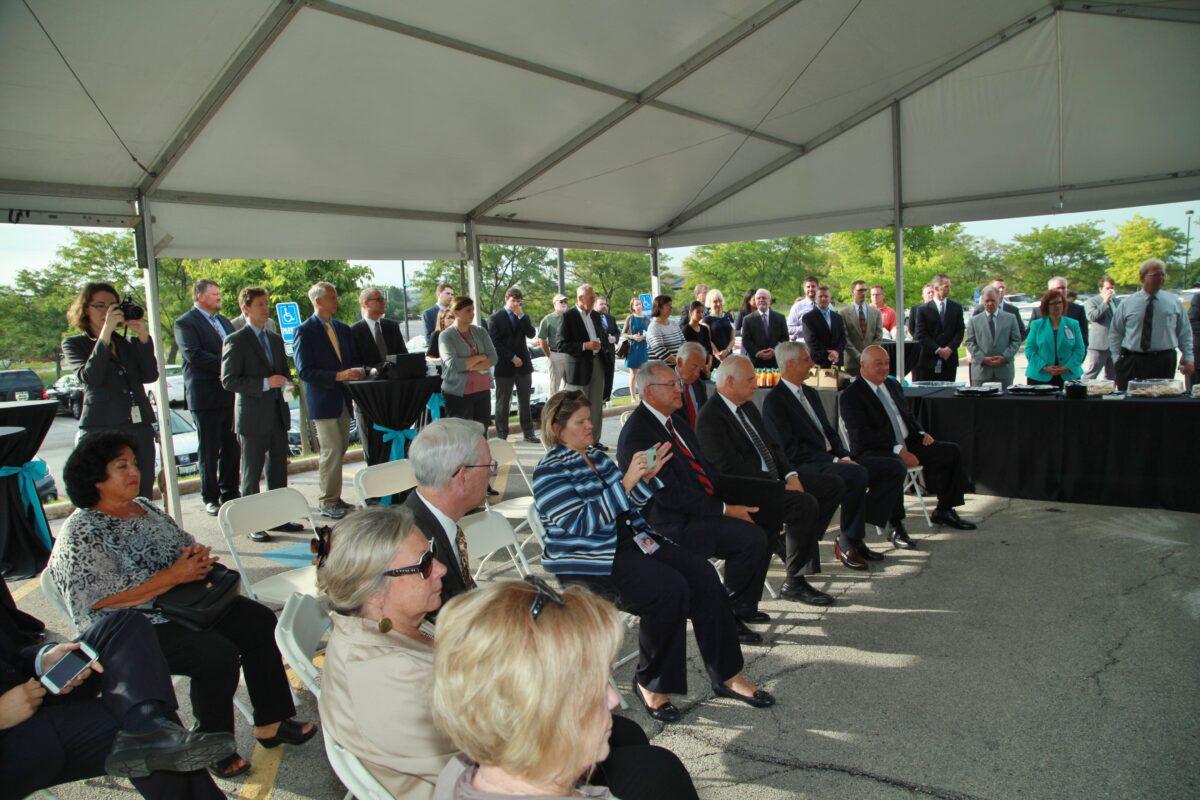 When Palos Community Hospital rebranded in August of 2016, there were stirrings that it might be doing so to stave off having to agree to a buy out. But in the end, they only made themselves more attractive I think. Not too soon after, fellow Chicago Southland hospital Metro South closed—an all too common occurance in the last twenty years in the healthcare industry. The old guards, failing to adapt, have been slowly but surely revitalized and saved by bigger healthcare entities—like DuPage Medical Group (now Duly as of this year) acquiring Pronger Smith in 2016. So if you've been feeling like there are a lot of rebrands going on, you're not imaging it.
The competition is fierce between the the top healthcare systems to be the dominant choice of people for the Chicago Southland market—and Northwestern and the University of Chicago especially have made huge strides to service the Chicago Southland, which is rapidly developing.
The third big healthsystem exntending it's reach down here is Loyola Medicine, which has announced plans for a $70 million outpatient center in Tinley Park following Palos Health's merger with Northwestern Medicine. This is quite interesting given that Loyola and Northwestern both had leases at Palos Health, and now Loyola has been bought out of their lease. And in 2019 Palos Health and Loyola Medicine called off merger talks without explanation. So it's been an interesting game to watch, healthsystems jocking for spots.
It's exciting and interesting for me to witness all these changes since I've only lived here since 2014. The northern and northwester part of Chicagoland has been the center of things and now this new area I'm living in, which has traditionally viewed as the sticks, is showing itself to be quite the catch in terms of living and healthcare. For example, people won't feel like they have to go downtown for excellent surgeons anymore—the stereotypes about the southwest suburbs and Chicago Southland are fading and people are feeling more confident in their neighborhoods. And healthcare is coming in right in the middle of all this change and healthy growth.
On January 1, 2021, Palos Health became the newest member of Northwestern Medicine. The partnership will provide patients in Chicagoland's south suburbs with enhanced access to the highest level of care and further combine Palos Health's community-based care with Northwestern Medicine's integrated academic medicine.
Northwestern Medicine proudly contributes to the healthcare excellence at the hospital in Palos Heights and to outpatient locations in Orland Park and Mokena.
Find a Doctor
Northwestern Medicine Palos Hospital has physicians available to diagnose and treat community members. To ensure you have access to the larger Northwestern Medicine network, find a doctor here.
Palos Medical Group has become a part of Northwestern Medicine Regional Medical Group and continues to offer the same convenient locations, expanded hours and wide range of specialists to provide quality care to you and your family.
View Northwestern Medicine Regional Medical Group physicians.
Community Events and Classes
Many community programs, such as classes, support groups and smoking-cessation classes, are offered at the Palos Heights and Orland Park locations.
View classes and events.
Giving Back
Charitable gifts can honor a loved one, recognize compassionate care received or simply give back to the community you live in and care about. Donations support a variety of services and have contributed to hundreds of programs.
SOURCE:

 Palos Health | Northwestern Medicine page
What do you think of all these changes?