Packing List For Traveling With A Toddler For A 7-Night Vacation
Packing For Your Toddler
This is the second in a series of articles on how to survive the terrible twos on a Disney Cruise with a toddler. In this article I give a recommended packinng list based on the 7-night Disney Cruise we recently went on with our 22 month old daughter Eileah (pronounced: EYE-lee-uh). This list is also applicable to other vacations to warm locales that are 7-nights long too.
Sidenote: For you first time Disney Cruisers, your family's non-carry-on luggage will be delivered to your stateroom, but you will arrive onboard before it reaches your stateroom door. So if want your toddler the option to enjoy the wet play area or pools right away, be sure to pack your toddler's swimsuit in your carry-on rolly or what have you.
For the plane ride:
Your toddler will be most comfortable wearing this on the plane:
leggings/comfy soft bottoms
a short-sleeved or sleeveless top they can wear during the day at your destination
a sweater
What to pack in your diaper bag for the plane ride:
5 diapers (Huggies are our favorite brand)
lipgloss (in a ziploc bag)
sunscreen (in a ziploc bag)
a santizer bottle (in a ziploc bag)
your wallet, passport, etc.
a full pack of baby wipes
a travel sized kleenex
one sippy cup full of water
2 bottles of milk and/or juice
two of their favorite snacks (my daughter's are Lorna Doones and bite sized Kit Kats)
most importantly their favorite toy (in Eileah's case it's her Halloween witch Minnie plush doll (or as I like to call her Minnifred).
In your carry-on:
5 extra diapers (for just in case)
a swim suit
water hat for your toddler
1-2 interactive developmental toys.
In your toddler's luggage:
A lot of this depends on whether you like dressing up as a family for dinner and if you're ok with your toddler potentially getting said fancy clothing messy.
it was tight, but 72 diapers (half a box of diapers) lasted us for 10 days (travel days included) with our single toddler
diapers for swimming (if your toddler is not potty trained)
a childsafe comb
hair accessories

For our daughter when it came to her hair accessories I knew that 99% of any hair accessory was pointless. But she does fine with plastic hairties. We had received a colorful pack with every color hairtie imaginable from our baby shower, but with the Frozen sequel THE thing for children, I picked up a pack of Frozen themed hairties and always kept some in my diaper bag because they eventually break after so many wears.

a shimmering perfumed dusting power with atomizer

My mother bought me an Ellen Tracy Shimmer Dusting Powder for my 2014 wedding and it's the best. I would spray my daughter and my hair, face, and shoulders every evening for dinner on the cruise; it was so much fun. I told her it was pixie dust and it made our photos even more magical. You can never wear too much glitter.

2-3 pairs of footwear
1-2 fancy, 1 -2 for walking excursions and at the beach/pool/wet play area)
4-6 casual ensembles (most of the time your toddler can just wear their swim suit with a cover up most of the day).
7 fancy ensembles
My Tip On Dressing Your Little Princess On Your Disney Cruise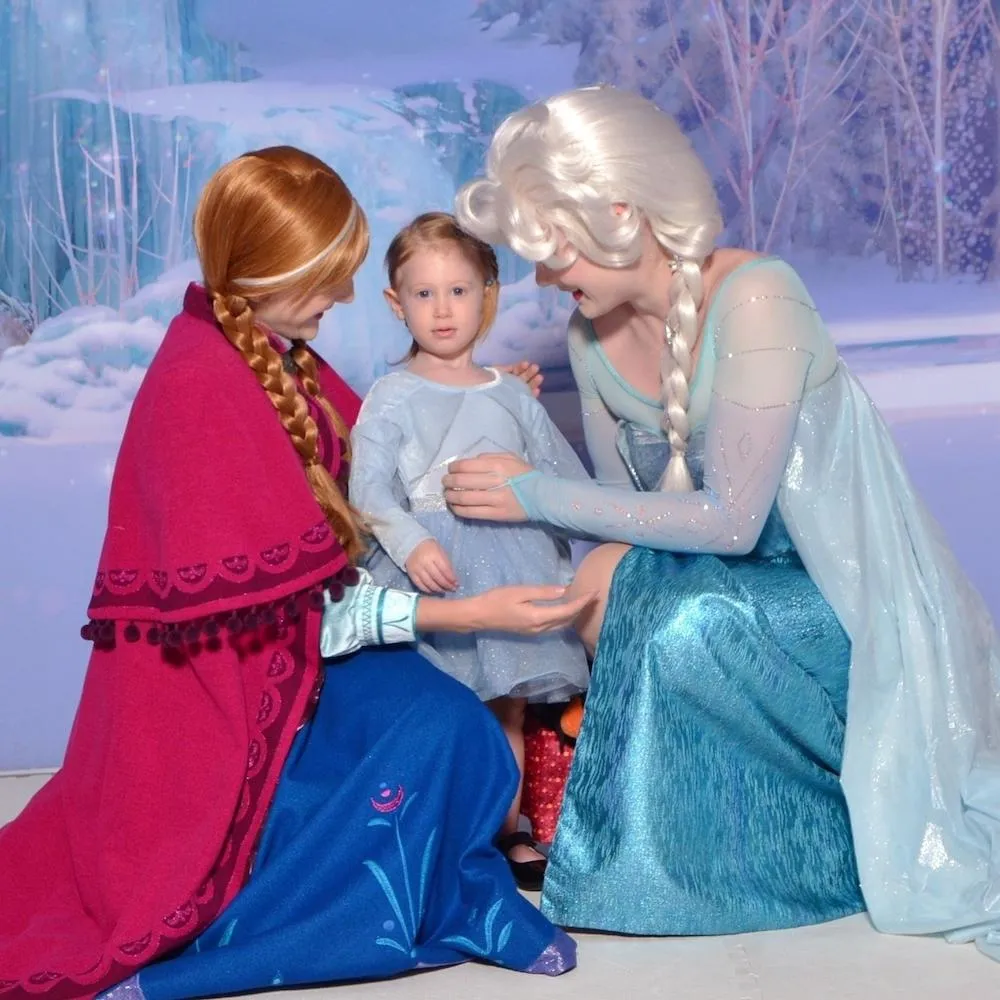 I was lucky to nab this knockout light blue Disney Elsa dress at Target before it sold out for when Eileah had her reserved meeting with Princesses Anna and Elsa. Unlike a costume which can be cheap looking and tacky depending on the company, this dress has the spirit of Elsa and isn't a copy of the iconic dress she wears in the first Frozen film. I always try to involve my daughter in deciding on what clothes to buy her. She may not be able to tell me directly what she would like yet, but when I bring things to her she points. Part of my rationale with that is that I want my daughter to retain her strong sense of identity and personality and that includes in her style choices. Ultimately it is you the parent that has the purchase power. For me I always think about how my daughter will react when she looks back at photos of her younger self wearing an outfit. I don't want her to be embarrassed or hate me, so I try to pick pieces that meet the criteria of being as classic and timeless in style as possible; I learned that from my mom.
I also found a dazzling pair of gold sparkly sandals from The Children's Place that we used for when our daughter was walking around the ship and for dinner with her fancy dresses.
---
So if I had to pack again for a toddler I would bring the aforementioned again. I hope you find this list and some of my recommendations on packing helpful so that your next vacation whether on a Disney Cruise or anywhere warm doesn't weigh you down.