My First Birthday As A Mom
The morning of my birthday I awoke to my baby girl sleeping on my arm. I kissed her cute little nose and wished her good morning. That's how the day started. Still in the honeymoon phase of motherhood, my birthday this year was extra special because of Eileah.
How A Busy Mom Celebrates Her Birthday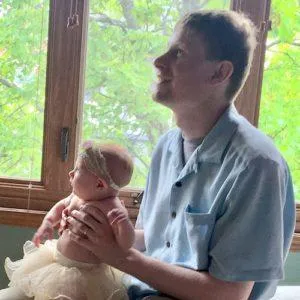 Juggling taking care of a two-month old baby, the responsabilities of running a business and a household, I could've understandably decided to not have a birthday party for myself this year. But my husband and I decided that a birthday party doesn't have to be this big production. So the way this busy mom celebrated her birthday was so:
husband barbeques on the grill

Geoffrey grilled a rainbow assortment of vegetables soaked in a special sauce, along with salmon à la pineapple.

bake my birthday cake

I baked my very own German Chocolate Cake and placed fifteen fresh raspberries all along the top of the cake.

pick special drinks I'd like to offer guests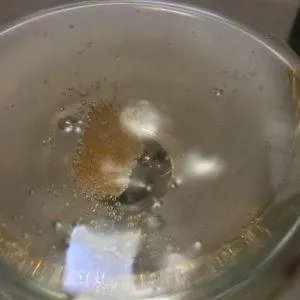 set our dining table nicely

Portmeiron dishes paired with our nice silverware, on top of fancy floral napkins from ages ago.

have a playlist of curated music playing in the background
We invited over my parents, Geoffrey's parents, our friend Cory who is also Eileah's godfather, and of course the puppies.
Tips For Guests Coming To A New Mom's Birthday Party
Bring Flowers
The new parents are strapped for time now with a baby to take care of, so chances are the house will not look as festive as usual. Flowers always dress up a space and without a doubt the new parents will be really touched if you bring them a bouquet.
Idea: Coordinate with other guests who are coming and pitch in for a nice big bouquet.
Offer To Help
Offer to help take care of the new mom's baby and/or entertain their older little ones. This by itself is a gift that will be greatly appreciated. Any help you can give to make things easier for mom and dad at the party is always a good idea.
Is It Hard To Enjoy Your Birthday With A Newborn To Take Care Of?
Some moms might have trouble enjoying their birthday if they're concerned with how they look (extra baby weight).
I was lucky in that my body went right back in shape so fast after I delivered Eileah. I wore one of my favorite nice dresses, an off-the-shoulder from Akira, and I coordinated with Eileah's outfit, which was a delicate, sparkly champagne colored skirt and vintage floral head band. She was definitely channeling a 1920's Jazz baby or a fairy.
My Advice
If you're struggling with the extra baby weight, don't worry about it on your birthday. No one is going to be judging you for not losing all your baby weight in time for your birthday. You brought this amazing little person into the world and how you look is not why people want to be around you. People want to be around you because of your personality, character, and soul. If people have a problem with you wearing sweatpants to your own birthday party don't shed a tear. You don't need negative, superficial people like that in your life anyway. And don't let how you look stand in the way of having a good time. Your birthday is about celebrating you the person, not you your body.
Some moms might have trouble enjoying their birthday if they're baby needs a lot of comforting.
Eileah didn't need too much consoling because she loves being around people. The stimulation from having everyone over was fun for her and kept her happy.
My Advice
If you have a baby that doesn't do well with a lot of people around yet, set a time limit for your party. That way it doesn't run too long and you don't get burnt out or frazzled going between party-mom mode and mommy taking care of baby mode. Also, ask others to hold your baby and help feed them. Let your guests take your baby off your hands through out the party so you can use both your hands to eat your yummy food and drinks, and you can give yourself a break from being mom for  a little bit. You deserve the extra help, especially on your birthday.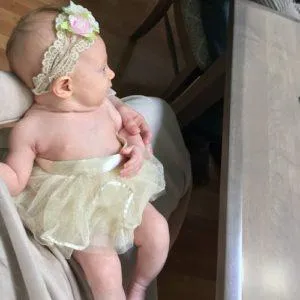 Ultimately we are the only one in control of our own happiness. Your birthday is a unique opportunity to remember to celebrate yourself. Don't stand in the way of your own happiness. Catch yourself worrying or thinking negatively, and instead think of that new bundle of joy in your arms and the beautiful love story that you're both at the beginning.
A Rite Of Passage for Moms
The first birthday as a mom really is a rite of passage in many ways. Almost like a bar mitvah, quinceanera, or coming out party for moms, it's another milestone in this new stage of adulthood for you. It's the first birthday when you'll know exactly what you want to wish for when it comes time to blow out the birthday candles. I can't share with you the wish I made or else it won't come true, but suffice it to say I didn't ask for much. No birthday can top a birthday as a mom, now I know.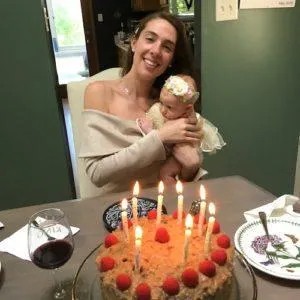 SaveSave
SaveSave
SaveSave
SaveSave
SaveSave
SaveSave
SaveSave