DEVELOPING: Mia Maro – Summary and How To Help Her Family
In the evening on Sunday May 1st, a young girl was found dead by police in the lower level of her home along West 167th Street near 80th Avenue in Tinley Park.
Summary Of Reports
Her death was ruled a homicide as a result of multiple injuries, according to the Cook County Medical Examiner's office.
Details that may be triggering will not be included here.
Earlier today Tinley Park police said a person of interested has been identified. What's been disturbing to see are theories as to why she was killed popping up on social media. The saddest theory posted posits that Mia's father may have killed her with an intent to commit suicide but failed. That theory was posted in the comments thread of a Tinley Park Patch Facebook post. Until more information is released, all theories and information posted online should not be taken as fact.
UPDATE as of 4:00 PM, May 4, 2022. In an official statement from Mayor Glotz and the Tinley Park Police Department, it was co firmed that Mia's father did kill her.
Neighbors who spoke with WGN News said Maro lived in the house with her parents and two brothers.
One neighbor, who wished not to be identified, said yelling at the home grabbed her attention Sunday evening.
"There was a lot of shouting. 'What did you do? What did you do?'" said the neighbor. "Then I heard him scream, 'you're a psychopath.'"
Stop Driving By Her House!
A memorial consisting of flowers, balloons and a poster that reads "in loving memory of Mia Maro" were set up on the lawn right outside the residence where she was found dead; it continues to grow, but there's something I'd like to bring up of concern. I've learned from moms in the Tinley Park Moms group that many cars have been driving passed Mia's house since her story broke. A helicopter even flew over the house at one point. I don't know the family personally but my goodness it is unconscionable to learn that people think it is no a big or is not doing harm to be disturbing this family's peace in this way. So in case you're thinking about driving, stop! Drop off a bouquet, but don't be like paparazzi.
GoFundMe For Disabled Mother And Funeral Service
A GoFundMe for Mia has been established by her aunt Randa Almaru. Funds will go towards Mia's funeral service and her mother who needs special care.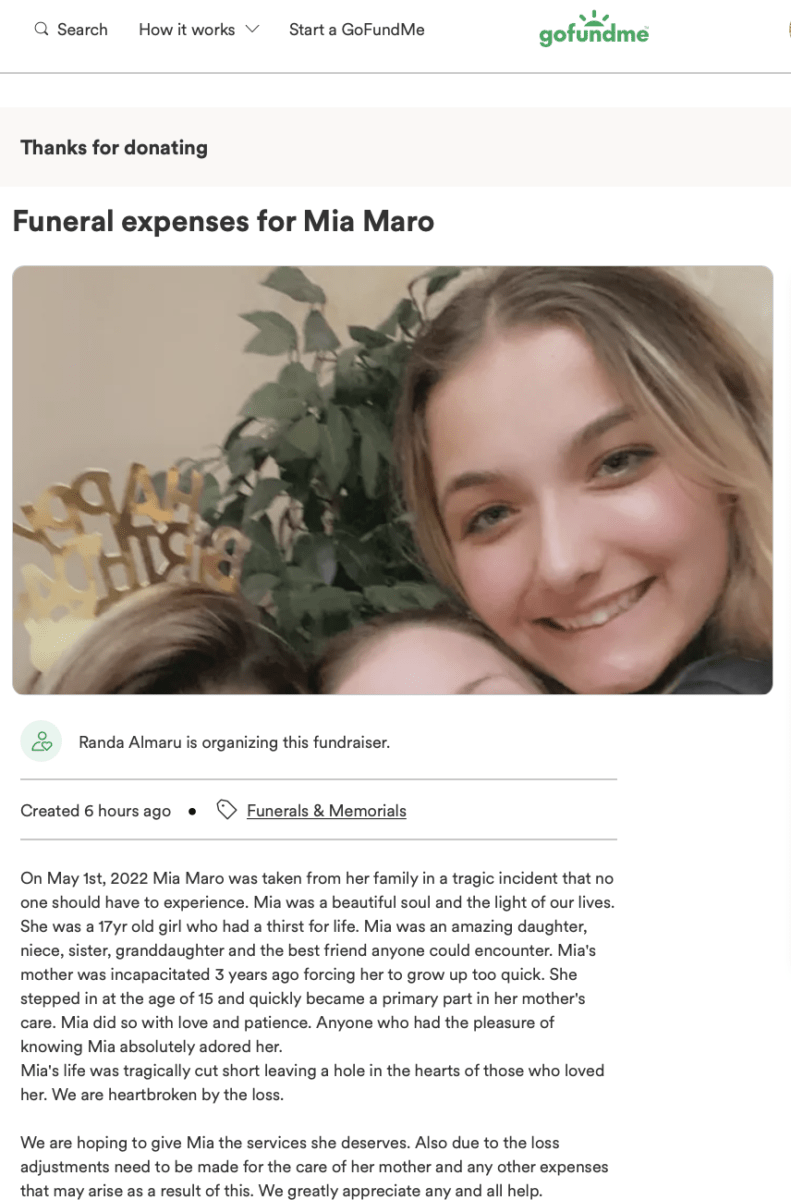 On May 1st, 2022 Mia Maro was taken from her family in a tragic incident that no one should have to experience. Mia was a beautiful soul and the light of our lives. She was a 17yr old girl who had a thirst for life. Mia was an amazing daughter, niece, sister, granddaughter and the best friend anyone could encounter. Mia's mother was incapacitated 3 years ago forcing her to grow up too quick. She stepped in at the age of 15 and quickly became a primary part in her mother's care. Mia did so with love and patience. Anyone who had the pleasure of knowing Mia absolutely adored her. Mia's life was tragically cut short leaving a hole in the hearts of those who loved her. We are heartbroken by the loss.

We are hoping to give Mia the services she deserves. Also due to the loss adjustments need to be made for the care of her mother and any other expenses that may arise as a result of this. We greatly appreciate any and all help.

Randa Almaru (Organizer of the GoFundMe)
As of 6:15 PM the GoFundMe has already surpassed the goal of $20,000. ?
As of 11:37 AM the GoFundme has raised over $30,000 for funeral costs and care for the teen's mother—well over its goal. What can you say but ? we live in a pretty amazing community. Here is the link: https://gofund.me/0c498069
Who Was Mia Maro?
As of 4:00 PM, May 4, 2022. In an official statement from Mayor Glotz and the Tinley Park Police Department, it was co firmed that Mia's father did kill her.
Mia's GoFundMe also posted a statement the same day:
In an effort to be fully transparent the families number one priority is justice for Mia. We are cooperating with the investigation to ensure we honor her properly. We are thankful for all the support and prayers. The only solace we have is believing Mia is in a better place shining her light on us. Please be mindful of our privacy as we mourn our beloved angel and refrain from spreading misinformation.

Randa Almaru (Organizer of the GoFundMe)
Mia Maro, 17, attended Victor J. Andrew High School and was set to graduate in just a matter of weeks. She was also a graduate of Grissom Middle School, said Chuck Augustyniak, a delegate on the Illinois Association of School Board (IASB) for Kirby School District 140. Interestingly enough he is a retired Deputy Sheriff of the Cook County Sheriff's Department. She was a Harry Styles fan and friend Alyana Aldabbagh told WGN News that Maro was a talented athlete who ran track and cross country with her in middle school and helped her with AP Government at Andrew High School.
One day after Mia was found dead, her friends and classmates shared memories about the person they cherished.
Alyan Aldabbagh, a classmate who first met Mia in sixth grade, told WGN Chicago that she had just seen her friend a few days before on death (Thursday, April 28th). "She was amazing. We were in [sic] same class for graphic novels. She would help me out with that class too. She helped me in school a lot. We were just about to graduate. She was one of the sweetest, kindest, smartest girls ever. I genuinely thought she was going to make an impact in this world, because she was amazing. "
Aldabbagh also told ABC 7 that Maro was a talented athlete who ran track and cross country with her in middle school and helped her with AP government in high school.
Others friends and loved ones also expressed heartbreak upon learning of Mia's death.
"We had an art class together," said Trinity Maze. "She was so creative. She put everything into the art projects. So creative. The kindest person. Always made a bad situation good. Every time I walked into class, I was excited to talk to her. Really sad this is how it ended.
Other classmates admired Mia's work ethic and how she treated others.
"She always made a bad situation good," classmate Trinity Maze said. "Every time I walked into the class, I was excited to get to talk to her, and it's just really sad that this is how it ended. I just don't know how graduation is going to work. That's going to be really sad."
No doubt the graduation ceremony at Andrew High School this year will be bittersweet for all in attendance.
P.S. Andrew High School's principal Dr. Abir Othman sent a message to students saying counselors and social workers will be available to them all week. And the Village of Orland Park brought therapy dogs to visit students at Andrew High School on Thursday, May 5, 2022.
Funeral, Date, Memorial Page, and Where To Send Flowers

Mia Maro's passing on Sunday, May 1, 2022 has been publicly announced by Colonial Chapel Funeral Home & Crematory in Orland Park.
Visitation Tuesday, May 10, 2022 from 3-8 PM at Colonial Chapel 15525 S. 73rd Ave. (155th/Wheeler Dr. & Harlem) Orland Park, IL. Funeral and burial private.

In lieu of flowers, memorial donations to Mia's GoFundMe account at www.gofundme.com/f/funeral-expenses-for-mia-maro are appreciated.

Express your thoughts and condolences at colonialchapel.com 708-532-5400
People can express their condolences and thoughts, as well as share memories of Mia's page on the Colonial Chapel Funeral website.
---
Update on Mia Maro Funeral Service
In accordance with the family's wishes for the utmost privacy and tranquility for Mia's funeral service, a statement was posted today, Sunday May 15, 2022 from the family (4 days after the service).
Our angel Mia was laid to rest on Wednesday, May 11th. The service was beautiful. On behalf of all of Mia's family I want to thank everyone who donated, made an appearance, reached out or simply kept us in their thoughts and prayers. We are truly grateful for all the love and support.

— Linda Maro, Beneficiary and Mother
The GoFundMe's final tally is $44,267 raised of a $20,000 goal.
Rest Heavenly in Peace Mia.