Making the Best of Mother's Day
This is how I made the most of Mother's Day
This Mother's Day I didn't spend with my mom for two reasons:
1.) My husband and I were sick
2.) My dad is a germaphobe
It's not uncommon to get sick following a cruise, but my husband and I had never experience this phenomenon until last week. As you do when you become addicted to cruising, which my husband and I did three years ago when we decided to do a Disney Cruise Wedding, we made our yearly pilgrimage to a Disney Cruise, and this time we tried the Disney Magic. Two days home our symptoms emerged. DuPage Medical Group took us right away, I was diagnosed with norovirus and my husband, given his medical history was diagnosed with "walking pneumonia." The variety of pneumonias I learned exist is staggering. So now you have a clear picture as to why my dad would want my mom to steer clear of us.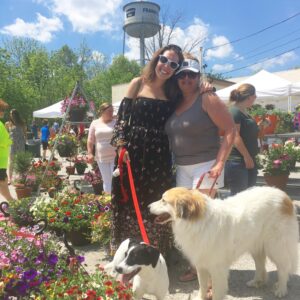 Mother's Day, like Valentine's Day or Father's Day, is unfair in that it inflates the importance of a single date out of an entire year. My mom knows I love her, her living forty miles away she knows tears at my heart strings. If you love your mom and she loves you, she won't hold Mother's Day against you.
What did I do to make the most out of Mother's Day? I went to the Frankfort Farmer's Market with my fur baby, (a.k.a my dog Samantha). It just so happens I have a kick-ass mother-in-law who was there too. After the market, my husband and I went over to his parents' house for BBQ and to watch the movie Bad Moms while our dogs played together.
I'd love to hear what did you do this Mother's Day. Share below in the comments.
SaveSave