Love Letters, A Literate Passion
'The frankest and freest product of the human mind and heart is a love letter," wrote Mark Twain in the introduction to his autobiography.
"The writer gets his limitless freedom of statement and expression from his sense that no stranger is going to see what he is writing."
I recently read this article from The UK's Independent, John Walsh looks at the history of love letters it made me wonder, Have we lost the art of writing love letters?
The love letters that Henry Miller and Anaïs Nin wrote each other are famous.
Henry Miller, one of the great American novelists was married at the time he wrote this letter to Cuban diarist Anaïs Nin.
August 14, 1932

Anais:

Don't expect me to be sane anymore. Don't let's be sensible. It was a marriage at Louveciennes—you can't dispute it. I came away with pieces of you sticking to me;
The rest of the letter is available to read on Letters of Note, a web blog that attempts to "gather and sort fascinating letters, postcards, telegrams, faxes, and memos" is a fascinating find, and I intend on exploring their database of letters.
Dick Haymes' Love Letters (1945)>
[archiveorg 78_love-letters_dick-haymes-victor-young-edward-heyman_gbia0018903b width=640 height=140 frameborder=0 webkitallowfullscreen=true mozallowfullscreen=true]
The love letter was at the center of this classic World War II romantic drama of which starred Joseph Cotten and Jennifer Jones.
Love Letters Reveal What Could Have Been
Marilyn Monroe's Last Love Letter to Joe DiMaggio, found after her death. It wasn't sent in time.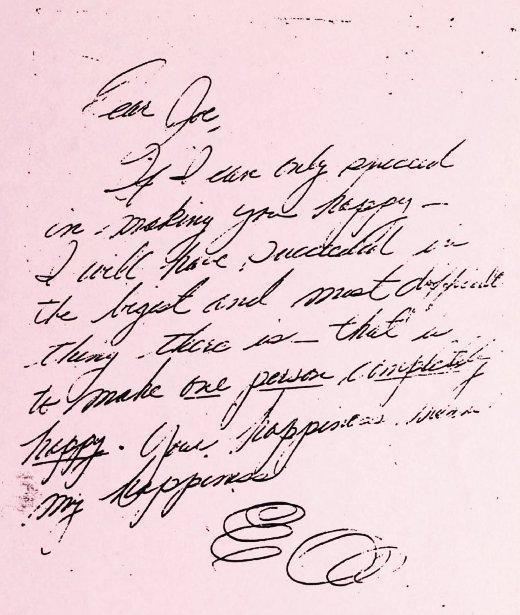 Love letters help love live on indelibly.
Love letters can awaken a spark, or something we thought we lost.
In the Dallas reboot episode entitled "J.R.'s Masterpiece," we see the power of a final love letter to Sue Ellen from JR:
"My dearest Sue Ellen: Old age has a way of humbling men. For me to apologize now for all the wrongs I've done you would take up all the time I've got left. So I'm hoping it will suffice for me to say that I was never worthy of you. That I loved you the moment I saw you. And that I love you today, more than I ever did. It is my greatest hope in life to earn a second chance with you. So what do you say? When I get back to Dallas, will you have dinner with me?"
The moral in all this is, don't wait to tell someone how much you love them. It might be too late if you wait.